THROUGH THE PORTHOLE
14th February 2020
What began as an indie startup based solely on a nautical motif has, in four short decades, become the Hublot we now know: massive, in every sense of the word. Words by Alex Doak.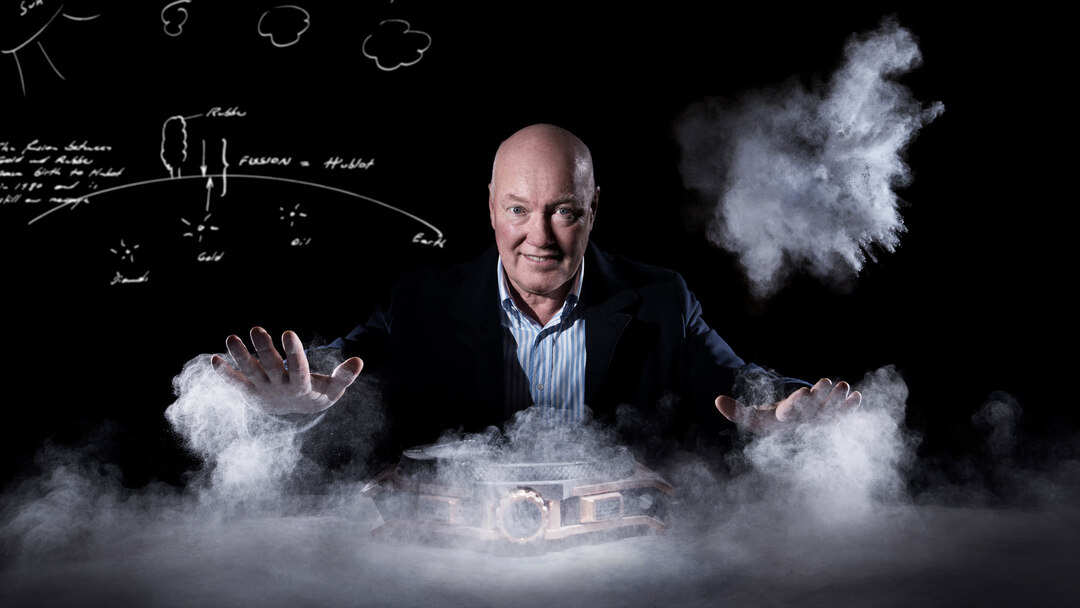 It's hard to imagine the apprehension that Carlo Crocco must have felt in 1980 when he stood at the Hublot stand at the Basel watch fair. No one had ever heard of him, and no one had ever seen a watch like his.
The scion of the Italian Binda Group dynasty, best known for making Breil watches, Carlo Crocco struck out on his own in 1976 to create something disruptive. Moving to Switzerland he formed MDM Genève (standing for Montres Danielle Marie, after Crocco's wife) and soon settled on what's become an enduring icon of 20th-century watch design: an angular case, mounted by a circular bezel and 12 exposed screws, looking just like a boat's porthole, whose French translation he adopted for his brand.
Contrary to what you might think, it wasn't the titular case construct that posed the biggest challenge. It was Crocco's decision to fit his 'Hublots' with the first-ever truly natural rubber strap in Switzerland's history. In the late 1970s there was no one who knew how to work rubber to luxury watchmaking's standards, so Crocco looked to tyre producers to create the exact mix of rubber, reinforced by an inner steel blade for thinness, flexibility and resilience. The genius touch was to add a vanilla scent to the mix, masking the slight acrid smell of the rubber. The fact that we now see rubber so frequently throughout watches and jewellery – in rebellious 'fusion' with bling-bling gold – can be credited entirely to Crocco.
Fast forward to 2004, and from there onwards, the rest is history. For it was that year when industry maven Jean-Claude Biver took the helm and things went into overdrive. The 'Big Bang' chronograph, FIFA and Ferrari partnerships, hiphop kudos, an ever-expanding factory with every mechanical complication mastered and plenty others pioneered… There is, quite simply, no other brand quite like Hublot.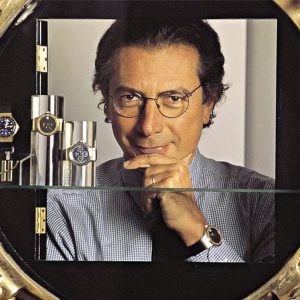 1980
MDM Genève and its 'Hublot' watch are founded by Italian Carlo Crocco, following three years' developing the brand's eponymous 'porthole' design plus a world-first: a vanilla-scented, steel-reinforced rubber strap.
1981
Despite failing to attract single sale on the first day of Hublot's Basel fair debut, Crocco amounted $2 million's worth of sales in his first year. Hublot soon became a firm favourite of the Eighties jetset.
2003
Preoccupied by his own design work and activities for the Hand-in-Hand children's foundation, Crocco set out to look for the man who could oversee his watchmaking empire.
2004
Jean-Claude Biver assumes the role of CEO. Already an industry legend, Biver's laserguided vision and infectious energy had revived Blancpain in 1982, singlehandedly reinventing the notion of luxury mechanical watches at a time when quartz was the future. With Hublot he wasted no time setting out its stall: "The Art of Fusion".
2005
In less than a year, Biver creates a new flagship collection: 'Big Bang'. Oversized, with monumental emphasis on Hublot's porthole motif and kitted with chronograph functionality for extra status, it was to be the newly minted Millennial's very own Audemars Piguet Royal Oak Offshore. Orders tripled within a year and it took Design Prize in Geneva's Grand Prix of Horology.
2009
LVMH wastes no time, investing in a ground-up, cutting-edge factory on the shores of Lake Geneva, outside the historic town of Nyon.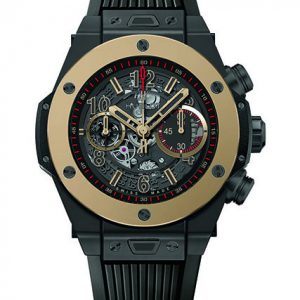 2012
Cementing its mantra of 'fusion', Hublot adds 'Magic Gold' to its line-up of innovative and in-house-conceived case materials – the world's first scratchproof 18kt gold, fused under huge pressure and temperature with ceramic. The launch model is the first to commemorate Hublot's new partnership with Ferrari.
2013
Hublot's next exploit with the Prancing Horse of Maranello is the MP-05: a watch inspired by the hybrid LaFerrari supercar featuring an historic 50-day power reserve – a punch packed by 11 series-coupled winding barrels.
2015
The crowning achievement of Hublot's new era is launched: the Unico chronograph movement, conceived and made entirely in-house. It features an integrated flyback chronograph with column-wheel mechanism positioned dial-side for all to admire in action.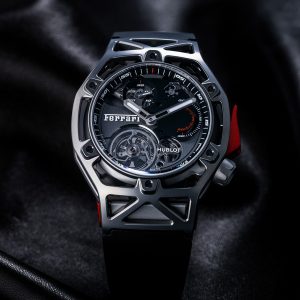 2017
To mark Ferrari's 70th, Hublot designs the sinuous Techframe Ferrari Tourbillon Chronograph, employing an identical 'total design' approach to that of Ferrari Centro Stile. The attention to detail extends to screw recesses that echoed the rear diffuser of an F12tdf.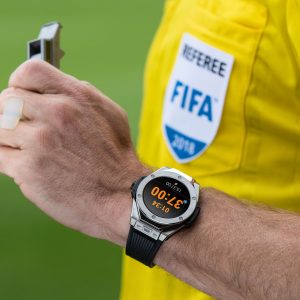 2018
As official timekeeper to FIFA, Hublot's logo dominates the referee boards of Russia's World Cup, plus a collaboration with stablemate TAG Heuer elicits its first-ever smartwatch – an essential tool during every match, not only on the wrist of every on-pitch referee but also our waistcoated legend on the sideline, Gareth Southgate.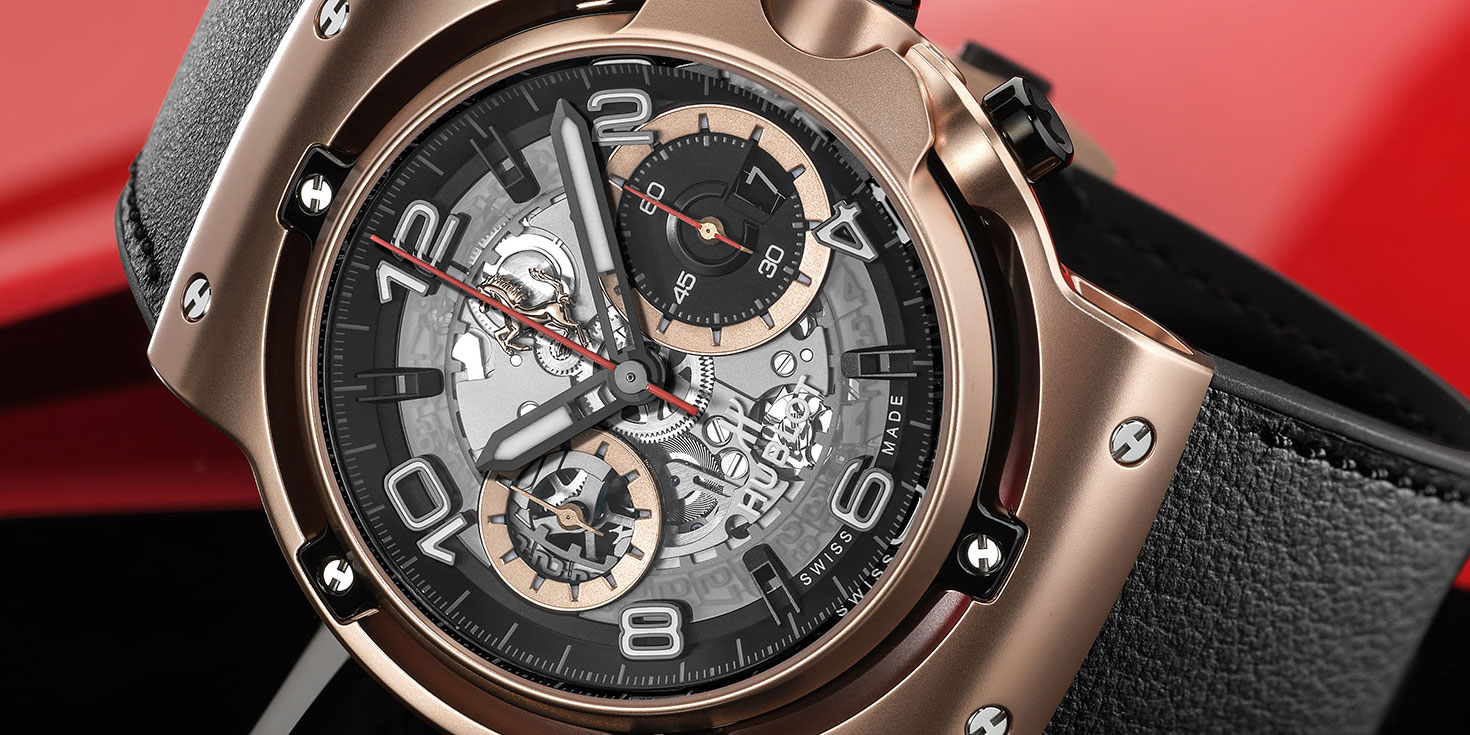 The definitive directory of what you should be wearing on your wrist right now.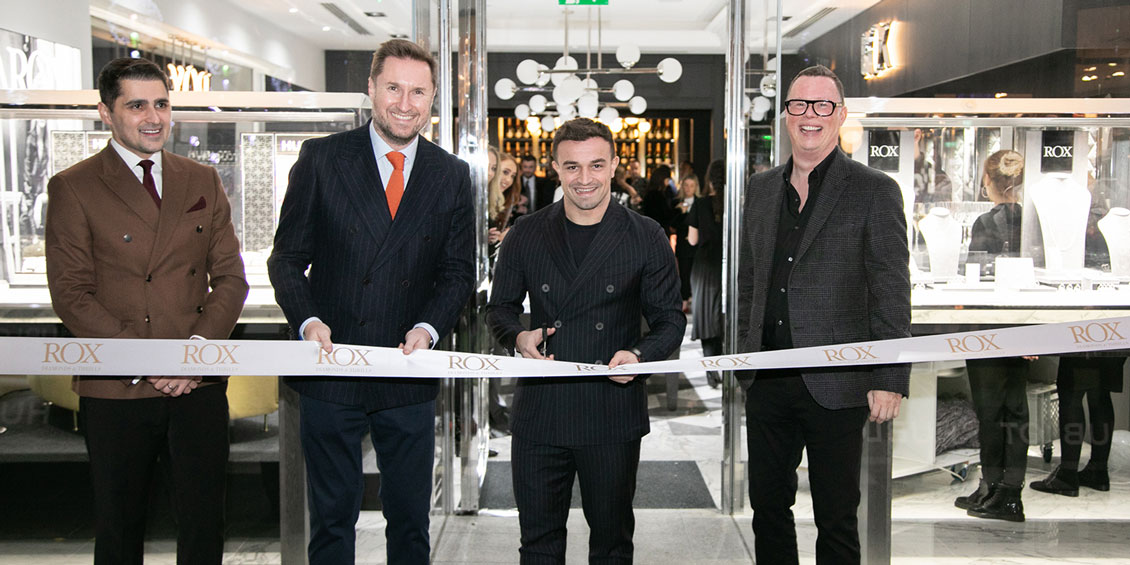 ROX officially launched at Liverpool One on December 5th with a glittering party in association with Hublot.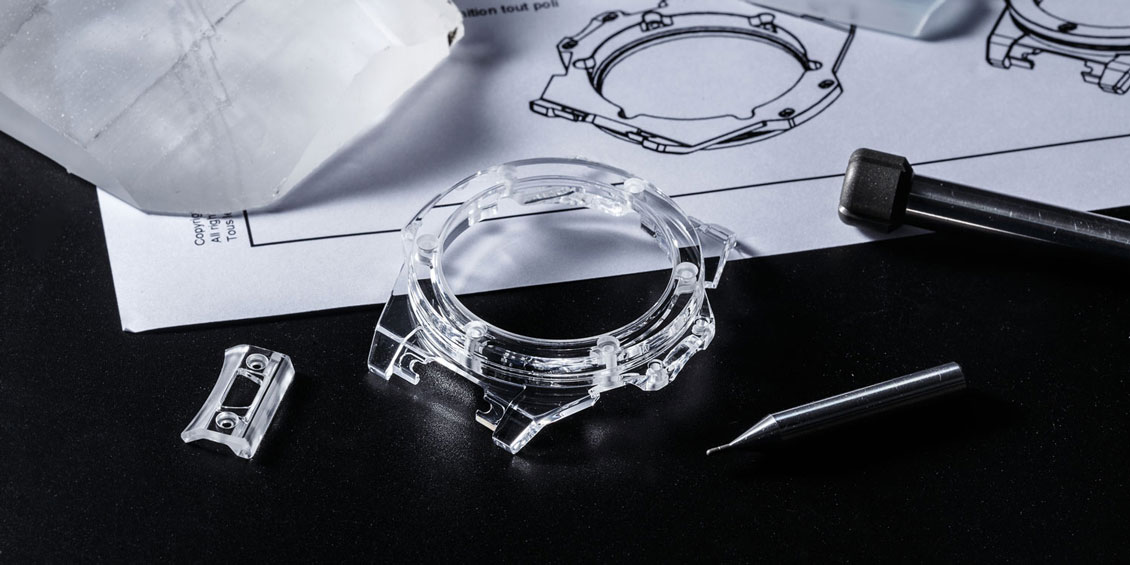 Sapphire crystal is material of the moment chez Hublot, where pioneering new technology is veiling its watches' inner mechanics with a pick'n'mix of colour.