CELEBRATING A MONUMENTAL MILESTONE
11th December 2017
As Ferrari marks its 70th anniversary we take a look at how Hublot honoured the special occasion. Words by Chris Chilton.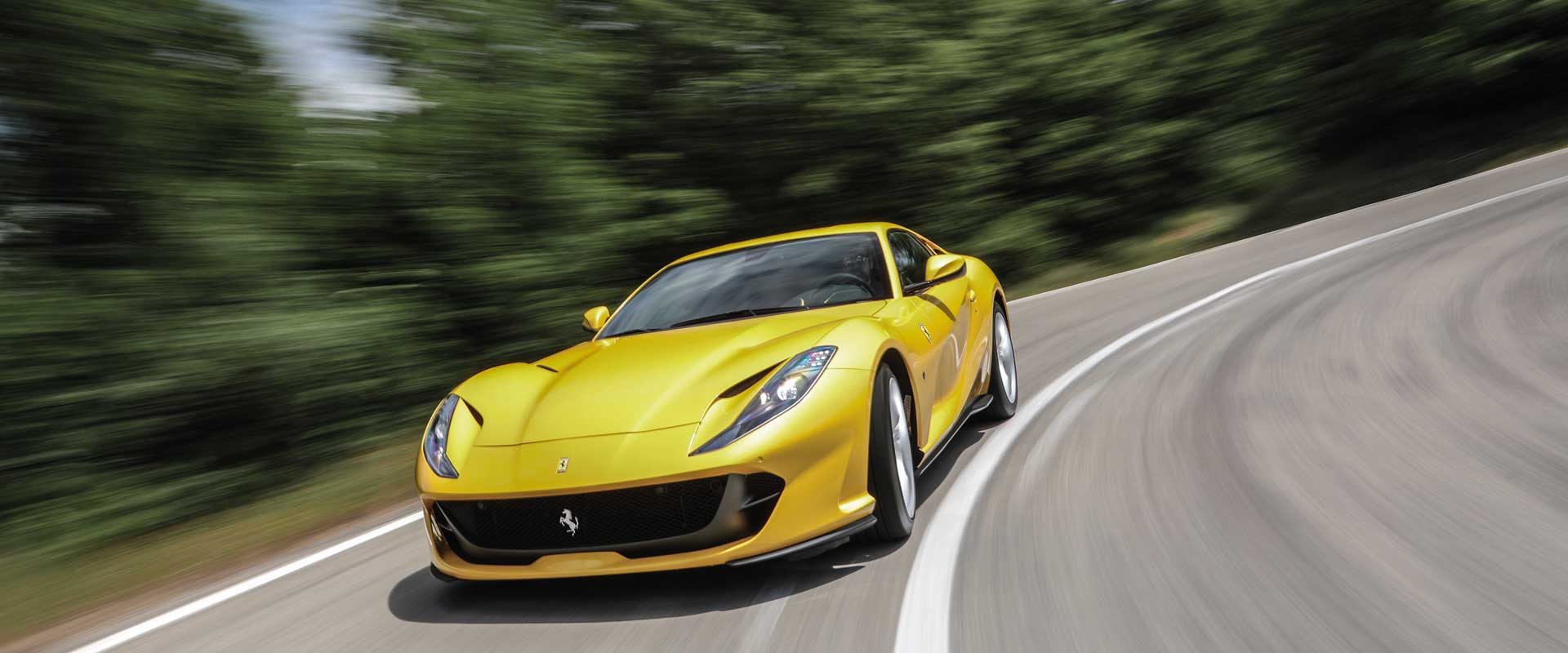 Ferrari fans the world over are celebrating the marque's 70th anniversary this year. But Ferrari fans with a passion for watches know that 2017 is the year of another important anniversary. Because this year marks five years since Hublot teamed up with Ferrari to bring us a very special take on the Swiss watchmaker's Big Bang.
The partnership has endured and in Ferrari's 70th year the pair has come up with two very special pieces. From Hublot there's the Techframe Ferrari 70 years Tourbillion Chronograph, and from Ferrari, the rather more succinctly named 812 Superfast.
Ferrari calling a 211mph two-seater 'Superfast' night sound about as imaginative as Land Rover creating a Discovery 'Good-in-Mud'. But in fact the Superfast name dates back to the 1960s and another V12 that produced a thundering 400bhp when the average British car got by on a tenth as many horses.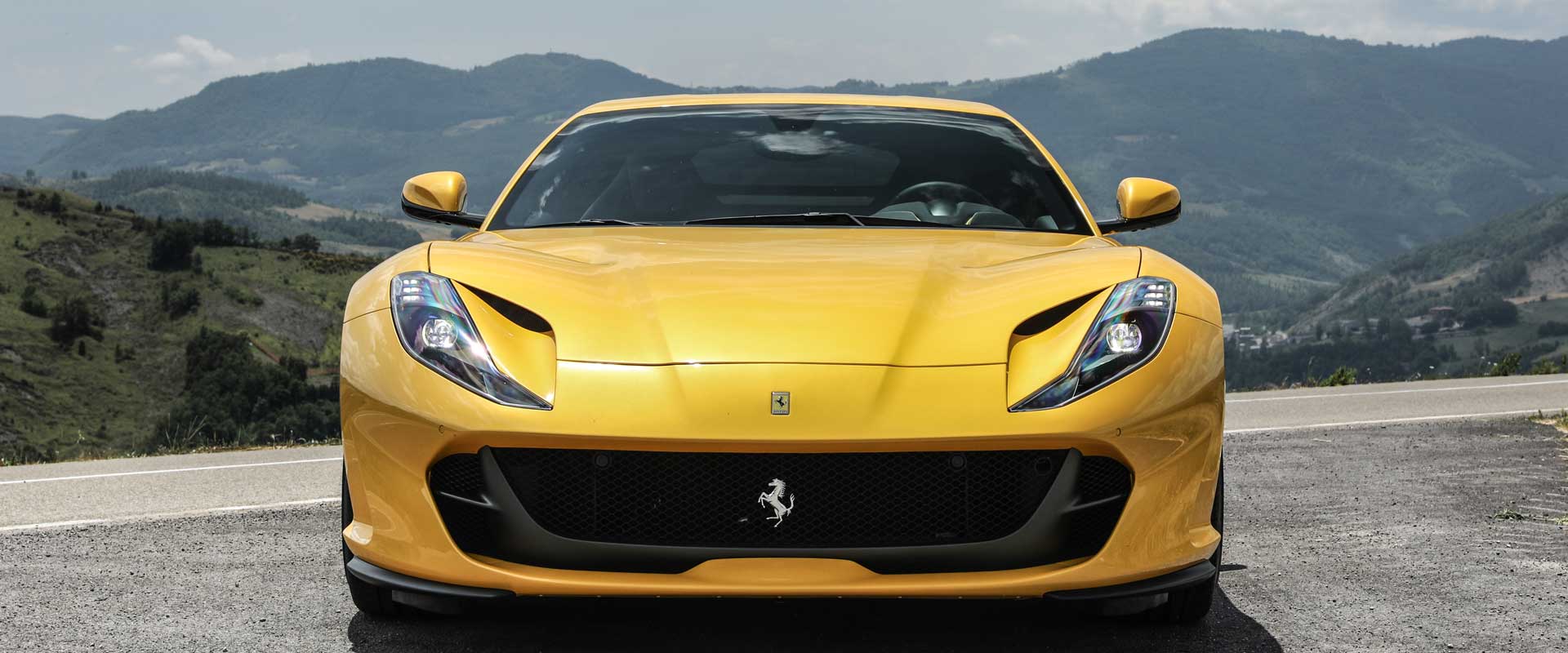 Essentially an evolution of the previous F12 Berlinetta, the 812 stays with pure naturally-aspirated V12 power when all around it cars are succumbing to turbocharging and electrical assistance that rob engine response and sound quality.
Stretched from 6.3 to 6.5 litres, the 812's V12 makes 800hp and 530lb ft of torque. The very few cars that make similarly huge levels power tend to distribute it across four wheels to ensure it isn't squandered with wheelspin. But despite sending its power to the rears alone, the 812 reaches 62mph in under 3sec, and goes on to 124mph in less than eight.
It's easy to become fixated on otherworldly numbers like those, but there's plenty more in the 812's spec to get gearheads salivating. For a start it borrows the four-wheel steering system from the limited-edition (and now hugely valuable) F12 TDF to deliver unflappable high-speed stability, and manages to achieve the same levels of downforce as that very special car largely through the use of an active rear under-bumper diffuser mounted between the two pairs of tailpipes.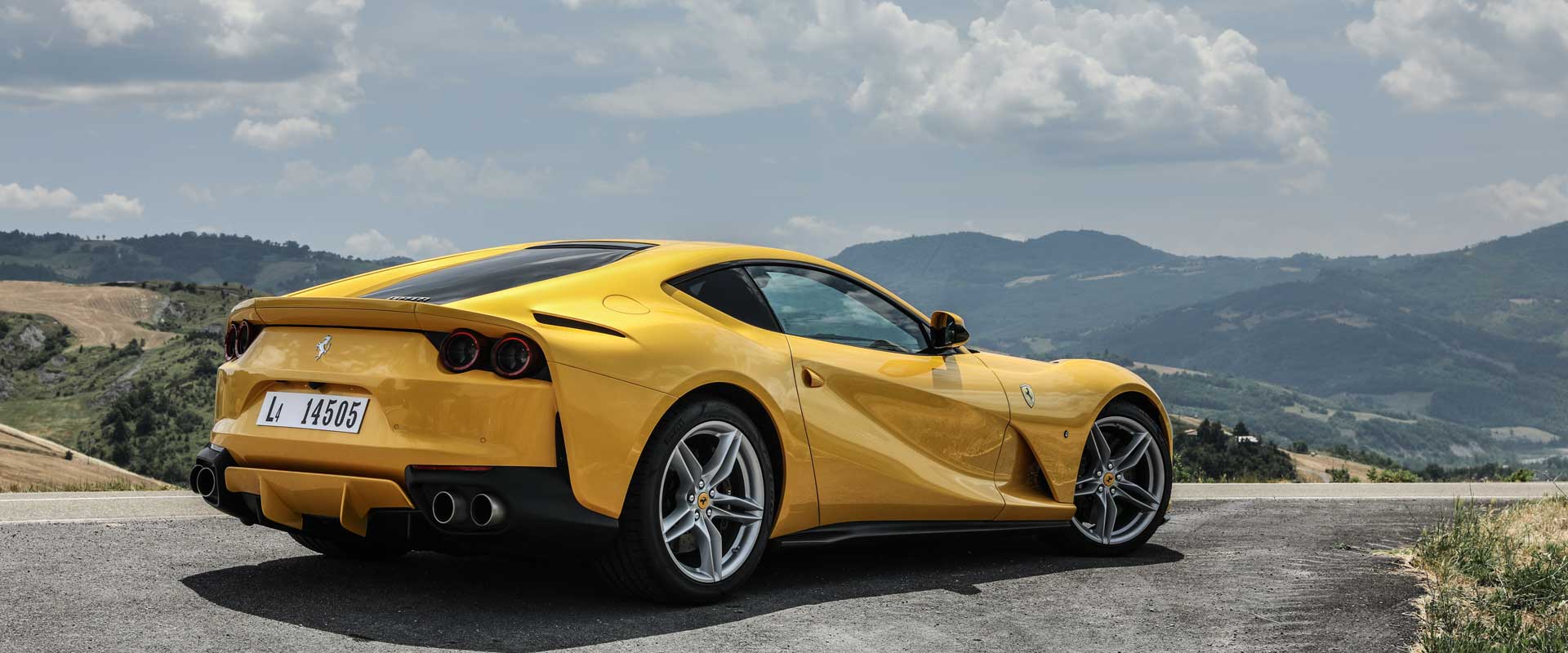 But the most fascinating tech comes as a pair: Ferrari Peak Performance, and Ferrari Power Oversteer. For the past few years Ferrari has worked hard to deliver cars that enable even relatively novice drivers explore the on-limit handling of its cars in total safety, and this equipment takes that a step further.
Made possible by a switch to electric power steering, they tow technologies don't quite steer for you, but vary the steering assistance to give you nudges that suggest a suitable steering input. Listen, feel and respond, and you too can pull off that classic tyres-on-fire Top Gear powerslide.
The 812 reaches 62mph in under 3sec, and goes on to 124mph in less than eight.
The reality, of course, is that few owners will actually ever drive their cars hard enough to experience the technology at work. But all will appreciate the craftsmanship and the absorbing styling that comes from the studio of Ferrari's design boss, Flavio Manzoni.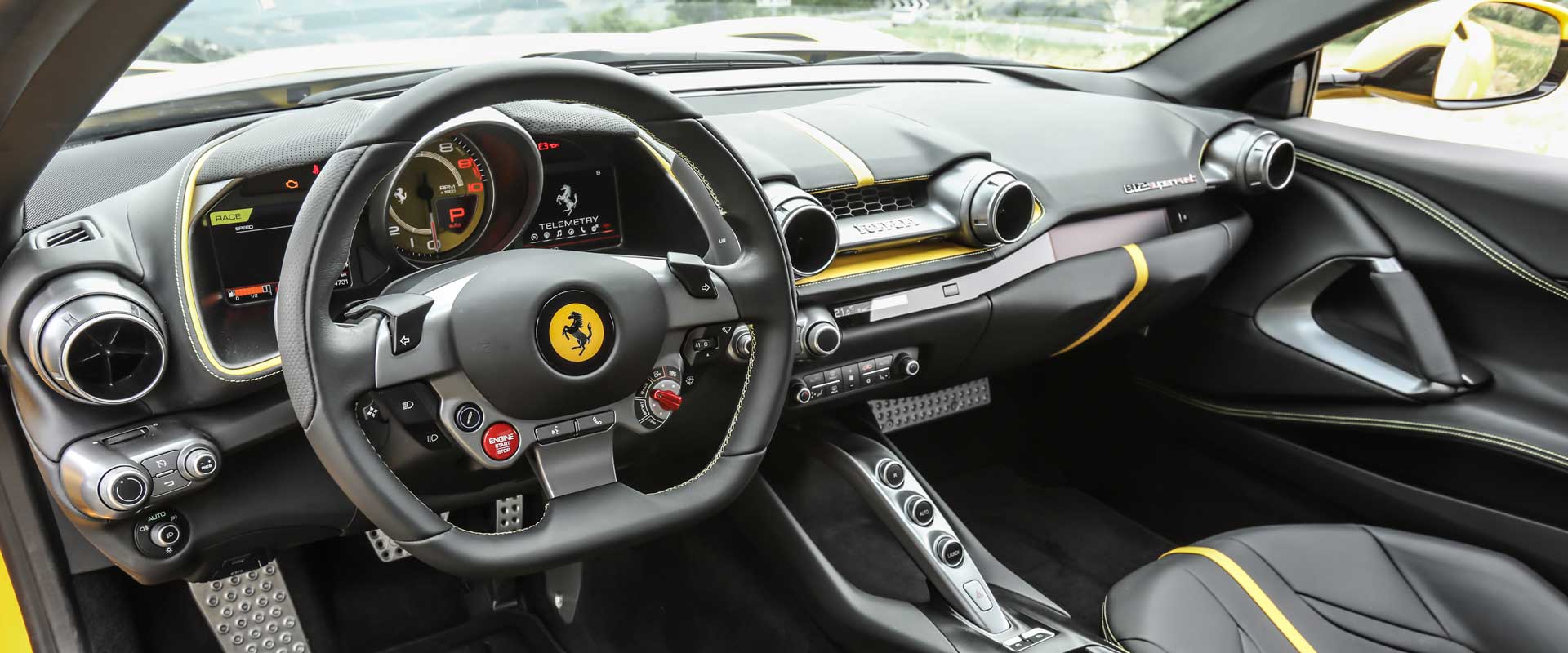 That same team was also responsible for the look of the Hublot Techframe, designing an entirely new single-button chronograph around Hublot's new HUB6311 manual-wind movement.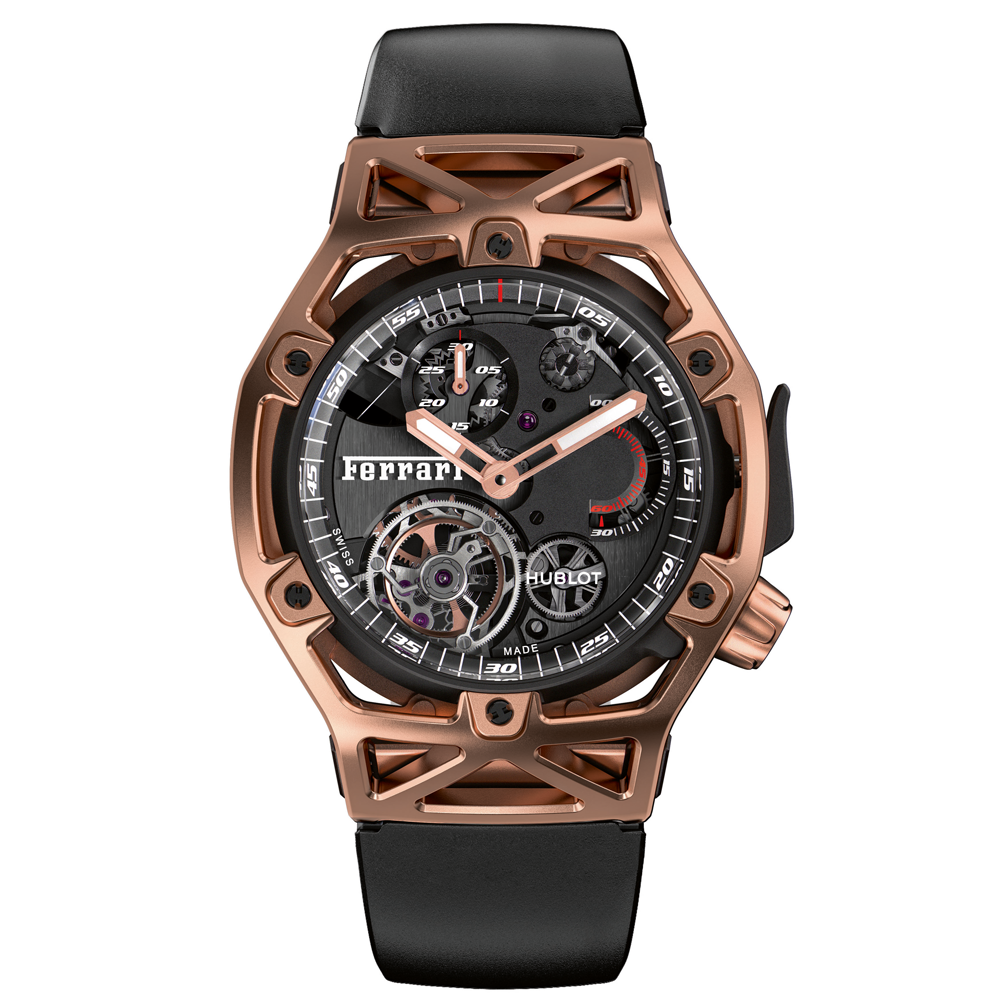 The structure is a spaceframe design, just like the 812's body, available in Hublot's smart scratch-resistant King Gold, Titanium or PEEK carbon composite, and priced from £105,000. That's rather less than the £257,331 Ferrari is asking for the 812, but with watch production limited to only 210 units, and the car's likely to run into the thousands, the Techframe outpoints even the Ferrari when it comes to exclusivity.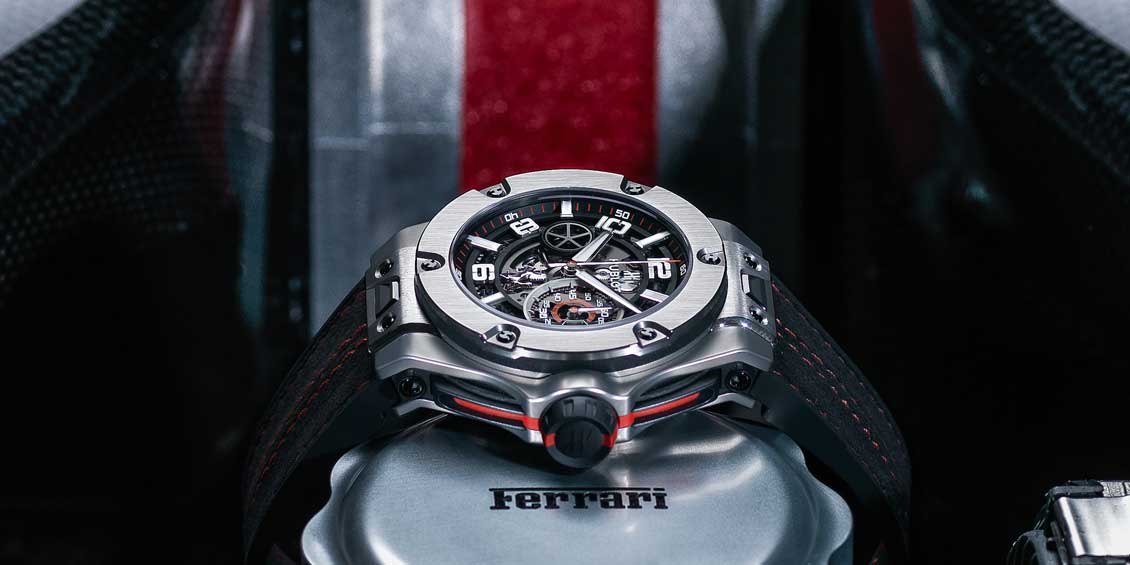 The Hublot and Ferrari collaboration was natural and seamless partnership as both brands are leaders in their field with common traits of peak performance, technological leaders, and product exclusivity, just to name a few.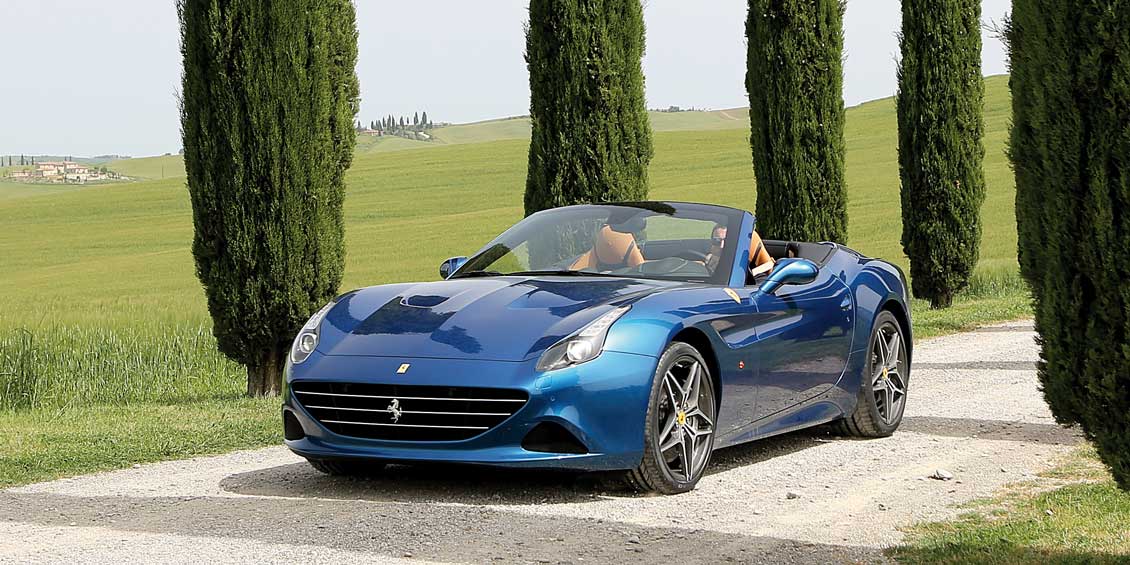 Emulating their F1 counterparts, Ferrari's V8 road cars are entering a brave new turbocharged world, starting with the new California T. The promise is even greater performance, and far fewer fill ups, but can the California provide the excitement its F1 sidekick failed to deliver. Words by Chris Chilton.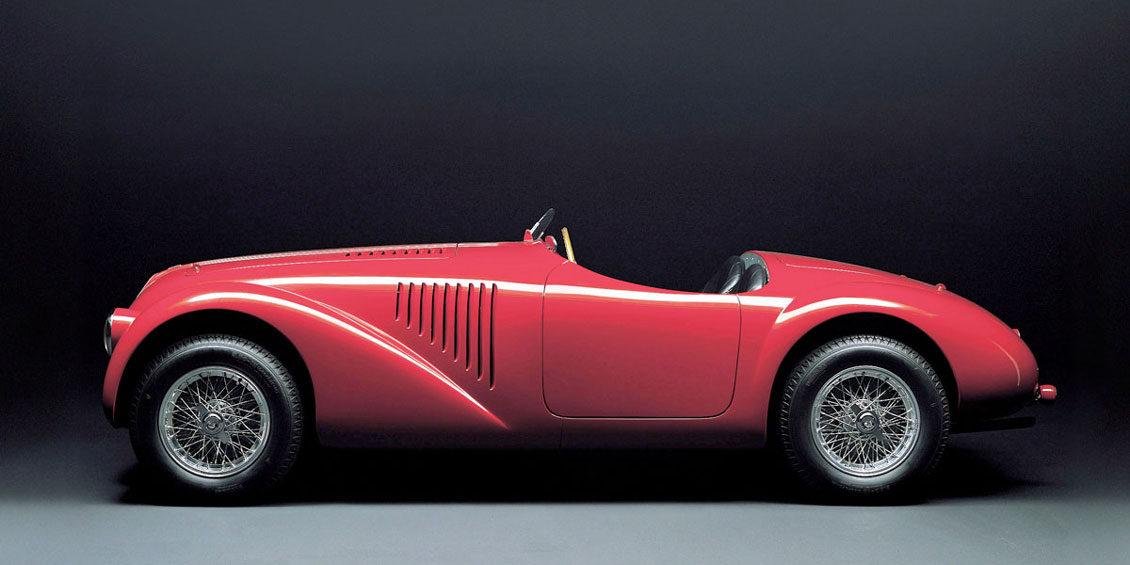 Ferrari's synonymous reputation and timeless style seems unable to falter. Celebrating a historic 70 years, Ben Oliver shares how Ferrari and their Official Timekeeper Hublot plan to mark this iconic milestone.