A BRACE OF JOYOUS PLATES
4th November 2021
From India to Thailand, with two feet on British soil respectively, here's a pair of square meals from two ex-pat masters of their cuisine – both simple, sensory, satisfying and guaranteed to bring smiles to the table. Words by Alex Doak.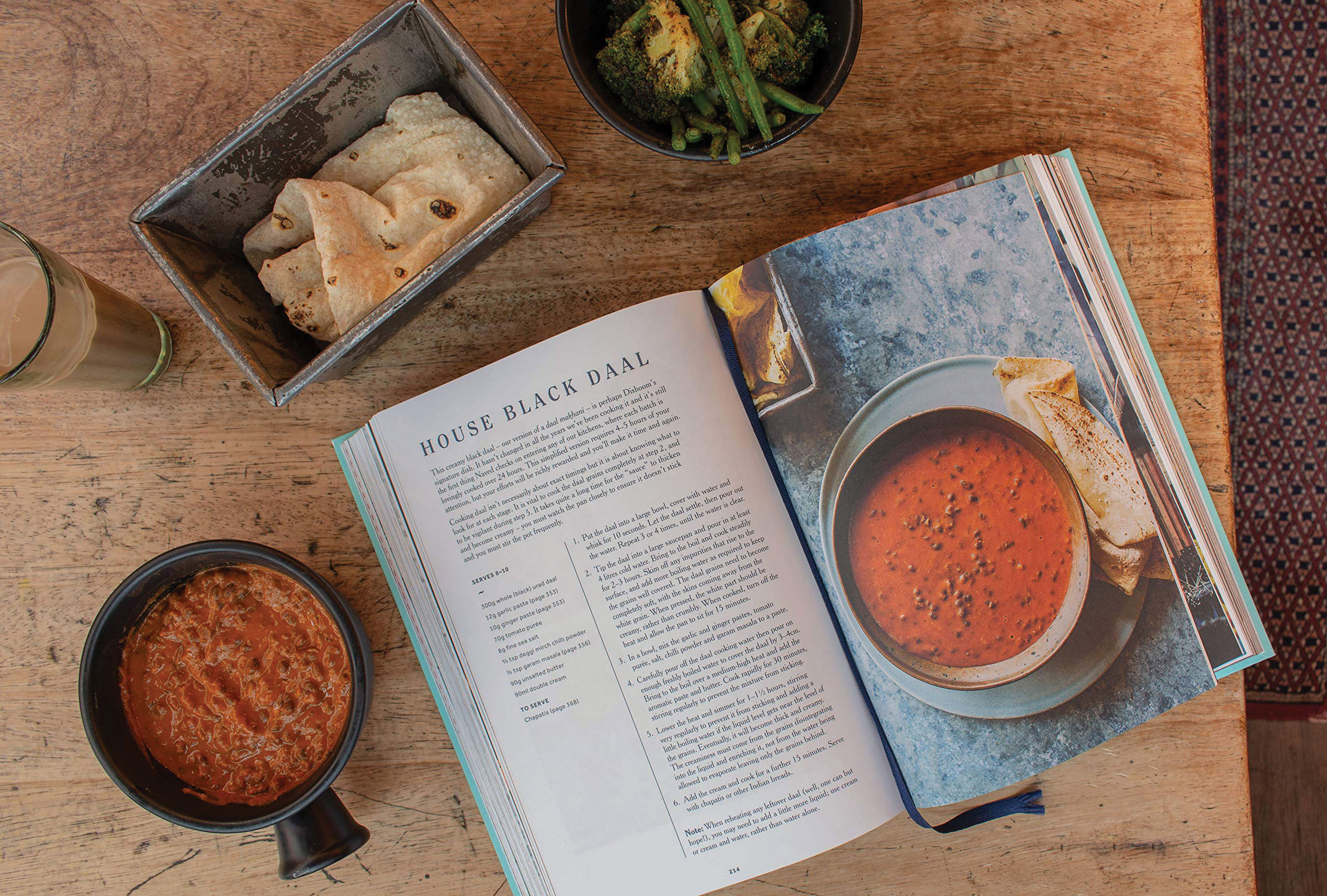 Dishoom's Black Dal
The secret to Bombay restaurant phenomenon, Dishoom's signature side dish seemed destined to remain as dark and mysterious as the noble 'makhani' itself. But then the keenly awaited cookbook came… and as it transpires, as well as the titular dal's 'butteriness', all it takes is time and devotion.
300g urad dal / urid beans
4 litres cold water
12g garlic paste
10g ginger paste
70g tomato purée
8g salt
2/3 tsp deggi mirch chilli powder
1/3 tsp garam masala
90g unsalted butter
90ml double cream
1. Wash the lentils three or four times, until the water is clear. Tip into a large saucepan of cold water, bring to a boil and cook steadily for two to three hours, skimming off any impurities that rise to the surface.
2. In a bowl, mix the garlic and ginger pastes, tomato puree, salt, chilli powder and garam masala into a paste.
3. Carefully pour off the dal cooking water, then pour on enough freshly boiled water to cover the dal by 3-4cm. Bring to a boil over a medium-high heat, then add the aromatic paste and butter. Cook rapidly for 30 minutes, stirring regularly to prevent the mixture from sticking.
4. Lower the heat and simmer for 90 minutes more, stirring regularly to prevent it from sticking, and adding a little boiling water if the surface gets near the grains. [If you have the time, cook for twice as long to get that 'Dishoom' depth of flavour – Ed.]
5. Eventually, the dal will turn thick and creamy from the grains disintegrating into the liquid and enriching it. Add the cream, cook for a further 15 minutes and serve with chapatis.
Dishoom "From Bombay with Love" (Bloomsbury Publishing, 2019) by Shamil Thakrar, Kavi Thakrar and Naved Nasir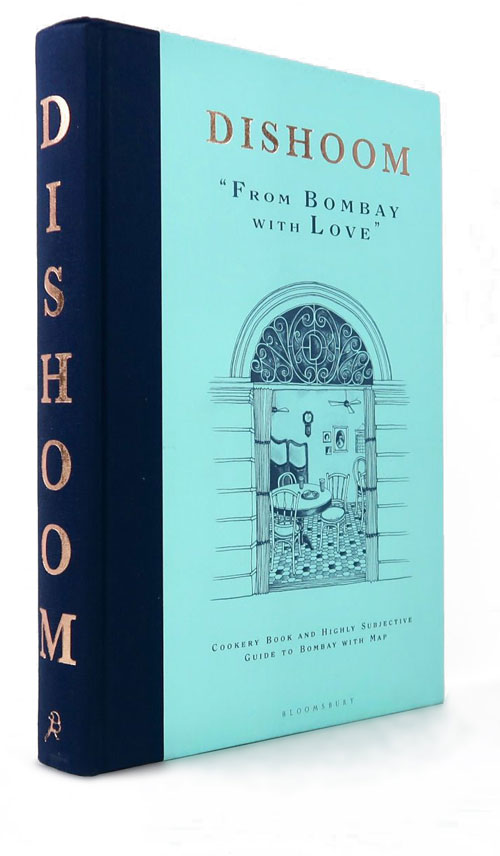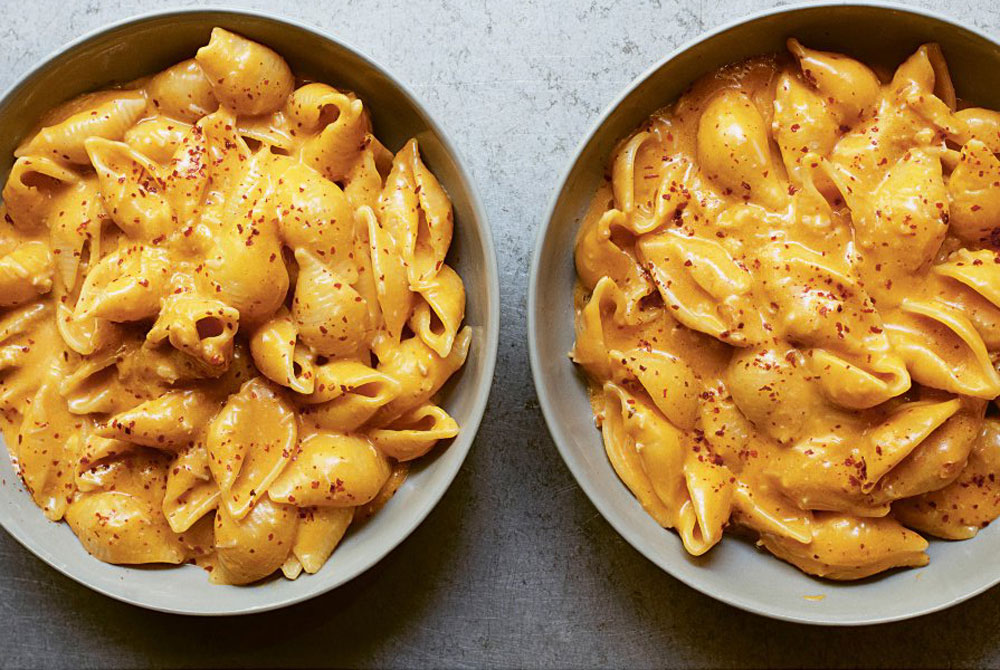 Nigella Lawson's Crab Mac 'n' Cheese
As soon as Britain's high priestess of home cooking launched her long-overdue latest last year, this particular recipe became an instant classic – plastered across social media in various stages of carb coma by rictus-grinning foodies. Decadent, naughty… very Nigella, in other words.
Serves 2:
100g Gruyère cheese
15g grated parmesan
1 1/2 tbsp plain flour
1/4 tsp ground mace
1/4 tsp smoked sweet paprika
1/8 tsp hot smoked paprika
250ml whole milk
1tbsp tomato purée
30g unsalted butter
1 clove of garlic, crushed
1/2 tsp Worcestershire sauce
200g conchiglie pasta
100g white and brown crab meat
1. Grate the Gruyère into a bowl and add parmesan. Mix the flour with the spices in a small cup. Pour the milk into a measuring jug and stir in the tablespoon of tomato purée. Boil a pan of salted water for the pasta.
2. Over lowish heat, melt the butter, then stir the garlic around quickly. Turn the heat up to medium and add the flour and spices. Whisk over the heat until it all coheres into an orange, fragrant, loose paste; this will take no longer than a minute.
3. Take off the heat and very gradually whisk in the tomatoey milk, until it's completely smooth. Put back on the heat, turn up to medium and cook, stirring, until it has thickened, then stir in the Worcestershire sauce.
4. Take the pan off the heat and stir in the grated cheeses, before lifting the al-dente cooked pasta shells into the smoky cheese sauce, then adding the crab.
5. Divide between two bowls and sprinkle with hot smoked paprika.
Cook, Eat, Repeat (Vintage Publishing, 2020) by Nigella Lawson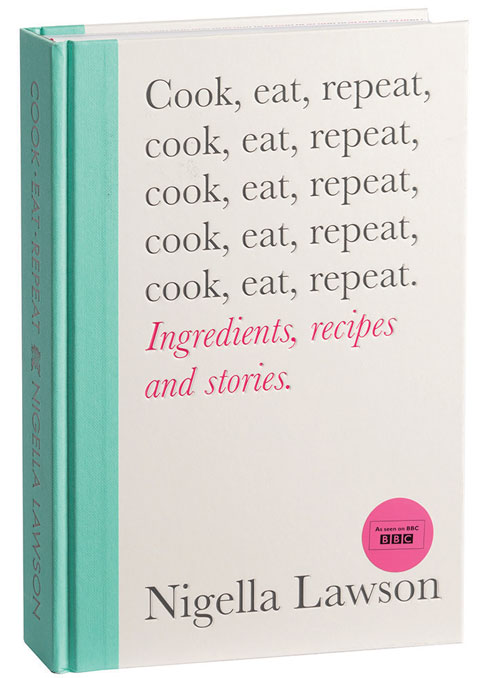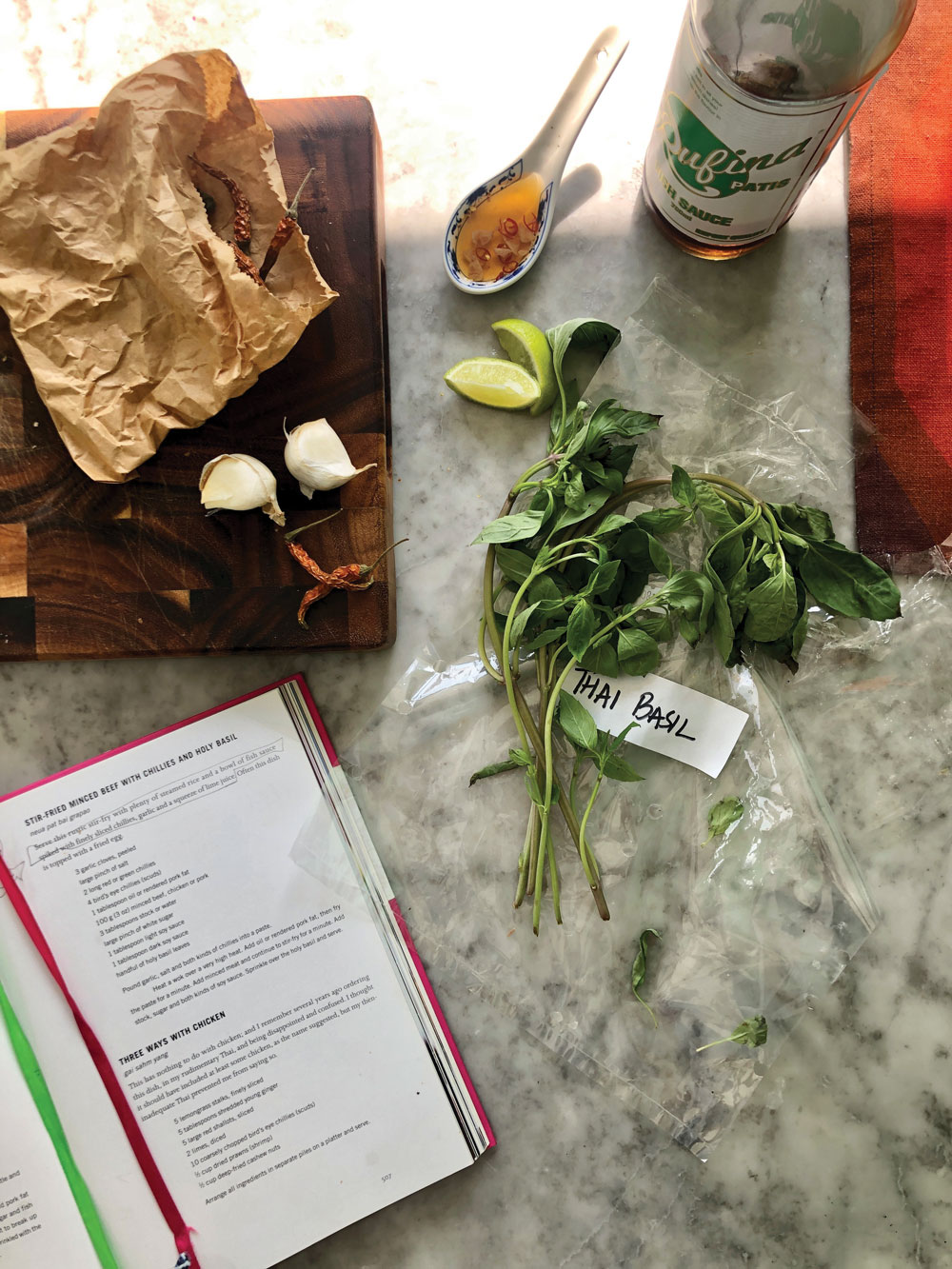 David Thompson's Krapow
The joke among Thai workers is that if you can't decide on lunch, you have 'pad grapao' – literally 'stir-fried holy basil', the ultimate south-east-Asian rustic street food. The Thai basil is the thing, here: pure, moreish aniseed umami (and usually findable in bigger Sainsbury's or Waitrose stores).
Serves 2:
3 garlic cloves, peeled
large pinch of salt
2 long red or green chillies
4 bird's eye chillies
1 tablespoon oil
100g minced beef, chicken or pork
3 tablespoons stock
large pinch of white sugar
1 tablespoon light soy sauce
1 tablespoon dark soy sauce
handful of Thai holy basil leaves
1. Pound garlic, salt and both kinds of chillies into a paste.
2. Heat a wok over a very high heat, add oil then fry the paste for a minute, then the meat for a minute.
3. Add stock, sugar, both soy sauces, take off heat and sprinkle over the holy basil.
4. Serve with plenty of steamed rice and a bowl of fish sauce spiked with finely sliced chilies, garlic and lime juice.
Thai Food (Pavilion, 2002) by David Thompson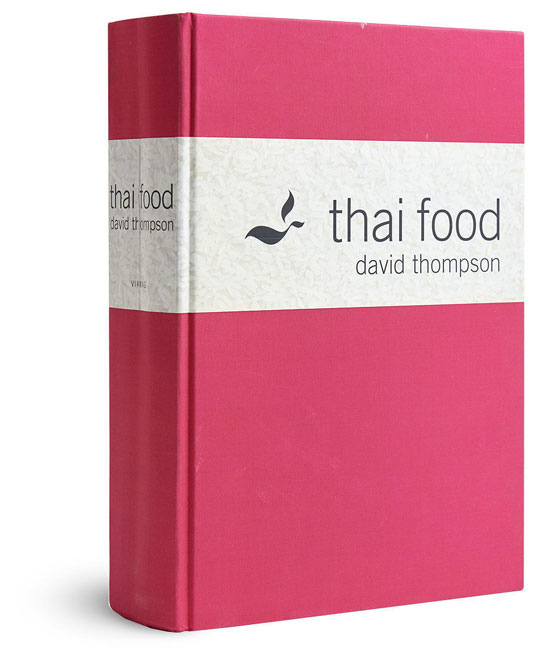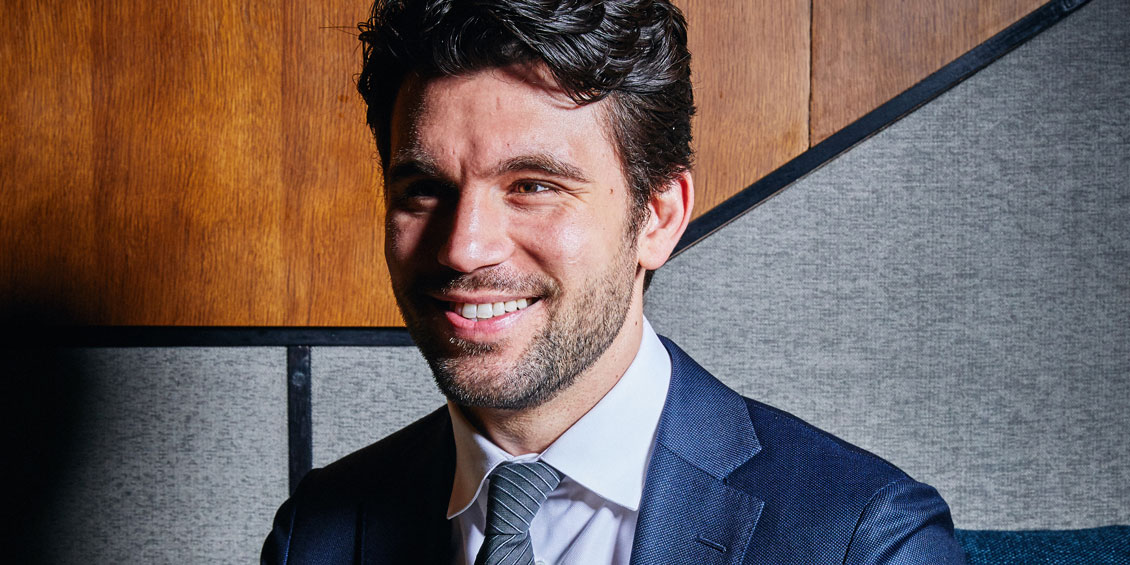 We caught up with Moët's youngest ever champagne ambassador to indulge in the finer things in life. From Michelin-star restaurants and champagne to luxe watches, the glass is always half full for Ethan.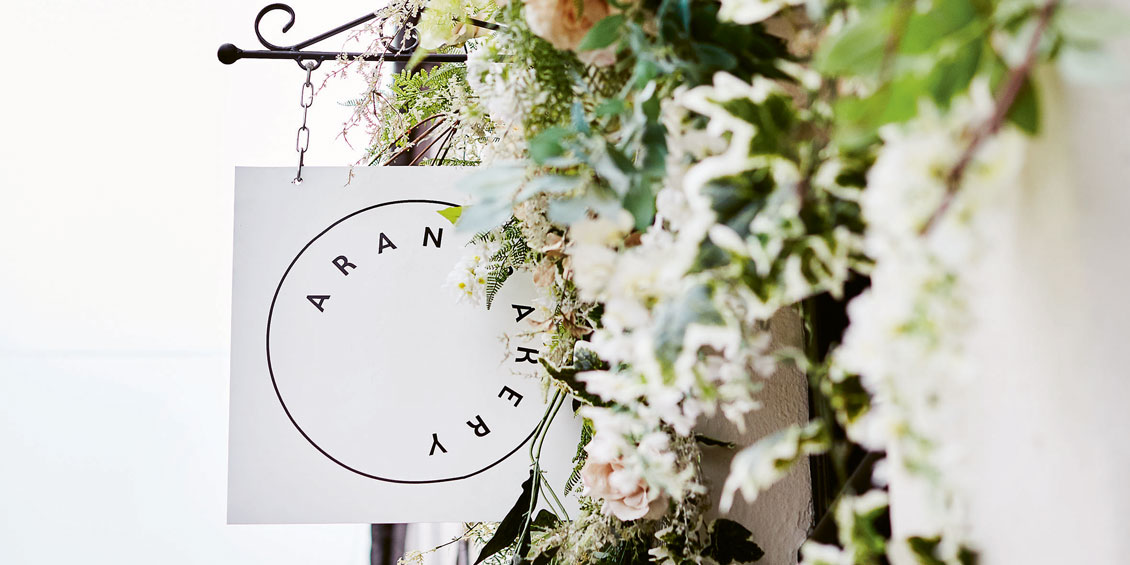 The sleepy Highlands village of Dunkeld harbours a quiet phenomenon in the world of baking: Aran. It's Scottish Gaelic from the Old Irish 'arán' meaning 'loaf'.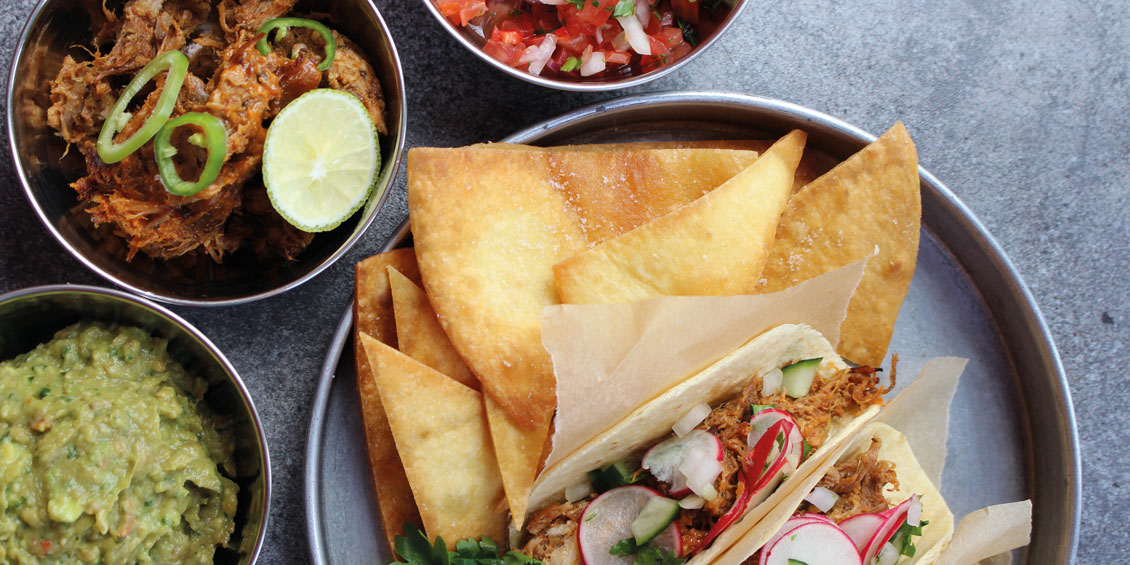 Why bother braving the great outdoors, when you can have restaurants deliver deliciousness to you.