WHAT'S THE FREQUENCY, ZENITH?
2nd July 2019
Future proof innovation makes Zenith tick. Words by Alex Doak.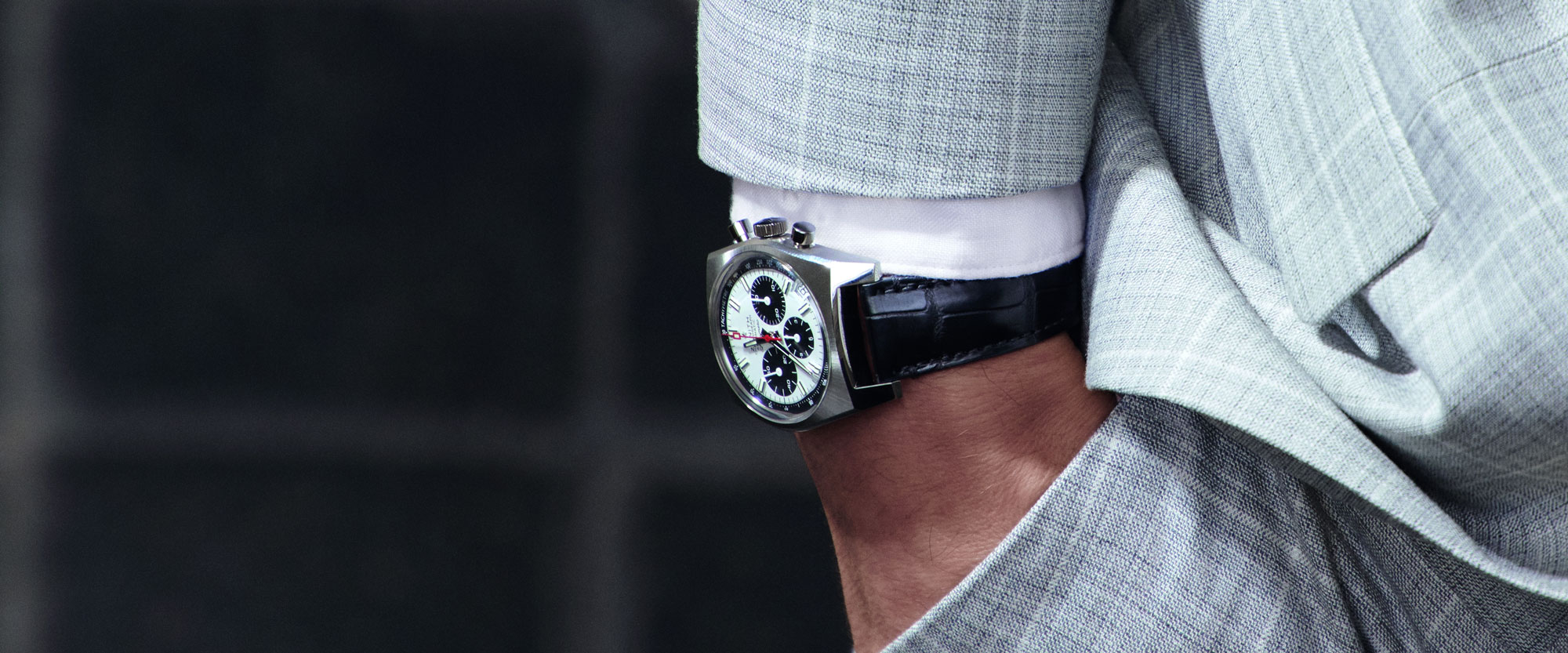 It might still be nestled among similarly quaint Art Nouveau buildings, deep in a remote valley, but Zenith has always been the future of Swiss watchmaking. When a 22-year-old Georges Favre-Jacot set up shop in Le Locle village over 150 years ago, his was the only factory in the Swiss Jura mountains to be fitted with electric lighting, let alone the first one to bring all of watchmaking's key skills under one roof, rather than rely on the Jura Mountains' sprawling cottage industry.
Not only that, but Favre-Jacot pioneered the transfer of American industrial methods to the Jura, buying precision machinery for the production of highly interchangeable parts in big series. (An approach adopted three years later by Florentine Ariosto Jones, AKA father of IWC.)
Yet still, after 300 patents, 600 movement variations and a staggering 2,333 prizes in the field of precision chronometry, Zenith continues to find itself firmly rooted in the art of the 'chronograph' stopwatch function. More precisely: El Primero.
When first unveiled in January of 1969, pipping Heuer and Breitling's collaborative 'Calibre 11' to the post by six months, Zenith's El Primero could proudly advertise itself not only as the world's first self-winding chronograph but also the first to tick at the highly precise frequency of 36,000 vibrations per hour, or 5 Hertz. This meant you could time events down to an accuracy of one tenth of a second, rather than the eighth afforded by all other 4Hz, or 28,800vph chronographs.
Fittingly, El Primero made its debut later in 1969 powering a watch design far ahead of its time. The 'A384' (not named after the trunk road connecting Buckfastleigh and Totnes in Devon) housed its 5Hz mechanics in a steel case with angular facets straight off a Buck Rogers extra. For the A384's 50th-anniversary revival this year, Zenith's boffins went even more far out, 3D-scanning and digitising a museum original for perfect reproduction.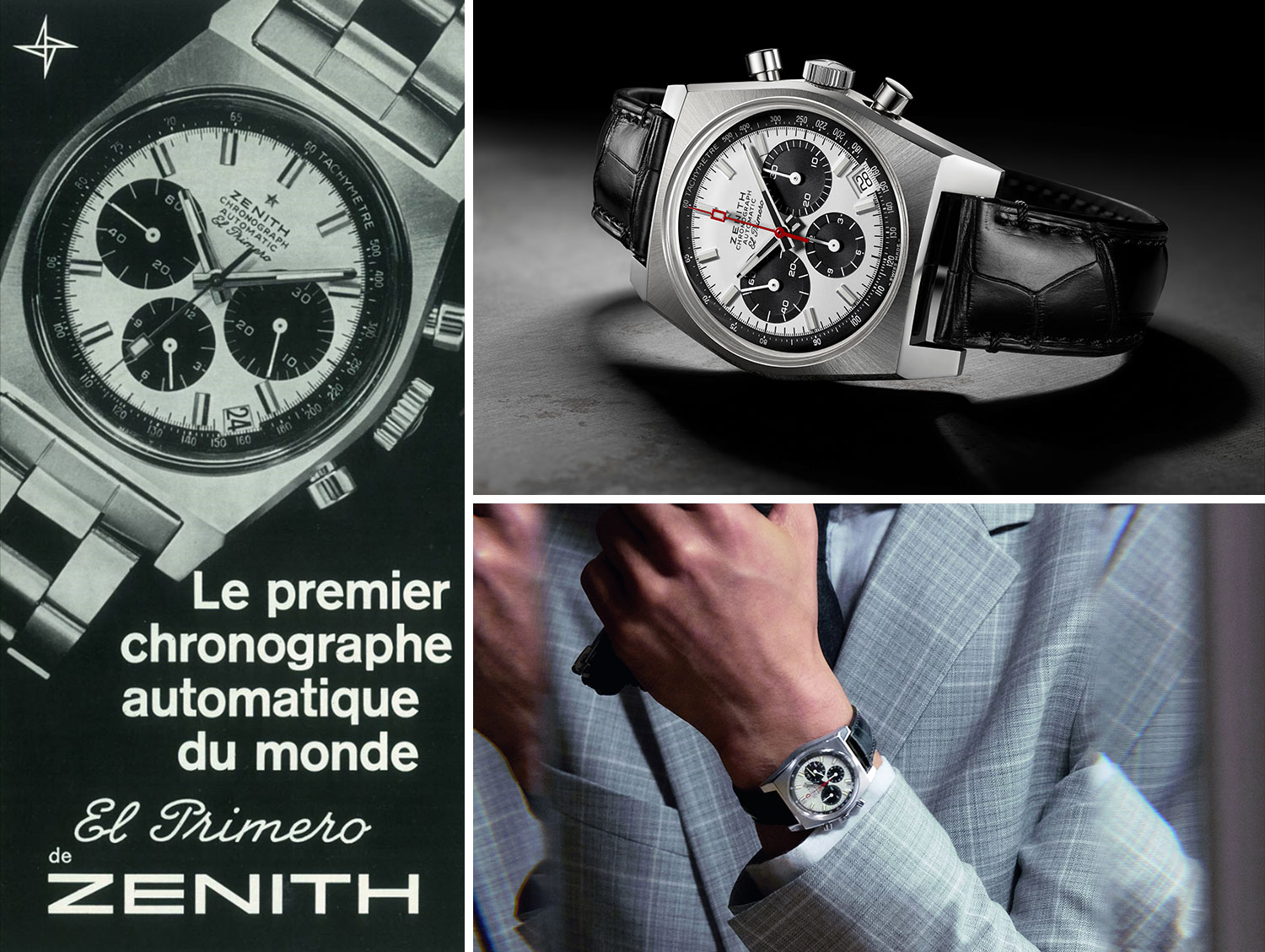 Unfortunately, the writing was on the wall come the early Seventies. Like everything mechanical at the time, the contents of the El Primero workshop was ordered to be scrapped at the price of its metal, making way for newfangled quartz technology. An especially percipient workshop manager by the name of Charley Vermot reckoned otherwise, however. He assiduously squirrelled-away the plans and every single tool required to make an El Primero movement from scratch, shelving it all in a forgotten-about attic.
It wasn't long before Vermot's act of insubordination came to benefit Zenith as, sure enough, interest in mechanical watches was back on the upswing by the early Eighties – and you can guess which prodigal son was to return first.
At the same time that El Primero was heralding Zenith's mechanical revival (its production instantly reinstated thanks to the efforts of Charley boy), another would-be industry legend was making his name reviving the Blancpain brand under the stoic mantra of "no quartz here, thank you very much".
A modern-day Georges Favre-Jacot, Biver is a revolutionary credited for reviving interest in mechanical watches in the Eighties when everyone was wearing quartz. His recent crowning achievement was establishing Hublot as one of the biggest players (the Big Bang was all his idea) and having tended to TAG, his swansong has been Zenith itself. Biver's final and fitting tenure has seen the jewel in LVMH's crown scale higher peaks than ever.
First up for Zenith v3.0, in a reassertion of El Primero's importance at the core of the brand, was the stopwatch function of 2017's 'Defy El Primero 21', powered by a totally separate, high-frequency geartrain ticking at the breakneck speed of 360,000 vibrations per hour (or 50Hz). The tech is derived from a short-lived 'haute horlogerie' experiment at TAG in 2011, and feels far more at home here, especially in this year's stealthy carbon-fibre case.
In a dazzling exaggeration of El Primero's high-frequency capability, the central sweep-seconds hand whizzes round the dial once a second and keeps time to a hundredth of a second, rather than a tenth. And if that wasn't enough to keep you utterly transfixed, the dial is 'skeletonised' to afford a glimpse into the tiny constellation of micro-mechanics within.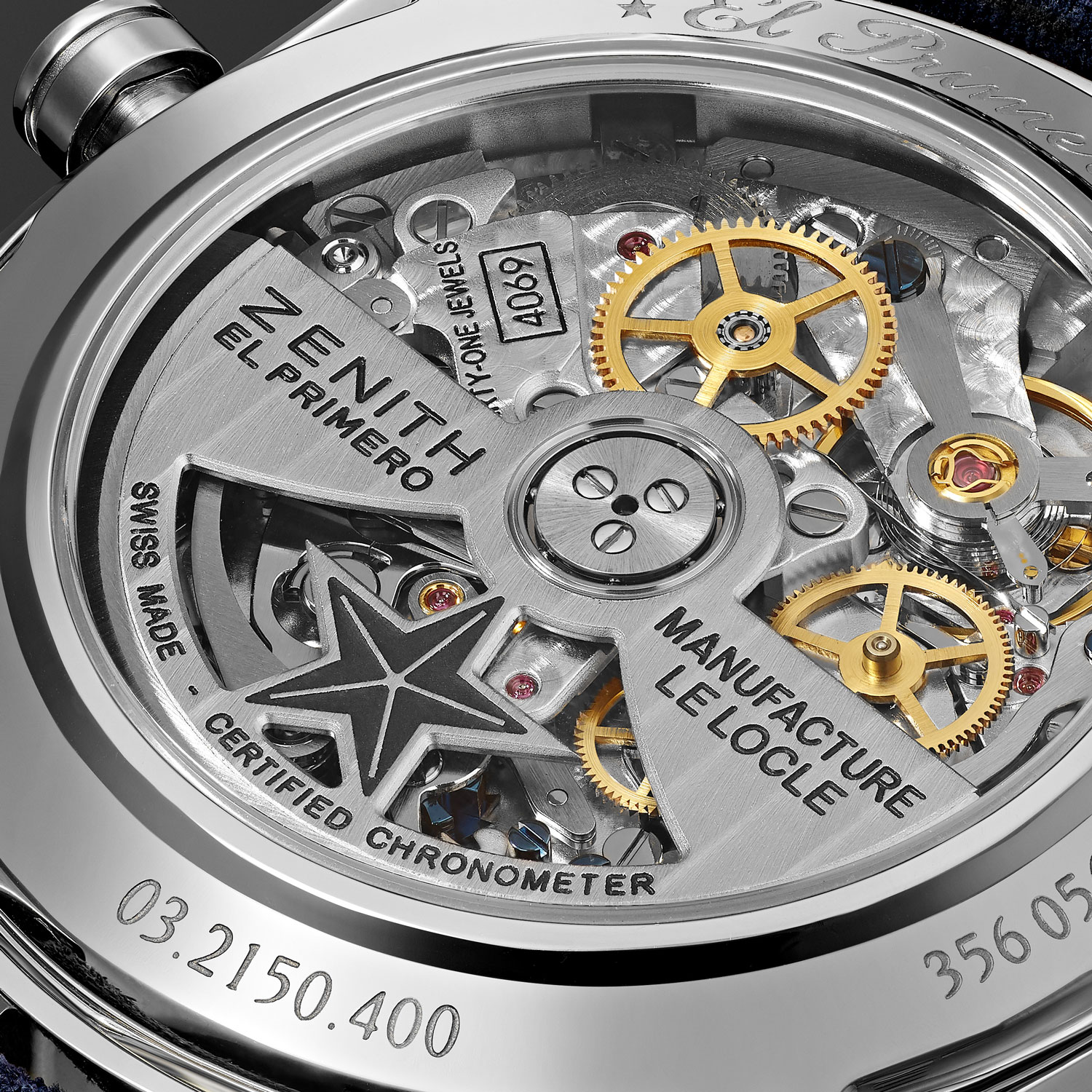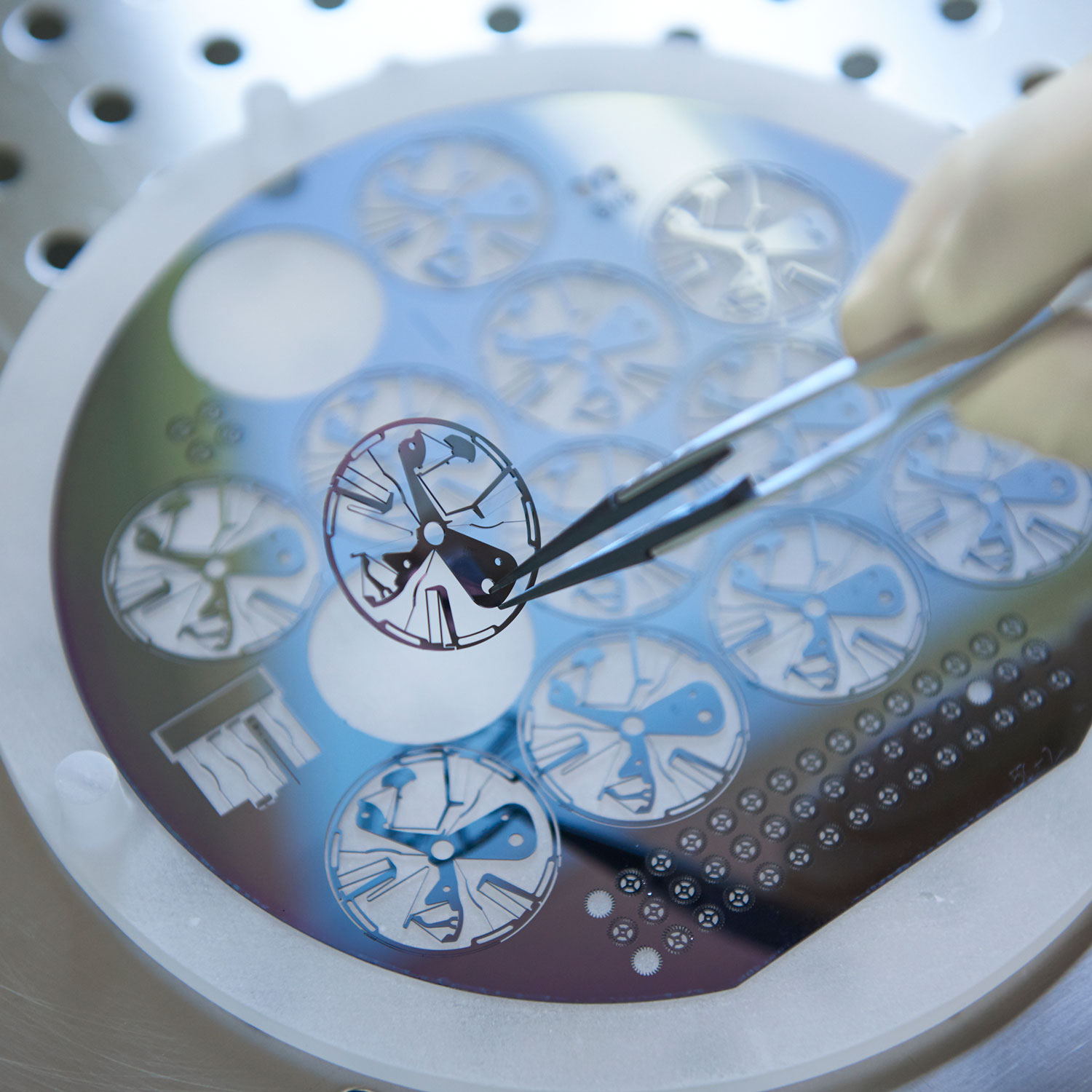 As the first move in Zenith's 21st-century masterplan, Defy 21 was tantamount to leapfrogging your pawns with a knight. But with Mr Biver on board, you can be sure this is no bluff. And sure enough, the novelties unveiled on Zenith's stand at the Baselworld trade fair back in March signalled a solid checkmate in the game of high-frequency watchmaking.
First up: the Defy Double Tourbillon Chronograph – another shelved adventure chez TAG Heuer, now made real by a brand that arguably suits the technology better. Not only does it feature a 'normal' tourbillon, tumbling the 5Hz El Primero escapement assembly a full 360º every minute, but hit the chronograph's 'start' pusher on the side and the secondary stopwatch powertrain, ticking at a breakneck 50Hz, tumbles inside its own tourbillon cage 12 times faster – i.e. 360º every five seconds.
The pure physics of a 5-second tourbillon, albeit on a microscopic scale, are a feat of near-alchemical engineering – and its down to the genius of LVMH's resident Einstein, Guy Sémon. A former French Air Force test pilot and professor of physics, you get the impression that with the responsibility of saving lives or advancing science behind him, Sémon is treating the horological laboratories of TAG Heuer and Zenith like a toy shop, playground and man-cave combined. No further proof being needed than 2019's other gamechanger…
AS THE FRIST MOVE IN ZENITH'S 21ST-CENTURY MASTERPLAN, DEFY 21 WAS TANTAMOUNT TO LEAPFROGGING YOUR PAWNS WITH A KNIGHT.
If Zenith's far-out 'Defy LAB' concept of 2017 seemed far-fetched, then the thinking man's Swiss maison has truly 'defied' the naysayers this year by bringing a commercial evolution to market in less than two years – for just £15,500. Dramatically, the renamed 'Inventor' does away entirely with the traditional, tick-tick-ticking assembly of balance wheel, hairspring and lever escapement, replacing its concoction of 30 parts with just 1 single component: a single wafer of silicon, stencilled into Kandinsky abstractness. It 'twitches' at 15Hz bringing the whole, openworked dial display to life, measuring an error of just one second across 70 hours' autonomy.
Nothing else mechanical comes close to that, whether you're talking precision, frequency or sheer horological chutzpah in rejecting Switzerland's time-worn regulating system wholesale. While the likes of Patek Philippe, Rolex, Omega et al. tinker with the odd silicon balance wheel or escape lever, gradually slimming down on lubricating oils and reducing the risk of magnetisation, Sémon and his team are ripping things up and starting over, lightyears ahead.
Whether silicon itself continues to be the silver bullet for 21st-century watchmaking or some other micro-engineered alchemy steals a march, you can remain confident that Zenith will be continue to be your one-stop shop for future-proof innovation.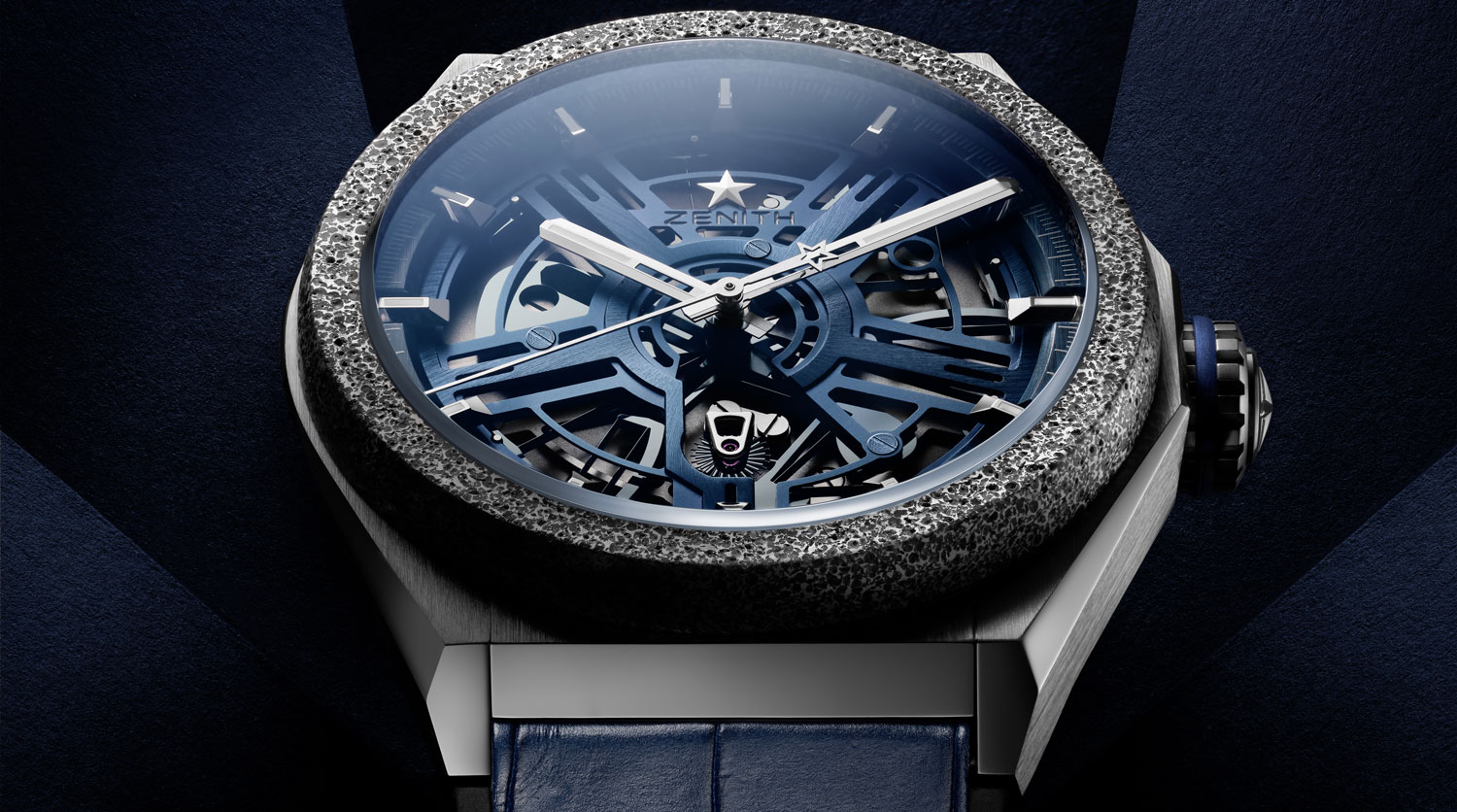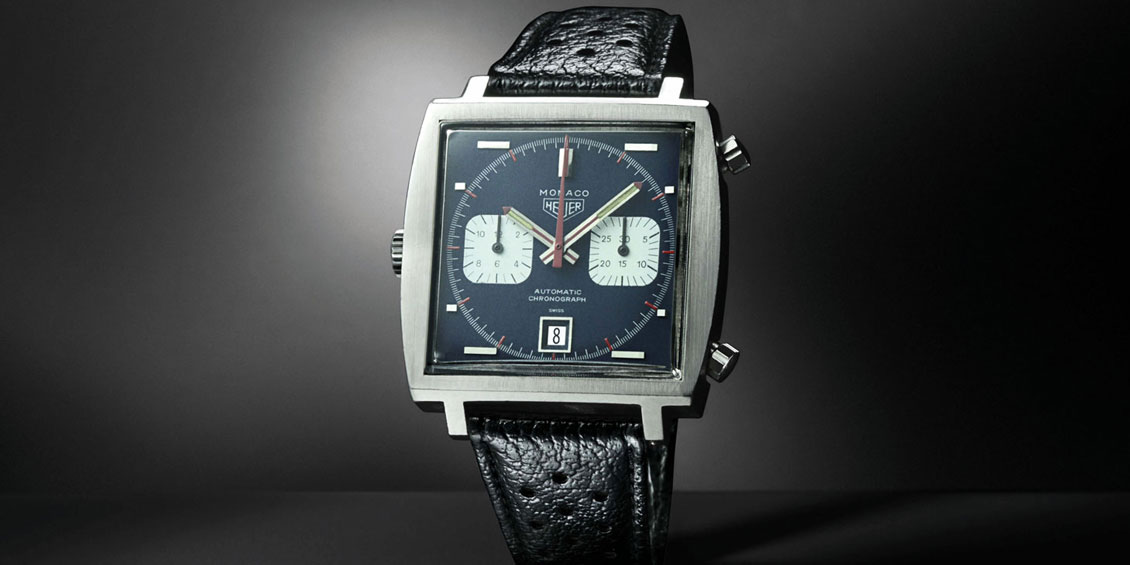 Fifty years ago, to the background of Vietnam, Led Zeppelin and the Moon landings, Switzerland was undergoing its own revolution – the first spin of the chronograph's winding rotor, to be precise.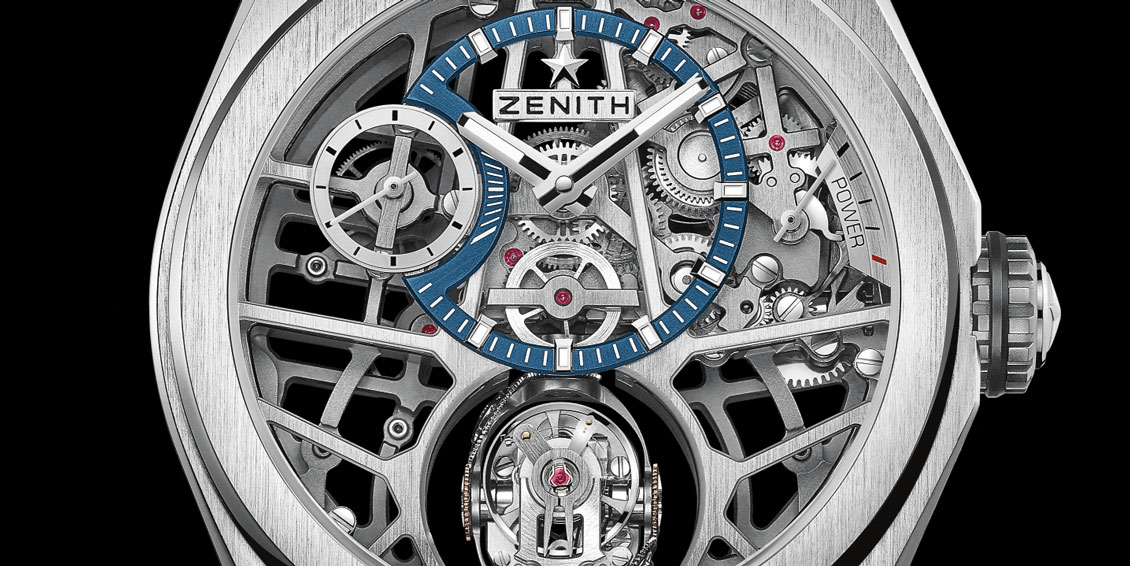 Remember those old NASA films of Apollo astronauts training for weightlessness and disorienting g-forces while strapped inside man sized gyroscopes? Well this is the watch for them, it's high-frequency regulatory assembly tumbles inside its own miniature gyroscopic cage.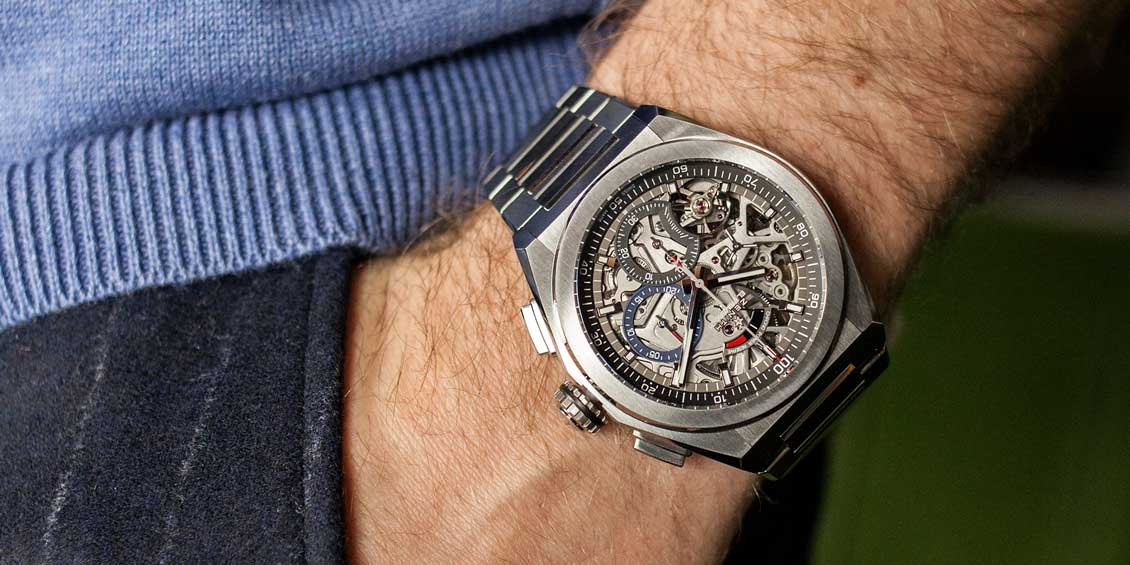 From juggling career progression and family commitments to making time for a social life, there's a lot for the modern-man to contend with on a day-to-day basis. At times it can seem like there aren't enough hours in the day, reminding us all that time is of the essence now more than ever.