TAG HEUER GIVES YOU WINGS
27th September 2018
Every racer's favourite watchmaker is back in pole position, on board with Aston Martin and F1 partner Red Bull Racing, sporting the British marque's famed winged badge. Words by Alex Doak.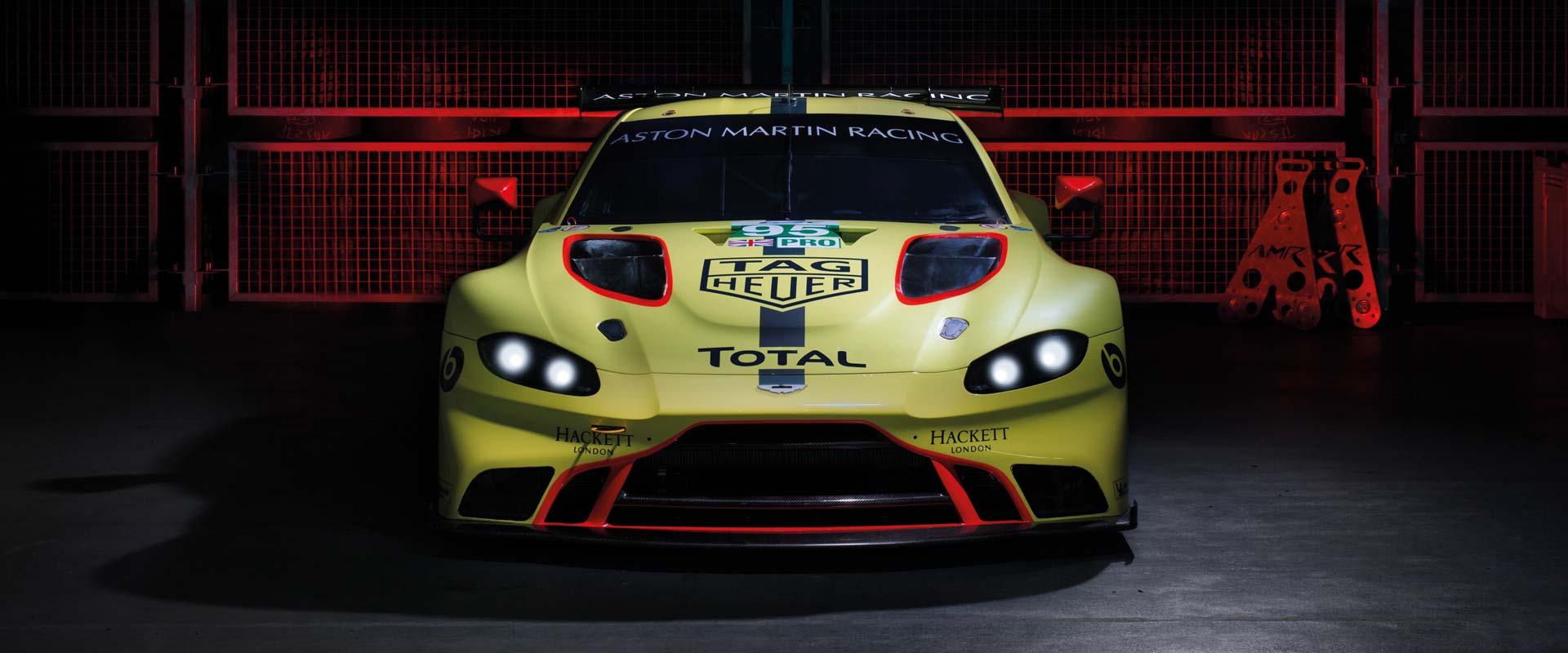 And it's lights out! Officially announced at the most important date in the motoring calendar, TAG Heuer is Aston Martin's new watch partner, commemorated from the get-go by two special-edition chronographs. But most tantalisingly, it's what's to come further down the track, as the covers came off much more than the watches and a TAG-branded Vantage GTE endurance racer at Geneva's Motor Show in March. All eyes, in fact, were on the monster that is the TAG-branded Valkyrie AMR Pro – a V12 hybrid whose jaw-dropping Red Bull Racing-penned aerodynamics could create enough downforce to drive along the roof of a tunnel.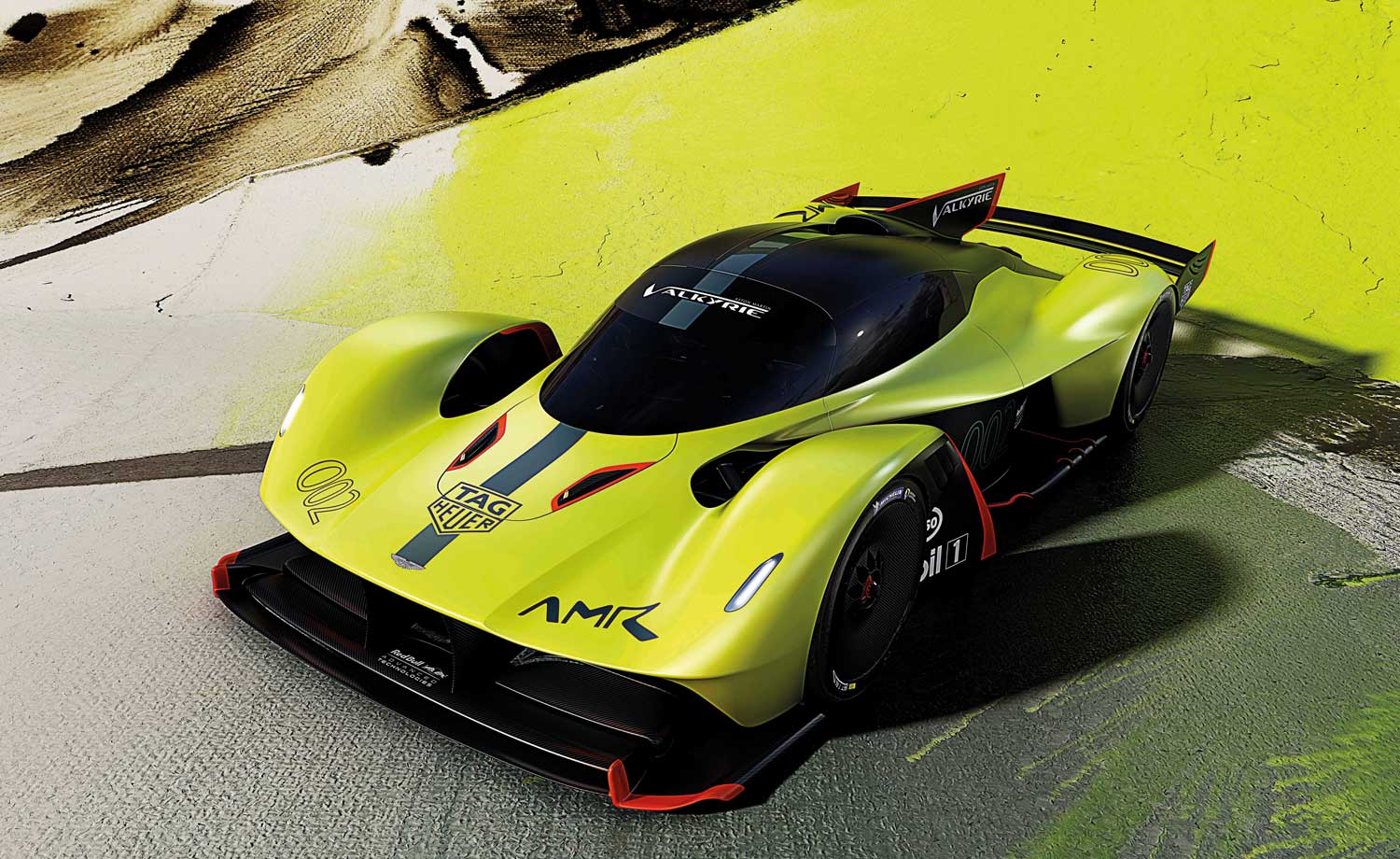 As an extension of TAG's recent high-octane exploits as 'engine name partner' for RBR's F1 cars, with Aston Martin's own marque now prefixing the championship contender's team name, this will make a lot of sense to petrolhead watchnerds. TAG Heuer, after all, has always been the most successful in bringing the two worlds together. From a product perspective, firstly – Heuer made dashboard chronographs from 1911 and singlehandedly invented the notion of the 'driving watch' with its brace of early-Sixties chronographs – but also a marketing perspective, getting the so-called Autavia and Carrera onto the wrists of winning F1 drivers. Not to mention its shield logo onto winning Ferrari's throughout the Seventies, plus of course its blue-faced Monaco chrono' onto the wrist of the similarly blue-eyed Steve McQueen in Le Mans (1971).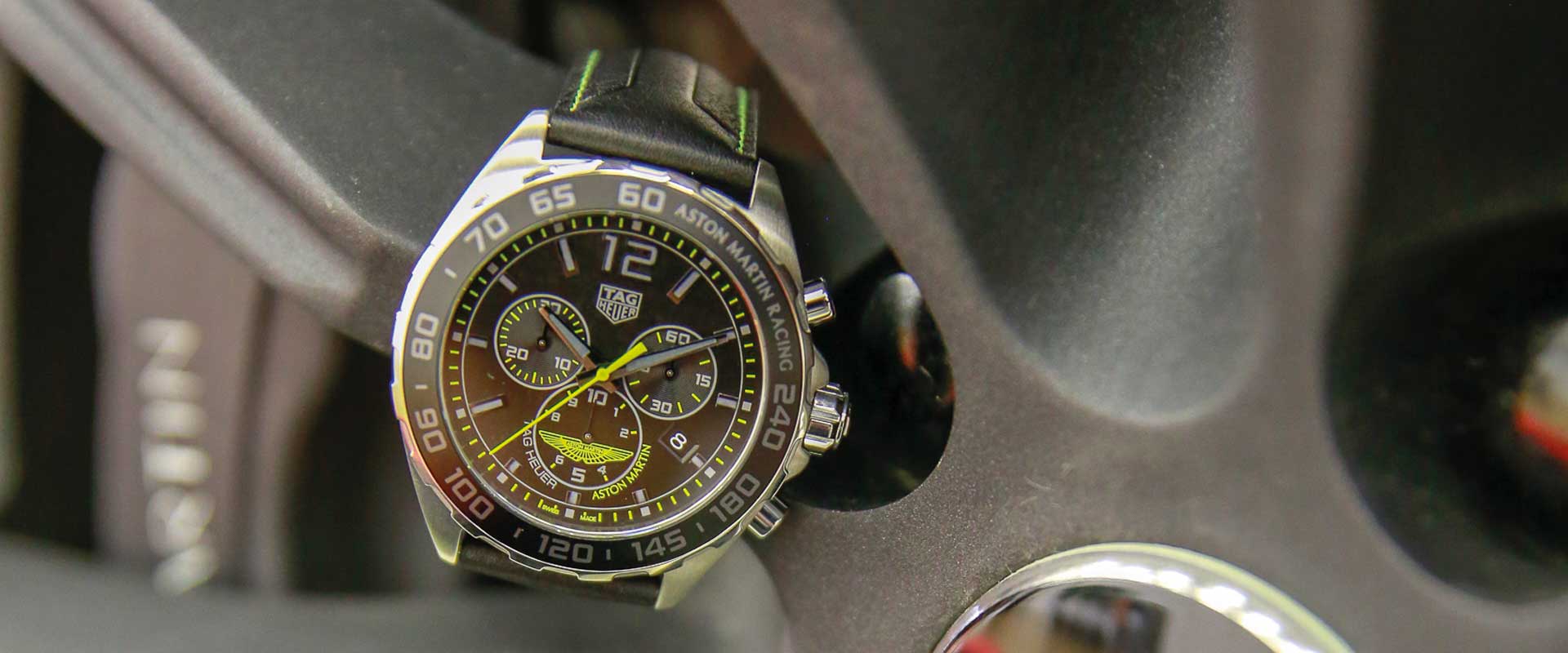 TAG Heuer is back in the mainstream motoring world, petrol coursing through its veins, and riding aboard a carmaker truly going places. Not just in the racing and track world (albeit with plenty of help from RBR and resident aerodynamics genius, Adrian Newey OBE), but crucially in the mainstream sports-car market.
Aston Martin posted record pre-tax profits of £87m in February, and the strongest Q4 performance in its 100-plus-year history, fuelled by the huge success of its first new core product in 13 years, the DB11. Meanwhile, its dynamic new CEO Andy Palmer is driving through a 'Second Century Plan' that sees its traditionally GT-oriented range exploding into almost every other conceivable luxury segment, from the Valkyrie mid-engined hypercar to an all-electric SUV being built at a vast new facility in South Wales.
TAG Heuer is back in the mainstream motoring world, petrol coursing through its veins, and riding aboard a carmaker truly going places.
Quite apart from all those shared values of luxury, history and performance, it's a pace of innovation and evolution that is inherent to the watchmaker as well.
"The great thing about TAG is of course its huge, iconic heritage in motor racing," says design director Marek Reichman. ("In fact, my first 'real' watch was a Monaco, bought at the Monaco grand prix," he adds fondly, "I spent my first two terms' student loan and ate beans for six months – but if you're a guy, who wouldn't want to be Steve McQueen?)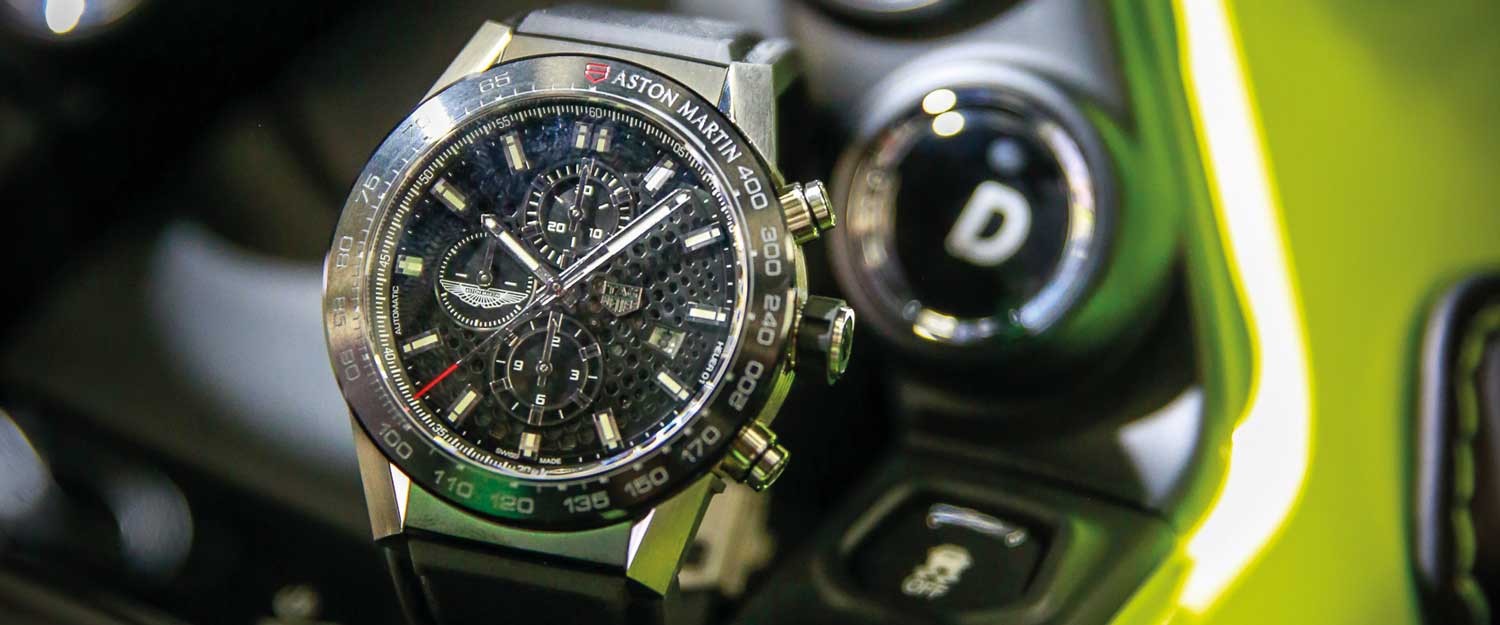 "In terms of Aston Martin, however," he continues, "our portfolio is growing. And that's where TAG really makes sense for us. Because of its range, you can align with one collection that feels 'mid-engined', or another that's more 'GT' or 'SUV'.
"TAG's speed of reaction is very different to a traditional watchmaker," Reichman continues. "Their clock speed is as fast as ours."
The new launch models – an 'Aston Martin' Carrera Calibre Heuer 01 and 'Aston Martin Racing' Formula 1 Chronograph – are just the start of an ongoing series. Like Aston's Second-Century Plan, the long-term is firmly in mind, with a TAG Heuer Connected smartwatch very much in plan, then something "truly unique", according to Reichman.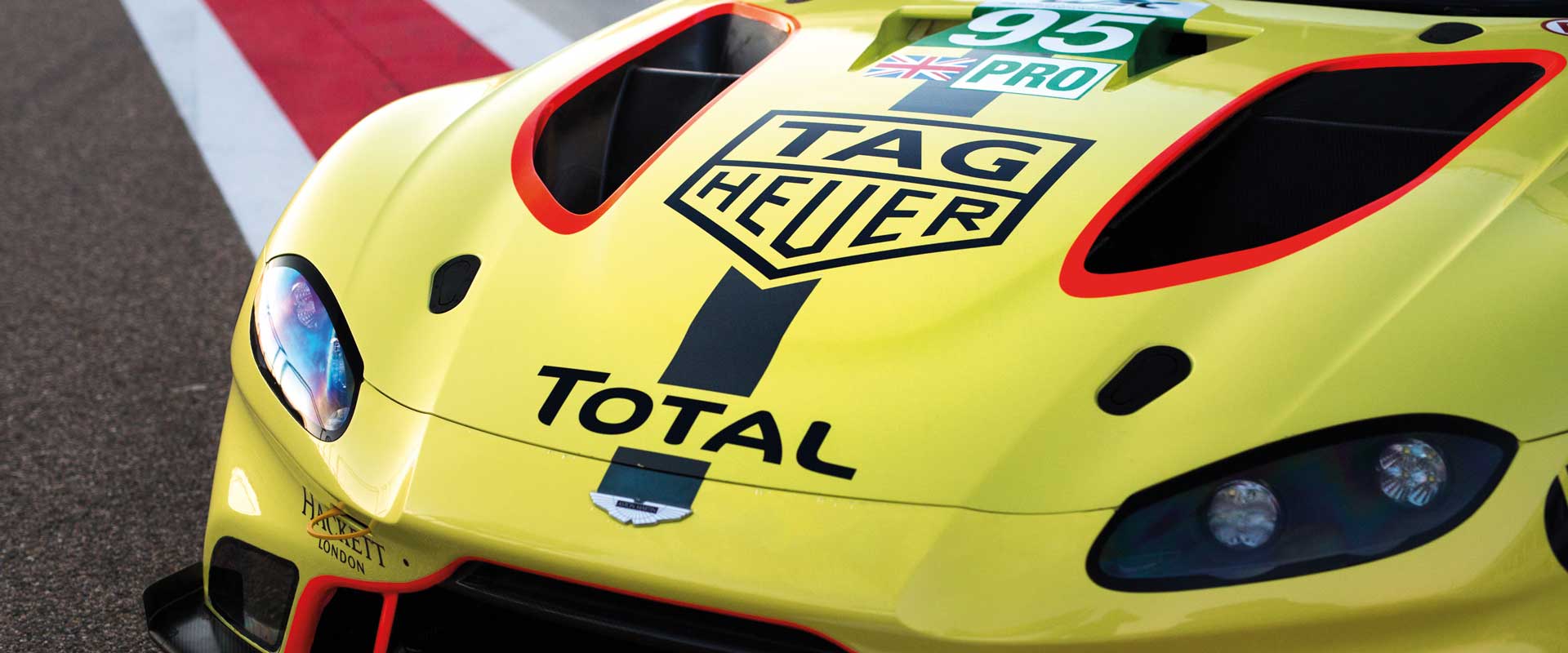 "This collaboration will bring forth a wealth of amazing synergies," confirms TAG Heuer's ebullient CEO, Jaen-Claude Biver, "which will strengthen TAG Heuer's position as an avant-garde luxury watch brand with a leading position in the automotive sector."
"We're running decisions fast and we both know the direction we want to take."
TAG Heuer Formula 1 Aston Martin, £1,250 Black opalin dial with Aston Martin logo with a 43mm steel case, aluminium bezel with Aston Martin logo and matte calfskin strap with lime green stitching.
TAG Heuer Carrera Calibre Heuer 01 Aston Martin, £5,250 Black opalin dial with Aston Martin logo, 45mm steel case, ceramic bezel with Aston Martin logo, matte black calf skin rubber and leather strap.
DRIVE A FAST BARGAIN
Three more high-octane watches supercharging our wrists this year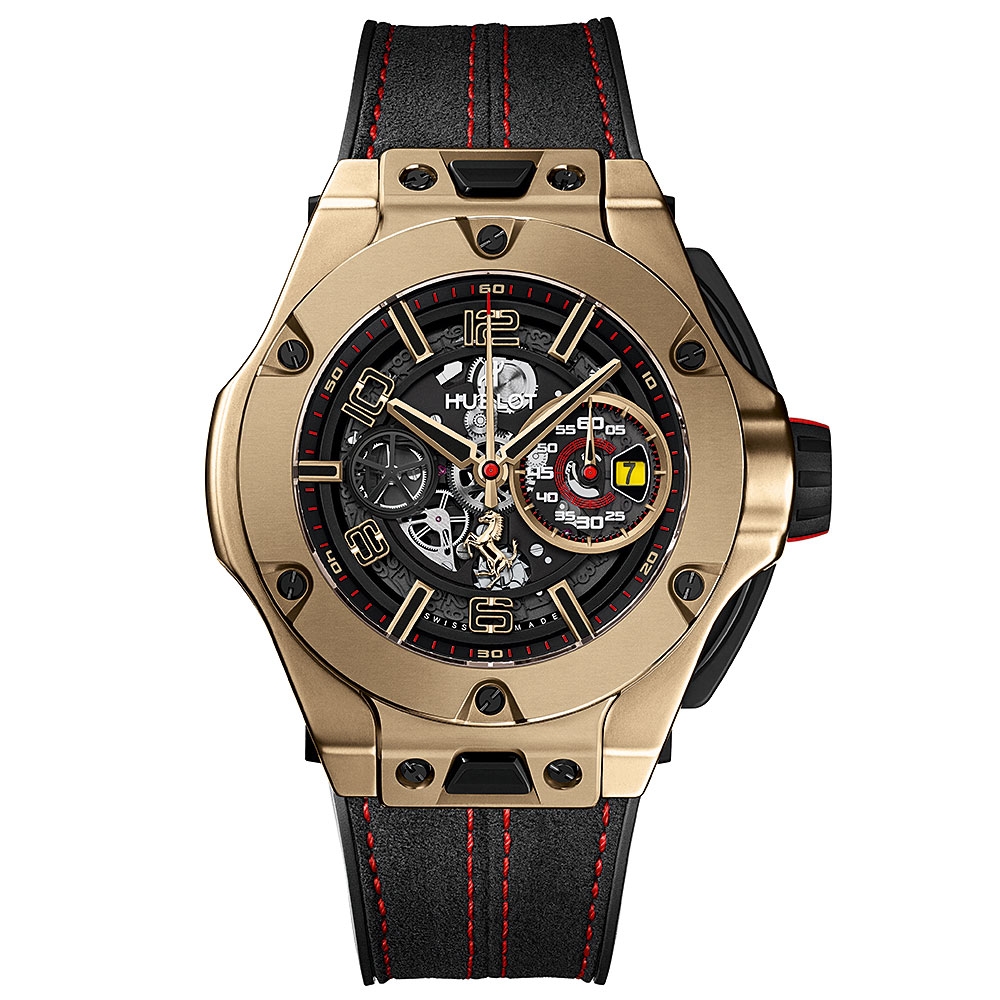 HUBLOT BIG BANG FERRARI MAGIC GOLD
In Hublot Ferrari has found a soulmate. The collaboration was launched in 2012 with a Big Bang encased by Hublot's ground-breaking 'Magic Gold' alloy – the most resistant form of gold conceived – and this revolutionary chronograph is now back, subtly re-contoured by the Ferrari x Hublot design team.
69679 | £30,400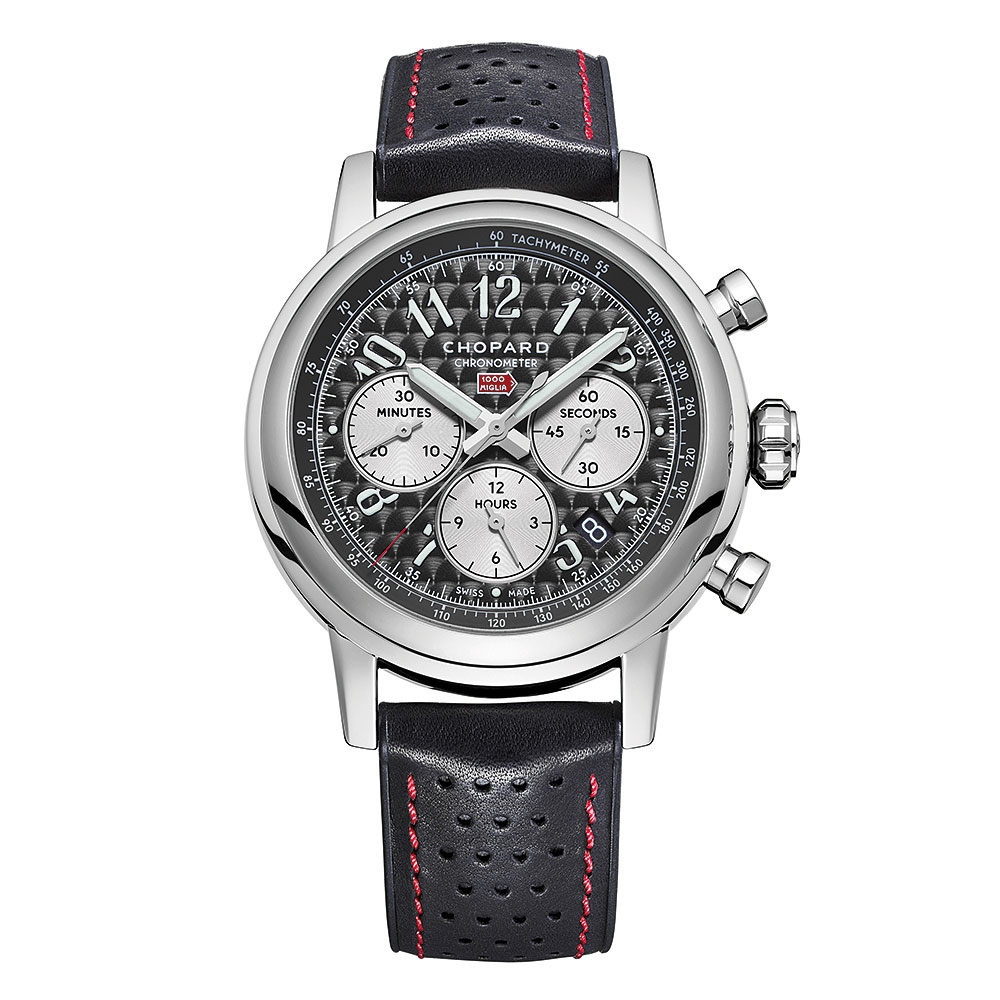 CHOPARD MIGLIA 2018 RACE EDITION
There is nothing quite like the Mille Miglia classic-car rally staged every year along the titular 1,000-mile loop from Brescia to Rome and back. Chopard has been synonymous with the event since 1988, with every driver receives a special-edition chronograph in their race pack. This is the 2018 model; nostalgic, racy, classic, just like the cars.
70157 | £4,540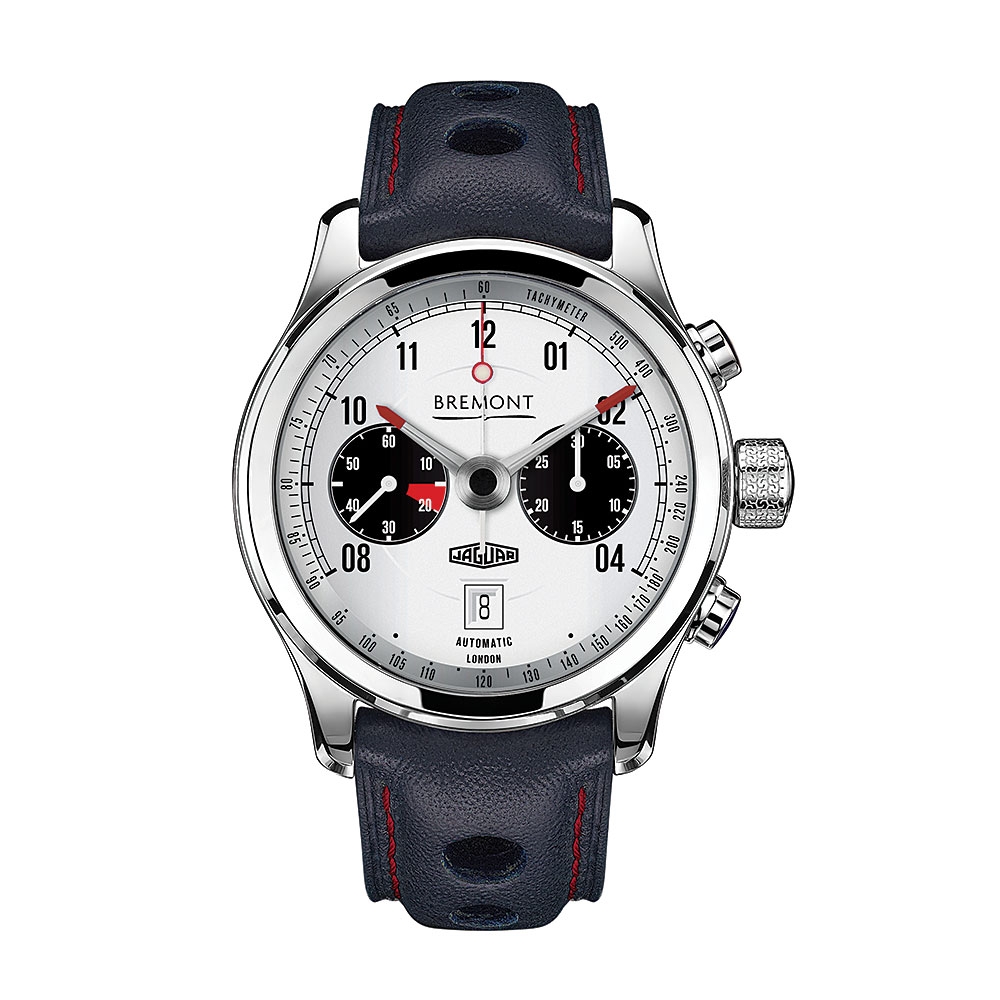 BREMONT JAGUAR MKII
When Jaguar decided to make the last six in an 18-strong line of lightweight E-Types, it fell to on-off watch partner Bremont to come up with the accompanying timepiece – perfectly nostalgic, with its rev-counter-inspired dial and tyretread crown. One of those original Lightweights famously won the 12 Hours of Sebring in 1963, and its blue-and-red-striped Old English White livery is celebrated here.
67821 | £5,195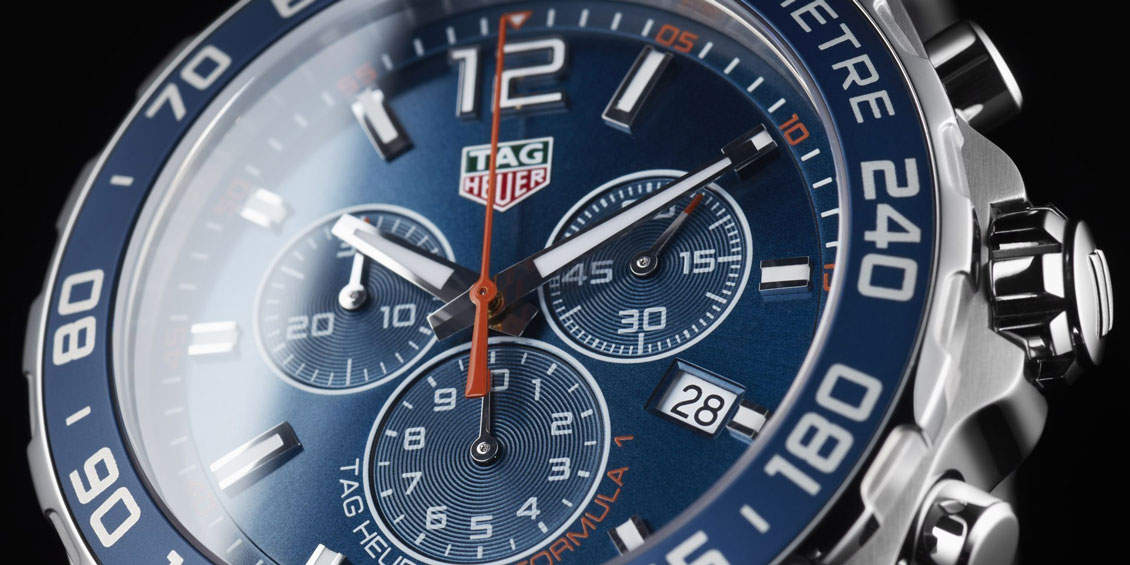 TAG Heuer is a pioneer of modern watchmaking, proud to expand its horizons whilst honouring the rich and diverse history of the brand. Irresistibly stylish and daring designs are at the heart of the brand, embodied in iconic models such as the TAG Heuer Carrera, TAG Heuer Formula 1 and TAG Heuer Aquaracer, proving TAG Heuer watches are a force to be reckoned with.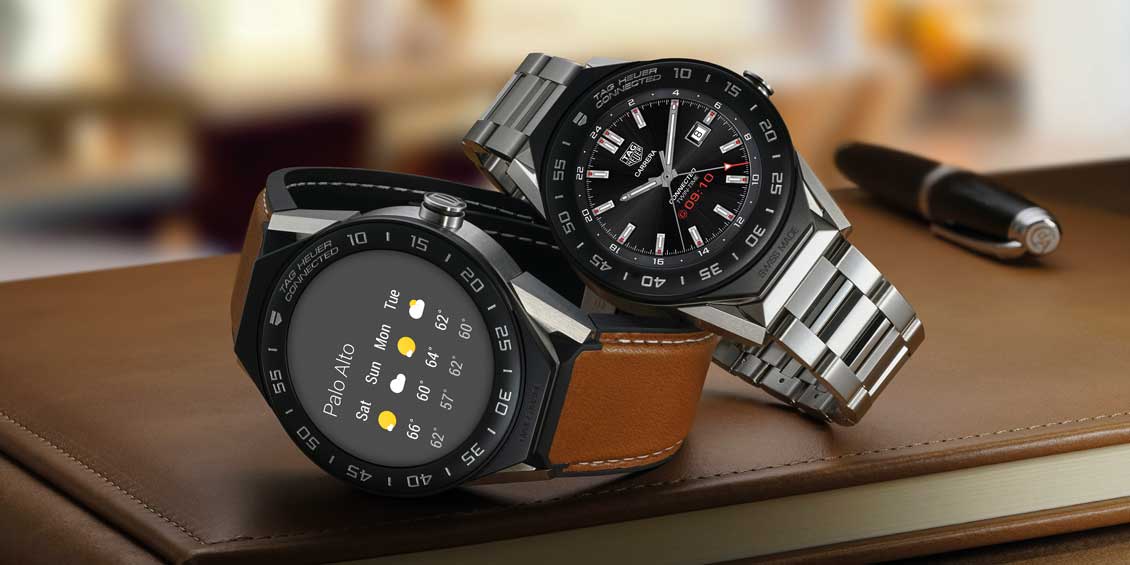 It's all happening at watchmaking's frontier, with the smartwatch hitting its stride as a proper luxury product – and needless to say, TAG Heuer is already streaks ahead.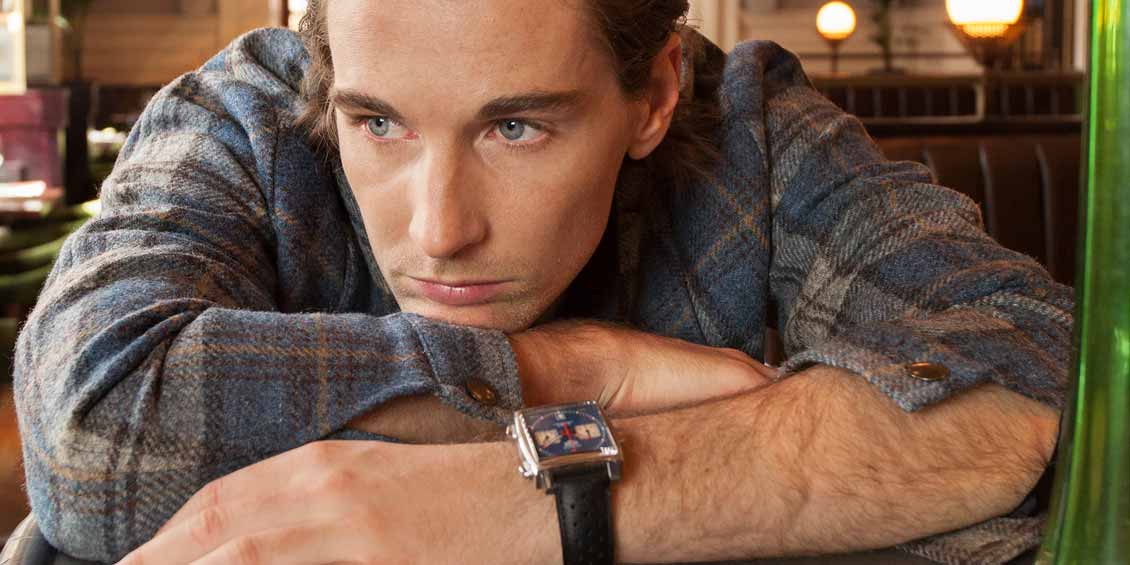 For the modern ROX Man style is a matter of instinct. An opportunity to showcase your personality to the world in your own unique way, style is an integral part of who you are and who you're perceived to be.