HAPPY HEARTS
30th June 2017
Exciting, romantic, fun – Happy Hearts come alive in Chopard's iconic jewellery. Mix, stack and gaze gleefully as this playful collection dances upon the wearer.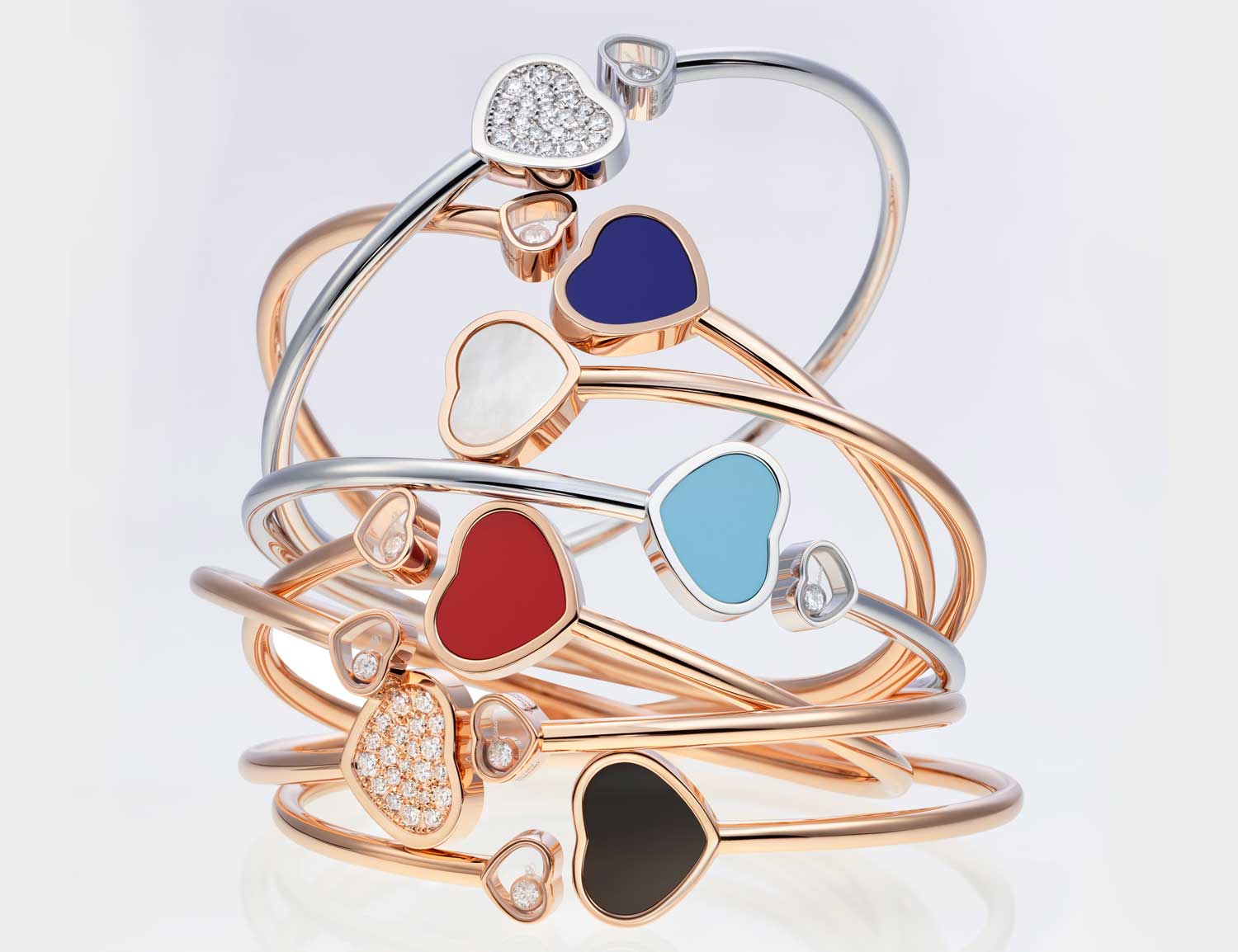 Each May, a dazzling array of celebrities walk the red carpets of the Cannes International Film festival. The bright sunshine of the French Riviera and the popping flashes of the paparazzi bounce off perfectly coiffured hair, expertly chosen gowns and show-stealing jewels, many of which will have been created by Swiss jeweller to the stars, Chopard.
This glamorous scene is one that Louis-Ulysse Chopard, the son of a farmer, might perhaps have struggled to envision; although he soon became au fait with the elite after founding the brand in 1860, counting royals like Tsar Nicholas II of Russia as clients. But for a modern Chopard, dressing the rich and the famous for the red carpet is what it does best.
In 1998, Chopard officially became affiliated with the Cannes International Film Festival, using its expert goldsmiths to create the Palme d'Or trophy that is given out to who a respected panel of judges deem to be the director of the best film of the year. A decade later, Chopard started to create lavish jewels especially for Cannes, rather than just offering the stars the chance to dip into its already quite adequate jewellery box. These jewels, known as the Red Carpet Collection and now worn at high-profile events across the world, look exactly as their name suggests – large statement designs, set with enormous coloured gemstones and a carat of diamonds that verges on the absurd. The collection grows each year, and stars to have worn some of these one-off creations include Julia Roberts, Jennifer Lawrence and Kylie Minogue.

Three years ago, Chopard made a pledge to "turn the red carpet green". It started with the iconic Palme d'Or, stripping the trophy of its solid gold palm leaf motif and replacing it with a modernised version made from Fairmined gold (gold bought at a premium from small-scale artisanal miners so that money can be invested back into impoverished mining communities). Chopard co-president and artistic director Caroline Scheufele also ordered the creation of a Green Carpet Collection. The designs are in a similar vein to the Red Carpet Collection but each must be made with Fairmined gold and gemstones that are ethically and transparently sourced. Cate Blanchett was one of the first stars to support the campaign, stepping up to collect her Golden Globe for best actress in 2014 wearing a pair of diamond earrings from the Green Carpet collection.
Not all of Chopard's jewellery is made for the red – or green – carpet, of course. The Swiss maison has a wide offering of jewels that would not be out of place on a more low-key evening out, a day at the office, or a Saturday-morning stop off at a coffee shop – as Rihanna was spotted doing while wearing stacks of Chopard's Happy Hearts bangles in New York last summer.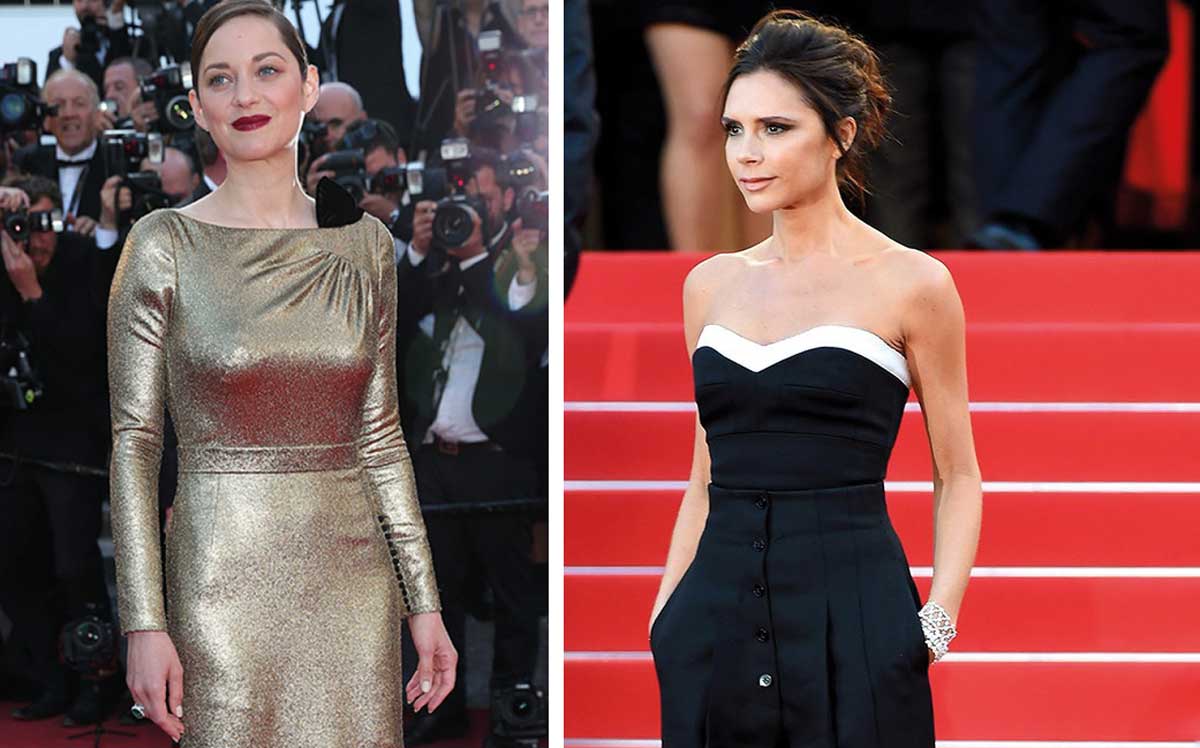 CHOPARD'S Red Carpet Collection is now worn at high-profile events across the world
Happy Hearts is an extension of one of Chopard's most iconic jewellery designs, the Happy Diamonds collection. The signature design motif of these jewels are loose diamonds wrapped in slender gold bezel settings, trapped securely within transparent sapphire crystal cases. The diamonds have the freedom to move around within their tiny showcases, making them a wonderful talking point and a great plaything for those of us who like to fidget with our jewellery.
The concept of rolling diamonds was first dreamed up by Caroline Scheufele in 1976 when she was a young teenager and still at school – her parents were running Chopard at the time. After classes, she would alleviate the boredom of hours spent at the family factory by whizzing up and down corridors on a wheeled office chair, the motion of which inspired her. Despite her age, her family believed in her designs and a jewellery legend was born.

In the Happy Hearts collection, the diamonds are trapped inside heart-shaped motifs. The bangles that Rihanna owns form a cuff of solid gold around the wrist, ending in two hearts – a smaller transparent heart with a moving diamond inside, and a second larger one that is decorated with a slice of gemstone of your choosing (turquoise, mother of pearl, onyx and green agate are just some of the options).
Other Happy Hearts creations include pendants with the two hearts dropping down from a delicate gold chain and matching earrings, as well as elegant chain bracelets and sautoirs livened up with a mix of heart motifs to create an almost pop-art effect.
Happy Curves is another extension of the theme, with clusters of chunky hearts squished together, each filled with a moving diamond. And it is perhaps in the Happy Diamonds watch collection – made for both men and women – that the concept best comes to life, as the diamonds have the entire surface of the dial to roll around and jostle into one another, setting off little bursts of dazzling sparkle as they go.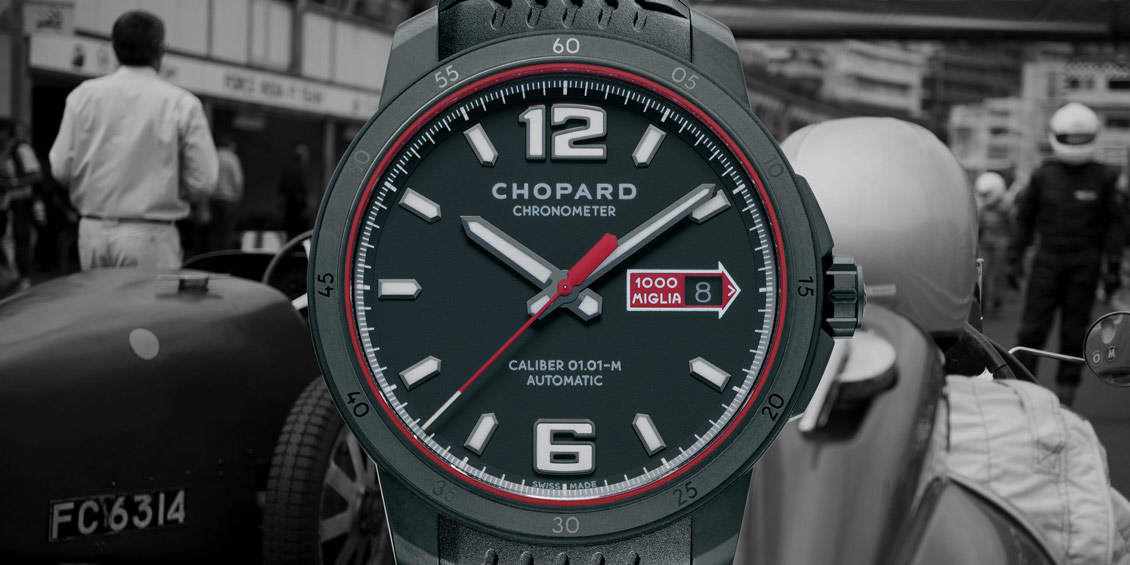 Founded in 1860 in Sonviller, Switzerland, and with a history of creating accurate and precise timepieces for individuals like Tsar Nicholas II – Chopard have history and prestige to rival any watchmaker. Chopard have maintained this reputation through the creation of excellent timepieces and by forging meaningful and lasting relationships.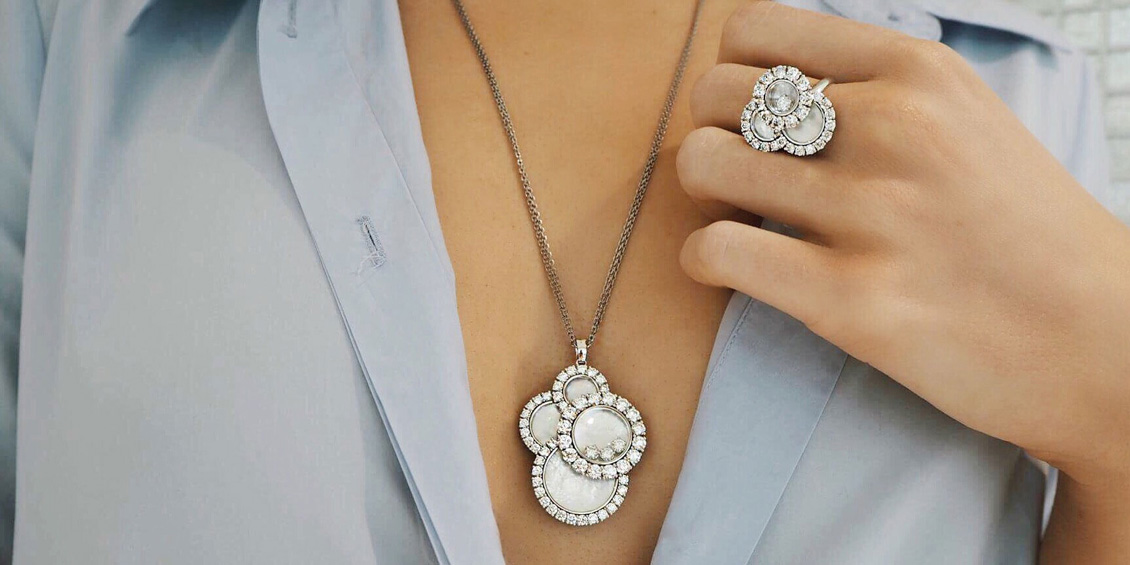 As we launch the iconic brand, renowned for their creativity and expert craftsmanship we welcome you to browse our Happy Diamonds Collection. Whether you are drawn to Happy Hearts or perhaps the Happy Dream collection has caught your eye, take style inspo from Chopard Brand Ambassador Rihanna and layer these fabulous pieces together for stylish look of your own.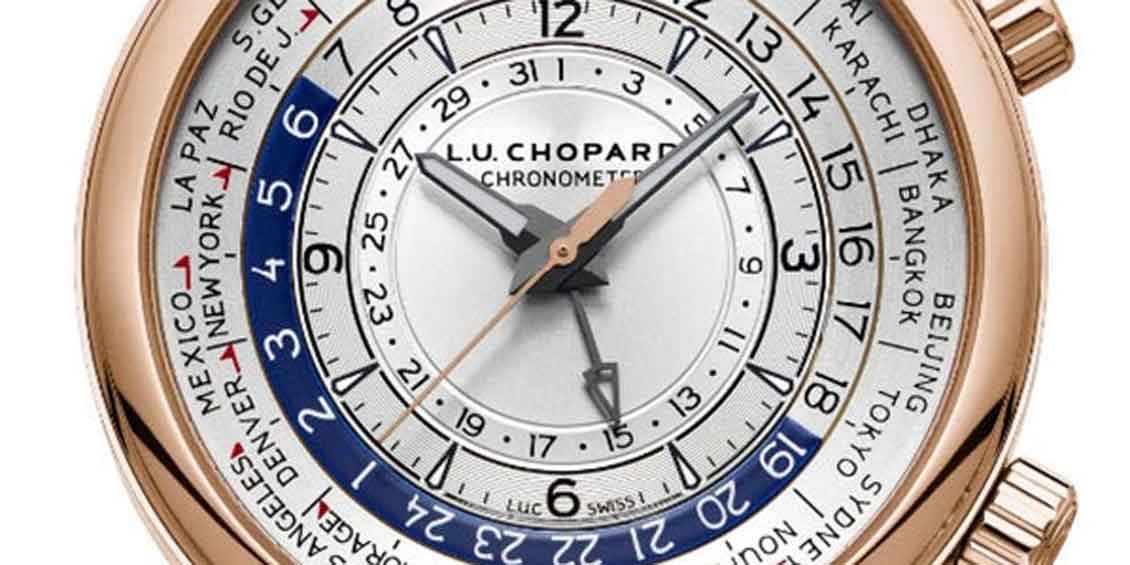 As we celebrate welcoming Chopard in to the ROX family with an event in our Argyll Arcade boutique, we wanted to take this opportunity to highlight a pair of remarkable timepieces – and to show you why we're so excited to work with such a versatile and accomplished watchmaker.