Since it was established in 2002 Bremont has proudly championed the art of British watch making, continuing to go above and beyond to create timeless pieces that both charm and inspire.
Founders Nick and Giles English have always had an interest in flying and historical aircrafts. Influenced by their gifted father Euan – an ex-RAF pilot with a PHD in Aeronautical Engineering – the brothers have combined their passions of soaring above the clouds and craftsmanship to create a brand that celebrates the best of British.
Sadly, Euan lost his life in March 1995 when the WWII Harvard aircraft he was flying with Nick in preparation for an air show was involved in a tragic accident. Giles was, waiting to take off for the next sortie was told that his father had been killed, while his brother had broken over 30 bones and probably wouldn't make it.
However, it was this day that changed the lives of the brothers forever with both determined to pursue what they enjoyed most – a life creating incredibly engineered mechanical devices.
Such is their passion, the brand has launched The Bremont 1918 Limited Edition collection to honour the centenary year of the Royal Air Force on 2018. Respected across the world and steeped in tradition, this venerable institution provides aerial protection for the United Kingdom and her interests. A Bristol Blenheim, a Supermarine Spitfire and a Hawker Hurricane that all flew during the summer of 1940 are incorporated into this remarkable timepiece. Each of these Battle of Britain aircraft forms a propeller blade in the rotor and are complemented by a veneer of original wood from the Shuttleworth Collection's 1917 SE5a which can be found at its centre.
In a further fitting tribute, a percentage of proceeds from the sale of the 1918 will go to the Royal Air Forces Association (RAFA), which has supported current and former RAF personnel for almost 90 years.
The beautifully crafted BE-16AE automatic chronometer pays homage to the respected history of the RAF. Its Bremont decorated rotor features metal and a wood veneer from four original RAF aircraft which flew in WWI and WWI. Complete with a 43mm polished stainless steel Trip-Tick® case construction and alligator strap with pin buckle to complement case material, it cuts a stylish figure on the wrist. Limited to 275 pieces this model has a 42 hour minimum power reserve and is water resistant to 100 metres.
Bringing a little warmth to the collection is this rose gold piece. The classic timepiece, complete with Trip-Tick® case construction, is the perfect choice for those who like to wear their style on their sleeve. From the alligator strap with pin buckle to complement the case material to the intricate rose gold indices it is a stand out design. Again boasting a Bremont decorated rotor featuring metal and wood veneer from four original RAF aircraft which flew in WWI and WWII it brings history to life. Limited to just 75 pieces.
In a nod to truly classic design this white gold model makes a welcome addition to any watch collection. The striking model, complete with Bremont decorated rotor featuring metal and wood veneer from four original RAF aircraft which flew in WWI and WWII like the other models, is limited to only 75 pieces. The white gold brings a bright glow to the piece while the blue alligator strap and dial add a touch of modern sophistication.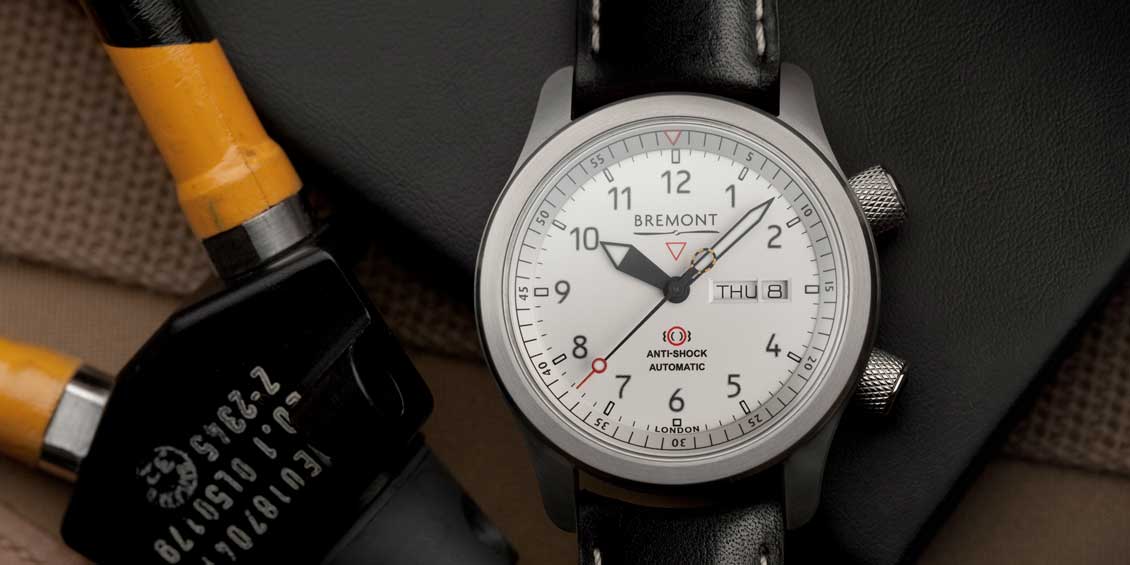 Since early 2002, two brothers – Nick and Giles English – embarked on an adventure to create beautifully crafted pilot's watches of exceptional quality from their headquarters in Henley on Thames. Since then, Bremont watches have set a prime example of innovative British engineering partnered with Swiss excellence. Inspired by a love of flying historic aircraft, watches and all things mechanical, Bremont watches are tested beyond the normal call of duty.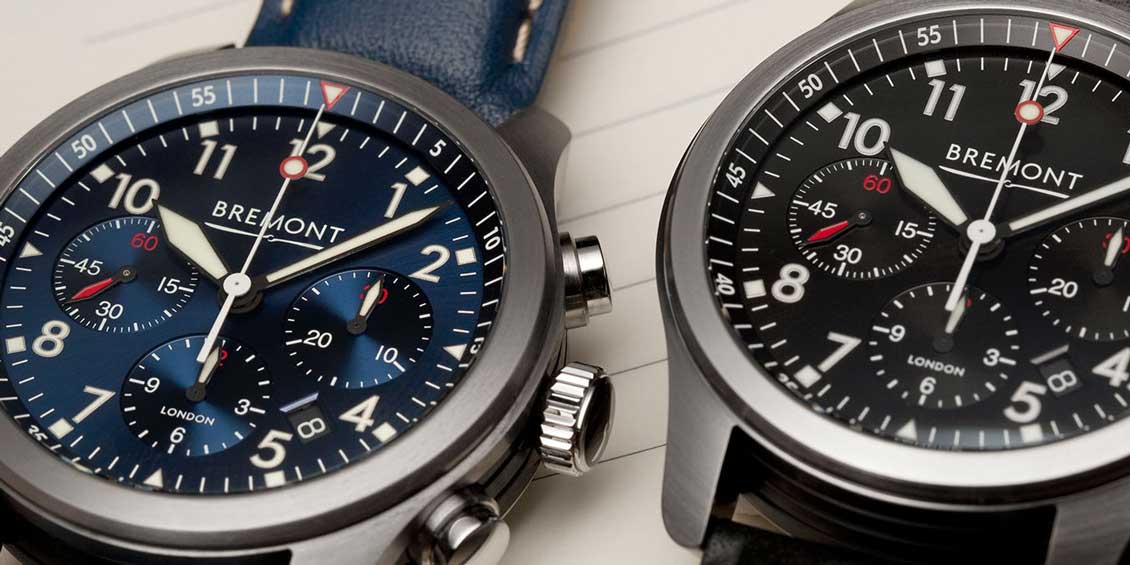 Age is just a number at Bremont. Britain's very own luxury watch brand, established by brothers Nick and Giles English in 2002, prides itself on creating truly timeless designs to last a lifetime. The concept behind the brand is simple. Each timepiece is designed with the aim to be as visually arresting in decades to come as the day that it left the workshop, with an ability to make itself at home in the boardroom, high above the clouds or indeed under the sea.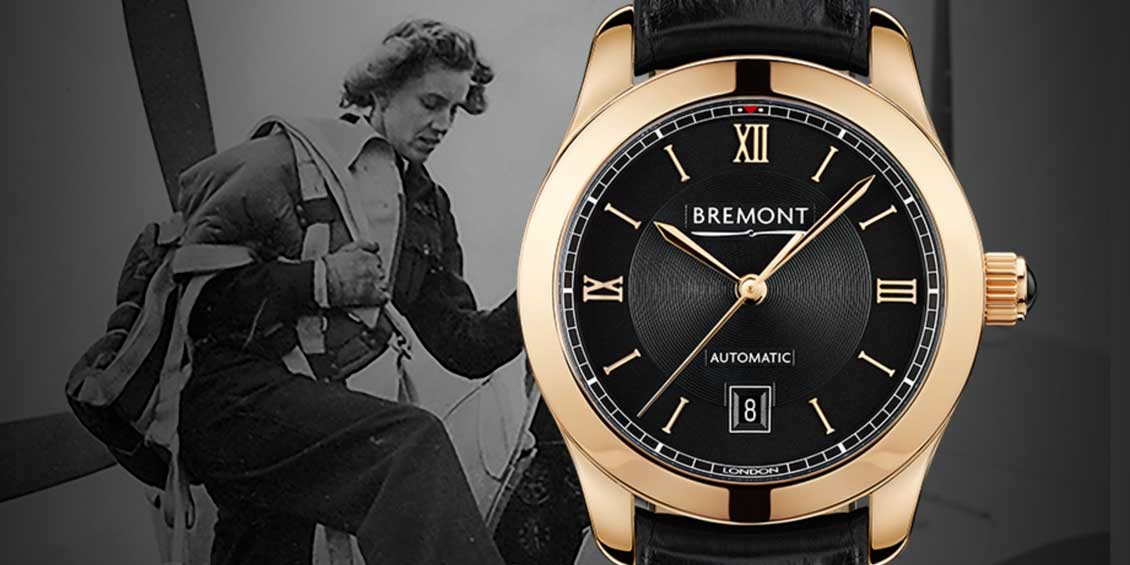 Inspired by one of the leading female figures of World War Two the Bremont Solo-32-LC is an unforgettable timepiece. Named after Lettice Curtis, widely regarded as the most remarkable female pilot of the Second World War, the British made watch is a fitting tribute to one of the nation's most renowned women.