WHERE TIME FLIES
26th July 2018
Bell & Ross are making super-modern watches for supersonic pilots, says Alex Doak…. as well as spacemen, bomb disposal teams and, as it transpires, the cool kids.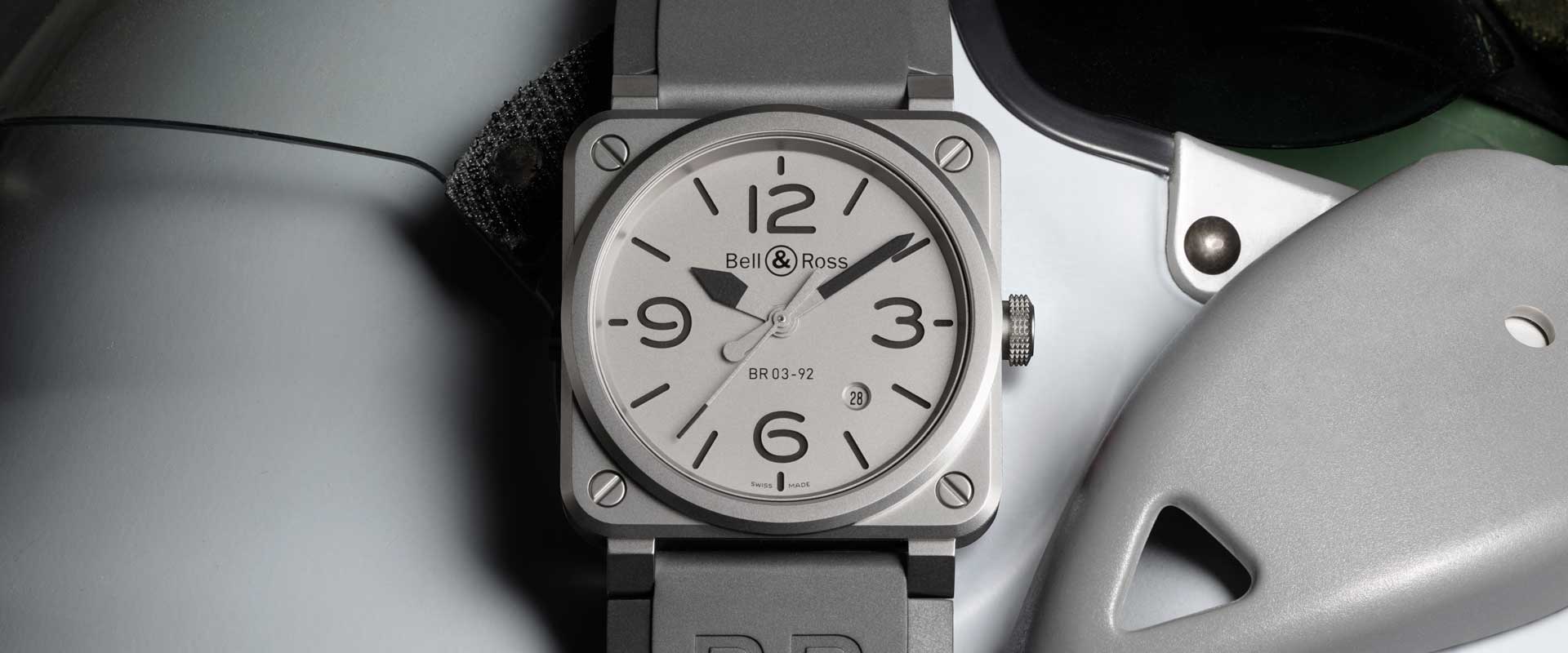 Time was when timekeepers did exactly that – keep the time. But then proportions bulged, multifunctionality became king, and bling-bling found its way onto even the most refined of horological specimens.
One brand that continues to defy all the above is Bell & Ross. Using high-end Swiss components, this rather un-Parisian of Parisian brands (despite being part-owned by Chanel since 1997) was founded in the early Nineties by designers Bruno Belamich and Carlos Rosillo, in collaboration with über-Germanic watchmaker Sinn, and some aircraft instrument manufacturers. Their mission: to craft robust and functional watches for 'professionals'.
Right from the start, it was clear there would be little messing about.
"Our watches," says Rosillo on the phone from Paris HQ, "were born from the passion and desire to equip professionals of the extreme with a tool adapted to their mission, which could become an ally of every moment.
And this is how we earned their recognition. Going to the essential without letting any space for the superfluous."
After all, hurtling along tens of thousands of feet up, one has very little room for error. Which is why aviator watches – Bell & Ross's biggest sector – are the most straightforward of all: black dials and white markings for optimal readings, chunky pushbuttons for ease of use with flying gloves, and definitely no diamonds. Fortuitously, the crisp form born out of such functionality lends itself rather nattily to the wrist. Conceived, assembled, and fine-tuned in La Chaux-de-Fonds, every Bell & Ross timepiece meets four fundamental principles: legibility, functionality, precision and water resistance.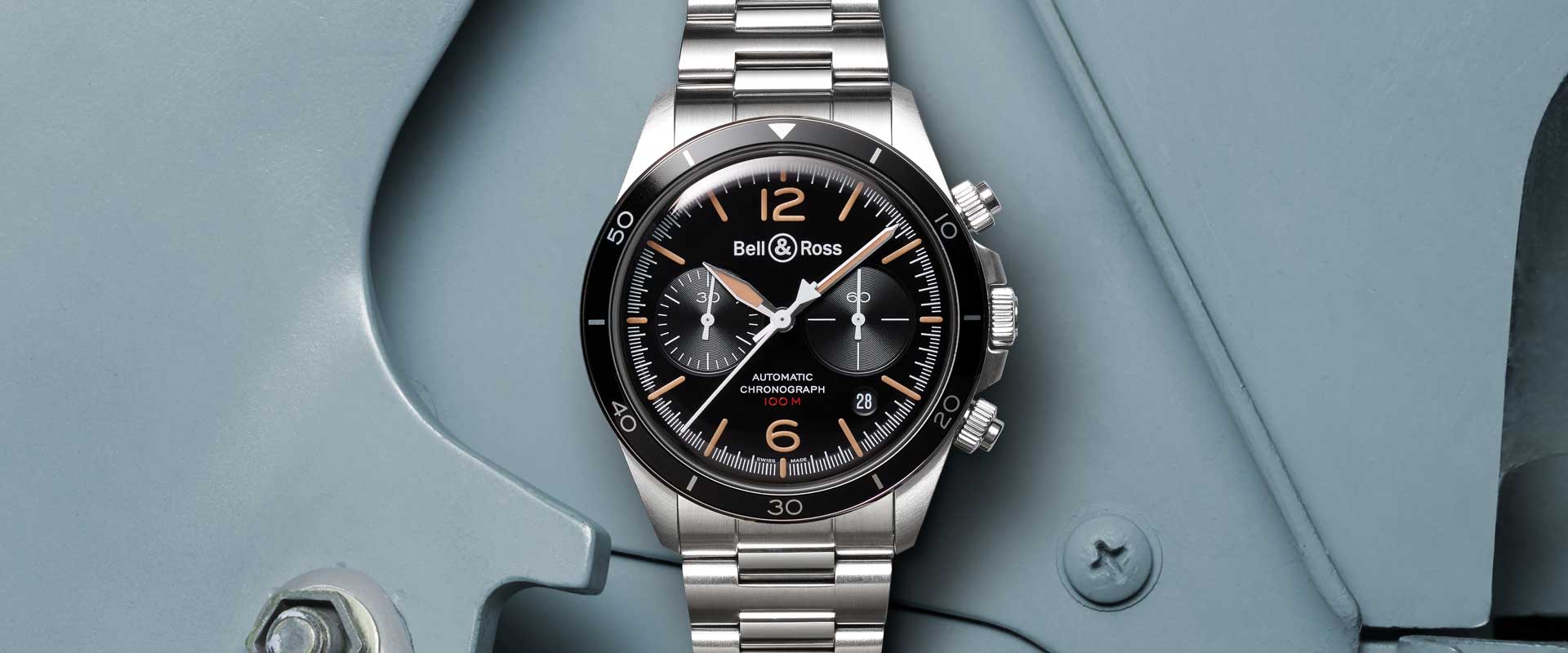 Subsequently, naval air force pilots, the Gendarmerie's elite 'R.A.I.D.' SWAT unit, industrial divers, a genuine spaceman (Spacelab's German astronaut, Reinhart Fürrer) and even the French civilian bomb-disposal squad have all used Bell & Ross watches 'in the field' as essential kit.
"Take the French Air Force for example," Carlos Rosillo recalls. "They requested proposals from three watchmaking brands that were highly regarded in the aeronautical sector. And at the request of the Chief of Staff, our Instrument BR 03 Type Aviation was chosen – it serves as an emblem, while also meeting the tough requirements of their fighter pilots."
It just so happens it also goes rather nattily with a charcoal-grey knit or turtleshell frames, meaning Bell & Ross has found itself sorely coveted by hipsters and design-savvy aesthetes alike.
The watchmaker has responded well to this unintended cool factor, with deliberately retro and fashionably chunky specimens coming out every year, such as the gnarly Bomber Command inspired Vintage WW2 Regulateur, not to mention the restless iterations of the brand's most iconic model yet, the unashamedly slab-like BR 01 Instrument, which was arguably Bell & Ross's golden ticket to the fashion set. Inspired by square cockpit dials, complete with exposed screws in each corner, the Instrument's uncompromising proportions took everyone by surprise in 2005. But look at the fashion-watch world now: blocky, techy timepieces everywhere.
The cool kids adore the brand's clean, monochrome simplicity as much as pilot's appreciate something failsafe and mechanical on their wrist (flying through an electrical storm really can disrupt your avionics). And the BR 01 is already evolving beyond the jet age with 'BR-X1': a growing line-up of souped-up, sci-fi wrist rockets with infinity and beyond in their sights.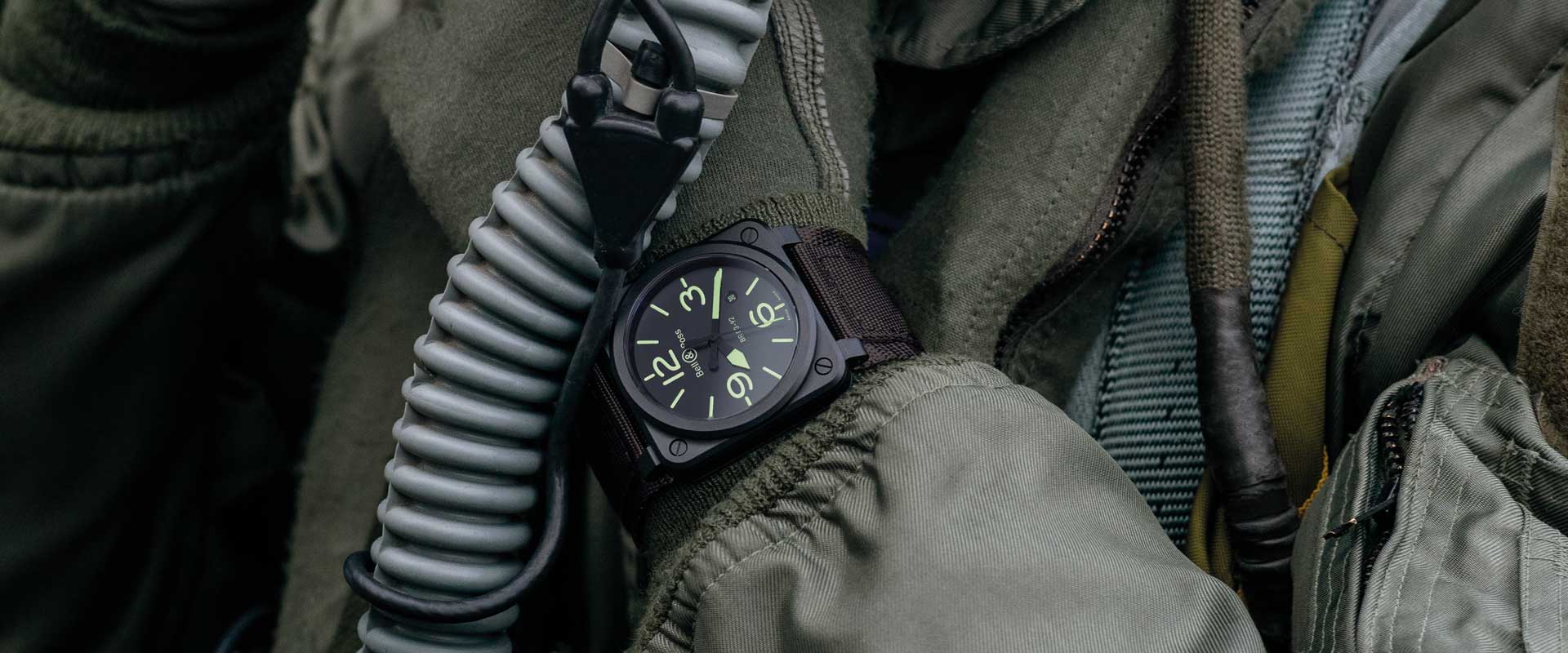 Stencilled-out dials and Batmobile-worthy armoured cases lend an appropriately "engineered" look to the space-age Hyperstellar, the lightweight forged-carbon or titanium BR-X1, and especially the recent RS16 and RS17 driving pieces, designed in collaboration with the Renault Formula One team, whose comeback to the sport has been the perfect opportunity for its own country's prominent watchmaker.
But that's not to say Bell & Ross is anything but sober. Pieces from its Vintage range such as the WW1 Chronographe Monopoussoir Ivory and Heure Sautante are straight out of the officer's mess on formal evening – all dapper elegance and rakish flair, in main part thanks to the delicate wire strap attachments (a clever allusion to the bars that entrenched soldiers soldered to their pocket watches, to keep their hands free for fixing bayonets).
Not to mention the stunning midnight-blue Aéronavale dials, from the more classical 'Vintage BR V' range, their gilt appliqué indices glinting from the dial like medals on an Admiral's jacket. Or the salmon blush of BR V's new 'Bellytankers', inspired by the American desert racers who adapt old WWII fighters' drop tanks into four-wheeled speedsters.
Bell & Ross has yet to put a foot wrong in its short history – in fact, it's hard to believe such a coherent brand could have only been conceived 24 years ago. But not being burdened by a heritage, as so many slavishly nostalgic Swiss watchmakers are, means Messrs Belamich and Rosillo can play fast and loose within the codes of military timekeeping, keeping things fresh at every turn.
THREE CLEAN SLATES
A smooth new design sensibility is landing Bell & Ross's flyboy Instrument range into surprisingly mid-century-modern territory.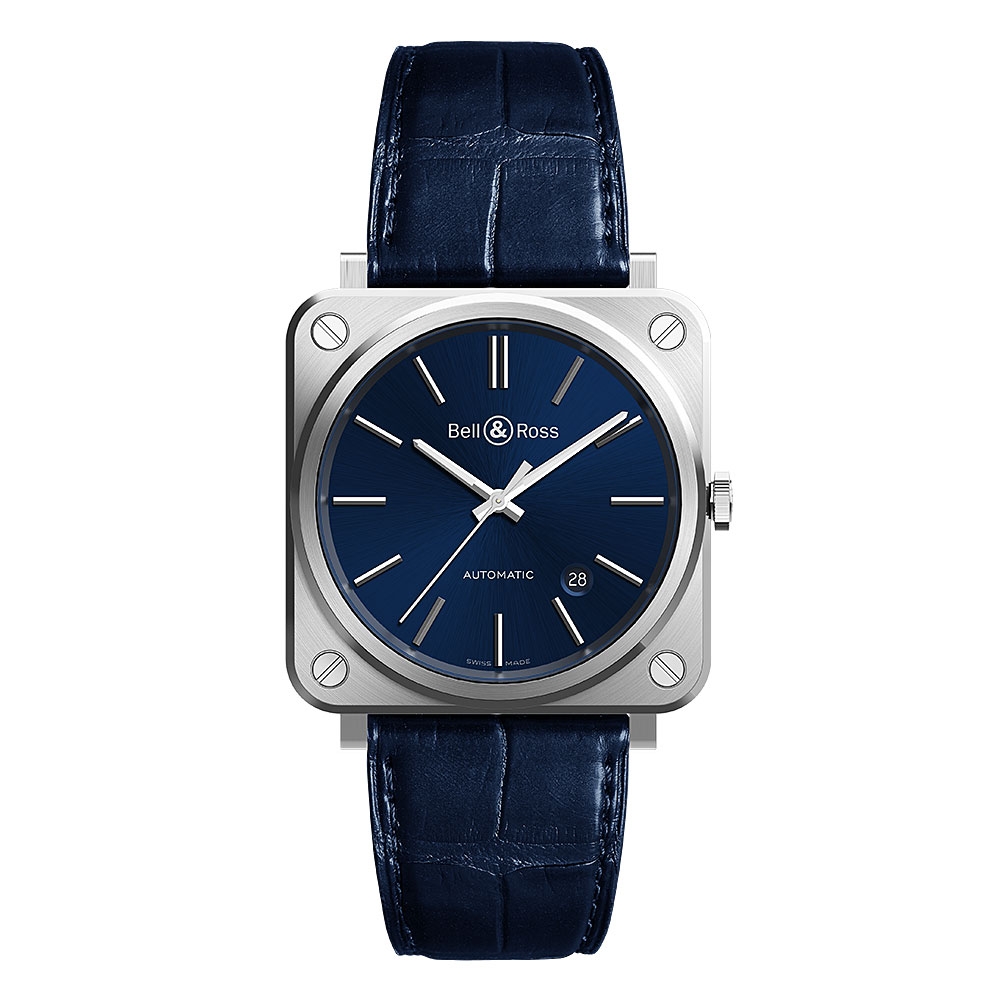 BR S-92 BLUE STEEL
If you're going to do your best Zoolander, do it with this square-jawed and cobalt-eyed beauty strapped to your perfectly toned forearm. A rare foray for utilitarian Bell & Ross into stylistic élan, and a perfect example of less adding up to a whole
lot more.
67916 | £2,500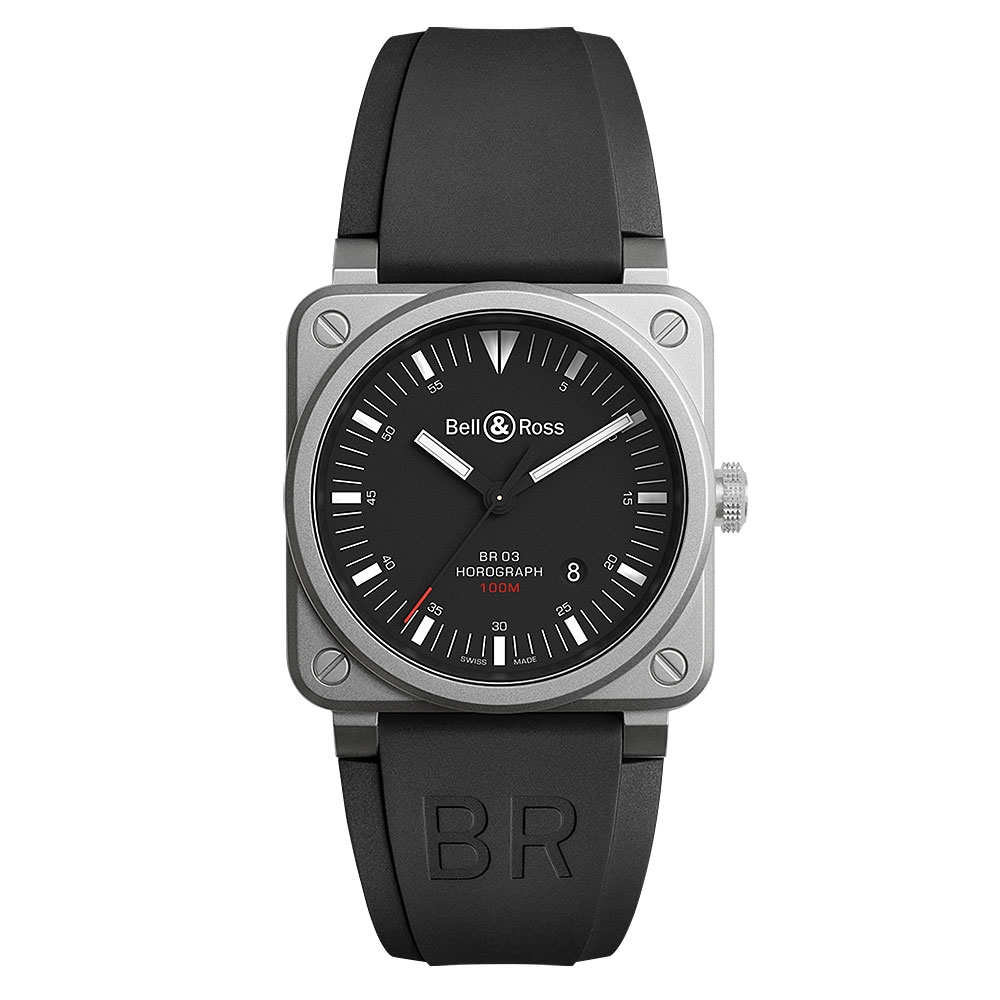 BR 03-92 HOROGRAPH
If you're more used to catching a plane than flying one, then Bell & Ross still have you covered, thanks to one of the brands most surprising and considered design evolutions – from military to modernist. Bauhaus modernist, in fact, as the Horograph takes inspiration from a German airport clock.
67911 | £2,400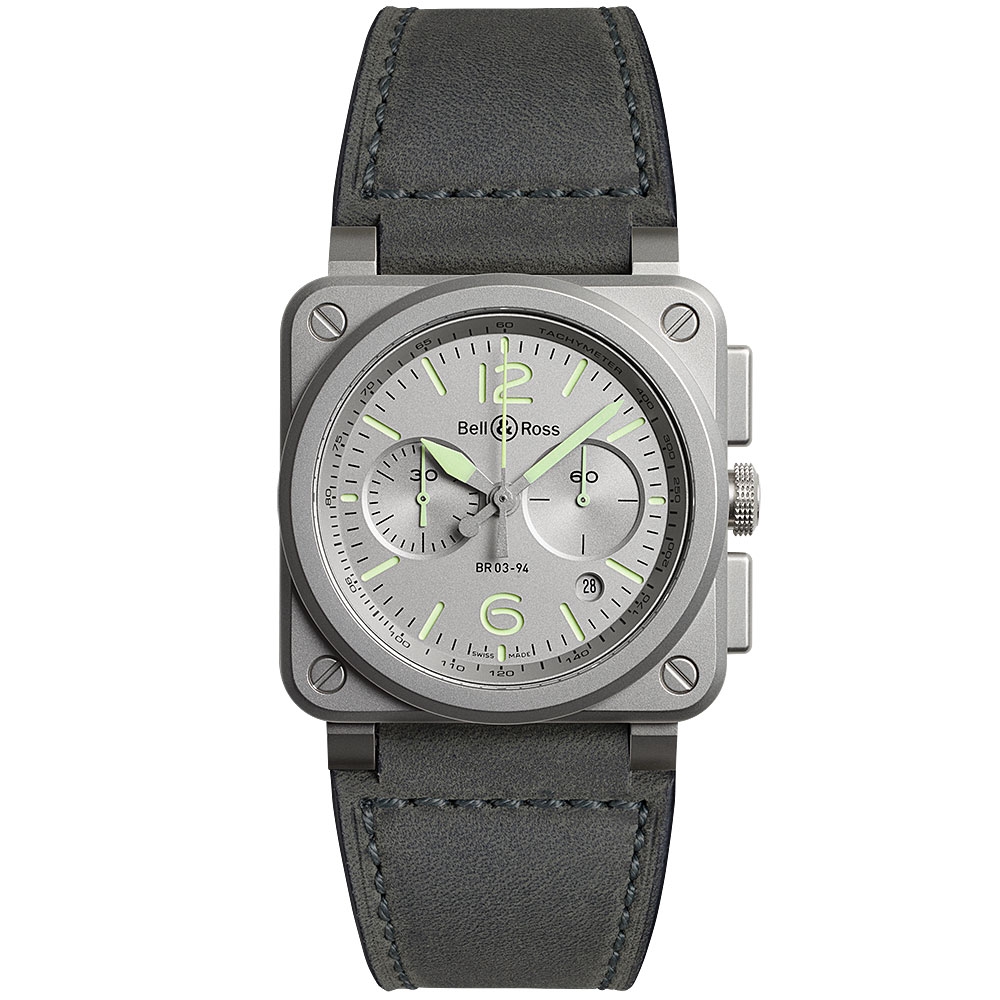 BR 03-94 HOROLUM
You may have guessed where the 'lum' part of this watch's portmanteau comes from – the dial sits atop a wash of 'intense green' Superluminova' coating, echoing the colour used to pick out airport runways at night. By night, this chronograph glows, by day it's all about the soft contrast between the dial and the indices.
70015 | £4,300
Bell & Ross has long been a brand on a mission. Since it was established in 1992 it has been proud to create timepieces that master the art of time and design for professional use. With that in mind the brand's master watchmakers joined forces with aeronautical control panel specialists to create models designed with precision at the core of each.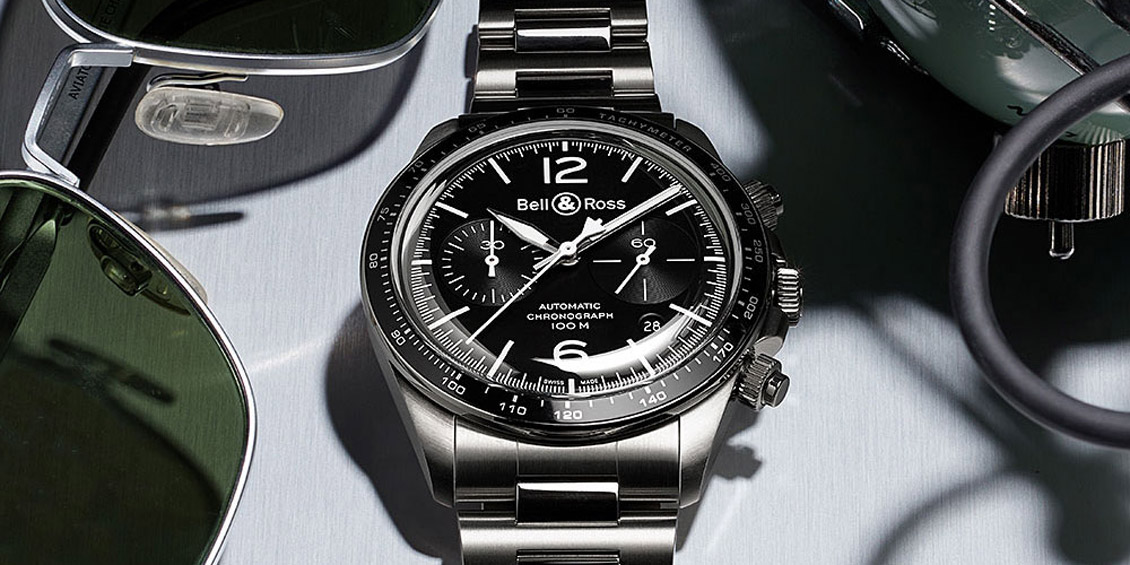 They say if you expect the unexpected you might just be prepared. This is something the dedicated team at Bell & Ross appreciate, with professional designers, engineers and watch makers committed to creating timepieces created with professional use in mind. Their motto is simple – the essentials of each timepiece should never be compromised by the superfluous.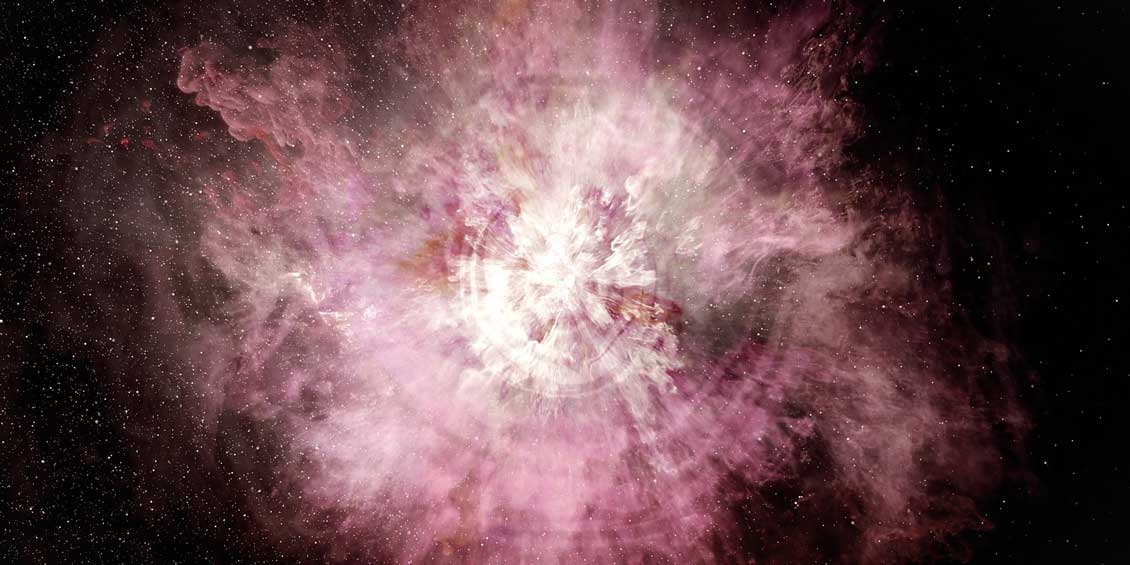 Paradoxically, women's models are the ones that reach the highest heights: the recent BR S Diamond Eagle led women on a voyage to the stars. Like a miniature Milky Way on the wrist, its dark blue dial features the Aquila or Eagle Constellation formed by scintillating diamonds.