TAG, IT'S IT
30th November 2021
Like the chronograph mechanisms they pioneered, the Heuer family pressed 'start' on an illustrious chain of horological events in 1860 currently seeing TAG Heuer at the vanguard of personal smart-tech, as well as 21st-century micro-mechanics. Words by Alex Doak.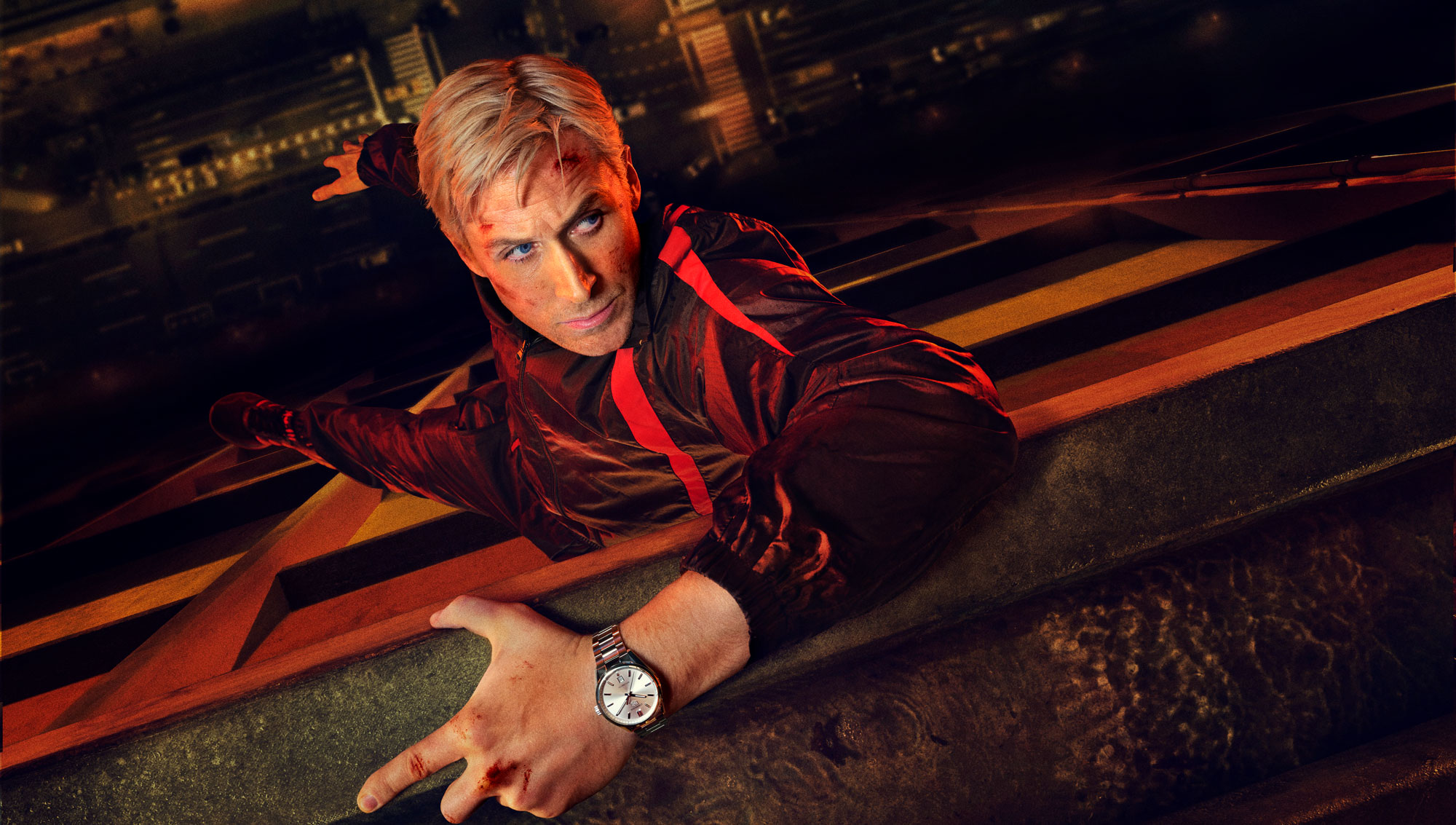 There won't be many unaware of the name TAG Heuer – although a fair few still get nervous pronouncing it (for the record: 'hoy-er'). Switzerland's top sporting watch brand, with a stellar cast adorning its billboards from Red Bull Racing to Ryan Gosling, boasts plenty of clout behind the sponsorships though.
Edouard Heuer's workshop wasted no time establishing itself as a forefather of the chronograph alongside Longines and Breitling – all three in the business of satisfying the demands of ever- faster transport – by the Sixties, finding itself uniformly status-symbolic among the era's dangerous, glamorous Formula 1 circuit.
The 'TAG' prefix came in the Eighties, when one of McLaren's major shareholders, Techniques d'Avant Garde bought Heuer and truly set its modern phase on the way, with firm focus on everyday reliability and great value for money. A suite of up-to-the-minute calibres engineered in-house ensures future-proof relevance in the mechanical sector; the Connected now seems to have established leading status as de facto premium smartwatch; all the while, the petrol-soaked brand upholding prowess in F1's pitlanes as Red Bull Racing's choice of timekeeper.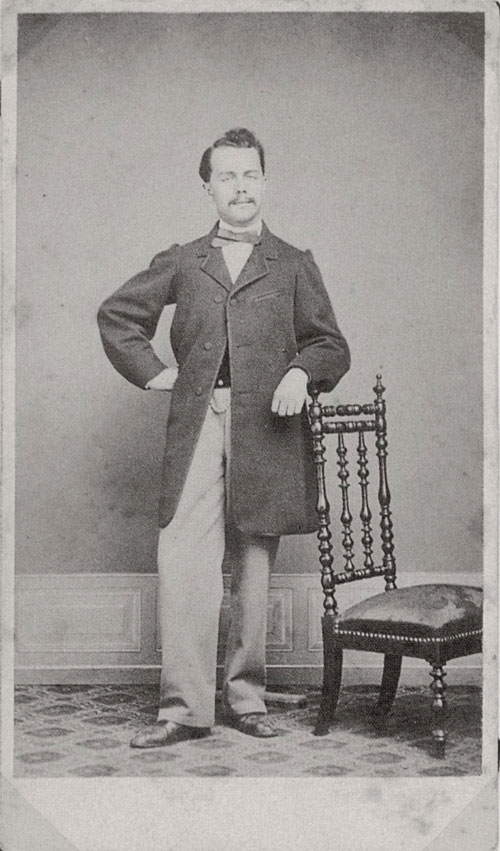 1860
At age 20, Edouard Heuer opens his watchmaking shop by the family farm in Saint-Imier, nestled deep into the creases of the Jura mountains, starting out with pocket watches cased in silver.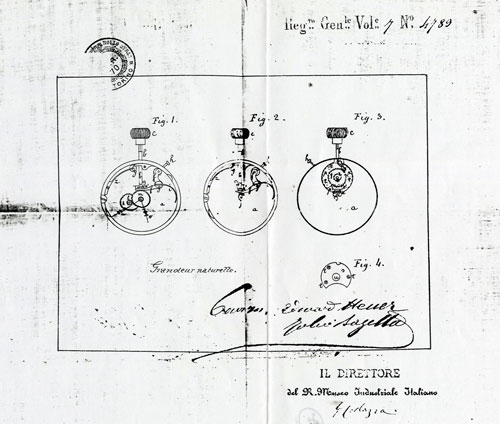 1869
Edouard changes the course of watchmaking with his first patent: a crown-operated, keyless winding system. It replaced the separate key that had been required to wind a watch, and proved popular – especially among more absent-minded gents on the move.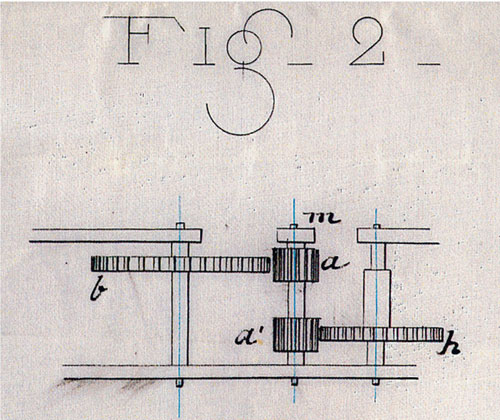 1887
Heuer & Cie patents its greatest and most enduring innovation: the 'oscillating pinion'. This improvement allowed the chronograph to start and stop instantly with the use of a push-button. The most common (therefore, in engineering terms, the most cost-effective, elegant, reliable) Swiss chronograph movement, ETA's Valjoux 7750 still hinges on the oscillating pinion, virtually unchanged since and testament to Heuer's historical import.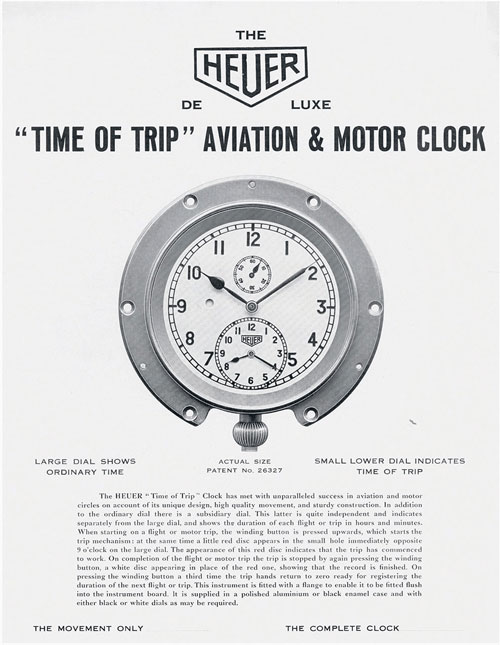 1911
As the golden age of automobile and air travel took hold, Heuer designed a rugged instrument to be installed on the dashboards of the new generation of vehicles. The 'Time of Trip' was a precision chronograph, indicating the time of day on the main dial, while two hands on a smaller dial recorded the duration of a journey.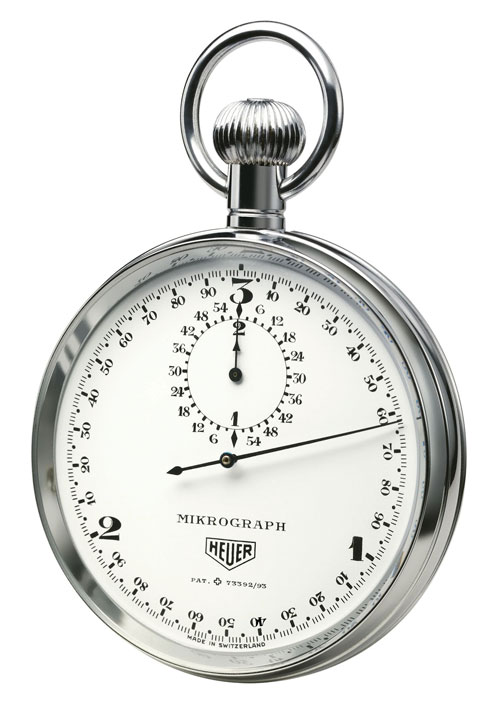 1916
Disciplines as varied as sports timing, industrial production and artillery calculations demanded more precise stopwatches. Charles-Auguste Heuer, the son of Edouard Heuer, was now head of the company, and he led a project to take stopwatches from 1/5 second to displays of 1/100 second, in the Mikrograph.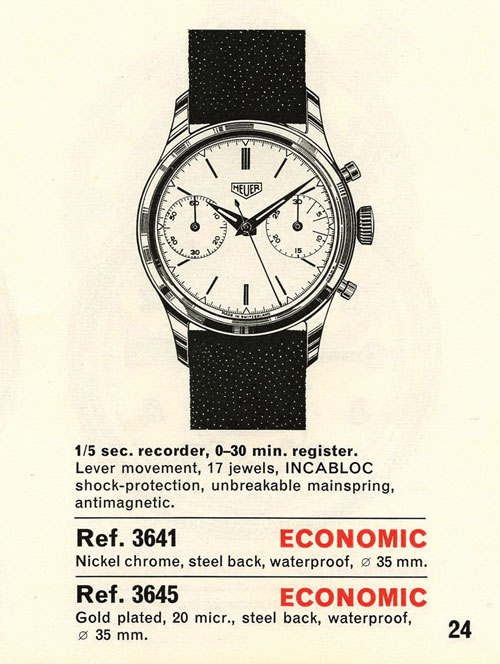 1961
Since 1933, the family firm's 'Autavia' dash clock had combined the words 'automobile' and 'aviation' as a byword for cockpit precision, rivalling even Breitling's own line in onboard instrumentation. Come the autumn of 1961, fourth-generation Jack Heuer recalls in his memoirs, The Times of My Life, 'Autavia' was revived as an all-new wristworn chronograph, fitted with a turning bezel for the very first time, "with divisions of 1/100th of a minute useful for time study purposes."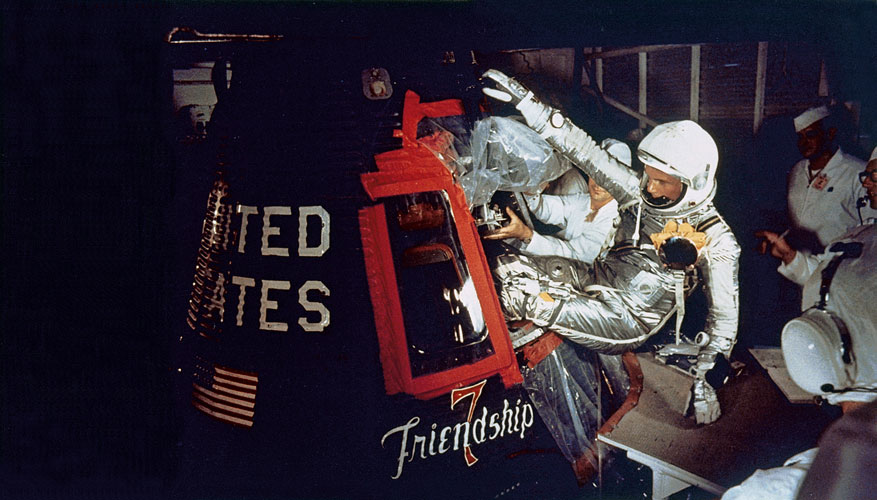 1962
Despite the impressions you may get from Omega, the first Swiss watchmaker in space was Heuer. NASA astronaut John Glenn strapped a large ref. 2915A stopwatch around the outside of his suit to time his 1962 Mercury-Atlas 6 flight, orbiting Earth three times in Friendship 7 before splashing down. Something TAG Heuer itself was oblivious to, until very recently, thanks to the picture here.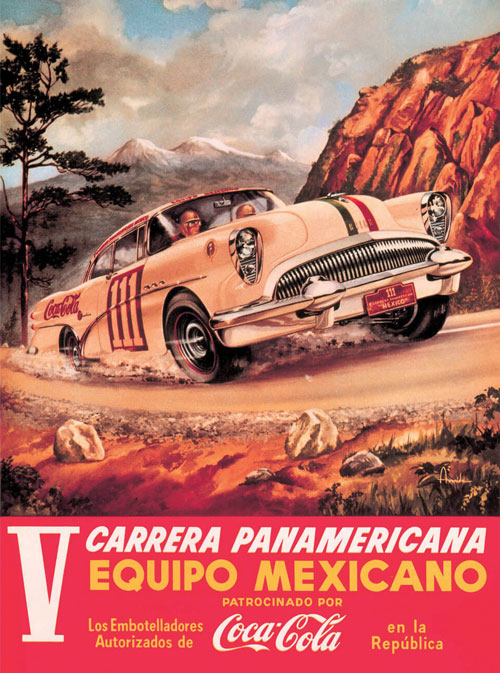 1963
Jack lends the organisers of Florida's famed 12-Hours endurance race a dozen Heuer pocket chronographs with split-second displays, recalling with nostalgic brio: "What impressed me most at Sebring was the mix of professional road-racing pilots, amateur gentlemen drivers and spectators…" Upshot: 1963's 'Carrera', its clean elegance, rugged construction and at-a-glance legibility making it the first sports chrono' specifically designed for the era's style-conscious driver. It was named – just as Porsche did with its 911 – after Mexico's notorious open-road endurance race, Carrera Panamericana. "| loved not only its sexy sound but also its multiple meanings, which include road, race, course and career. All very much Heuer territory!" (It only took 50-odd years for TAG and Porsche to finally join the dots and hook up as official roadgoing brand partners.)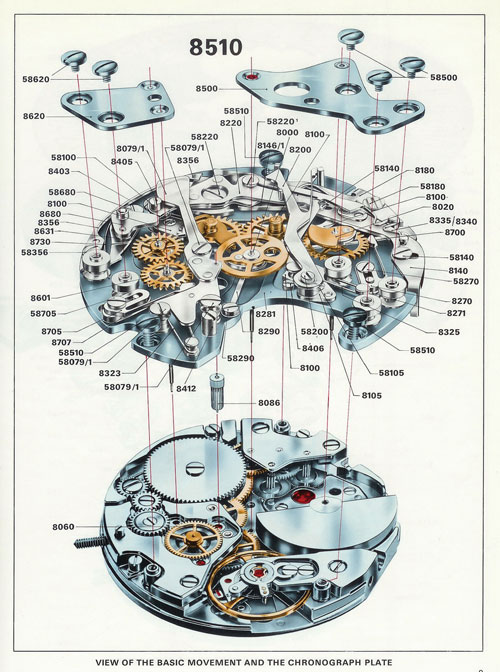 1969
Secretive 'Project 99' finally comes to fruition, in the same year as Zenith's 'El Primero': both very different takes on a lengthy quest to develop the world's first self-winding chronograph. Zenith and TAG Heuer are now LVMH Group stablemates, ironically enough, but the race was fierce at the time. Heuer – along with Breitling, each agreeing to share the IP for their Calibre 11 / Chrono-Matic – took the 'modular' route, hybridising Depraz' stopwatch mech' with Büren's base mechanics, whose 'micro' winding rotor was embedded, keeping things slim and wearable.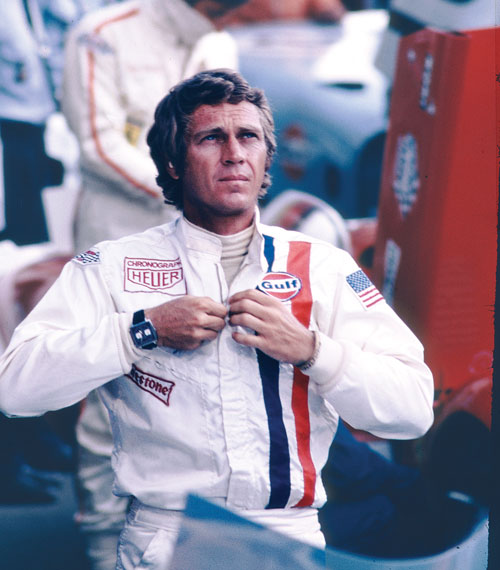 1971
Heuer's Electronics Division developed the Centigraph, a timing system used by Ferrari's F1 team to keep track of multiple drivers' progress to a thousandth of a second (diehard brand hero, Jean Campiche pictured here in 1979 at the Monaco GP), stats printed out on the spot. Other teams lined up, while, in the same year, Steve McQueen cements icon status for Calibre 11's first housing – the square-cased 'Monaco' – by wearing one in cult racing film, Le Mans, cobalt dial and piercing eyes in perfect synchrony.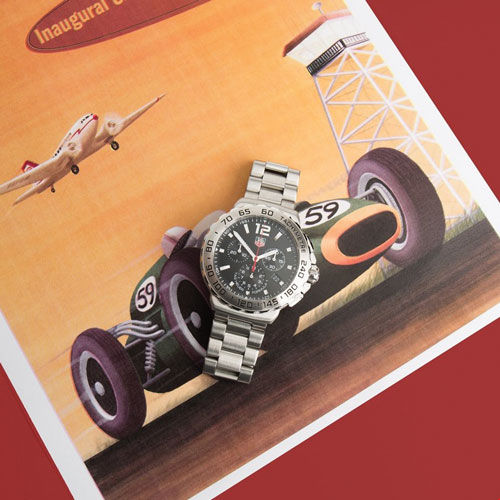 1986
Born in the Eighties as a 'gateway drug' into the world of Swiss watchmaking, capitalising on Heuer's fertile Ferrari partnership throughout the Seventies and 1983's Swatch-watch sensation among teenyboppers, the plastic-fantastic Formula 1 soon matured into a solid-metal luxury proposition in its own right. Under McLaren's holding company Techniques d'Avant Garde ('TAG'), it was the first big hit for Heuer's new incarnation.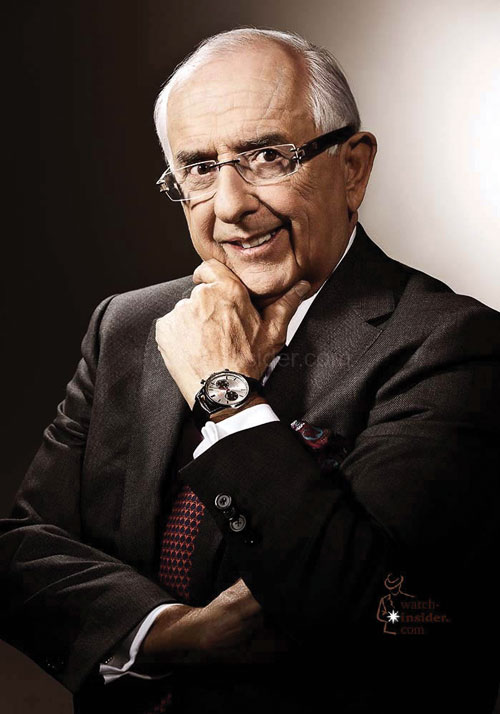 1999
France's biggest luxury-goods group LVMH Moet Hennessy Louis Vuitton acquires TAG Heuer. Jack Heuer, who had been forced to sell the family business in 1982, returns in 2001, as the company's Honorary Chairman.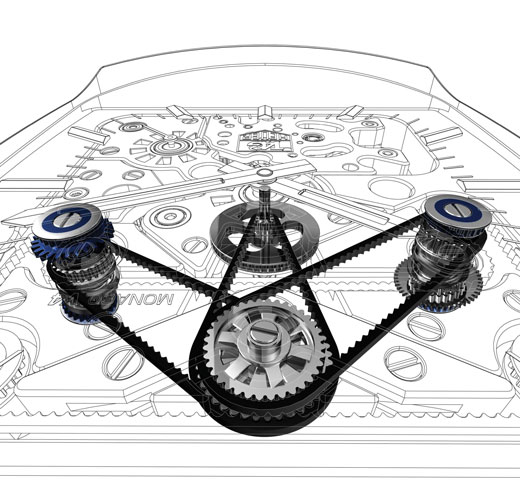 2004
TAG Heuer stuns the crowds at Baselworld by unveiling its Monaco V4. Ambitious is an understatement: for a start, its four winding barrels were arranged at an angle, like the cylinders of a V8 engine. On top of that, the gear wheels of its 'transmission' were replaced by toothed rubber belts, each thinner than a human hair.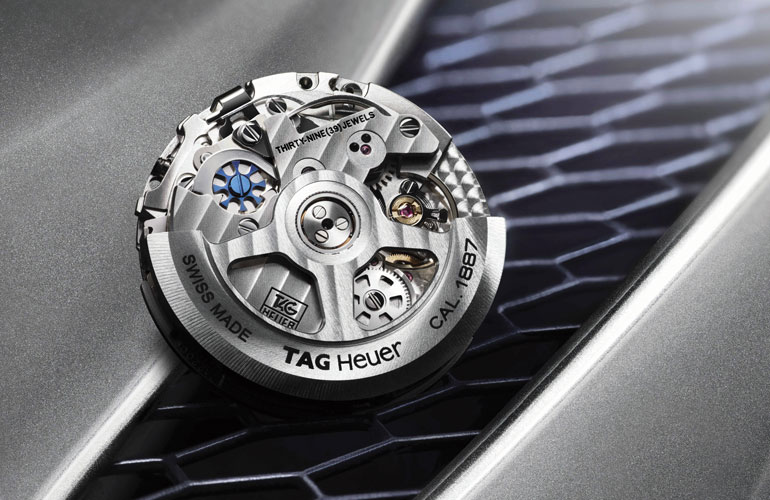 2009
The reinstatement of TAG Heuer as a horological force to be reckoned with kicks off in earnest with Calibre 1887: a Euro-only license of an existing Seiko design, made chez TAG, only nipped and tucked to exacting Swiss standards. Vertical-clutch chronograph mechanism, naturally, plus a column-wheel 'processor' to ensure crisp start, stop, reset operation.

2013
The ribbon's cut on a purpose built factory in Chevenez, right on the French border: short of casing-up and QC, a complete and cutting-edge manufacture for the new Calibre 1887, plus the incoming, ground-up 'CH80'…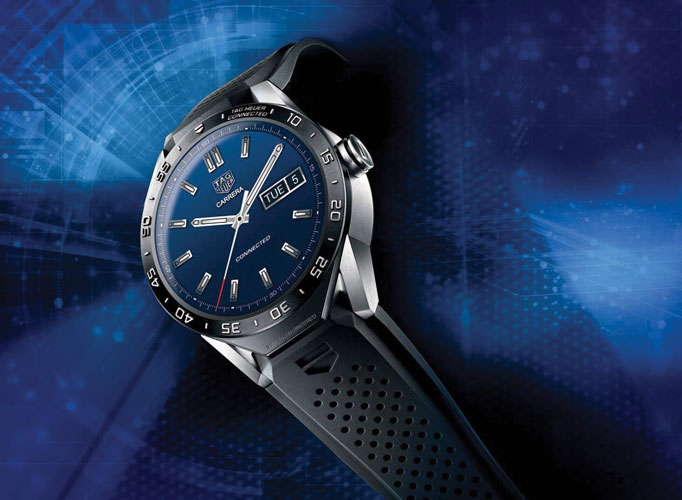 2015
Launched in the same year as Apple's Watch, what started as a kneejerk precaution against the tech giant stealing a huge chunk of Switzerland's entry-level market – just as the Far East did in the Seventies with quartz tech – actually cemented TAG Heuer from the get-go as one of the most complete 'smartwatch' makers out there. Powered by bespoke electronics and software from Android and Intel, mediated by Google Wear OS.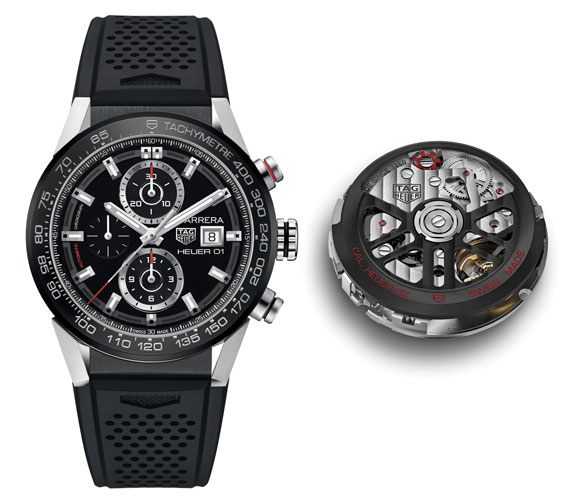 2016
The CH80 chronograph of 2014 that never was, thanks to a shake-up at the hands of industry maven Jean-Claude Biver, finally finds its identity as 'Heuer02' – with Calibre 1887 renamed as 'Heuer01' in parallel. Both manufactured in parallel at the Chevenez facility, distinguished by power reserve and thickness (longer and thinner in Heuer02's case, making it the premium option).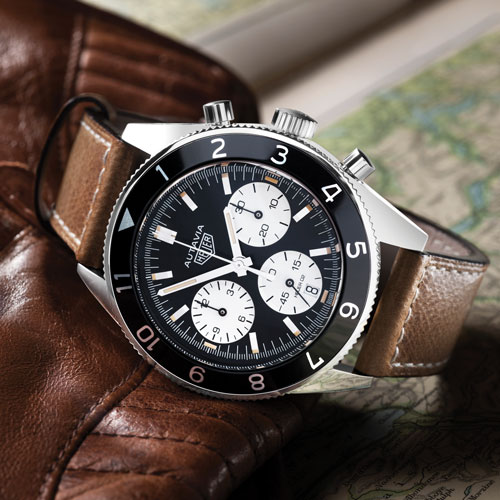 2017
The chronograph that green-lit Heuer's post-war purple patch, Autavia, is rebooted at the public's behest, voting on a design famously endorsed by F1 racer Jochen Rindt. The revival forms the first home to Heuer02.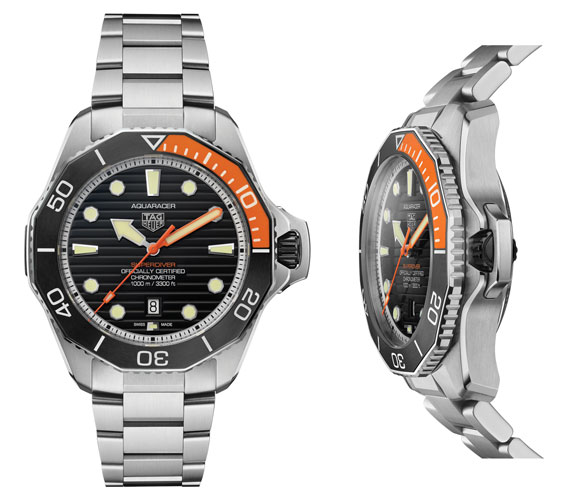 2019
Deep in the postively-pressurised skunkworks of TAG Heuer's La Chaux-de-Fonds HQ, carbon nanotube technology comes to bear (again, positively) on the Achilles heel of a watch's mechanics: the delicate balance spring, ticking inside the new core-catalogue Autavia. Like silicon, it's antimagnetic and unwaveringly laser-etched from a wafer – but, unlike brittle silicon, tough as old boots.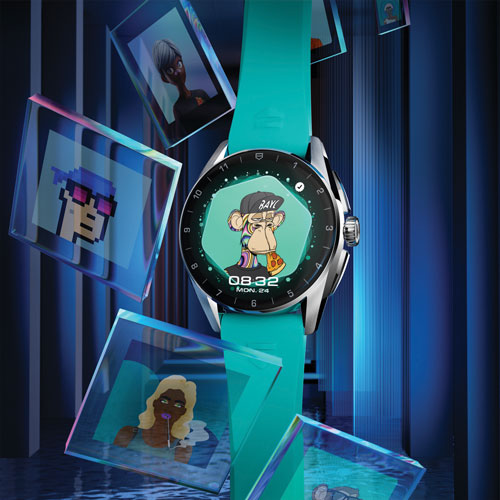 2022
LVMH scion Frederic Arnault really hits his stride as youthful CEO, with a breathless flurry of novelties, taking the three-year-dormant Watches & Wonders trade show by storm, then running with the hype: lab-grown diamond crowns on tourbillon chronographs, a thousand-metre 'Superdiver' kitted out with chronometer mech from Tudor, and NFT artwork displayed on OLED dials connected to your crypto wallet.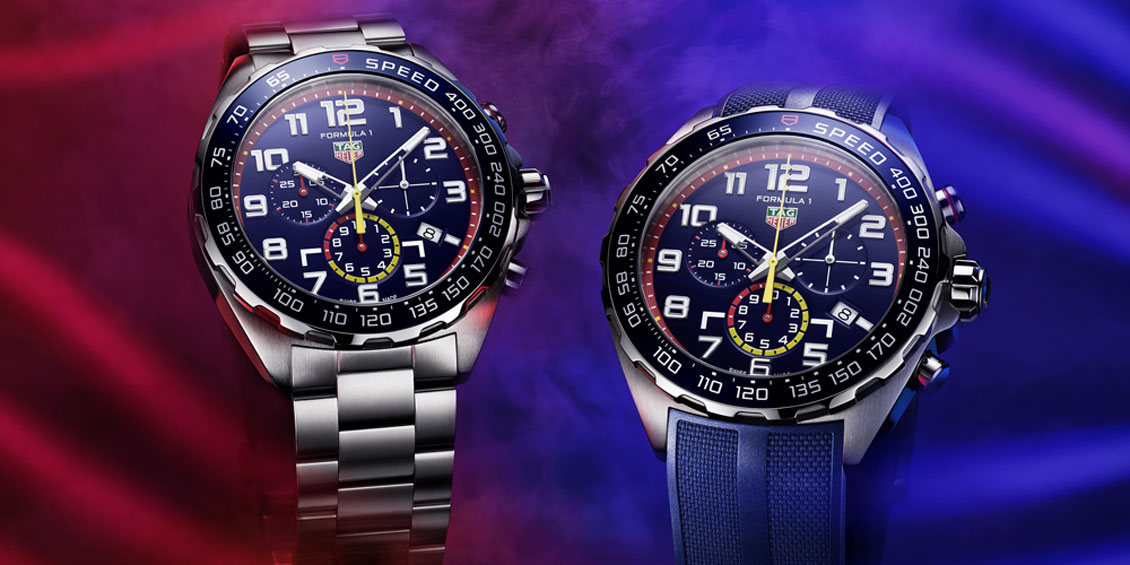 Here's what Alex Doak and Laura McCreddie-Doak reckon your wrist needs to be rocking, right now, dusk till dawn.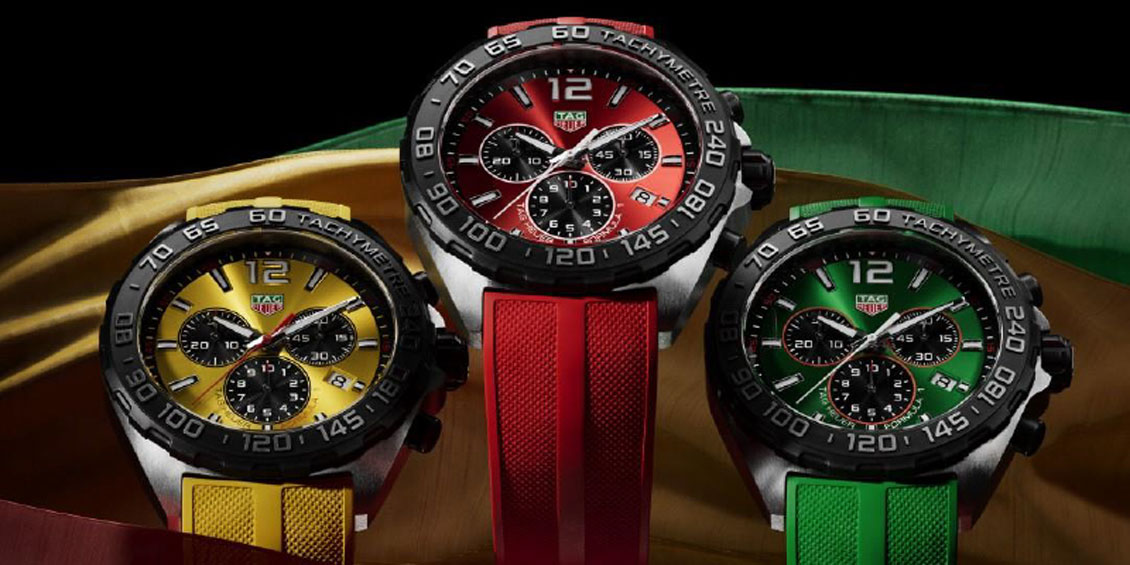 Together at last! TAG Heuer of Carrera chronograph fame and Porsche of Carrera 911 fame finally tie the knot.