PASSION & FRIENDSHIP
30th September 2016
This year marks the 20th anniversary of Michel Parmigiani and Pierre Landolt coming together to form the luxury watch empire that is Parmigiani Fleurier.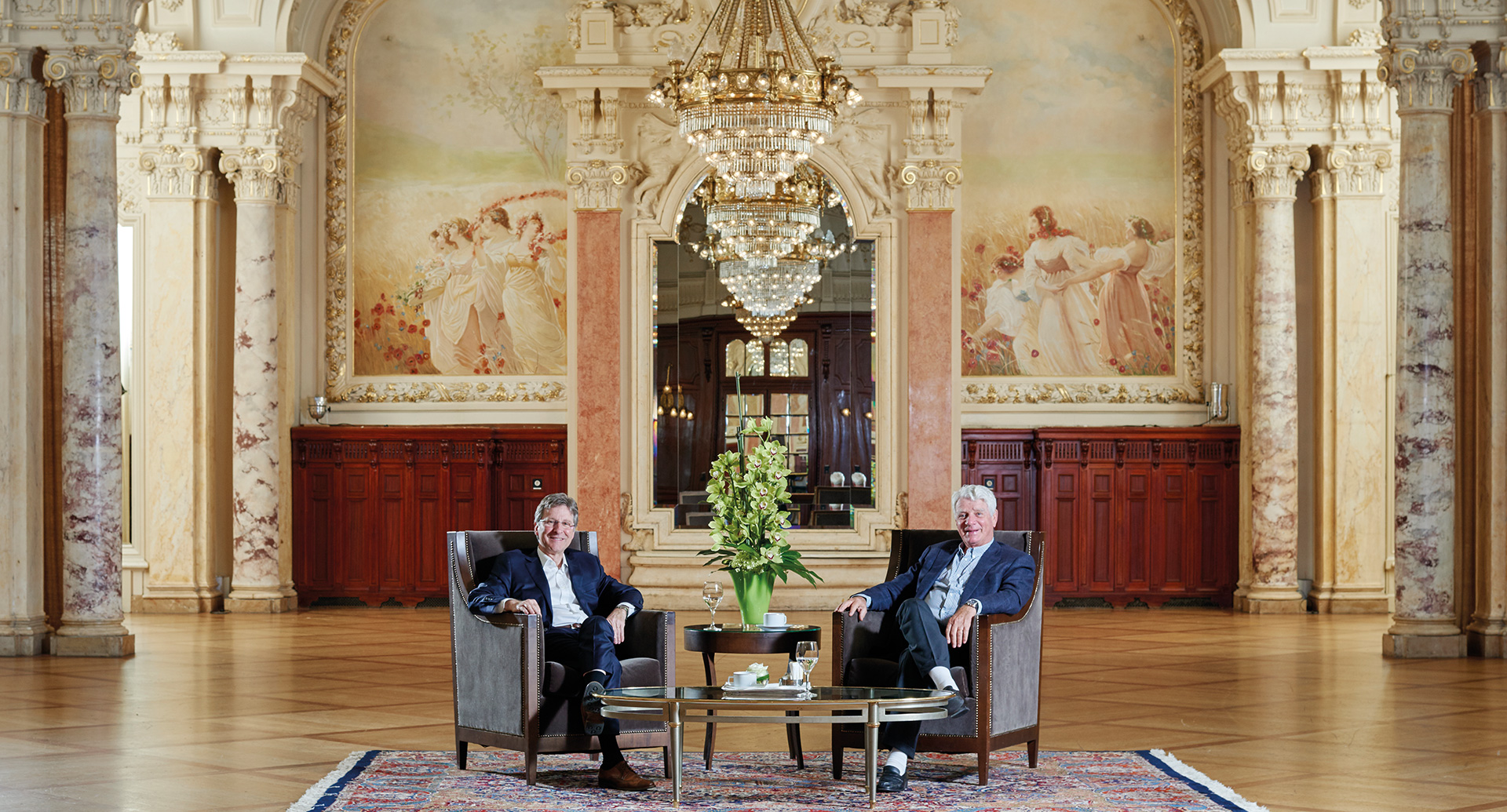 Michel Parmigiani started his career in 1976 when he opened a restoration workshop, despite the quartz watch crisis which was in the process of ravaging the traditional watchmaking industry, and against everyone's advice. "When one has had the chance to work on as many wonders of the past as I have done", he said, many years later, "it was simply impossible to believe that traditional watchmaking would die out".
Michel Parmigiani developed a method of restoration that became his work ethic. His watchmaking skills were constantly improved by the lessons learnt from every piece he restored. He began to make a name for himself amongst watch museums and collectors who sought out his talents. In the 1980s, he was entrusted with the care of the Maurice Yves Sandoz collection. It was in this capacity that he met Pierre Landolt, president of the Sandoz Family Foundation, whose admiration and confidence in him would sow the seeds for this incredible watchmaking adventure. In 1996, Michel Parmigiani acquired the production means and resources to create a brand that would bear his own name.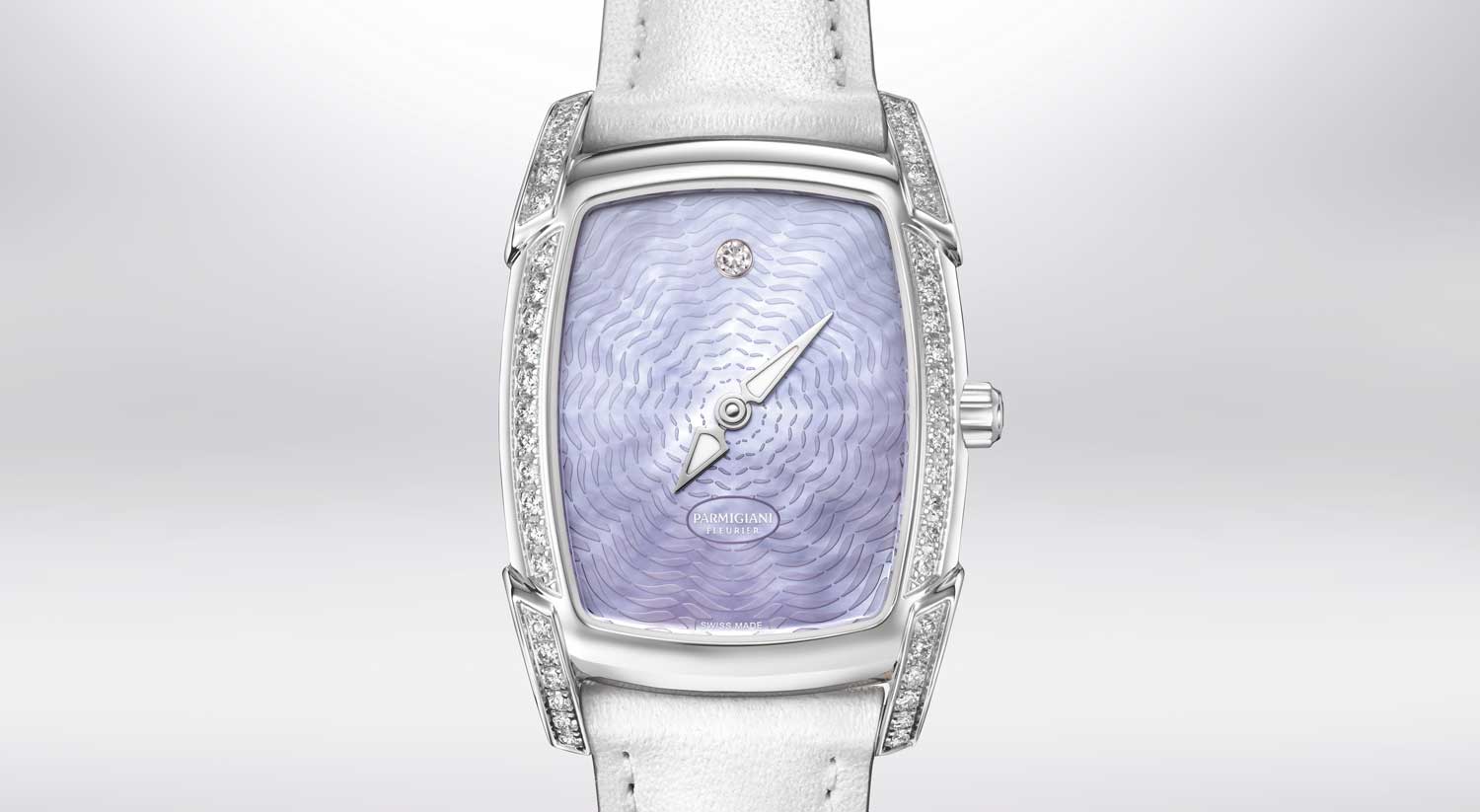 Parmigiani Fleurier turned its focus to creation, through a watchmaking centre able to manufacture and perfect all the components of a watch, without ever losing the link to its origins. The brand still has an active restoration workshop at its heart, enriching today's creations with inspiration and expertise taken from the horological wonders created by our fathers. Over 20 years, Parmigiani Fleurier has developed a range of products which reflects the strength of its manufacture and the talent of its founder. No less than 33 original movements have been unveiled since this day in 1996.
To celebrate 20 years of watch production, Parmigiani Fleurier presents an anniversary edition of the Kalpa Piccola and Kalpa Donna women's collections, with their iconic tonneau shape.
This is an opportunity for the manufacture to unveil its new, all-gold quartz movement hidden inside a steel case – like a treasure chest that conceals its riches within.
"MICHEL PARMIGIANI DEVELOPED
A METHOD OF RESTORATION THAT
BECAME HIS WORK ETHIC"
The dials of the Kalpa Piccola and Kalpa Donna Anniversaire are decorated with mother of pearl, a uniquely precious, feminine material. This mother of pearl has been engraved to give a flinqué effect, whilst reflecting the hour divisions. The pattern therefore becomes a form of index. This subtle decoration is more reminiscent of a sheet of fabric than a dial – an invitation to slip away from the world of timekeeping and revel in elegant femininity.
A small diamond is harmoniously inserted into the dial's surface using a closed setting. Serving as a focal point, it creates a play of light that radiates across the mother of pearl, accentuating the impression of depth. The Parmigiani Fleurier logo appears at the bottom of the dial, harking back to the brand's very first timepieces – a fitting reference for an anniversary piece.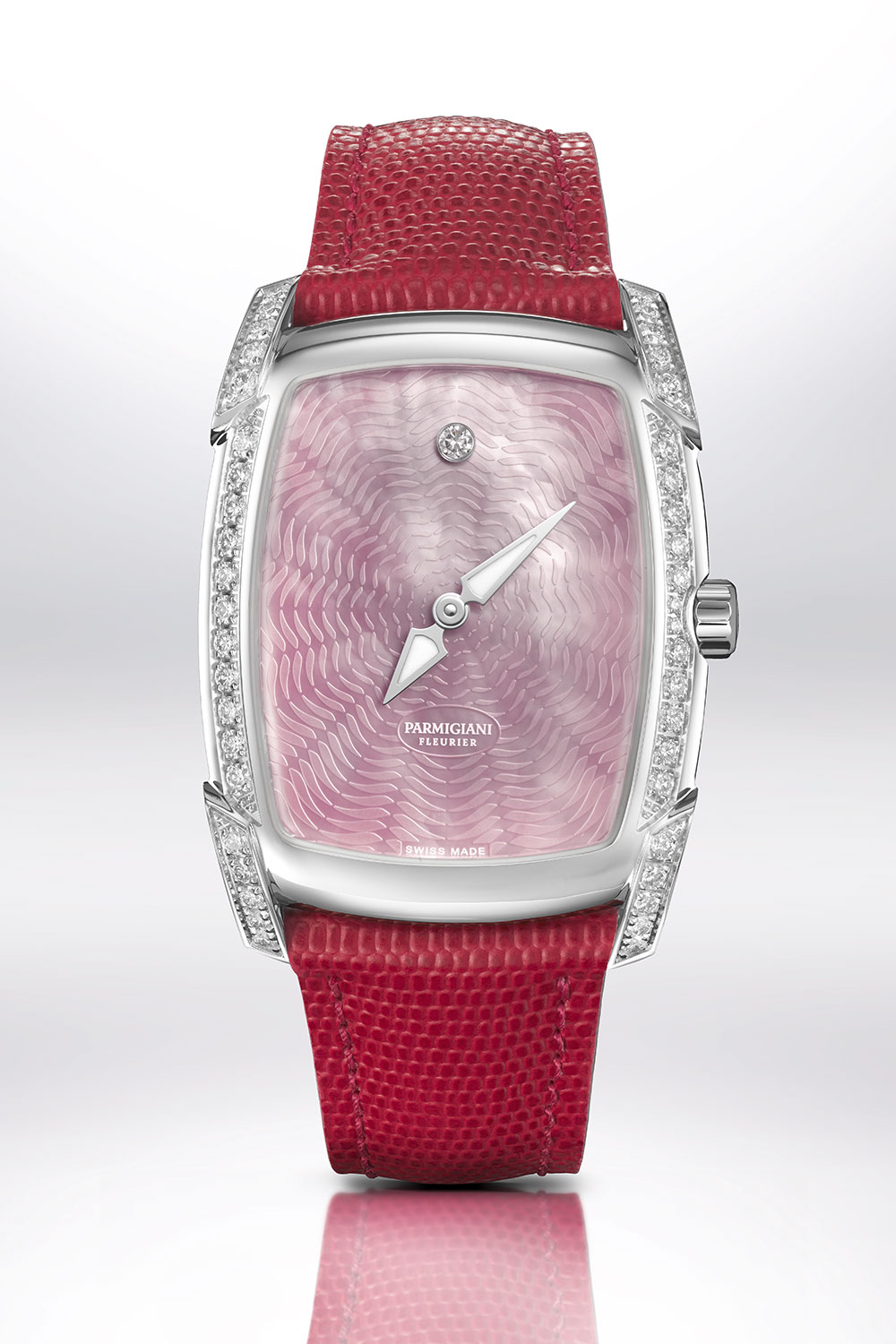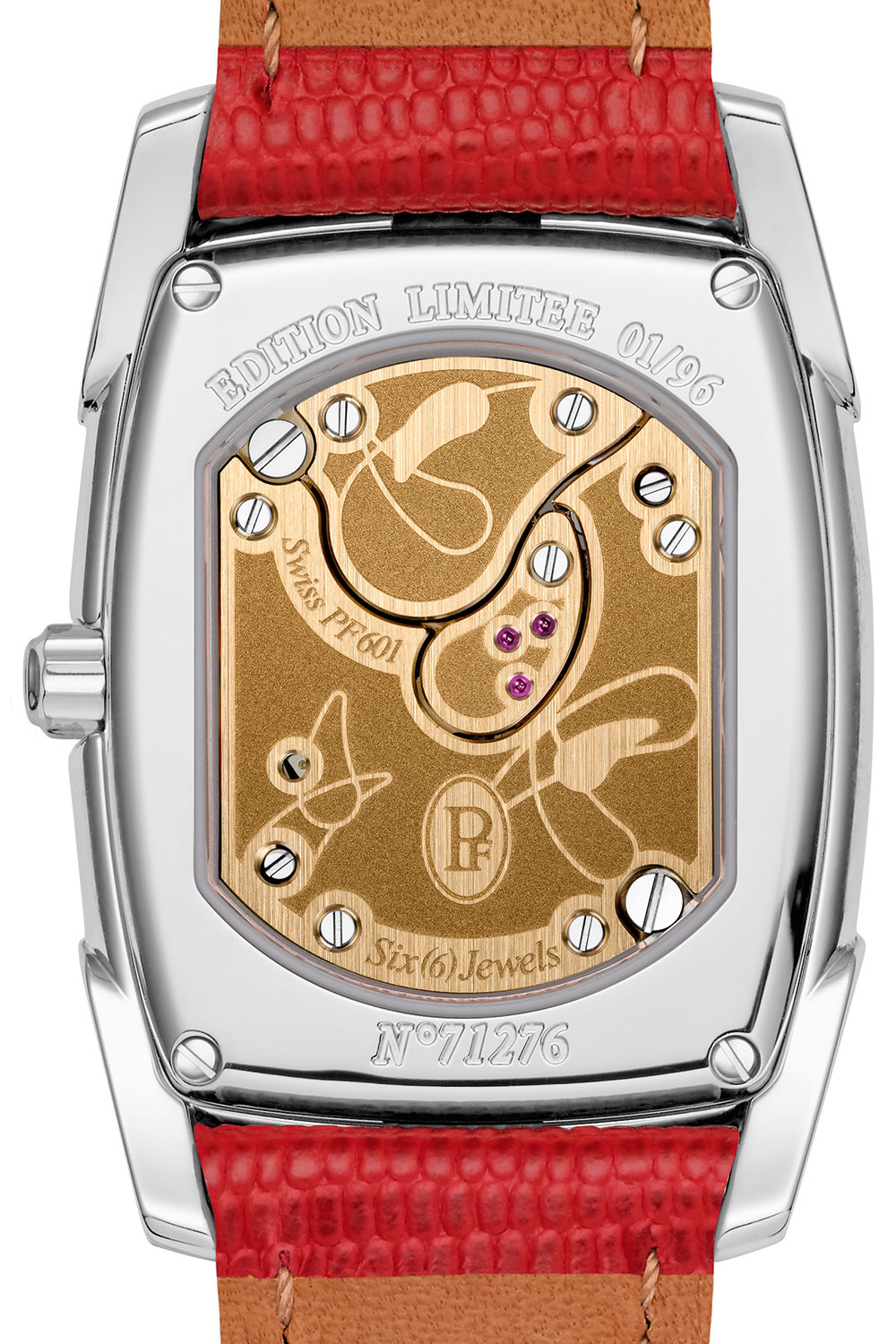 The mother of pearl is available in four colours. A mandarin orange dial paired with a red leather strap; a luminous white dial with an off-white leather strap; a lilac dial whose reflections are set off by an enamel white leather strap; and finally, a Tahitian mother of pearl dial accompanied by an étoupe leather strap. A steel bracelet is also available with all of these colours, adding a dash of modernity to the piece. Each version comes as a limited edition of 96 pieces – a figure that refers to the year in which Parmigiani Fleurier was founded.
On the back of the piece, the rose gold movement reveals its refinement and exalts the beauty of the piece. The main plate, bridges and gears have been produced in the Parmigiani watchmaking centre, and decorated to the very highest standards characteristic of Haute Horlogerie.
A central bridge takes the shape of the iconic lug at the heart of Parmigiani Fleurier's visual identity. This motif is also engraved across the other surfaces of the movement, creating a myriad of symbols that dance around three rubies. Creating this decoration is a very delicate process, due to the difficulties inherent in working with gold, and owing to the extremely thin bridges, so designed to keep the piece as refined as possible.
The Kalpa Piccola Anniversaire and the Kalpa Donna Anniversaire are two sister collections that differ only in their dimensions yet converge in spirit: a highly feminine timepiece that bears the symbols of 20 years of expertise.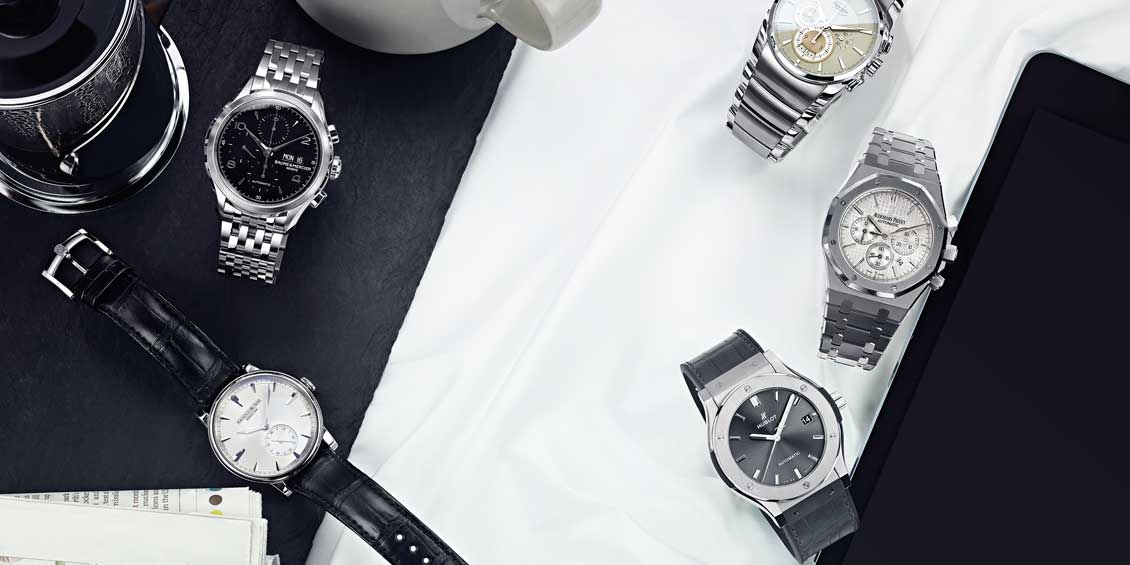 Building a watch collection is a lifelong journey with big brand milestones along the way. However, there comes a time when your watch just isn't cutting it and it's time to invest in something new.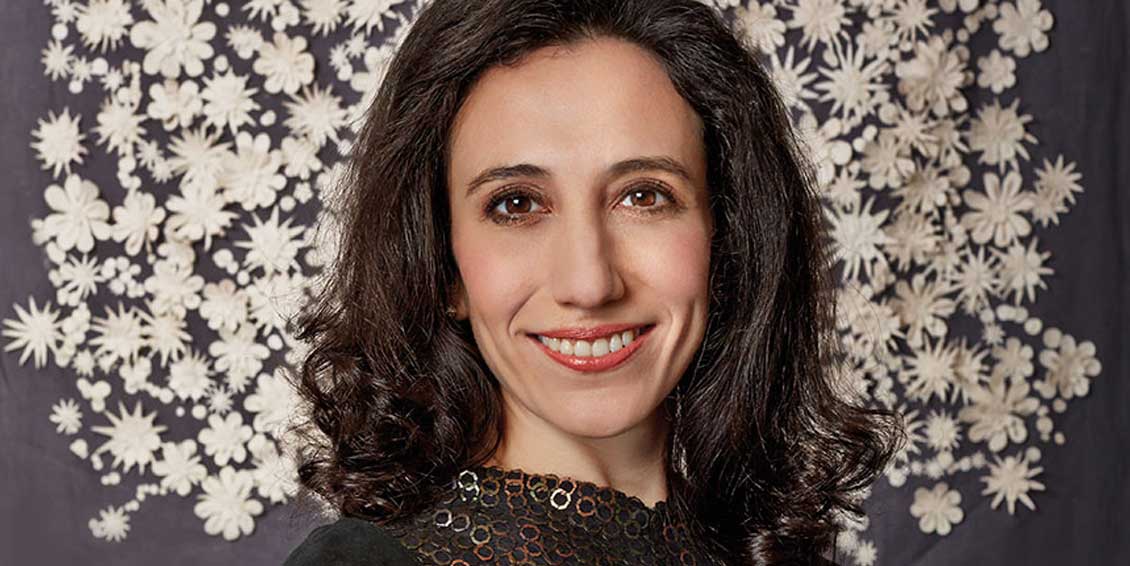 Parmigiani Fleurier's new Woman of Exception Sara Kay spoke to Nicola Smith to discuss becoming part of the Parmigiani family, her love of Picasso and her passion for art that has propelled her incredible career.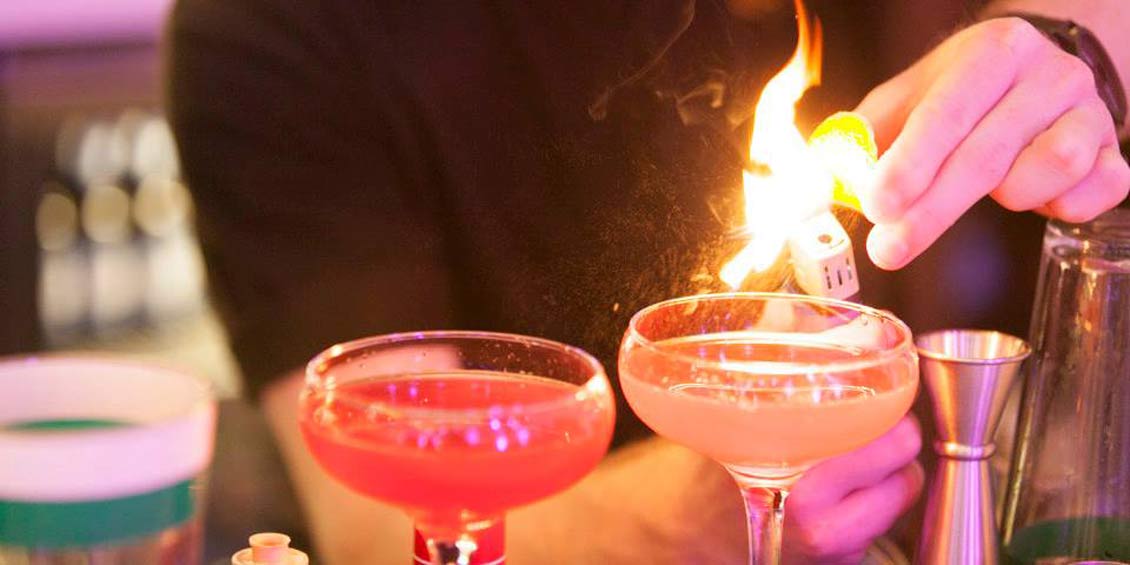 To celebrate the Glasgow Jazz Festival and the upcoming Montreux Jazz Festival in Switzerland, guests were invited to view incredible timepieces by Swiss watch brand Parmigiani Fleurier and enjoy an evening of jazz music in our Thrill Room in Glasgow's historic Argyll Arcade.