VIEW FROM THE TOP
7th March 2019
Maxine McCreadie steps into luxury at the Blythswood Hotel's Principle Penthouse.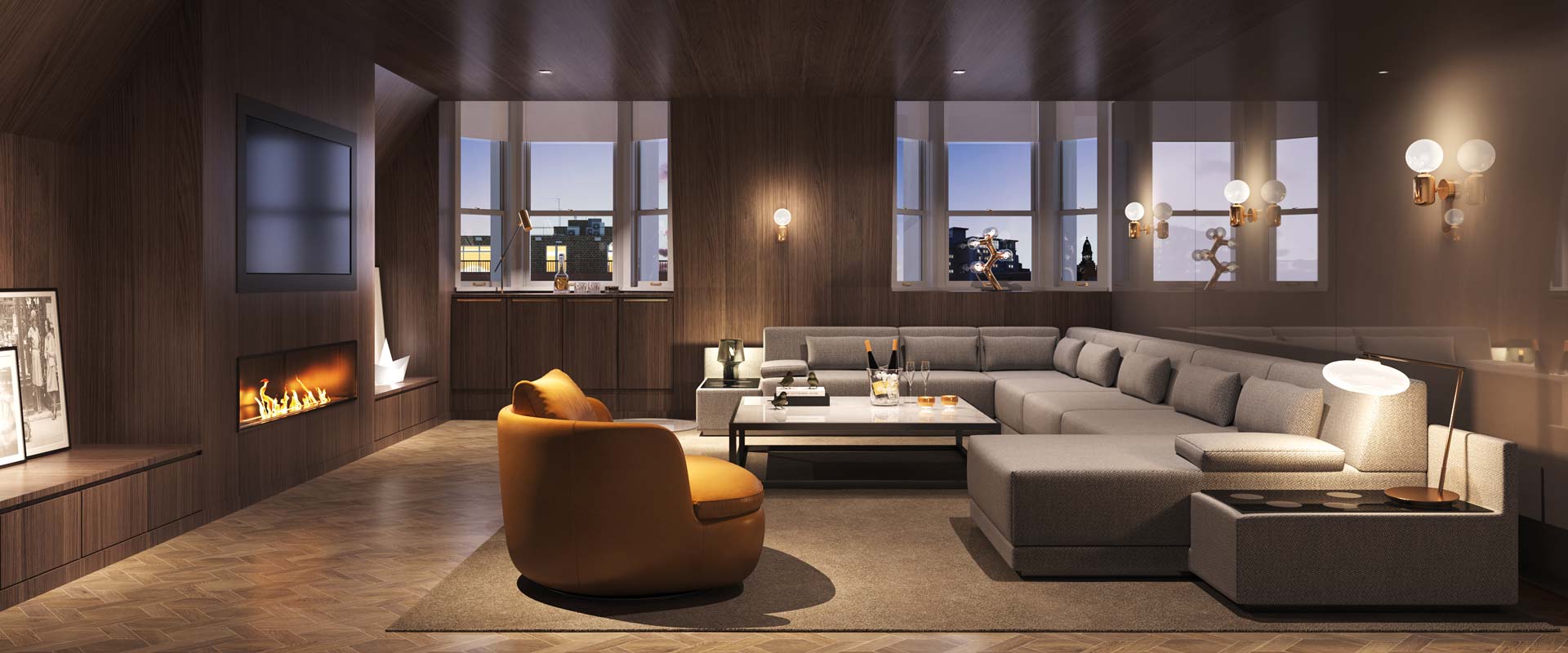 It was once home to wealthy merchants of the 19th century and now Glasgow's leading five-star hotel, The Principle Blythswood Square, is leading luxury to new heights after opening the doors to its new penthouse suite. Unveiled earlier this summer following a multi-million pound refurbishment the latest addition to the respected hotel has been hailed as 'a striking design' which promises to impress.
Overlooking one of Glasgow's most celebrated postcodes the two bedroom Principle Penthouse stretches over 1,850sqft, comes with a private entrance and lift ensuring discretion for any high profile guests. The breathtaking suite also comes complete with an outdoor sun, and dining, terrace that provides views across the city, while also offering access to a fully equipped kitchen, bar and dining room. Meanwhile the master suite has been designed to cater for every need and offers a world of relaxation with a full marble bathroom, double steam shower, sunken bath with integrated TV and dressing room. The latest wireless technology has been seamlessly installed to ensure an impeccable sound system that flows to every room.
Designed by the distinguished team at Graven Images, careful consideration has been given to every aspect of the new penthouse. Bespoke timber and marble furnishings combine with locally sourced fabrics while every piece of furnishing and artwork has been hand-picked to create a sophisticated, contemporary abode with a Glasgow twist.
Speaking of the Principle Penthouse, Blythswood Hotel general manager Murray Thomson, said: "This penthouse has been months in the planning and the finished product is even more spectacular than I could have imagined. The property has been completely remodelled to make best use of the indoor and outdoor space resulting in a striking design that will be sure to impress any guest."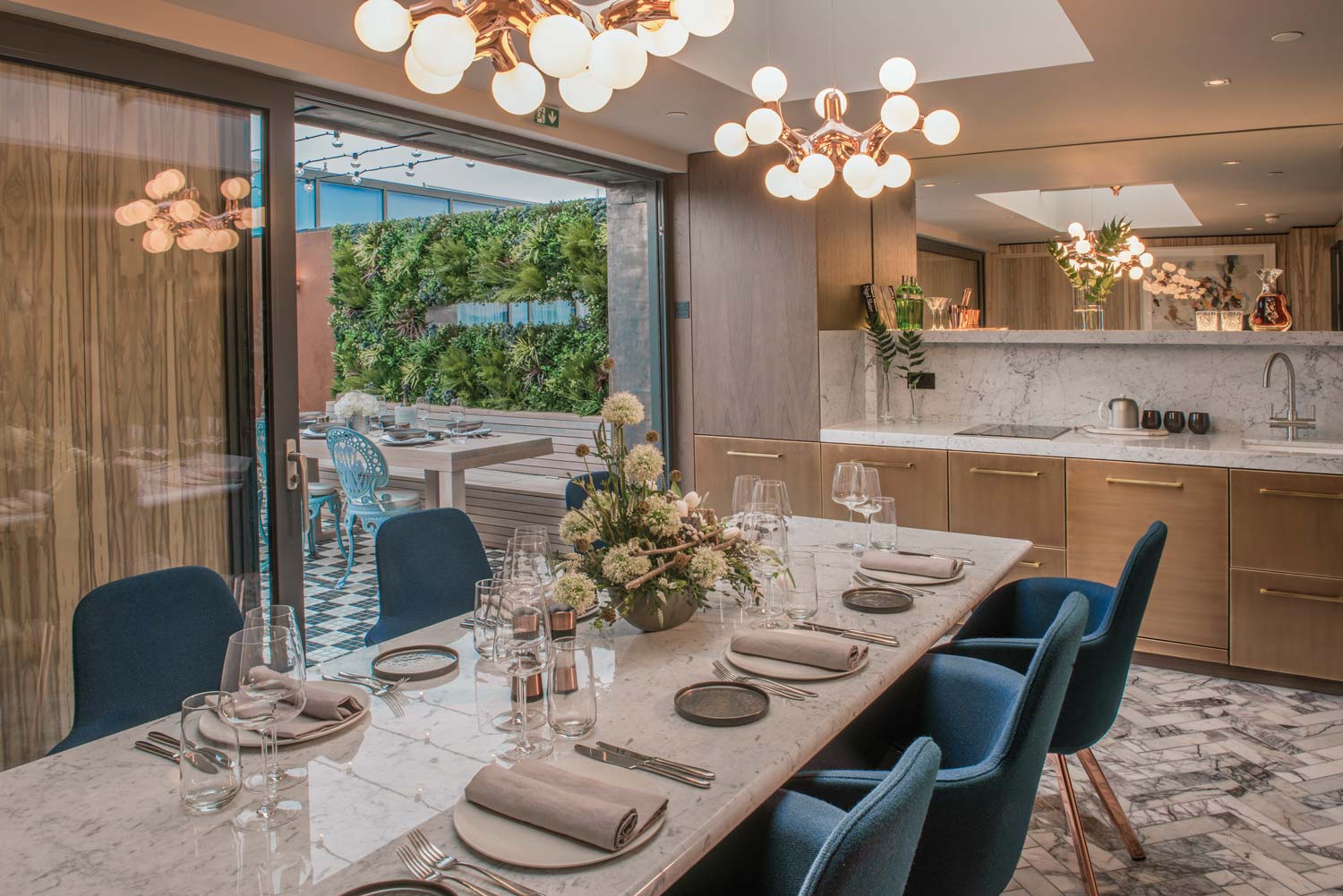 "There is a perfect balance between sleek lines and soft furnishings and the private roof garden looks out at the Glasgow skyline delivering one of the best views in the city." Jim Hamilton, creative director of Graven Images, added: "The penthouse is a cool, sophisticated space, and one we are very proud of."
"Guest experience was key to working out how to approach the breakup of the previous internal spaces. We looked closely at all aspects of usability, what points of difference the space could offer for A-list celebrities as well as all other guests, how does the space change when it is booked for a private event with 50 people using the terrace and how does it present itself on a cold, wet Tuesday in November.
"THE PRIVATE ROOF GARDEN LOOKS OUT AT THE GLASGOW SKYLINE DELIVERING ONE OF THE BEST VIEWS IN THE CITY."
"All of these factors were fundamental in forming the final layouts before we started to develop a rich palette of materials. We experimented with various veneer types, to get to a family of veneers that you can't get off the shelf, and that ultimately form the main backdrop canvas to all of the spaces. Knowing the Glasgow climate like we do, this was to try and ensure a rich, warm backdrop in all areas.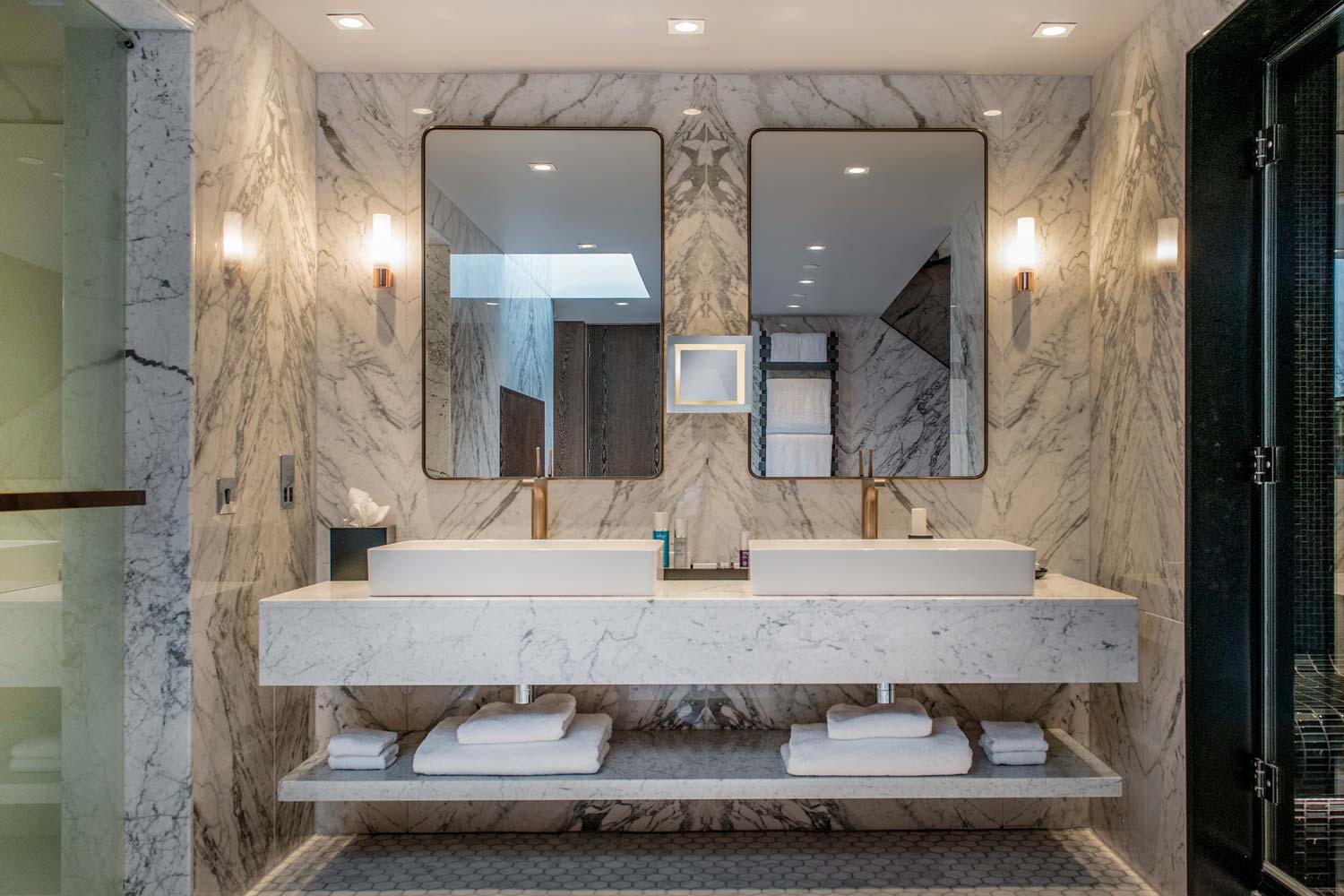 "We walked the journey from arrival at the hotel up through the penthouse lift and so on through all of the spaces to get an intimate understanding of what each guest would experience. The richness comes out from the family of materials that we developed from the rich veneers, to a variety of high end marble finishes, a series of interesting light installations and an artwork collection that we sourced further afield. We then carefully selected a collection of interesting furniture pieces that were complimented by a few little treats – the open terrace, steam shower in the master ensuite, watch winders in the bedrooms and a walk in dressing room amongst other things.
"We feel that we have helped to create a space that brings a smile to people's faces, as an unexpected treat in our own wee town."
Prices start at £2,500 per night. Event packages can be created on request including a personalised butler and chef. For more, or to book, visit www.kimptonblythswoodsquare.com.