ULTIMATE HORSEPOWER
9th May 2017
Ferrari's synonymous reputation and timeless style seems unable to falter. Celebrating a historic 70 years, Ben Oliver shares how Ferrari and their Official Timekeeper Hublot plan to mark this iconic milestone.

Ferrari knows how to celebrate an anniversary. On March 12 1947, the first car to bear that famous name and the prancing horse logo was fired up by Enzo himself. That car – the 125S with its tiny V12 engine, led the first race it was entered in two months later, before it broke down. But nine days after that, the 125S won the Rome Grand Prix. Ferrari hasn't stopped winning – or celebrating – since.
For its fortieth anniversary, Ferrari produced the fearsome F40, now the most sought-after modern Ferrari and the last to be personally revealed by the 'Old Man' before he died in 1988. For its fiftieth it produced the F50, and took the extraordinary step of fitting it with a V12 Formula 1 engine. For its sixtieth, there was no all-new model to celebrate, but there was the super-lightweight Mille Chili concept car which has gone on to influence Ferrari's road car design and engineering for the last ten years, and a very good three-day party. I know, because I was lucky enough to be there.

And this year Ferrari turns 70. To celebrate, there's the open-top 'Aperta' version of the LaFerrari hypercar, with its borderline-insane 950 horsepower F1-inspired hybrid powertrain. In addition, Ferrari has combed its archives for cool colour schemes from the past seven decades: old customer racing liveries, for example, or the road-car paint-jobs commissioned by famous customers such as Steve McQueen. It has found 70 of them, and will paint one of each of its five models in each colour scheme, making for 350 unique cars. Some Ferrari super-clients have already offered to buy all five models in their favourite paint scheme. And there will of course be a series of events around the world, culminating in a huge party in Maranello in September.

Ferrari's partners are celebrating too, not least its watch partner Hublot. This Swiss watchmaker and the Italian supercar maker have always seemed a good marriage. Both are relentlessly modern in their approach to design and engineering. Ferrari might have delved into its archive for those paint schemes, but unlike some other manufacturers its car designs are never retro. Enzo himself was famously unsentimental about his old cars. He was only interested in the next thing, not the last thing: although the current values of old Ferraris might have changed his view on that.
In addition, Hublot experiments with new materials and combines them in a way unlike any other watchmaker. Ferrari does the same. That F40, for instance, pioneered the use of Kevlar and carbon fibre in road cars alongside the more usual steel and aluminium, and borrowed its materials directly from Ferrari's F1 cars of the time.
And the final link is that they both make their 'engines' in-house. Some other watch brands don't make their own movements, and some very famous carmakers buy their engines in from other manufacturers. It's quite common and not a bad thing: I defy you to drive a Pagani Huayra and tell me it's no good because the engine comes from Mercedes. But there's something satisfying about knowing that your entire car or watch – including its most important component – has been made by the company whose name it bears. Buy a Ferrari and you know that the engine in the car on your drive was cast in the same foundry as the engine in this year's SF70H F1 car (named for the anniversary, of course) which Vettel and Raikkonen drive on Sundays.

Hublot experiments with new materials and combines them in a way unlike any other watchmaker.

Hublot has of course produced a special watch for Ferrari's 70th, and it reflects these common links. The 'Hublot Techframe Ferrari 70 years Tourbillon Chronograph' was drawn by Ferrari's Head of Design Flavio Manzoni, and passed to Hublot to engineer at its base in Nyon, near Geneva. Its lattice structure is unique and striking, and communicates both strength and lightness. Inside there's a manual-winding tourbillon movement with a five-day power reserve and a single-button chronograph, so its 'engine' is as complex and clever as a Ferrari's. The button layout with the single, lever-like pusher in the centre (finished in Ferrari red) and the crown below it at four o-clock looks original and shows the benefit of bringing a fresh approach from one of the world's great car designers. And of course, being a Hublot, you can have it in a choice of three materials: titanium, its highly scratch resistant King Gold, or high-end PEEK carbon fibre. The last option perhaps feels most appropriate.
Just 70 watches are available in each material. If you want one, be quick. They will sell out as fast as the 70th anniversary LaFerrari Aperta, and you don't want to wait another ten years for the next opportunity.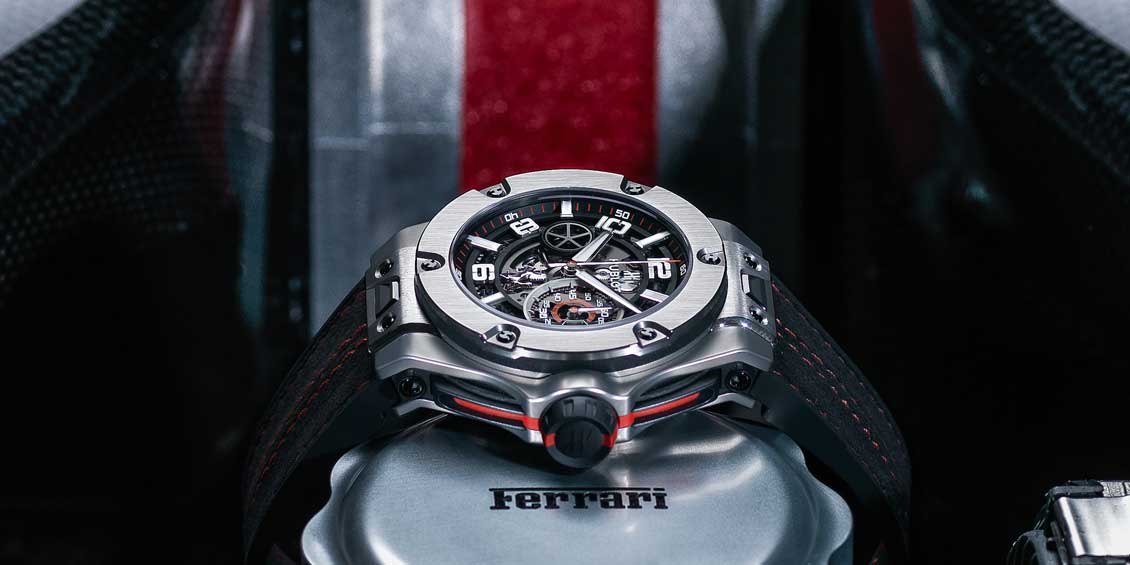 The Hublot and Ferrari collaboration was natural and seamless partnership as both brands are leaders in their field with common traits of peak performance, technological leaders, and product exclusivity, just to name a few.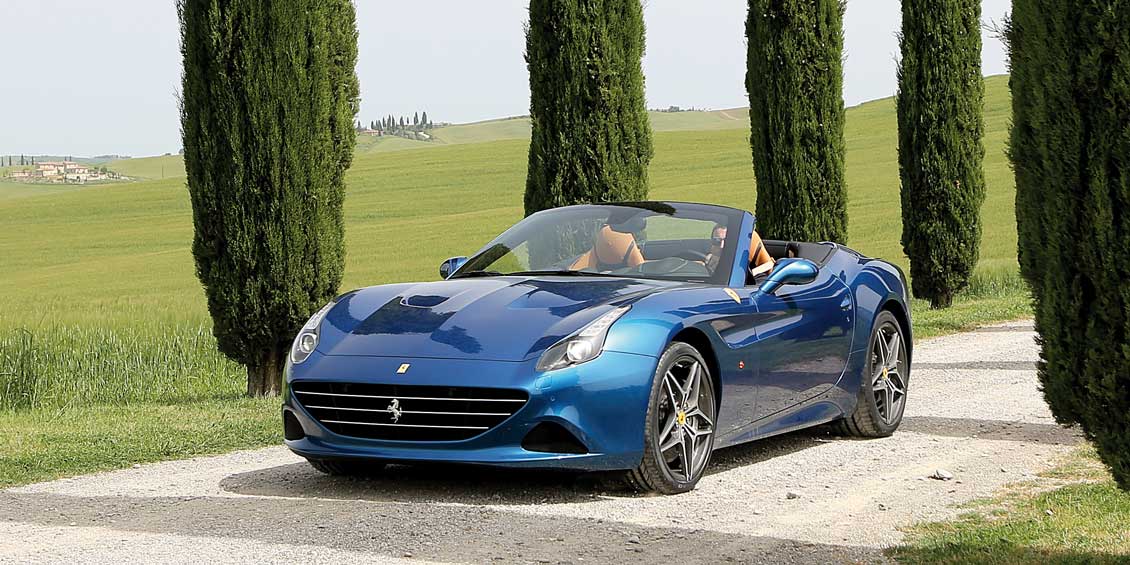 Emulating their F1 counterparts, Ferrari's V8 road cars are entering a brave new turbocharged world, starting with the new California T. The promise is even greater performance, and far fewer fill ups, but can the California provide the excitement its F1 sidekick failed to deliver. Words by Chris Chilton.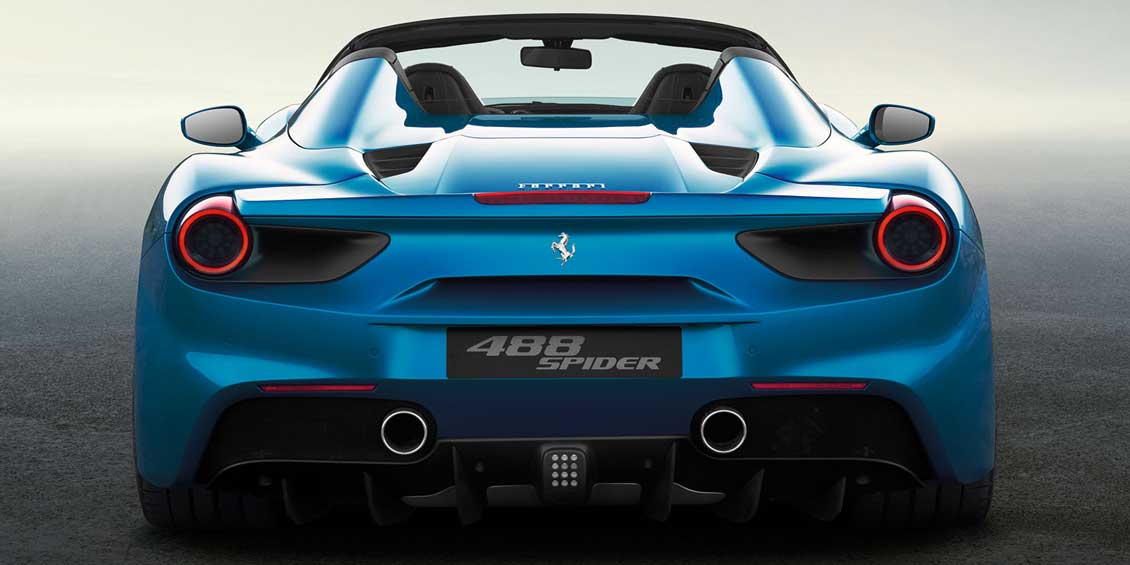 Faster but also more flexible than before, Ferrari's mid-engined sports car switches from sprinter to decathlete with the addition of turbo power. Words by Chris Chilton.