SEASON OF LOVE
30th June 2020
Taylor Brown delves in the captivating love stories of four real couples and learns of their fairy-tale romance. Love akin to a Disney movie these couples have found not only their one but their ring with a little help from ROX.
Aliya Ashraf & Ayaz Ashraf
I grew up a tomboy and I would never have, along with many others, pictured myself having the wedding that I did. While growing up I was never the relationship type, I just didn't like the idea of having your world revolve around one person. Little did I know it's about sharing your world with that one person you can't live without, that person being Ayaz. Ayaz is the most respectable man I have met, he worked from a very young age to support his mum and feels he owes everything to her. A man who treats his mum well is one worth sharing your world with in my eyes. Ayaz, like me, wasn't ever in any serious relationships until I came along and fate happened.
I was 16, Ayaz was 18 and I had been offered a job opportunity at Carphone Warehouse (where Ayaz works) which led to me travelling to Sheffield for training. I was fashionably late walking into a room full of people, Ayaz being one of those. We were drawn to each other, chat flowing on breaks, and just seemed to have a connection so we exchanged numbers. The training only lasted for two days so I didn't think too much of it as I was only 16 and didn't think I'd ever cross paths with Ayaz again – how wrong I was. I remember the moment Ayaz messaged me like it was yesterday, he reached out to catch up with me as he'd be in town, I suppose you could say that was fate. We chatted everyday and went on a date to see Paranormal Activity – romantic! Ayaz asked me to be his girlfriend, however, one year passed and we broke up. That wasn't the end of our story though as something brought us back together, we haven't parted since. Ayaz asked my parents for my hand in marriage, we went onto have the wedding of our dreams surrounded by our loved ones 10 years after we met, with a ROX ring! I chose a princess cut Love ring from ROX in Trinity Leeds, I worked next to the store and every time I walked by the ring just stood out to me. I love having a ROX ring as it's a unique brand and it makes my engagement ring feel exclusive to me and my love story.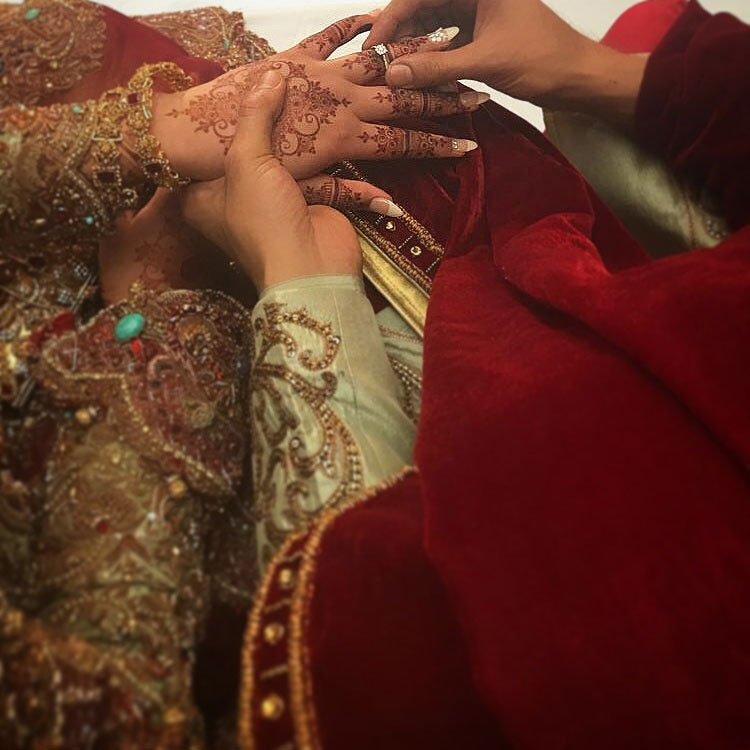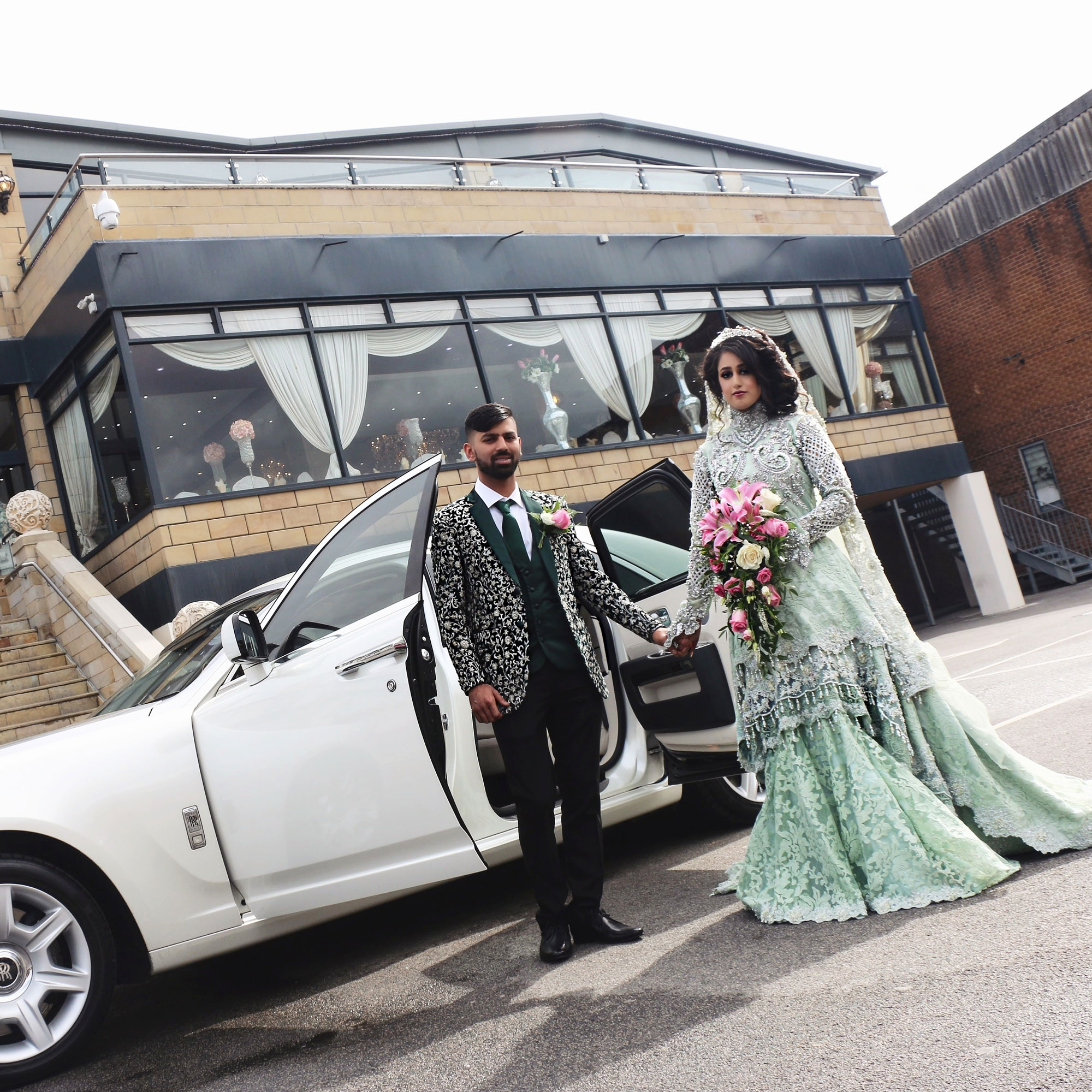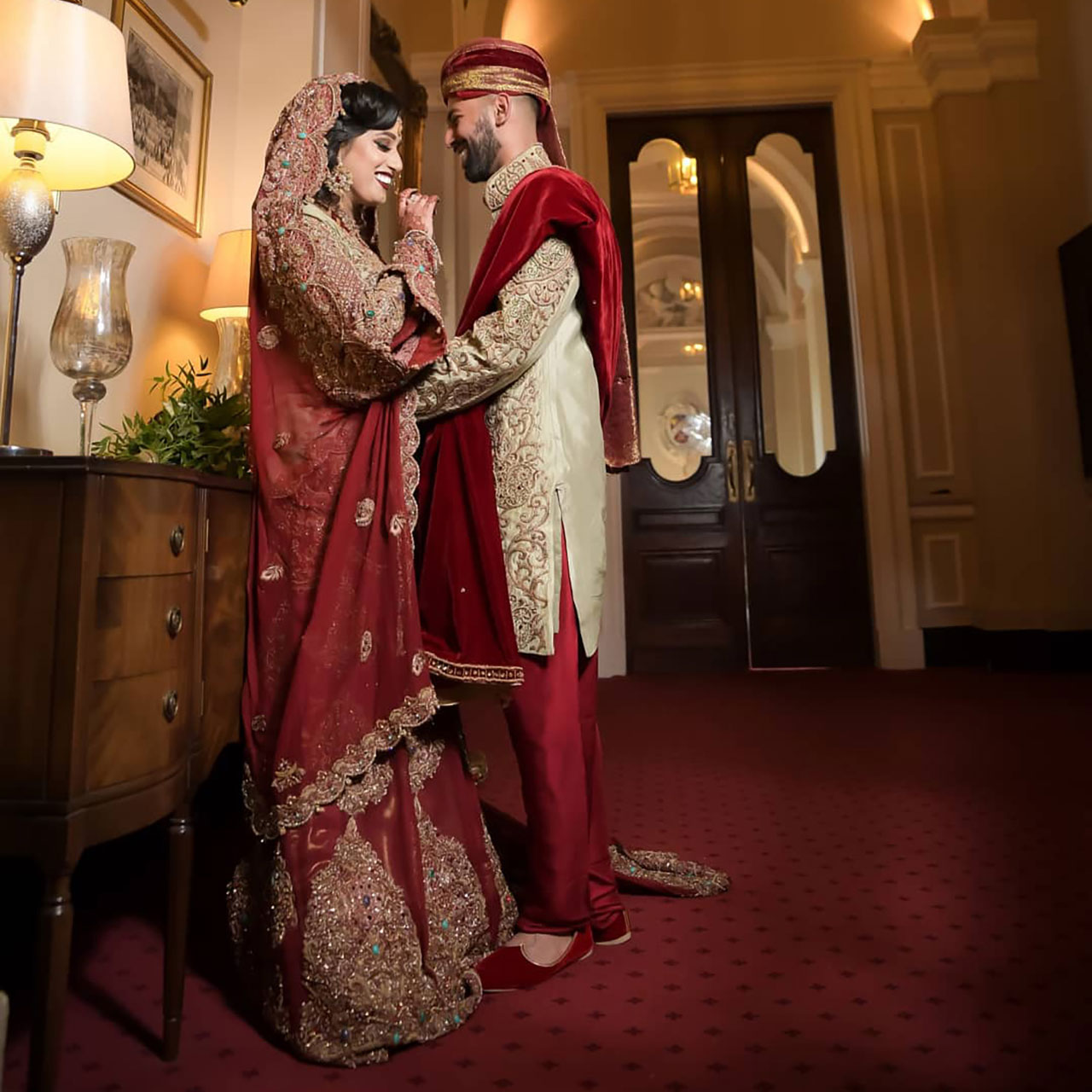 Connie O'Mahoney & Connor Scully
I'm Connie O'Mahoney, a 20 year old sales assistant for ROX – Diamonds & Thrills. I was born in London and grew up in Aberdeen, where I met my one, Connor Scully. Connor is a 26 year old joiner and part-time semi pro footballer. We have just bought our first home with our nine-month-old daughter Milana, I'm living my very own fairytale!
Myself and Connor were a modern day fairytale, having known each other already we fell in love partying together in Ibiza. We didn't stop having fun every weekend since, until our little Milana came along to put a stop to the partying in March 2018. Milana was due two months after moving into our forever home but was fashionably late! Three and a half years down the line our life was complete, we were madly in love and had everything we'd ever dreamed of. Then came the proposal – Connor had planned to propose at a family event when I was eight-months pregnant, however, my mum stole the thunder and fell and broke her arm. Connor held off until our next big family occasion which was my sister's 21st. It was a great evening, we had a gorgeous meal and partied like old times (Milana in hand this time of course). Connor took Milana to get changed and swapped her little baby grow over to one that said 'Mummy will you marry Daddy?'. He passed Milana back to me and after a while of not noticing I burst into tears, I had no idea it was coming. Of course, I said yes, it was the most emotional and amazing moment.
Connor chose my dream ring, a 1 carat oval brilliant halo set in platinum, F colour and VS2 graded clarity. Being a ROX employee I changed my 'dream ring' every day but the team at ROX were so professional and found out exactly what I wanted – me being totally unaware! I'm well versed in diamond quality and wouldn't have wanted any other ring than a ROX ring, the quality is like no other. Connor put full trust into the team to get my perfect ring, trying to judge the sizing was difficult due to me being pregnant but they still nailed it. They have completed my fairytale, amazing service I can't thank them all enough.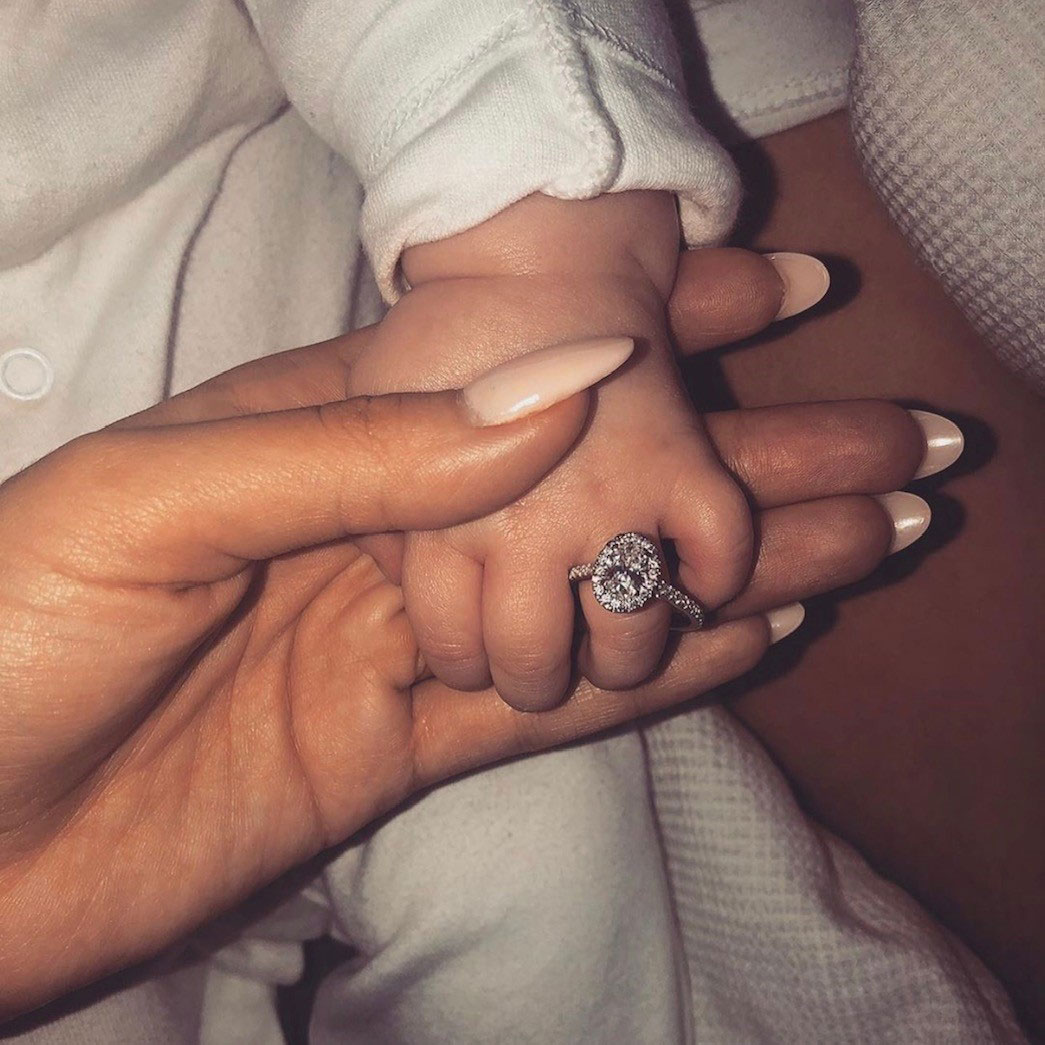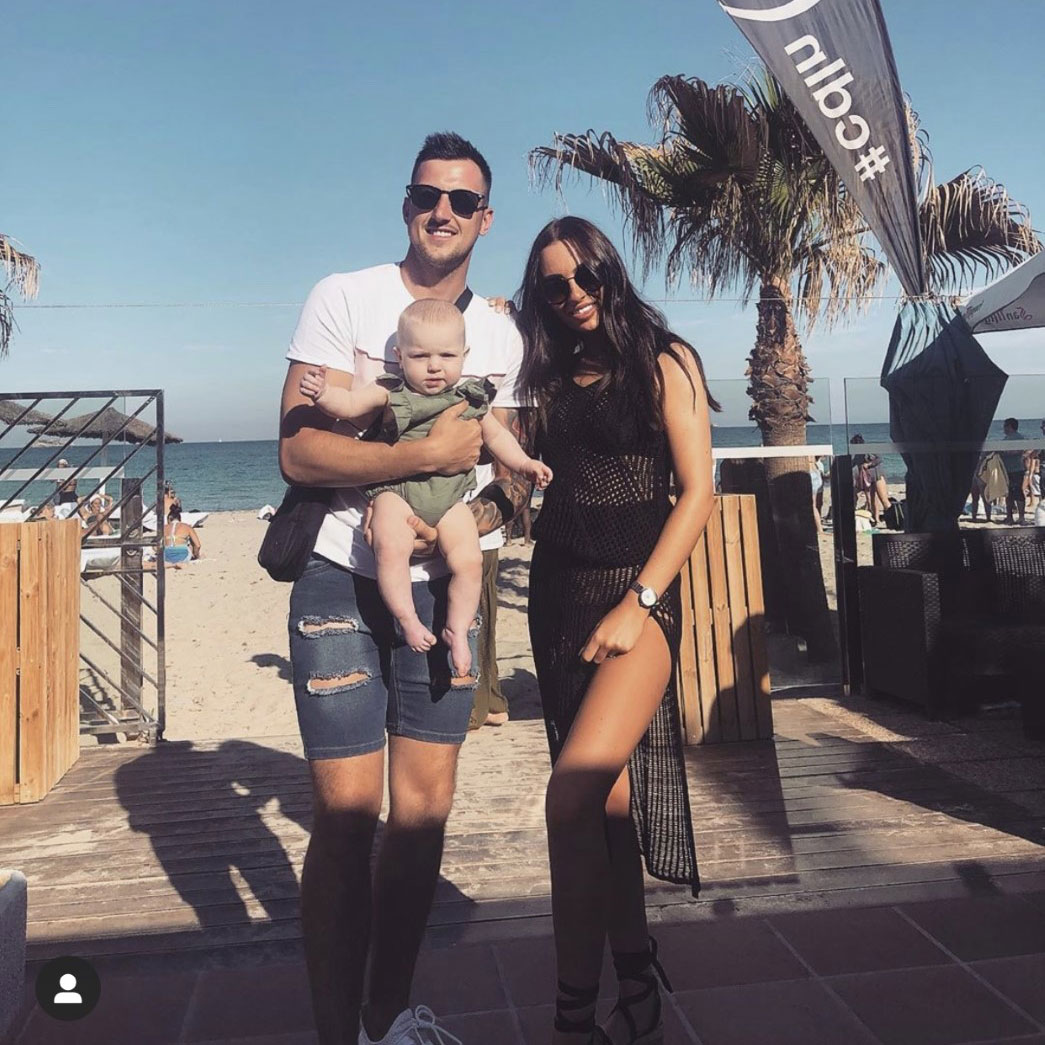 Lucy Connelly & Chris Allan
I'm Lucy, and I run the street style and fashion blog Florals & Corals and Instagram @lucyflorals. I'm 27 and from Glasgow, Scotland. I live with my fiancé Chris, who works in IT consultancy, and this year we have some serious plans! Starting with our wedding in September, when we are due to get married in front of a small group of family and friends at The Peninsula hotel in Paris.
Chris and I first met in our final year at high school and this August marks the 10 year anniversary of our first date (crazy when I think about it!). Throughout those 10 years, Chris has been there to support me through thick and thin and now, I can't imagine life without him. We have really become inseparable.
He's my best friend. We do everything together. Whether it's travel, work or sitting in front of the TV with a series on; he is always by my side.
Every day is full of fun, laughter and happiness from the minute I wake up in the morning to the moment I fall asleep at night. We both feel really lucky to have found each other and truly can't wait for our wedding this year.
Speaking of which, let's talk proposals. Chris proposed in June of last year, whilst on holiday at the Grand Floridian hotel in Orlando. We were walking around the beautiful grounds in the summer sun before our scheduled afternoon tea (my absolute favourite) when Chris got down on one knee and asked me to marry him.
As we holiday in Florida every year, I truly didn't expect it. I was both shocked and delighted at the same time. I couldn't wait to tell my family and as they were also in Florida at the same time it was amazing to be able to meet with them later that night and enjoy the celebrations.
When we got back to the hotel room, Chris had arranged for roses, champagne, chocolates and a new pair of Stuart Weitzman shoes waiting in the room for me. The perfect end to the perfect day and I haven't even mentioned the ring yet as I am saving the best for last. For our engagement, Chris chose the most beautiful ROX yellow cushion cut diamond halo. It was perfect. Let me explain why…
I have always loved ROX, not only for the beautiful pieces they sell but the incredible service that they provide no matter what you are looking for. I feature them regularly on my blog so it was a natural fit really, and no doubt he knew I would have loved any ring from ROX.
As for the yellow, I watched a film many years ago that featured a yellow diamond necklace and I fell in love with coloured diamonds. I made a mental note to myself that day that if I was every lucky enough to own any diamonds, they would be yellow. Luckily for me, I have a boyfriend who pays attention…sometimes!
Joking aside, I love the ring that Chris chose for me and wouldn't change it for the world. It's striking, unique and fits in with my style perfectly. Especially when I layer with other jewellery.
>As of yet, we haven't decided on our wedding bands but I have tried on some beautiful ones in ROX that fit perfectly with my ring, as has Chris. This time, we get the pleasure of picking them together.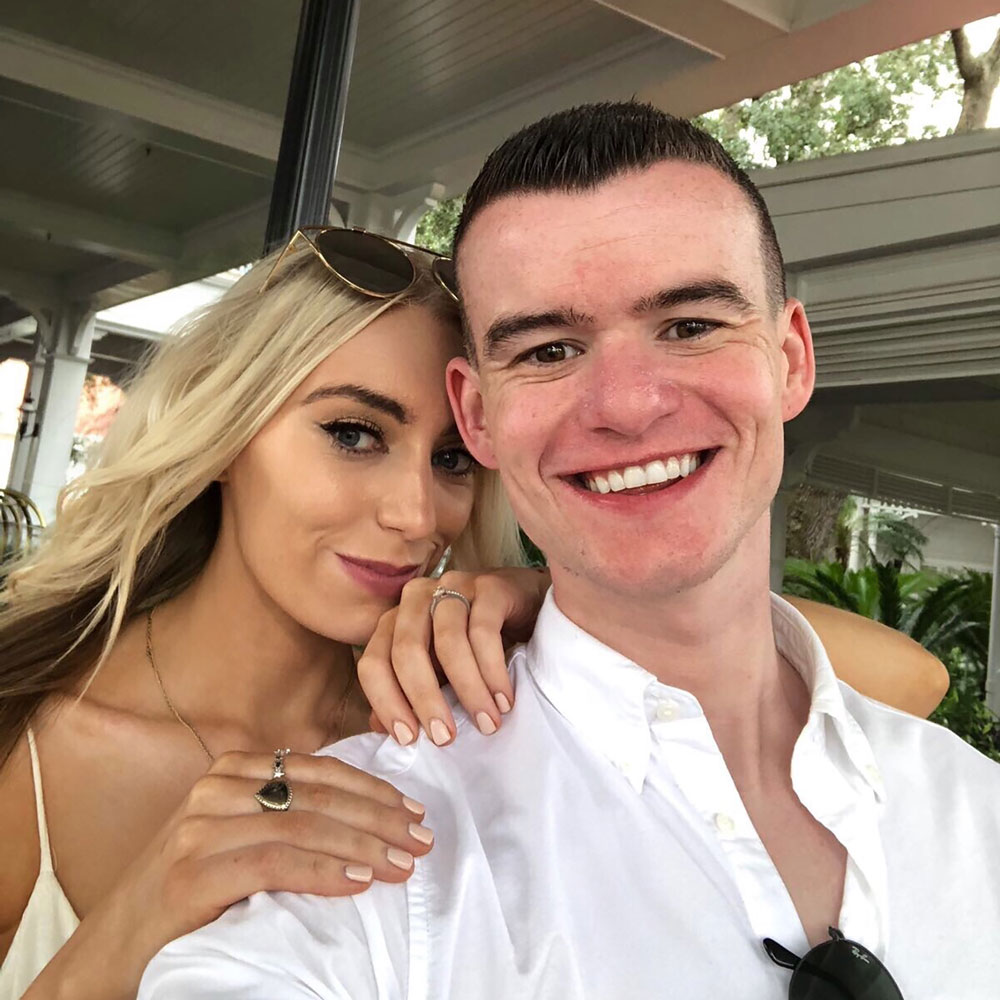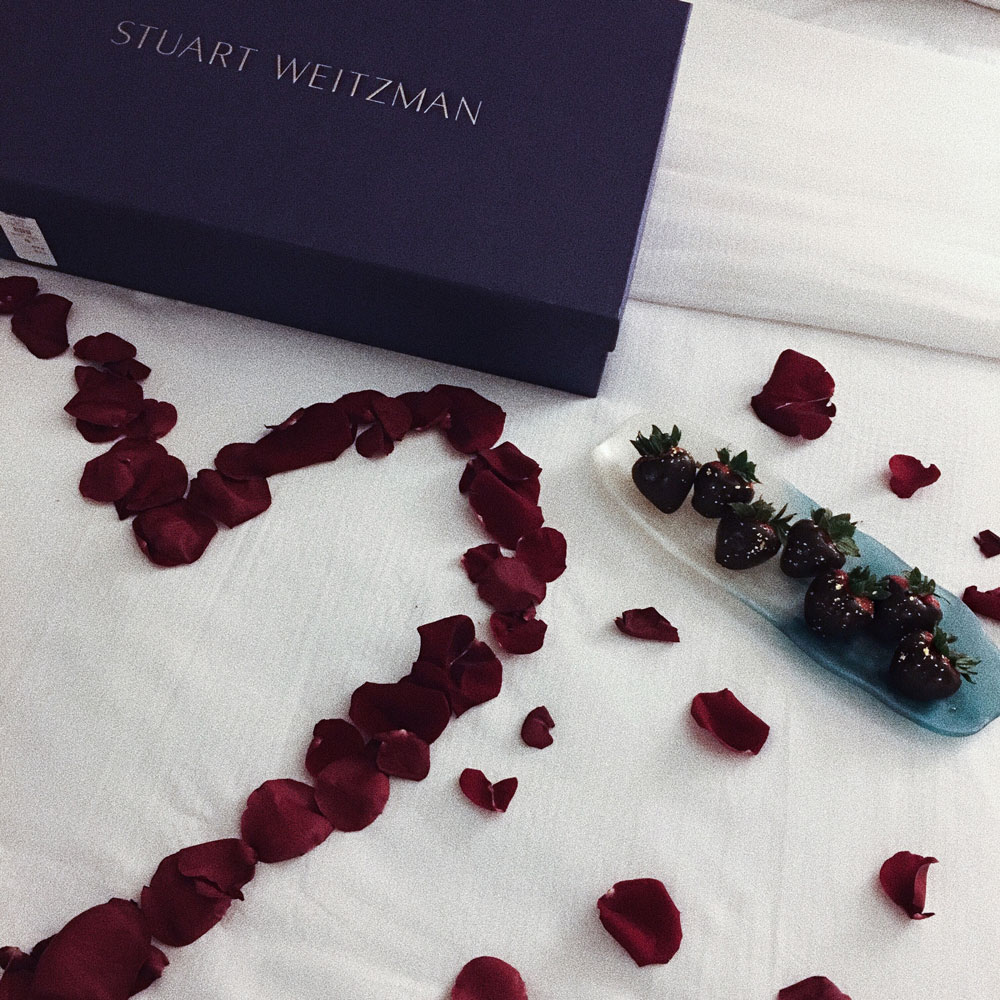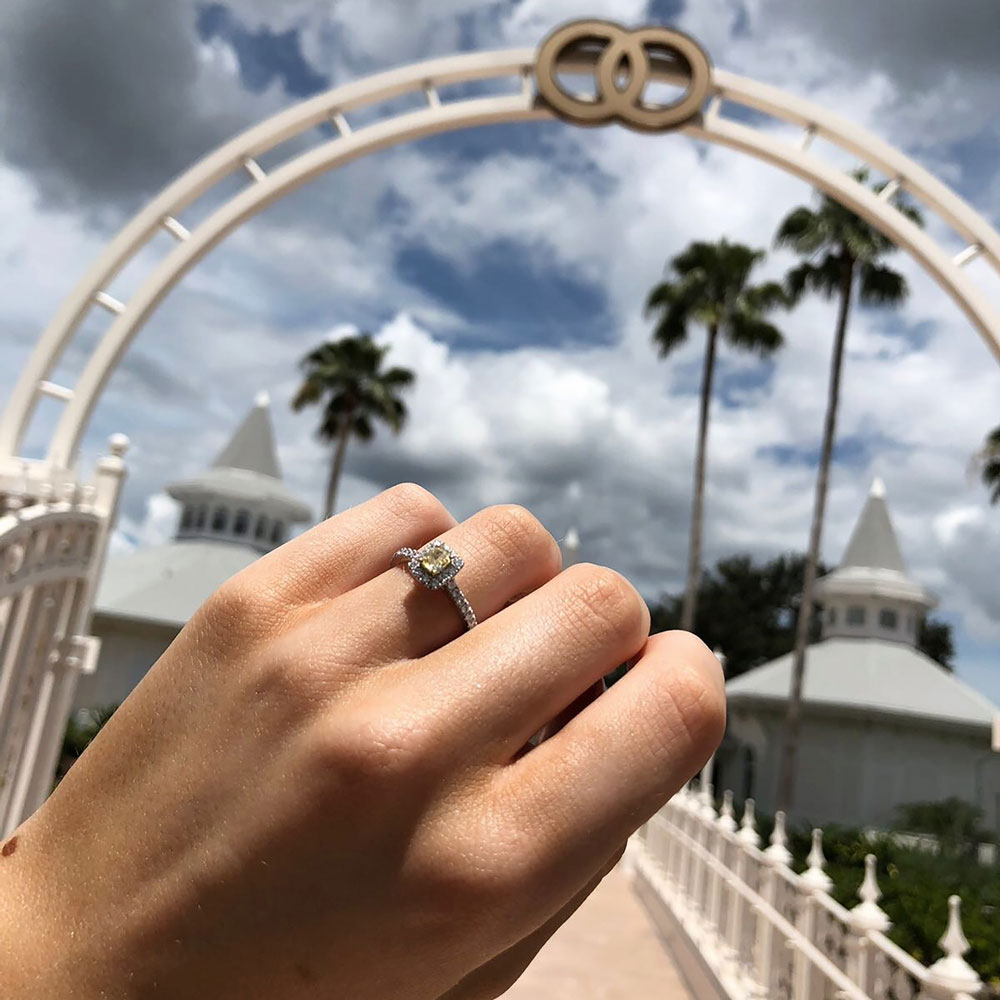 Robyn Mitchell & Jodie Bird
Jodie and I have been together now for three years and we are still going stronger than ever! Only recently we have just bought our first house together, shortly after getting engaged – it hasn't been the easiest doing two of life's most stressful things at the same time. We have a few extra grey hairs and have drank slightly more wine but we got through it!
Most of our time is spent together either touring Yorkshire's yummiest restaurants, sipping on cocktails or going to the gym. I would say 'we' are shopaholics but I think I would be insulting Jodie if I put her in the same category as me. And of course, we love to get away together whether it's to the Lakes or to a sandy beach abroad. Nothing beats some quality time exploring new countries/cities.
We've hit the jackpot really, we are soulmates and best friends all in one (considering we are both Geminis).
Robyn: Jodie and I first met at Leeds pride – slightly cliché I know! It wasn't until a few weeks after that we met on another night out that we fell for each other – LITERALLY. Amongst a crowd of people in a foam party where we clocked eyes and like Super Mario Kart slipping on a banana, that's how we ended up on floor.
A few Nando's dates later and here we are, three years down the line and I'm the happiest I've ever been!
Jodie: We had booked to go to Mexico in the October 2018 and I had known for a while I wanted to ask Robyn to marry me. I wanted the proposal to be perfect and what better way than on the sandy beach of Mexico surrounded by the Caribbean sea.
I had spoken with the resort (TRS Yucatan – amazing place!) before our arrival and arranged a private dinner for two on one of the evenings along the beach. I knew Robyn wouldn't like any big proposal with a crowd of people so this was intimate and very special. At the end of the dinner and a few bottles of wine later, I suggested us getting a photo together to capture the moment. I stood the camera at the end of the table, selected timer and positioned myself next to Robyn. After a couple of normal photos, on the third one it was time to swallow away the nerves as I got down onto one knee asking her to marry me. Luckily, my timing was on point and the camera caught the exact moment. Floods of tears later, I finally got an answer. Her face says it all!
Robyn: Jodie had it easier than most partners, I knew exactly what I wanted… and I made this pretty clear to her by sending numerous photos every day!
Although I chose the style, Jodie added her own special touch to it and individually chose my diamond… and the girl did good. The diamond itself is rare in quality and beauty, but the sentimental value just tops it. The whole concept of her choosing the diamond makes it so much more special than anything and it meant she was a part of the process. The whole bespoke service is the reason we chose ROX, not to mention the high quality in the handcrafted rings. I just love the idea of my ring being built step by step for me personally and it really adds that personal touch which makes it so unique.
I always knew I would want the classic solitaire style, but I like to be different, and I just fell in love with the Marquise shape when I first tried it on. It's such an unusual shape that suits my finger. It was love at first sight (the ring).
I later then bought Jodie an engagement ring for herself from ROX, and gave Jodie her own special moment that she gave me. She wanted something quite different to the typical engagement ring style, and rather wanted a baguette channel set. Both of our rings are completely different to each other but they both give us the same feeling – a reminder of our special moment we can remember forever.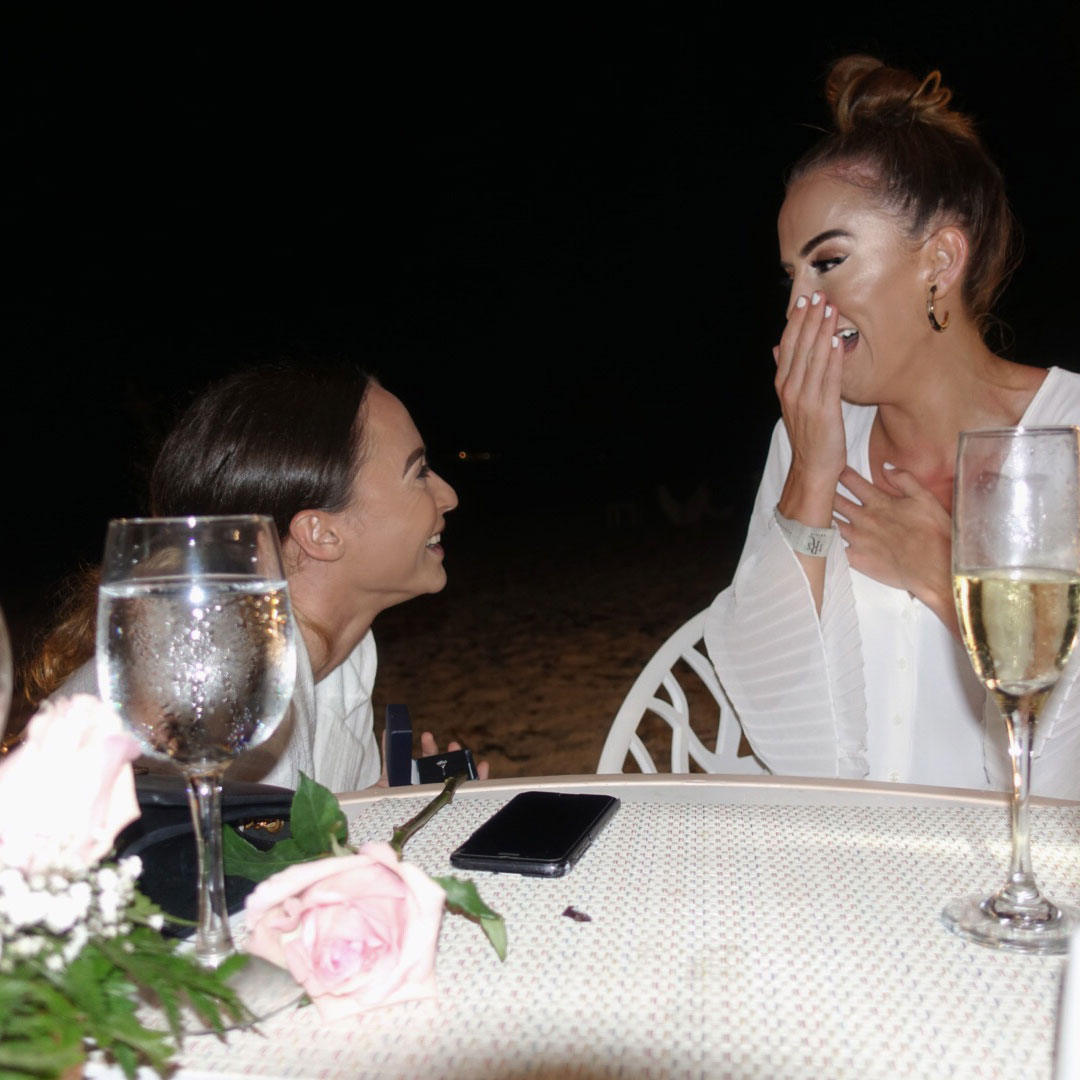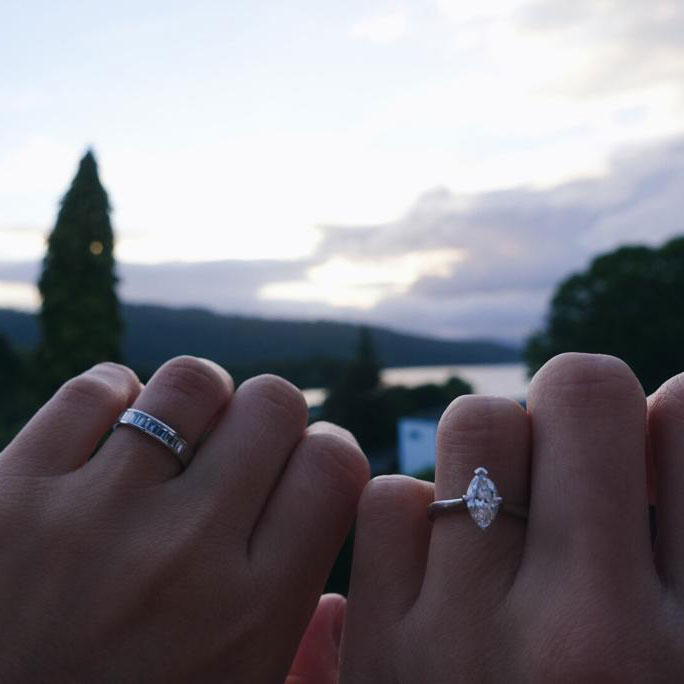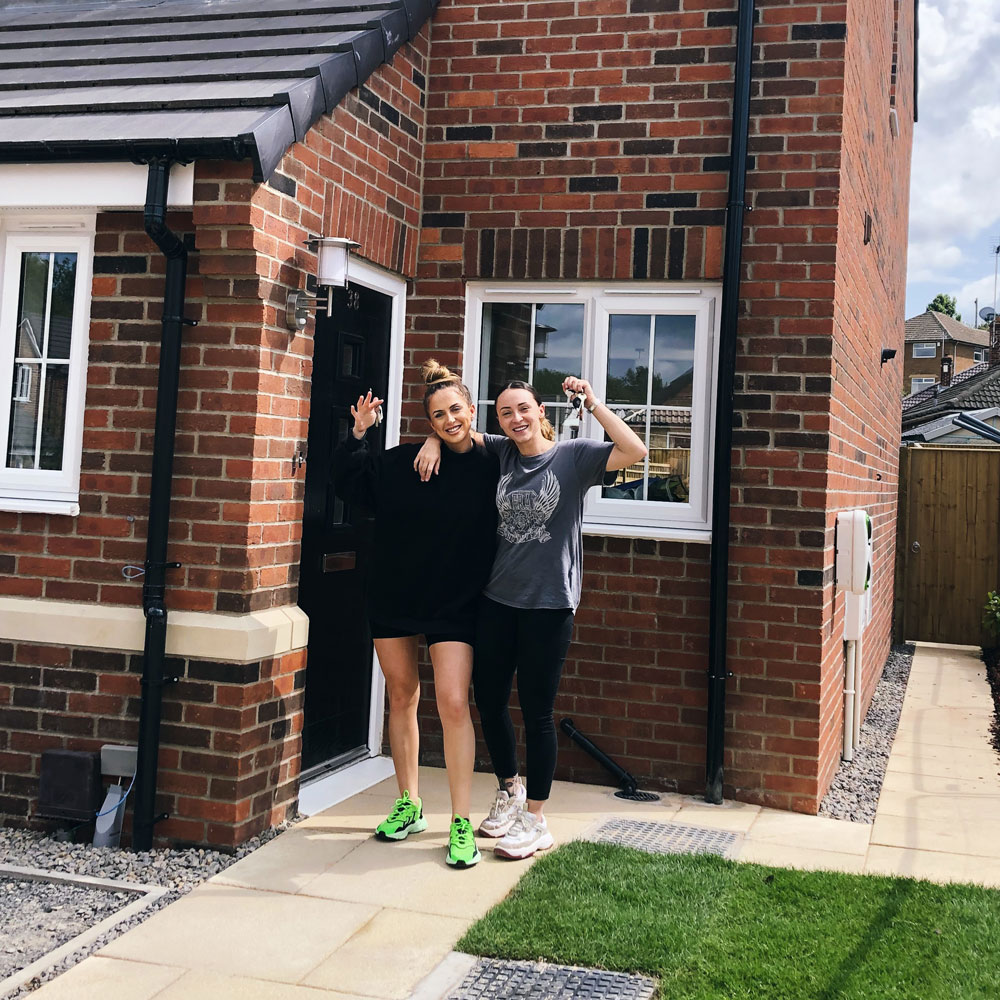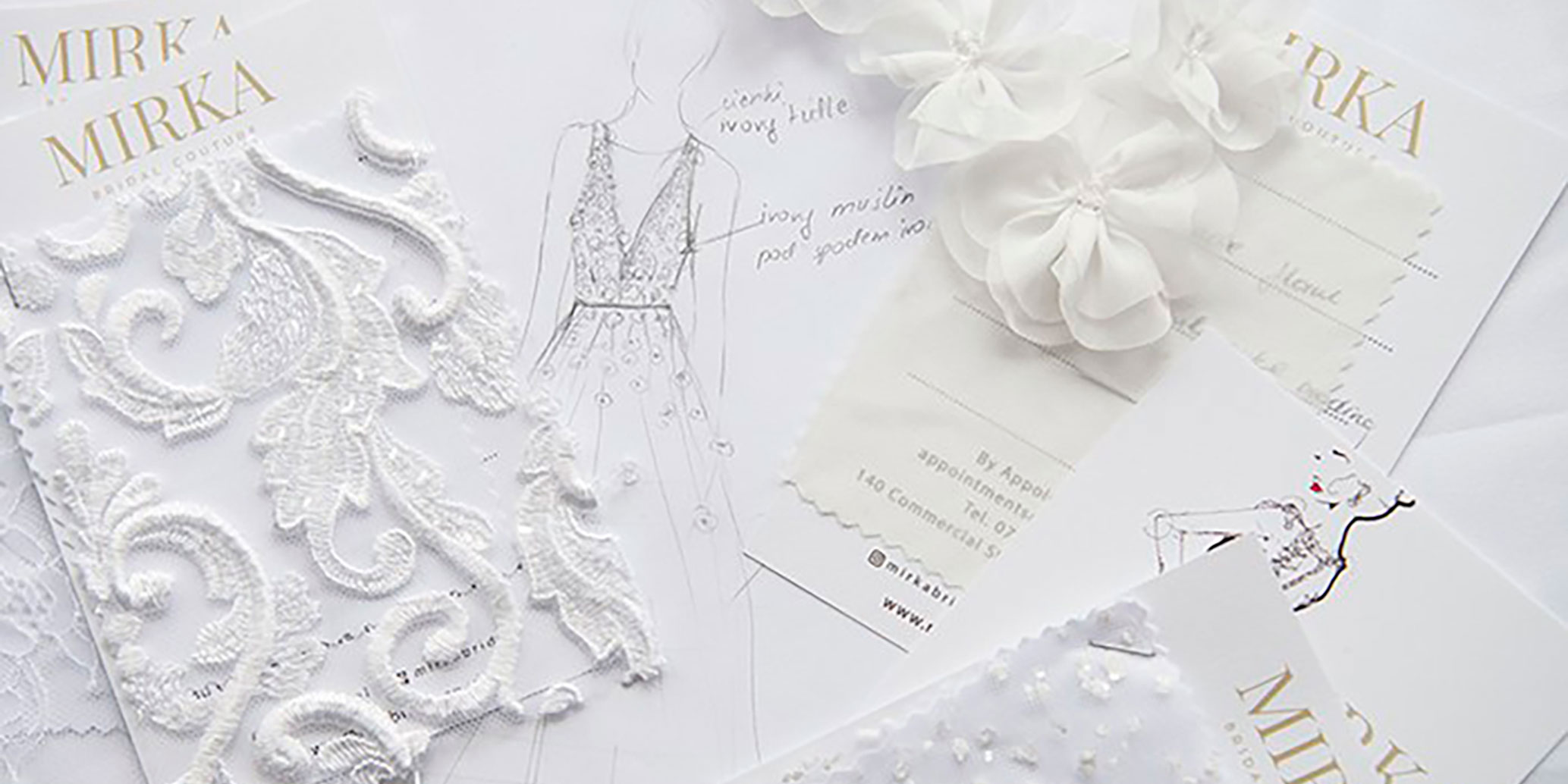 Wedding trends are unlike any other fashion trends – most of the biggest trends from the runways will stick around for more than just one season and some will even become classics.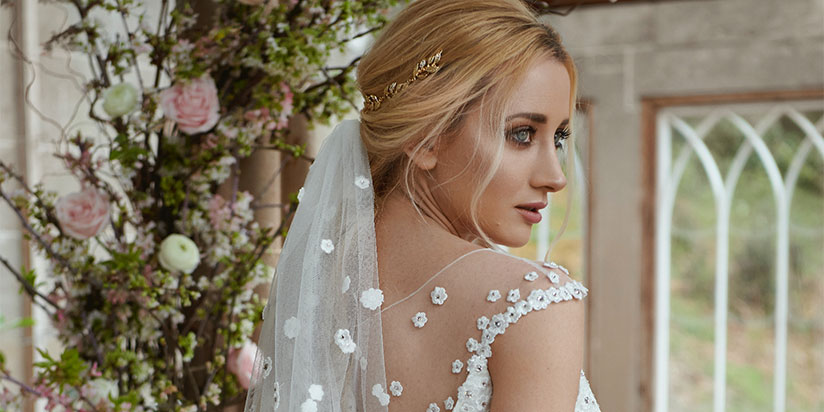 You've found the one but now you've got to find the dress. Mirka helps our ROX brides understand when they've found the one.