A VENUE LIKE NO OTHER
7th February 2019
Maxine McCreadie steps into a world of wonder at exclusive wedding venue Mount Stuart House.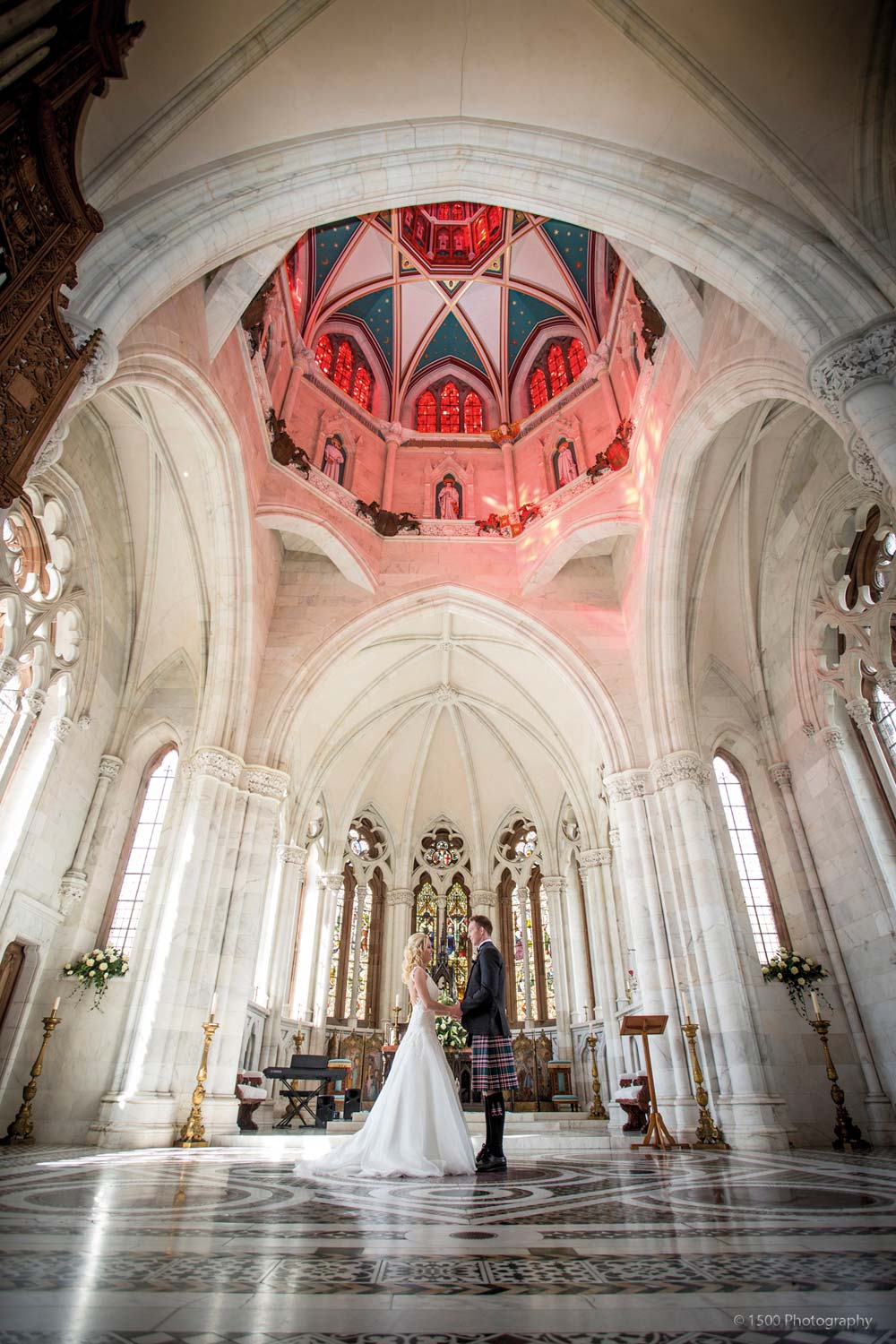 © www.1500Photography.co.uk
MOUNT STUART HOUSE
The beauty of falling in love is that no two stories are the same. A moment when time stands still, the day you meet 'the one' is truly unforgettable.
That's why when the time comes to take your relationship to the next level that it is vital to find a wedding venue that tells your story – capturing just how unique your love really is. And there's nowhere quite as unique as Mount Stuart House. Nestled within 300 acres of lush landscaped gardens on the scenic Isle of Bute, Mount Stuart House truly is a wedding venue like no other.
Capturing the spirit of 19th Century innovation every corner of Mount Stuart House exudes a charm and charisma of its very own. Celebrated as one of Britain's most spectacular Victorian Gothic houses, Mount Stuart is the architectural fantasy of the 3rd Marquess of Bute and his architect Robert Rowan Anderson. It is their power of imagination, innovation and ingenuity that is behind the remarkable venue that is unashamed in its flamboyant decadence. From the cosmic charm of the Marble Hall, impeccably crafted with Italian and Sicilian marble and alabaster, to the breathtaking Marble Chapel, Mount Stuart House promises to provide a wondrous backdrop for your big day.
Every wedding at Mount Stuart House starts with you.
From the moment you arrive to the moment you leave as a happily married couple, ready to take on your next adventure, the passionate and welcoming team at Mount Stuart will be by your side to ensure that it really is a day like no other. Not simply another faceless venue which plays host to a myriad of different weddings every year, staff are honoured to play a part in a day that will go down in history.
So, just what exactly can you expect from exclusive hire of the jaw dropping venue?
A warm welcome awaits at Mount Stuart House on the day of your arrival as private staff will guide you and your guests to their quarters before offering a glimpse into the majestic world of history and art throughout the house. Every nook and cranny of the mesmerising Gothic venue has its own tale to tell, just like you, with the tour offering the opportunity to discover the many unbelievable secrets behind every door.
Once you've had a chance to explore the house and the grounds, you and your guests are invited to unwind and tuck into the best of Scottish fare in a mouth-watering feast before enjoying a nightcap in front of the roaring fire of the Purple Sitting room ahead of the big day. The beauty of exclusive use at Mount Stuart House is the lack of time constraints. Time slips away at your own pace, with the evening's dinner finishing as early or indeed as late as you wish – creating precious memories to last a lifetime.
The day you say 'I do' also promises to be a relaxed affair with the Mount Stuart team dedicated to ensuring every little detail is nothing less than perfect – from your hearty breakfast in the morning to your last sip of champagne at night.
As your guests gather in the astounding Marble Chapel your wedding party will make their way down the grand Marble Stairs, accompanied by a piper, as you make your way towards your ceremony and next exciting chapter. The Marble Chapel, featuring white Carrara marble from floor to ceiling, takes the concept of a white wedding to the next level, perfectly complementing the wonder of your love story.
And of course, the magic doesn't stop following the ceremony. Mount Stuart House offers endless unique opportunities for your evening reception. From woodland banquets to your own private military tattoo on the front lawn or simply an evening of dancing under the stars in the Marble Hall Mount Stuart is a one-of-a-kind venue for your one-of-a-kind day.