A HEARTY SHOWSTOPPER
28th January 2019
There's no better feeling than tucking into a succulent roast during the winter months. Take your Sunday dinner game to the next level with a little help from this roast grouse recipe by Michelin starred chef Martin Wishart.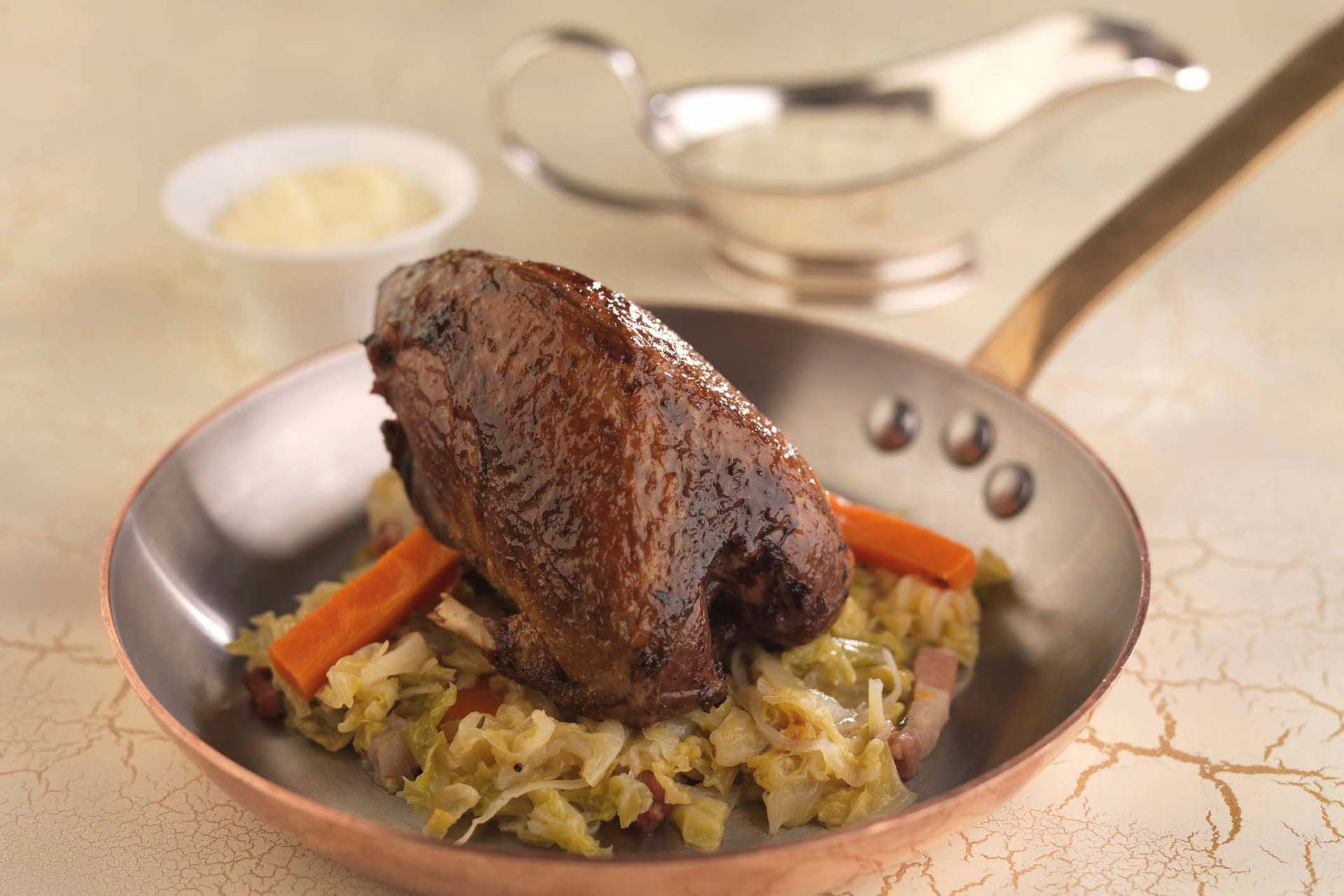 ROAST GROUSE WITH BRAISED CABBAGE, CELERIAC PUREE AND SAUCE ALBERT
CELERIAC PURÉE
1 medium sized celeriac
150ml double cream
50g un-salted butter
Trim outside of celeriac and cut into large even sized pieces, cook in boiling salted water until tender. Drain and steam off any excess moisture, add the double cream and simmer until reduced by half. Purée in a liquidizer add the butter
BRAISED SAVOY CABBAGE
1 whole Savoy cabbage
2 Medium sized carrots
1 onion, peeled and finely sliced
150g quality smoked bacon
50g duck fat or lard
2 springs fresh thyme
2 cloves garlic
150ml dry white wine
250ml fresh chicken stock
Good pinch of salt
Remove the tough outside cabbage leaves. Cut the cabbage into four, discard the core and roughly shred the leaves. Cut the carrots into long batons about 5mm thick and cut the bacon into lardons (strips).
In a pan melt the duck fat and cook the bacon for three minutes.
Add the carrots and onions to the pan and cook for a further two to three minutes. Add the cabbage with a good pinch of salt and mix into the pan. Pour in the white wine and reduce, then add the chicken stock, thyme and garlic and bring it to the boil.
Cover the cabbage with greaseproof and cook in the oven at 200˚c for 15 to 20 minutes.
SAUCE ALBERT
60g fresh bread crumbs
300ml milk
1 bay leaf
1small onion studded with 3 cloves
30g unsalted butter
1 teaspoon English mustard
1 teaspoon Creamed Horseradish
1 tablespoon of double cream
Salt and fresh ground pepper
Pour the milk into a pan and add the onion and bay leaf and simmer for five minutes. Stir in the breadcrumbs, add the butter and cream. Stir on a low heat for five minutes. Season with salt and fresh ground pepper.
Stir in the teaspoon of English mustard and creamed horseradish remove the studded onion before serving the sauce.
COOKING THE GROUSE
6 fresh grouse, drawn (insides removed)
6 sprigs of thyme
6 cloves garlic, peeled
Vegetable oil for frying
Salt
Heat a little oil in a casserole pan. Season the grouse with salt including inside the cavity and stuff it with the thyme and garlic.
Fry the grouse lightly in the oil until evenly coloured on all sides. Place the grouse on a tray and cook in the oven at 210˚c for 8 to 10 minutes.
When cooked remove the birds from the oven and rest them for 10 minutes in a warm place before removing from the bone and serving.
Visit Restaurant Martin Wishart in Leith and The Honours in Edinburgh