SS17 THE ONE
12th April 2017
Celebrities with flawless looks, enviable wardrobes and sparkling social lives inspire us on a daily basis. So whether you're a Lady Di or a Gossip Girl, follow Rachael Taylor's guide to diamond cuts and their celebrity owners to help find "the one" for you.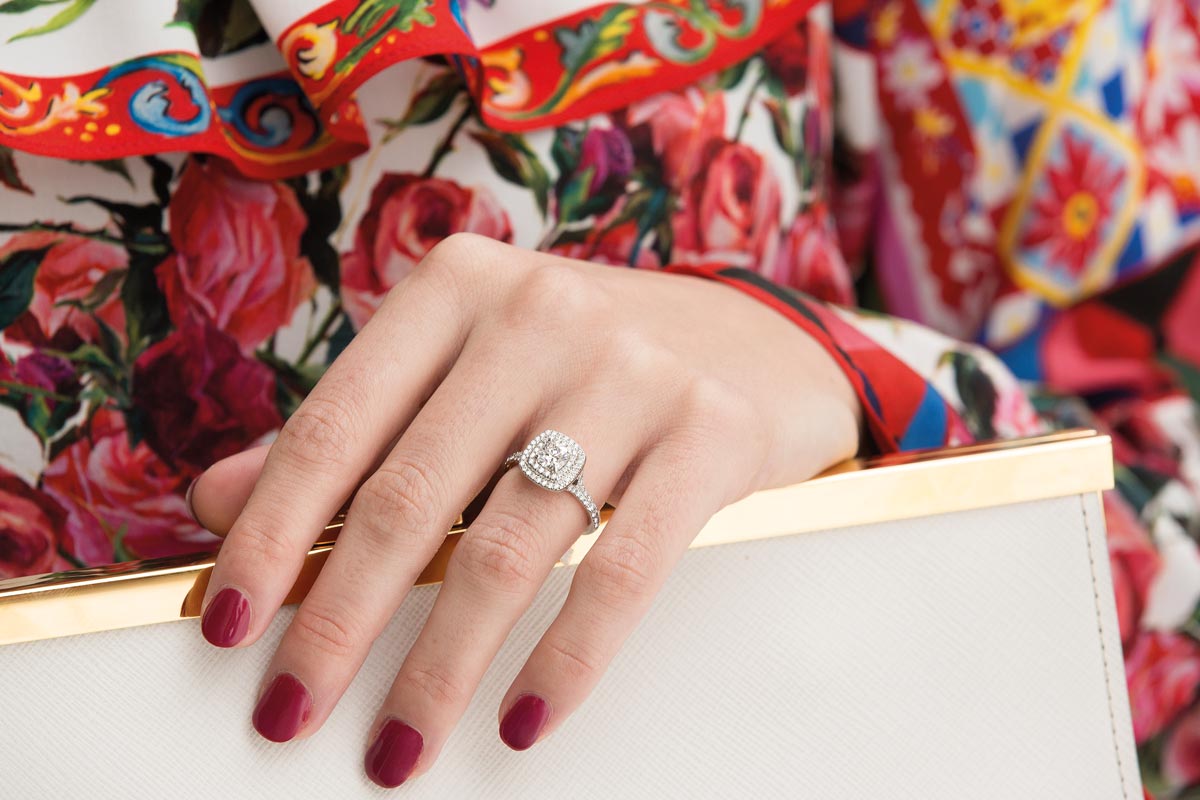 62015 | £7,695
available from £3,495
Cushion-cut diamonds are loved for their fire, as are quite a few of the stars who wear one on their wedding finger. Supermodel and social media queen Chrissy Teigen perfectly embodied this when replying to an incorrect Instagram comment about her having had a baby outside of wedlock (she is, in fact, married to singer John Legend) with a beautiful snap of her ring next to an extended middle finger. Über-stylist Rachel Zoe – another feisty entrepreneur – has a 10ct cushion-cut diamond ring surrounded by a diamond halo, created by celebrity jeweller Neil Lane. This, however, was actually a push present from her husband in addition to her engagement ring. Who says solitaire goals should end on the wedding night?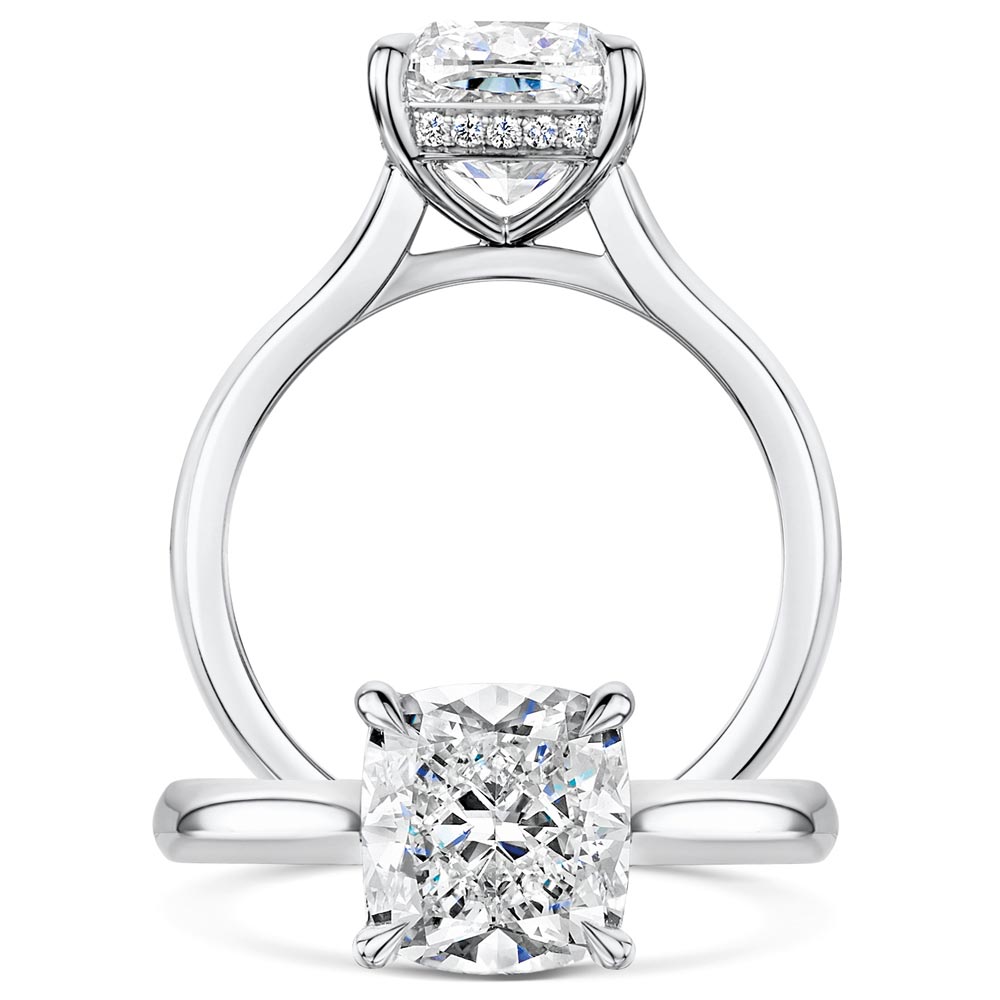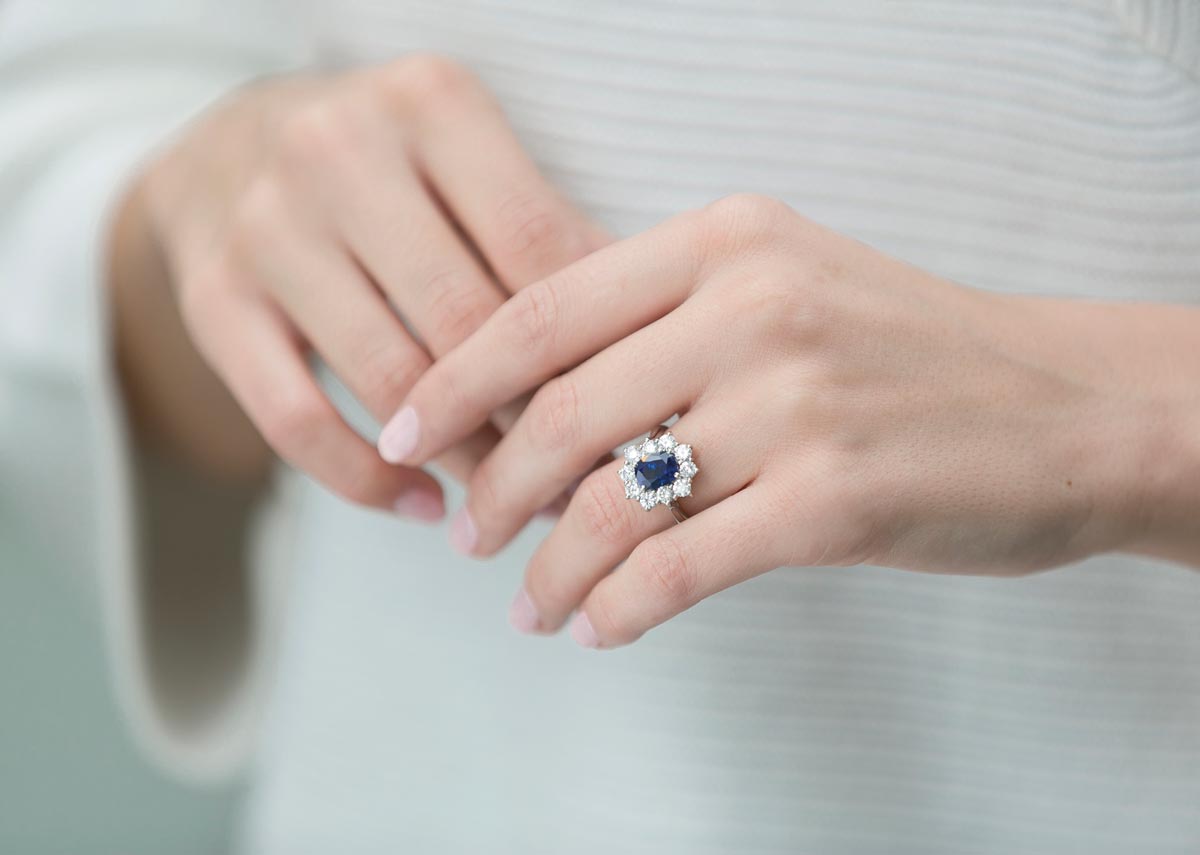 Possibly the most famous celebrity engagement ring of all – if we are allowed to refer to HRH as a celeb – is the one worn by the Duchess of Cambridge. Its large oval sapphire inspired many a bride to be, but she is not the only person of note to wear a sapphire engagement ring. Penelope Cruz, Elizabeth Hurley, Elizabeth Taylor and Mary-Kate Olsen have all accepted engagement rings set with this alluring blue stone, which traditionally symbolised faithfulness. For a modern twist on the classic design, try swapping Kate's vintage cluster for a the clean lines of a pavé-set diamond bezel around the sapphire.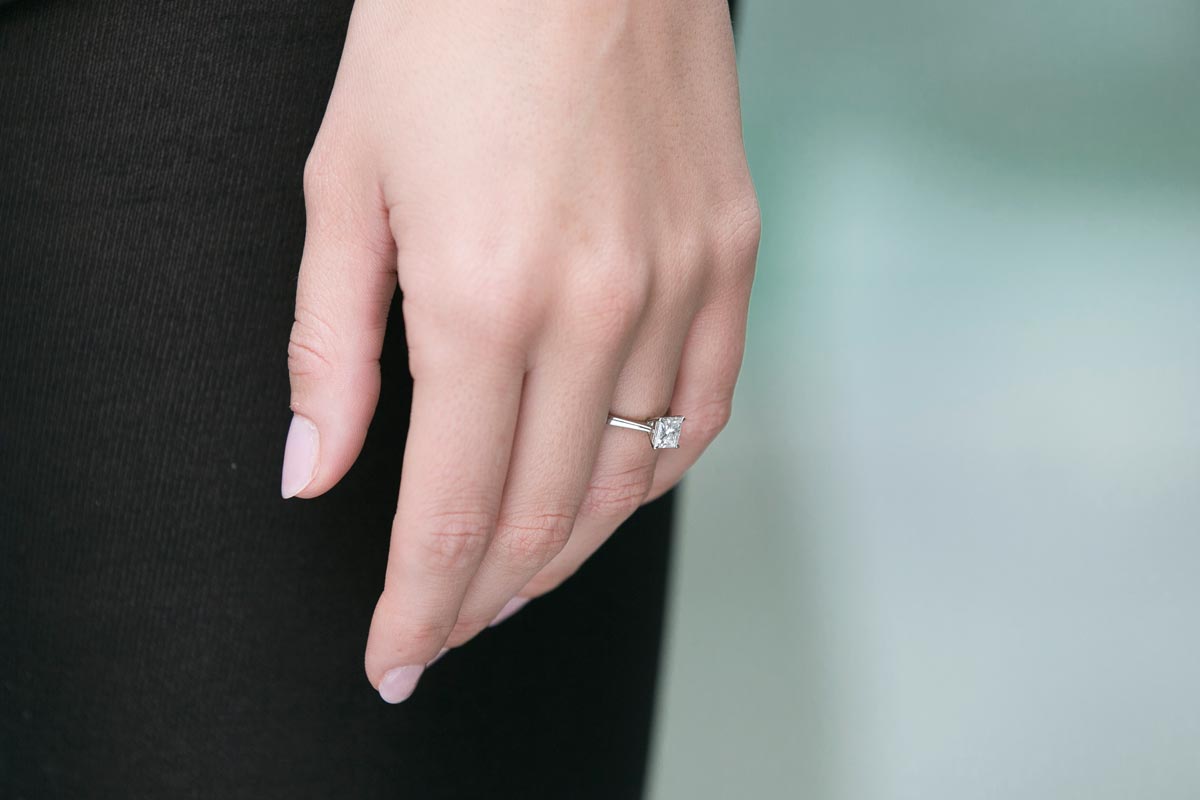 61776 | £8,995
available from £1,395
If a traditional round diamond just doesn't do it for you, why not try a princess cut? This beautifully named diamond has a squared shape that looks great as a solitaire, set within a halo of smaller diamonds, or on a twisted shank to make the most of its sharp corners. The princess is one of the sparkliest cuts, and you can often find a larger carat size for your budget when compared with a round diamond. Stars to fall for the princess cut include singer Hilary Duff, who has an enormous 14ct stone thought to be worth US$1 million. Actress Sarah Michelle Geller commissioned Hollywood designer Cathy Waterman to create an elaborate dragonfly-inspired setting to hold her princess-cut diamond in place, creating a fairytale engagement ring for Hollywood royalty whose marriage has lasted the distance.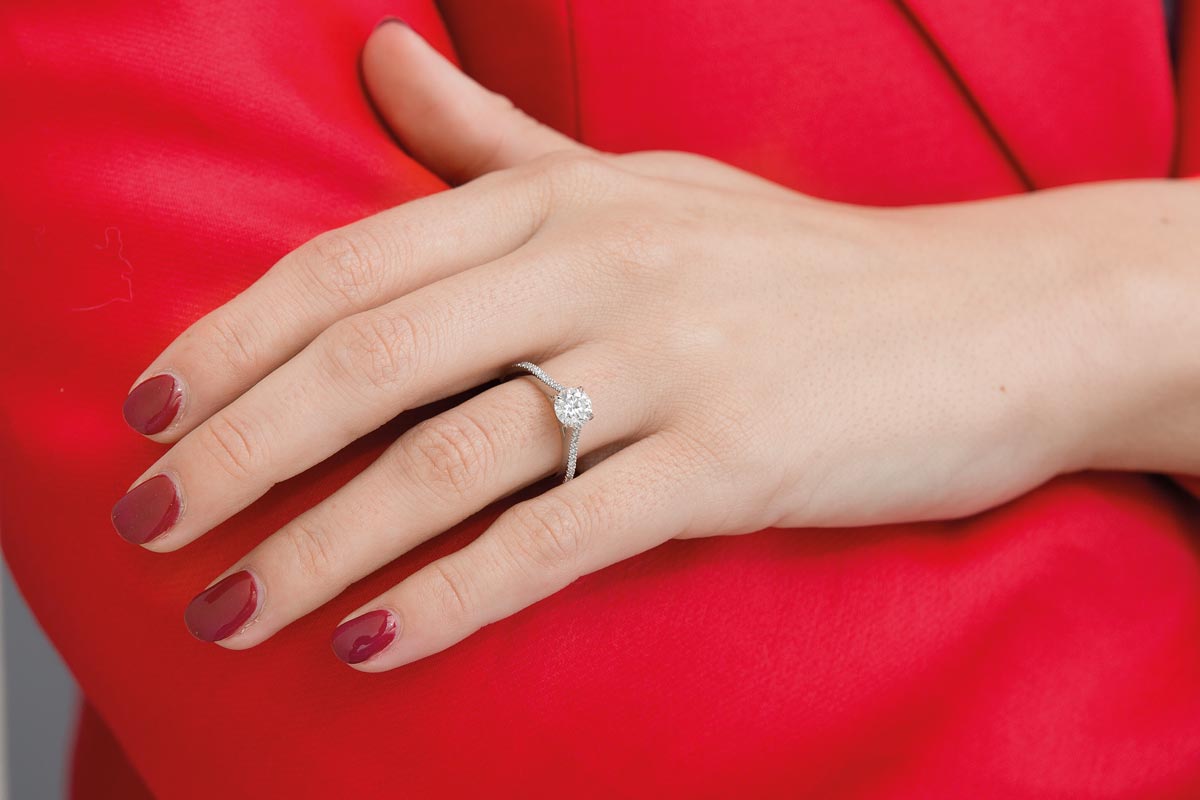 66232 | £11,800
available from £2,450
Sometimes, a classic is just what's required, and even in the heady world of celebrity romances there are those who can appreciate the timeless allure and maximum sparkle of an engagement ring set with a single, round brilliant diamond. Last summer, model Miranda Kerr announced her engagement with an Instagram shot of her round brilliant engagement ring (an estimated 2.5cts) annotated with a cute Bitmoji cartoon depicting the proposal. Fellow former Victoria's Secret model Rosie Huntington-Whitely also got engaged last year, to actor Jason Statham, and used the Golden Globes red carpet to show off her diamond, which is thought to be a 5ct round brilliant set in platinum.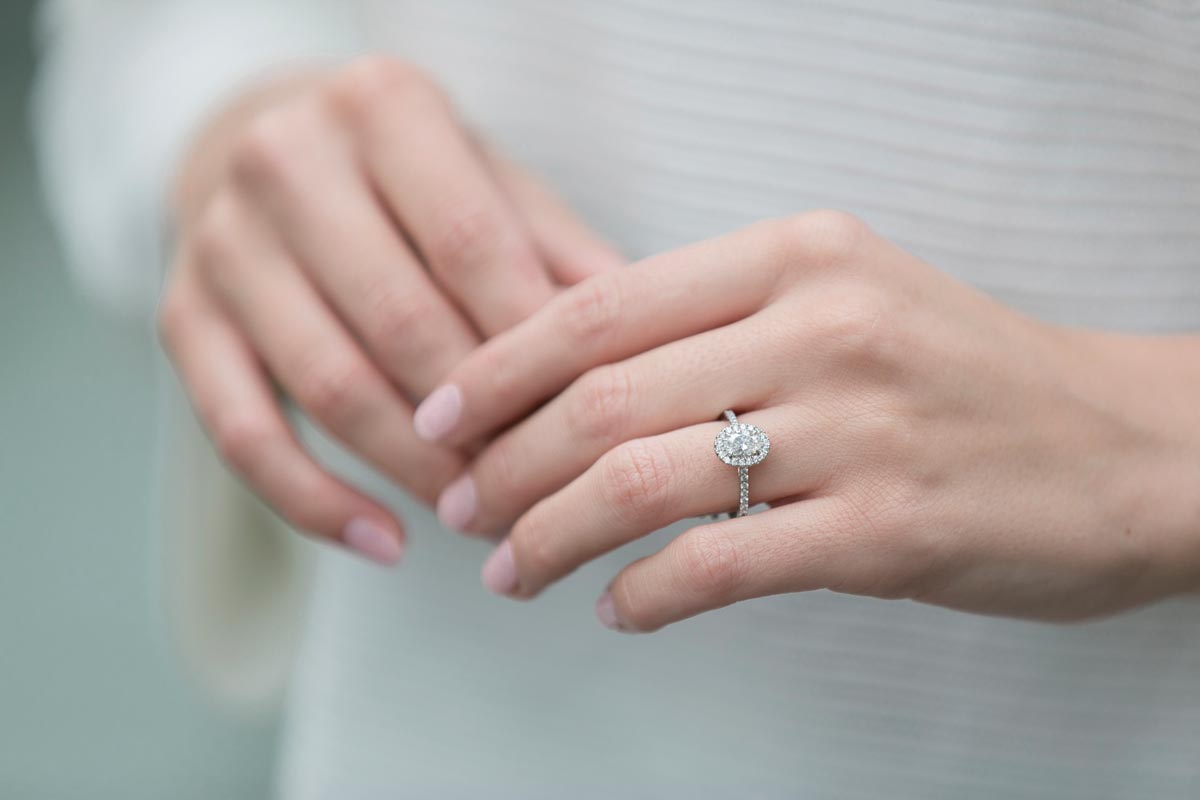 61934 | £6,200
available from £1,995
It would seem that one of TV's most graceful stars, Gossip Girl actress Blake Lively, found herself with a doppelganger diamond when she got engaged. Look to the third finger of her left hand and you'll see the elegant, elongated curves of an oval-cut diamond. Her engagement ring was commissioned from red-carpet jeweller Lorraine Schwartz by her husband Ryan Reynolds, who chose a light pink oval-cut diamond, estimated to weigh 12cts, set simply in rose gold on a thin band covered in tiny white diamonds.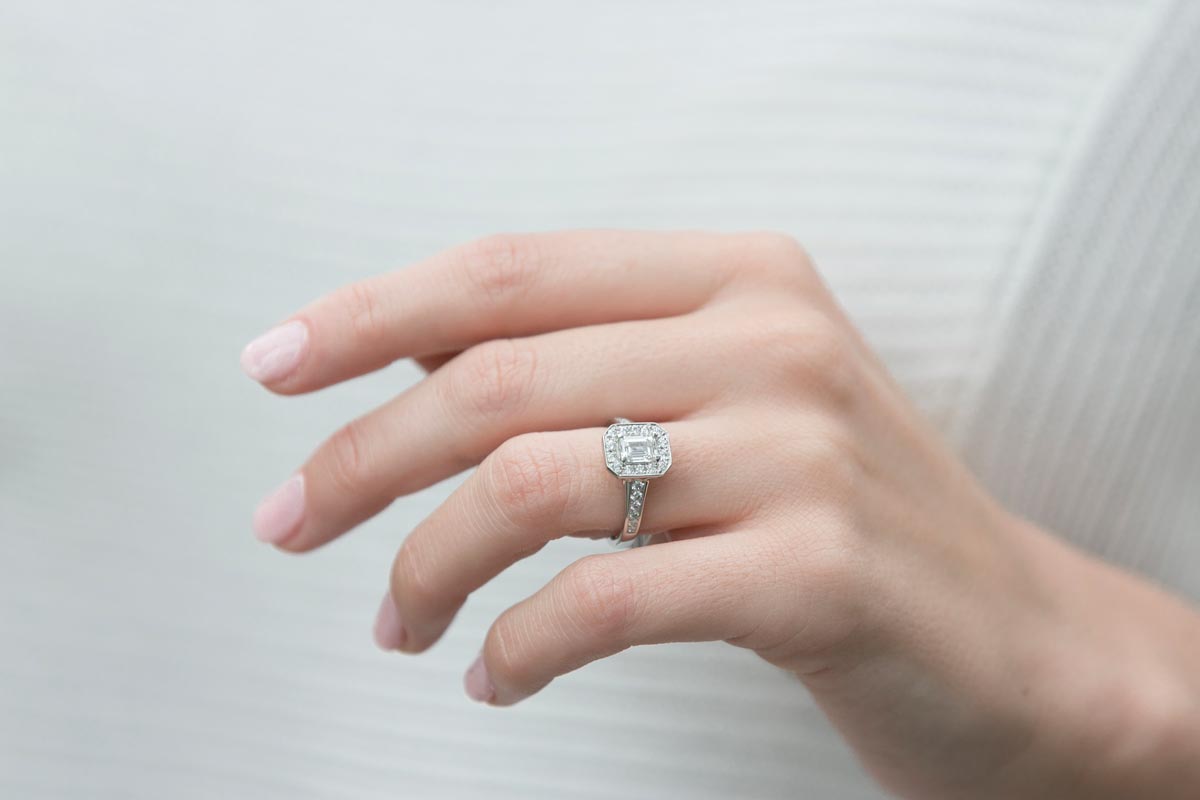 56941 | £8,500
available from £2,995
When it comes to ostentatious celebrity engagement rings, the big numbers (carats and cash) are to be found in emerald-cut engagement rings, which are less sparkly than round brilliants but deliver deep flashes of radiance when the light hits right. Brad Pitt presented Angelina Jolie with a 16ct emerald-cut diamond, while Beyoncé's is slightly larger at 18ct, and the engagement ring famously stolen from Kim Kardashian's Parisian hotel room was a 20ct emerald cut. None of these, however, compare to Mariah Carey's 35ct emerald-cut ring from her engagement to businessman James Packer. One word of caution to those pining for a glamorous emerald cut: just like celebrity relationships, imperfections show up easily in this cut so invest in a good-quality diamond.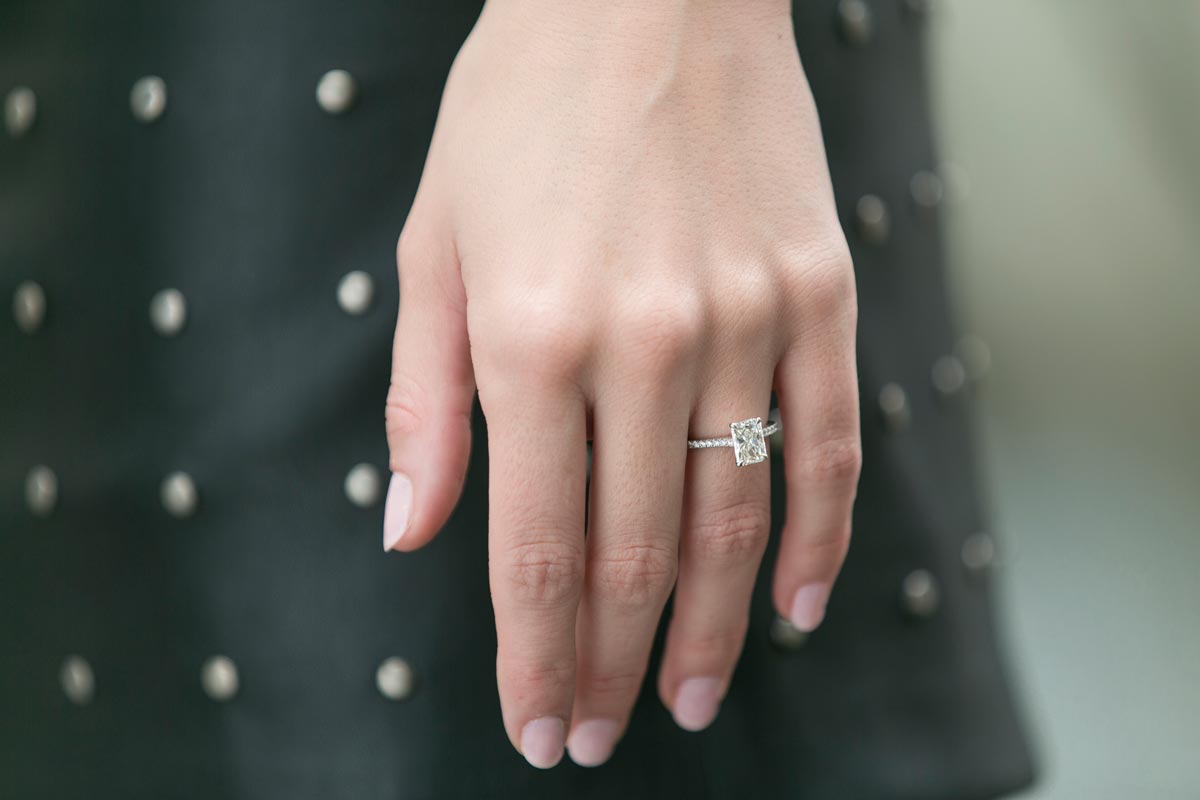 For brides-to-be who want all the sparkle of a round brilliant but desire a more unusual look, a radiant-cut diamond engagement ring is the answer. One celebrity couple drawn to this traditional-with-a-twist square stone were Hollywood actors Megan Fox and Brian Austin Green, who picked out a 3ct radiant diamond set in platinum to replace their original ring, which disappeared on a Hawaiian beach just hours after the proposal. Other radiant couples include Drew Barrymore and Will Kopelman with a 4ct ring by Graff, Khloe Kardashian and Lamar Odom with a 12.5ct from Vartan's Fine Jewellery, and Hilary Duff and Mike Comrie with an enormous 14ct diamond.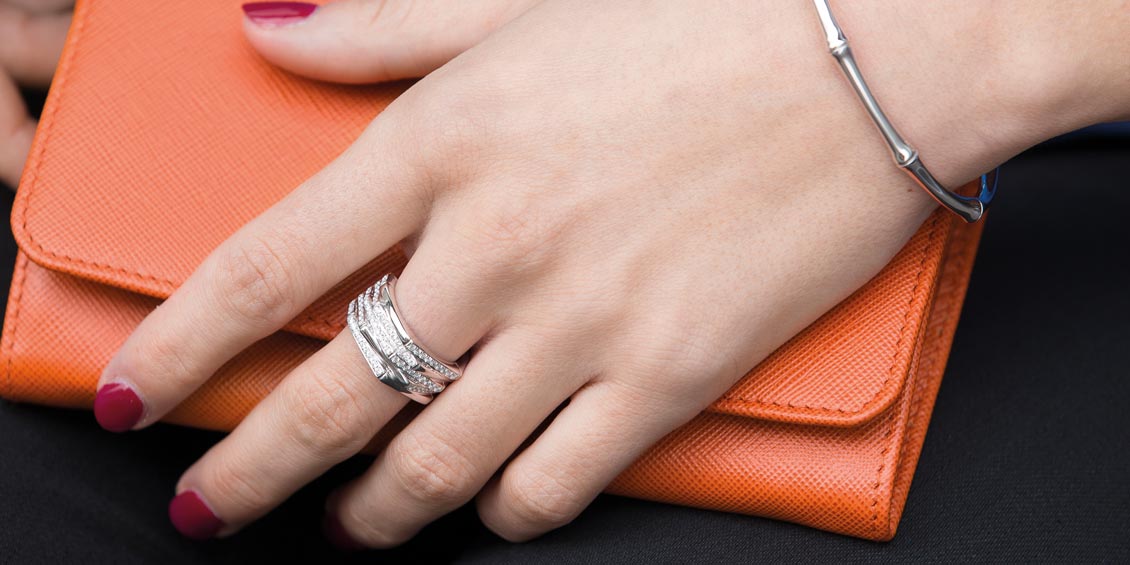 When it comes to jewellery trends, we know what's hot. We've built our collections around design trends that you will love. Rachael Taylor highlights some key pieces to keep your jewellery on point this summer.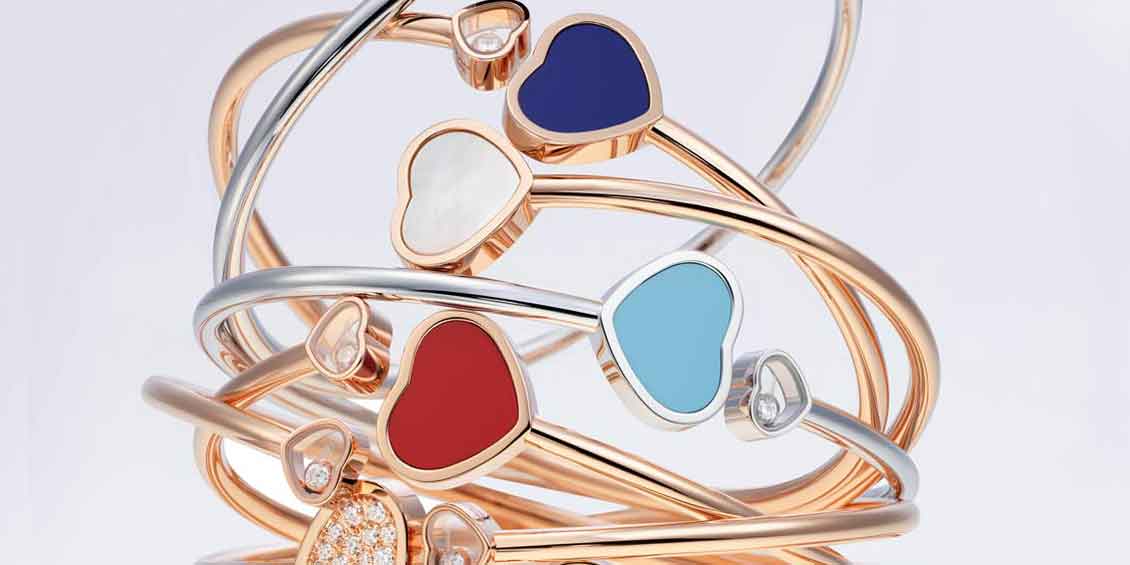 Exciting, romantic, fun – Happy Hearts come alive in Chopard's iconic jewellery. Mix, stack and gaze gleefully as this playful collection dances upon the wearer.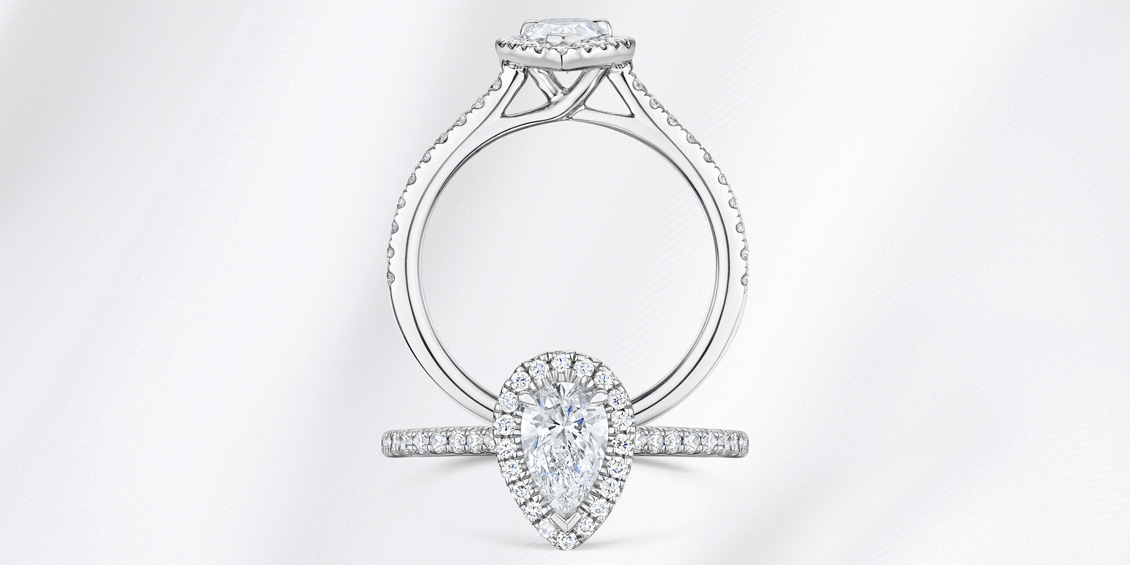 Steeped in history pear shape engagement rings have long been a popular choice for those keen to stand out from the crowd.