BACK FROM RUSSIA (WITH LOVE)
23rd January 2019
Hublot's referee smartwatches and LED boards kept time on a thrilling, vintage World Cup this summer – and paired surprisingly well with Gareth Southgate's waistcoat. Words by Alex Doak.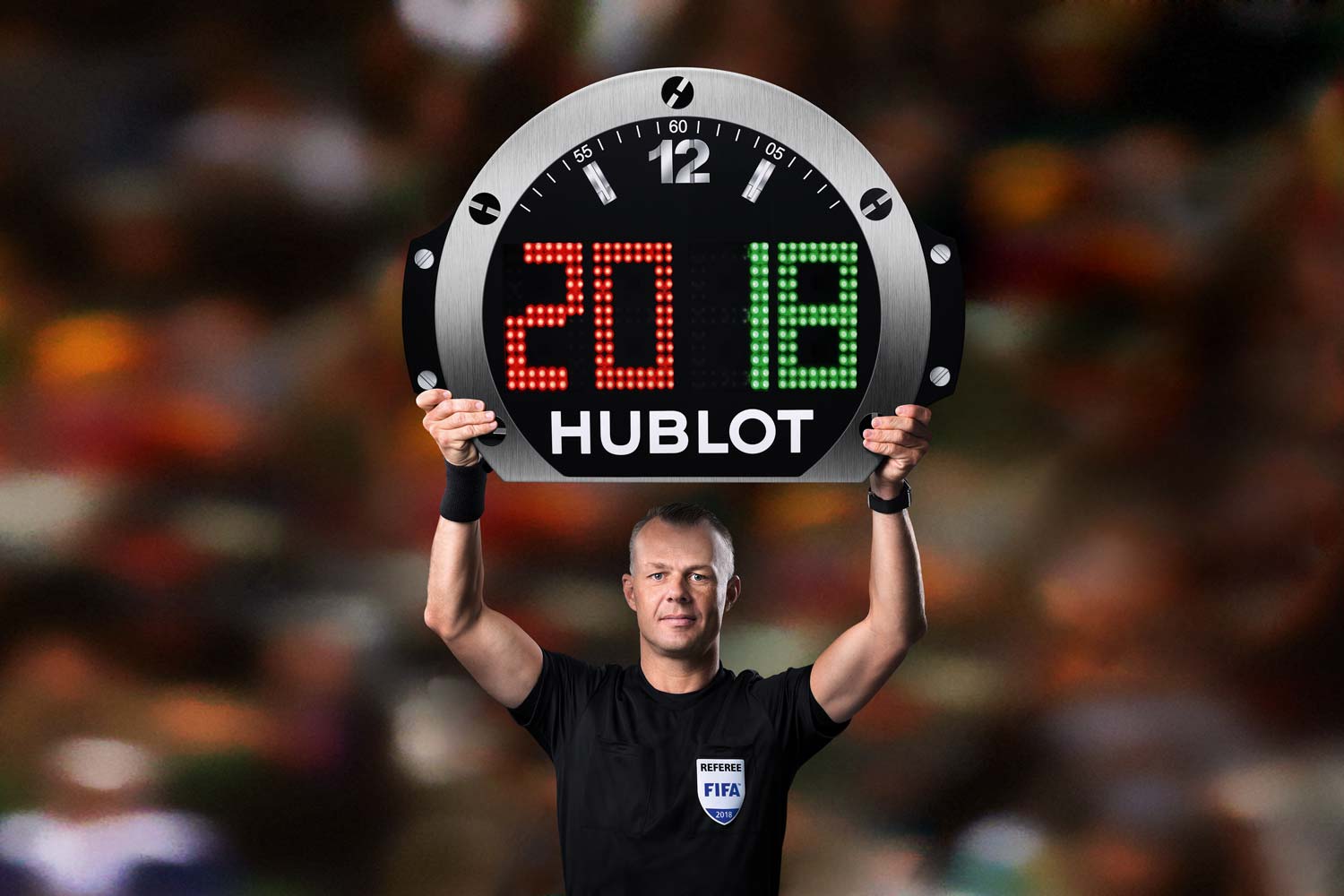 Whether you were rooting for England or not, there's no denying the 2018 FIFA World Cup in Russia thrilled from beginning to end. The 21st edition of the world finals produced many a vintage moment likely to endure in the collective memory of both those in love with the beautiful game, and those who only show a passing interest when we get through to the knock-outs.
From Kaliningrad to Ekaterinburg from Saint Petersburg to Sochi, what was particularly wonderful about 2018 was the generosity of goals: the first and only goalless draw came after as many as 36 matches – the latest for a single edition in history.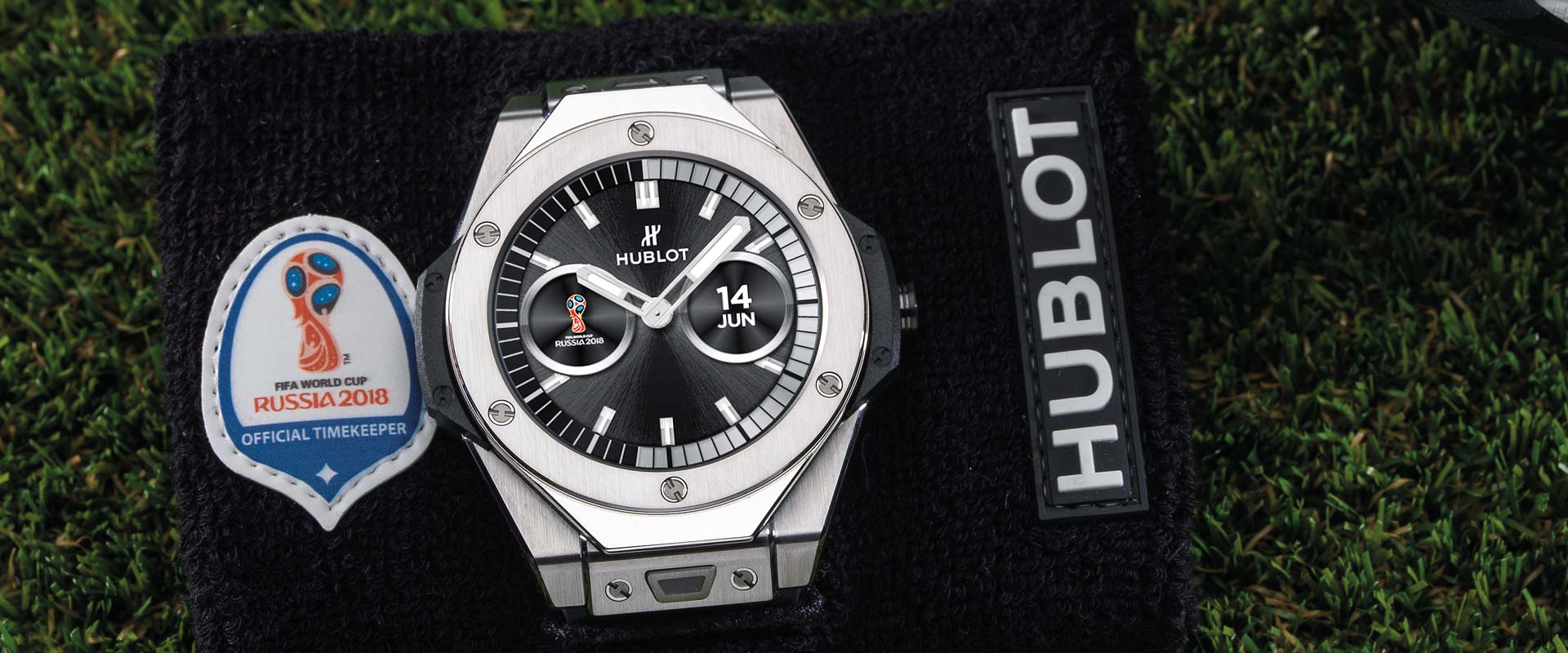 Of course, France were crowned champions for the second time in history and for the first since they were hosts in 1998 after defeating Croatia 4-2 in what will go down as one of the most thrilling finals in World Cup history. Nineteen-year-old Kylian Mbappe followed in a 17-year-old Pele's footsteps as the second teenager in history to score in a final.
It wasn't just about Les Bleus, though. Other, more unlikely nations scaled new heights, such as the Red Devils of Belgium, who had their best-ever World Cup, finishing third against England's fourth. Which isn't to denigrate the efforts of Gareth Southgate and his boys – not since Italia '90 have English fans been so hopefully galvanised, and during a domestic heatwave too. Brexit, who?
THE BIG BANG REFEREE 2018 FIFA WORLD CUP RUSSIA CONNECTED THE PITCH-SIDE OFFICIALS TO FIFA'S NEW GOAL-LINE TECHNOLOGY
Yup, Russia 2018 was historic for many joyous reasons, but in the field of football technology it also saw the dawn of a new era with the introduction and use of the Video Assistant Referee (VAR). History was made in France's 2-1 win over Australia, when Griezmann scored the first penalty kick resulting from a VAR review. And backing up this technology was Swiss legends Hublot, which seemingly in no time whatsoever has established itself as THE watchmaker to the footballing stars.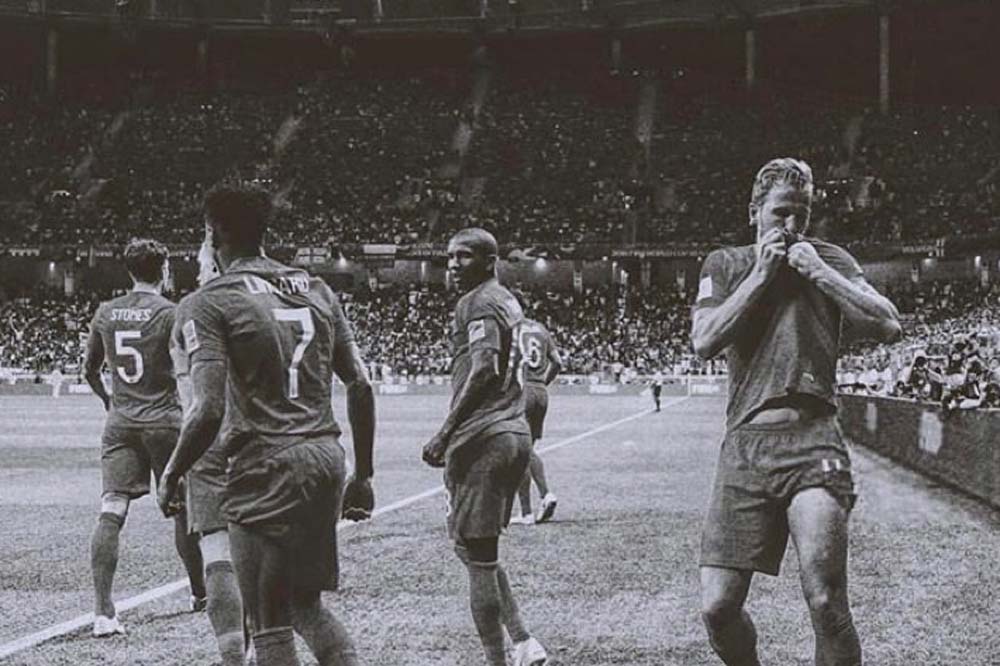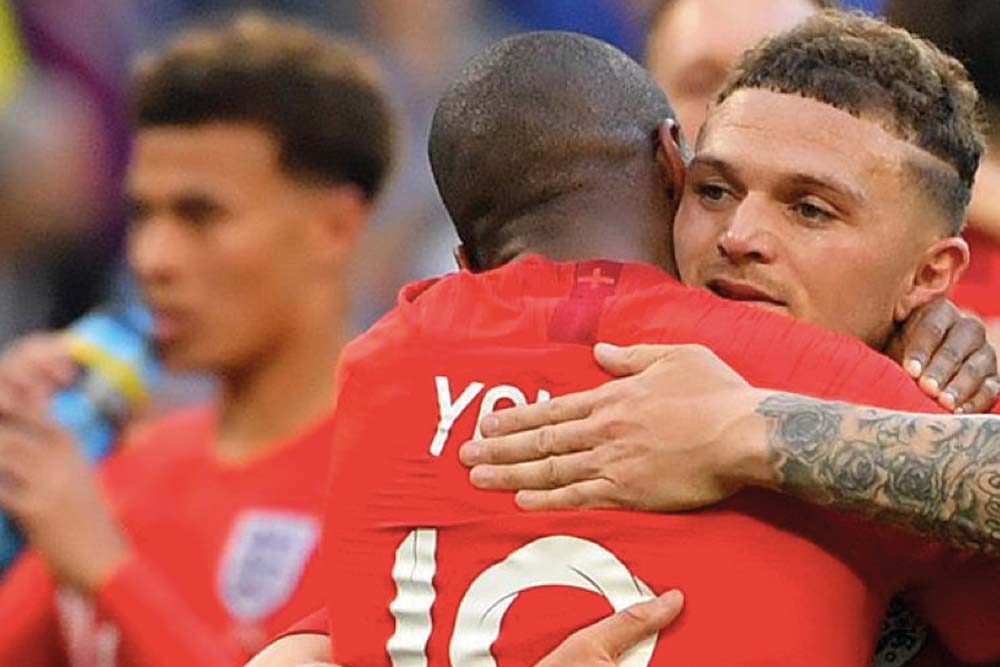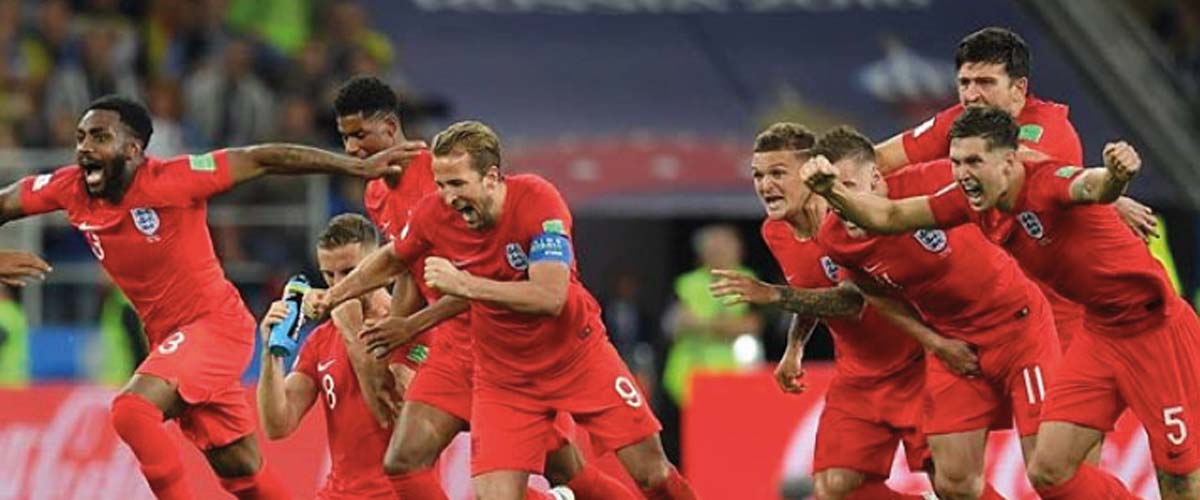 The Hublot logo and classic bezel design of the Big Bang watch was synonymous with a significantly rich amount of injury time, the official statistic of the tournament being "19", as there were a record 19 goals scored in second-half injury time at Russia – all at the behest of the linesman's LED Hublot board. Neymar even scored the latest-ever goal at a World Cup in regular time (90'+7') when he doubled Brazil's lead in their 2-0 win over Costa Rica.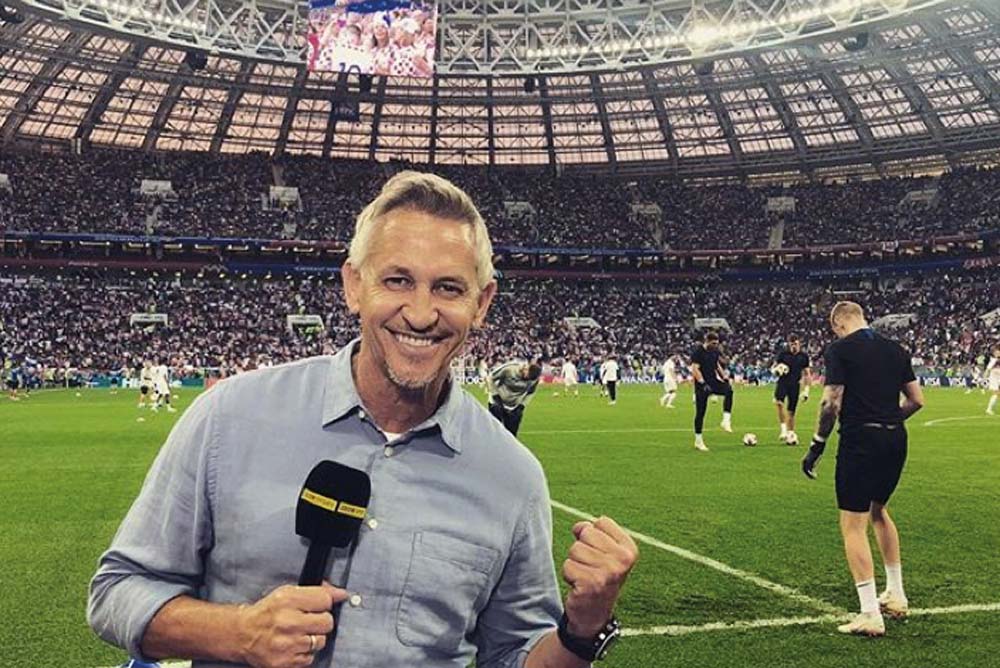 Not only that, but eagle-eyed watchspotters will have spotted the iconic lines of the Big Bang on several pitch-side wrists, but rendered in a particularly unusual, shiny-black guise. Gareth Southgate's wrist for a start, in monochromatic combo' with his now-legendary waistcoat, but most significantly the wrist of every match referee and assistant referee.
Already tested discreetly during the FIFA Confederations Cup 2017 and the FIFA Club World Cup 2017, the Big Bang Referee 2018 FIFA World Cup Russia (£4,300) connected the pitch-side officials to FIFA's new goal-line technology, operated from a multi-screen nerve centre in Moscow, which followed all the trajectories of every ball, determining for certain – but always at the request of the referee – whether the ball did or didn't cross the line. In total, the wrists of the World Cup's referees vibrated 163 times, Hublot's technology perfectly dovetailing with FIFA's, helping to ensure 2018 was one of the fairest and least controversial finals.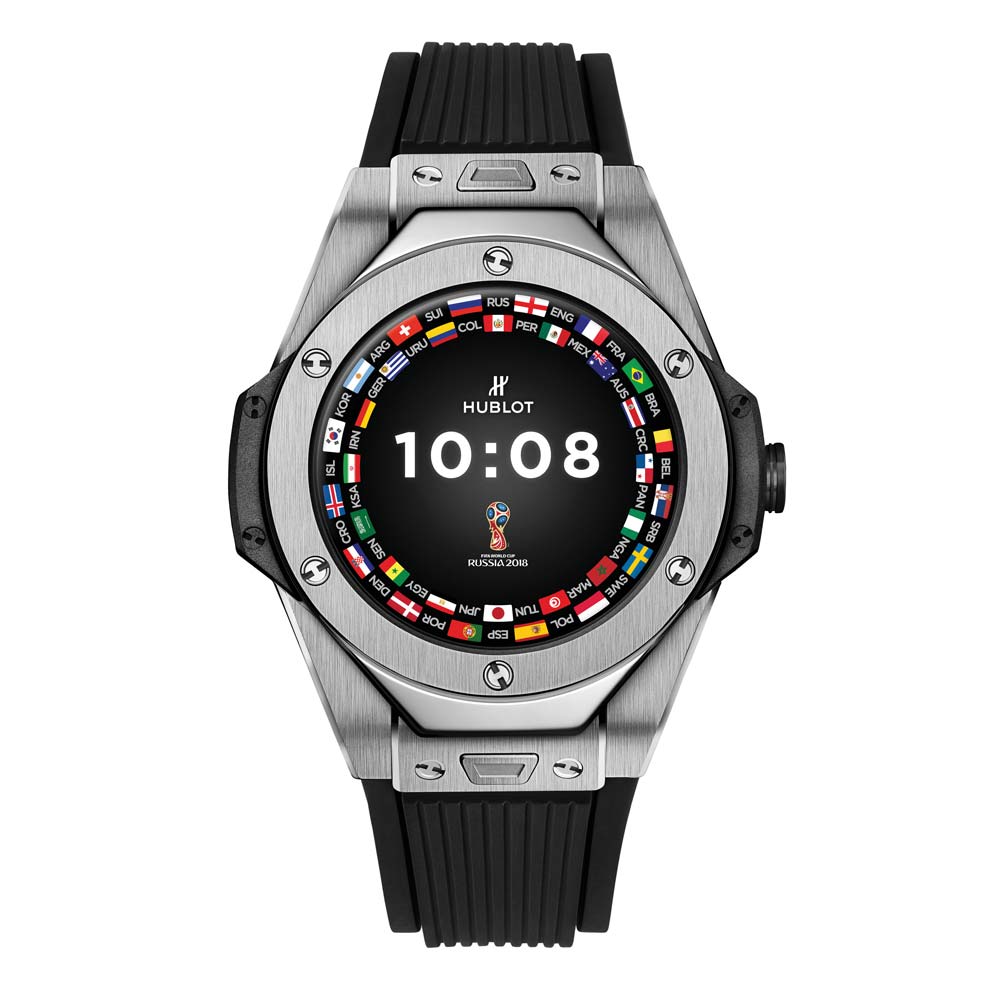 Developed by LVMH in partnership with Intel and Google – in fact an evolution of TAG Heuer's gamechanging Connected smartwatch – Hublot's smartwatch didn't just proved invaluable to the match officials, but also proved to be the watch that diehard football fans never knew they were waiting for! Thanks to its Android ecosystem and bespoke 1.6GHz Atom processor, those lucky enough to snap up one of the 2,018 editions stayed abreast of every game via pushed "GOAL!" alerts, yellow and red card notifications plus imminent substitutions.
Hublot and football truly became one during Russia 2018 (the guestlist at the watchmaker's closing party is proof if proof be needed, viz Didier Deschamps, Marcel Desailly, Maradona, Roberto Martínez Montoliú, José Mourinho, Juan Carlos Osorio, Pelé, Hervé Renard, Gareth Southgate, David Trezeguet…) which gets us thinking, just what could be in store for Euro 2020?