OUT OF THIS WORLD
28th February 2020
Gucci's creative director Alessandro Michele has garnered a reputation for creating clothing, jewellery and watches that are unlike anything else. Laura McCreddie-Doak looks at this mercurial magpie's history and influence.
Heads as handbags, advertising campaigns featuring Greek gods alongside punks or Hollywood icon Tippi Hendren as a glamorously unsettling fortune teller, watches based on the front section of a skateboard – this is the weird and wonderful world that Alessandro Michele has created at Gucci.
In keeping with the creative director's magpie instincts, it is one that spans centuries, cultures and disciplines taking in everything from the Byzantine-style mosaics and frescoes of Rome's Basilica di San Clemente and the flamboyant costumes of Bob Mackie who famously made Elton John's outlandish stage outfits to Mickey Mouse, the graffiti of now-collaborator Gucci Ghost and the works of French literary theorist and noted semiotician Roland Barthes.
Speaking to Another magazine back in 2018, he tried to explain how he managed to curate this strange Paradise.
"My Gucci universe is inclusive. It fragments to recreate in a contemporary way. It tries to achieve chemical effects through the use of different agents. It is a possible universe that sometimes uses an impossible language. I like being in this universe because it gives me more possibilities."
Michele, a man from Rome whose father was a technician for Alitalia and whose mother assisted a film executive, started to give free reign to these possibilities back in 2015 when the-then creative director Frida Giannini, with whom Michele worked at Fendi and under whom he was head of accessories, left abruptly. Her unscheduled departure left the newly-promoted Michele and the design team just five days to present a brand-new men's collection. Described in Vogue's Runway by Tim Blanks as "looks that will undoubtedly enflame anyone who carries a torch for Gucci's jet-set legacy". Gone was the slick, preened wealth of the Giannini era, replaced instead with androgynous models in pussy-bow blouses, brocade coats and grandma knits that could quite easily have been stolen from their girlfriend's wardrobe.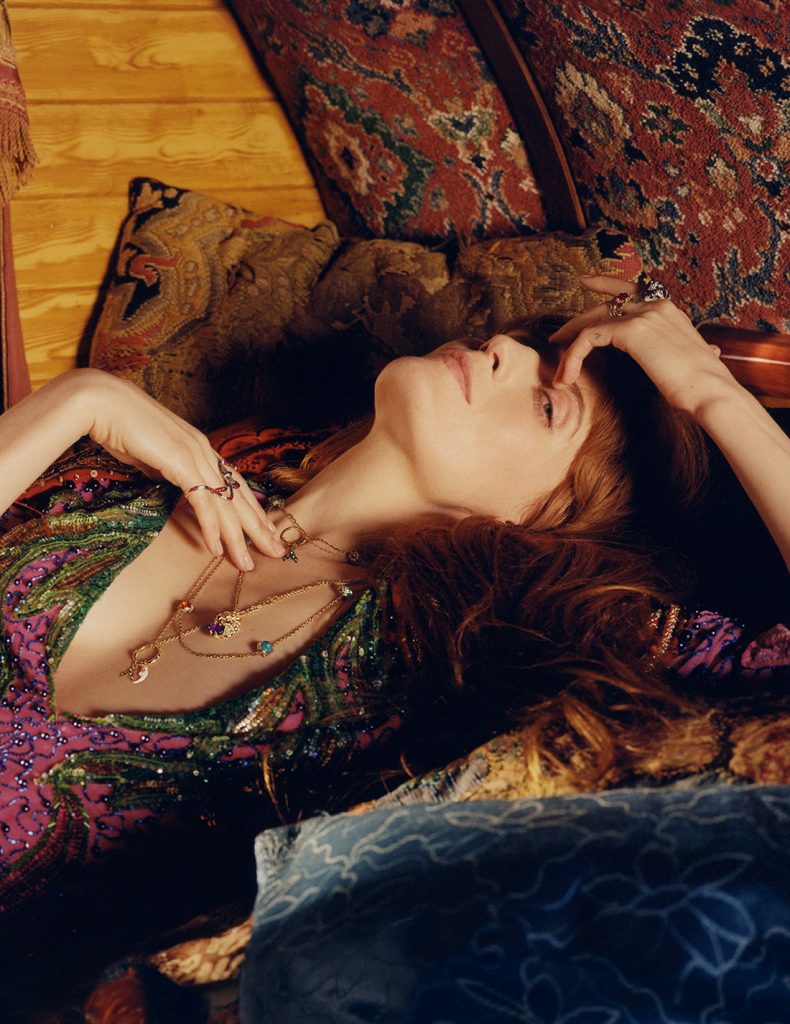 Months later he repeated the magic with his womenswear collection. Every seat had on it a quote from the Italian philosopher Giorgio Agamben: "Those who are truly contemporary are those who neither perfectly coincide with their time nor adapt to its demands…Contemporariness, then, is that relationship with time that adheres to it through a disconnection."
The new Gucci woman was, according to Nicole Phelps on Vogue Runway, an "ingenue with an eccentric side, one who looks as though she's picked out her clothes at estate sales and vintage stores, and mixed them, magpie style with handfuls of heirloom rings, chunky rimmed glasses, the occasional pompom hat and fur-lined horsebit loafers.
Given that the accessories were as much a part of the final look as the clothes – Michele himself is a lover of jewellery, he sports ornate rings on every finger and even turned Harry Styles into the Boy with the Pearl Earring for this year's Met Gala – it was only going to be a matter of time before Michele turned his attention to Gucci's jewellery and watches.
What a difference a year made. Gone were the bamboo bezels, horsebit bracelets and bland, dainty watches. It its places was the gorgeously fantastical Le Marché des Merveilles collection. Loosely translated as "the Market of Wonders" this certainly was a magpie's delight. Hearts, stars, bees and lions adorned bracelets, hung from pendants and replaced indices on watch dials. The pieces were romantic, fun and full of hidden symbols – the bee is considered by some cultures to be a sacred insect that bridged the natural world to the underworld, and which, in Rome is the symbol of the Barberini dynasty, who were powerful in the 17th century. Its accompanying woozily shot campaign of ethereally beautiful girls resembled a group of bohemian aristocrats staging an impromptu production of A Midsummer Night's Dream in costumes raided from Granny's attic – it was most certainly a gang you wanted to join, even if the only way of doing that was buying a necklace.
Michele even found the perfect poster girl for this new incarnation: Florence Welch, who, with her eccentric opulence and otherworldly stage presence, was the ideal muse.
Gucci's ready-to-wear has continued to be entwined with its watches and jewellery, with the brand being one of the few to actually preview these accessories on the catwalk. It is a move that has seen Nato-style straps embroidered with the slogan "L'Aveugle Par Amour" (or blind for love), which featured heavily in the SS17 ready-to-wear lines, decadently floral G-Timeless watches echoing the sumptuousness of its Fall line and this year, echoing Michele's fascination with 1970s skateboard culture – the unisex Gucci Grip watch. Its unusual "weighing scale" case shape is inspired by the front section of a skateboard with strap options ranging from forest green to hot-pink snake skin.
"My aesthetic philosophy is an uninterrupted flow," Michele said to Vogue in 2018 about his approach to accessories. "This is no distinction between old and new things but there are only beautiful things."
The next beautiful thing on his list is his fine jewellery range, which has also warranted the opening of a standalone jewellery store on Paris's famously luxe Place Vendôme. Unsurprisingly given, Michele tendency to err on the side of the dramatic, it is a sumptuous collection that combines the aesthetic of David Bowie's alter ego Ziggy Stardust with 16th-century sensibilities. There are ornate and very Catholic crosses, cascading earrings that really could double as chandeliers and even brooches. It is made in Italy and uses sweet-shop bag of coloured stones, such as yellow and green tourmalines, violet sapphires, mandarin garnets and transfixingly mercurial opals.
As is the way with everything Michele does, it is unusual – this is after all the man who made is partner a pearl-bedecked pendant comprising his own hair – seductive and desirable. And like everything he has created since taking the creative director's seat, in a universe all of its own.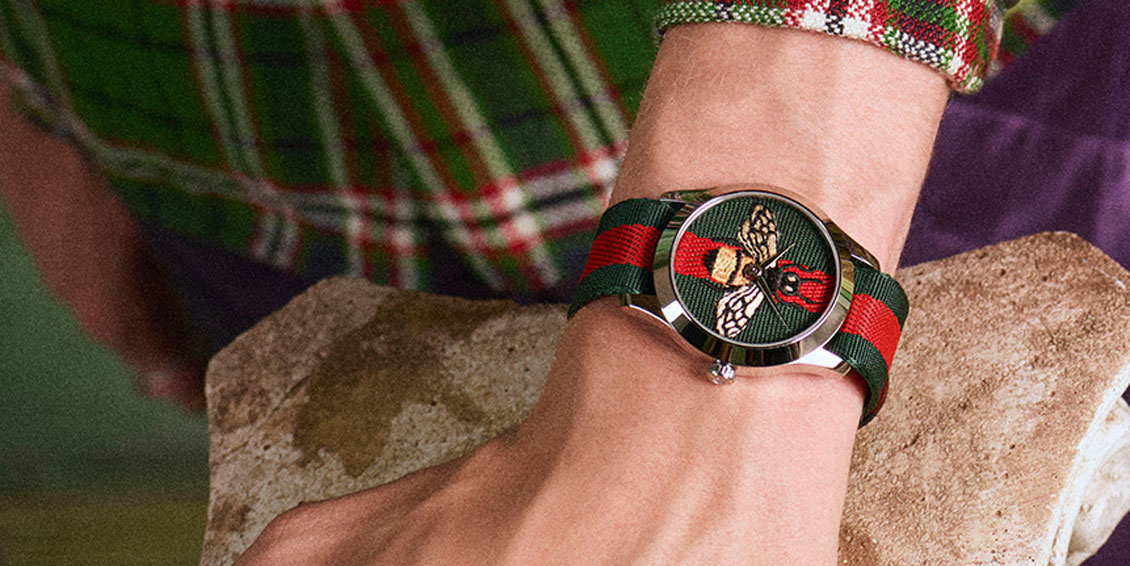 Exuding effortless style a Gucci watch as long been a staple of any watch collection. Renowned for creating timepieces that boast impeccable design and precision Gucci watches bring a touch of high fashion to the world of horology.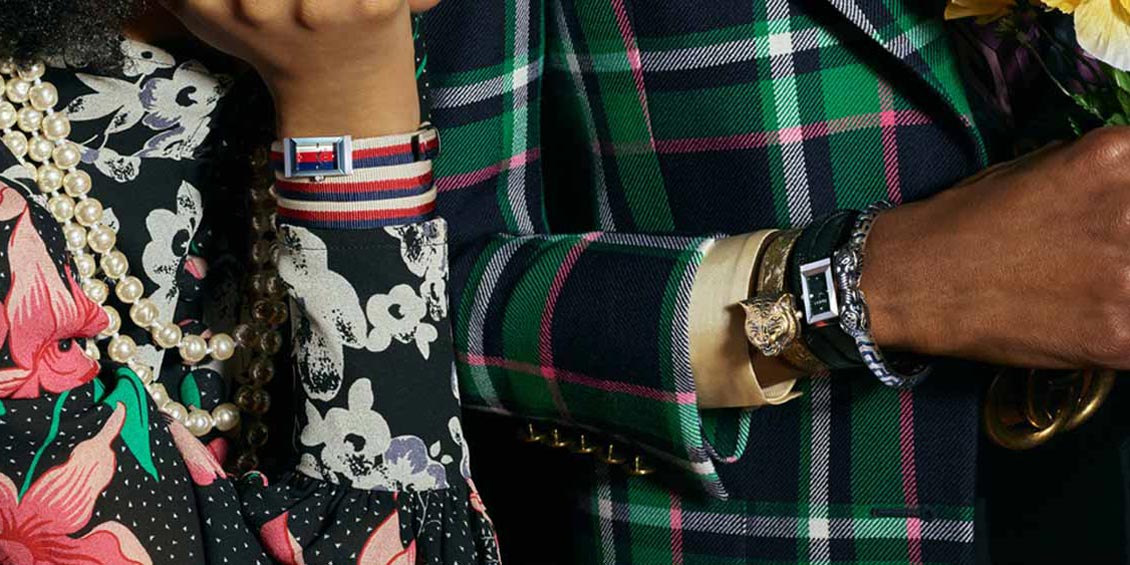 Known for his avant-garde approach to luxury Alessandro has made strides not only to push Gucci further than it has been before but the fashion industry as a whole.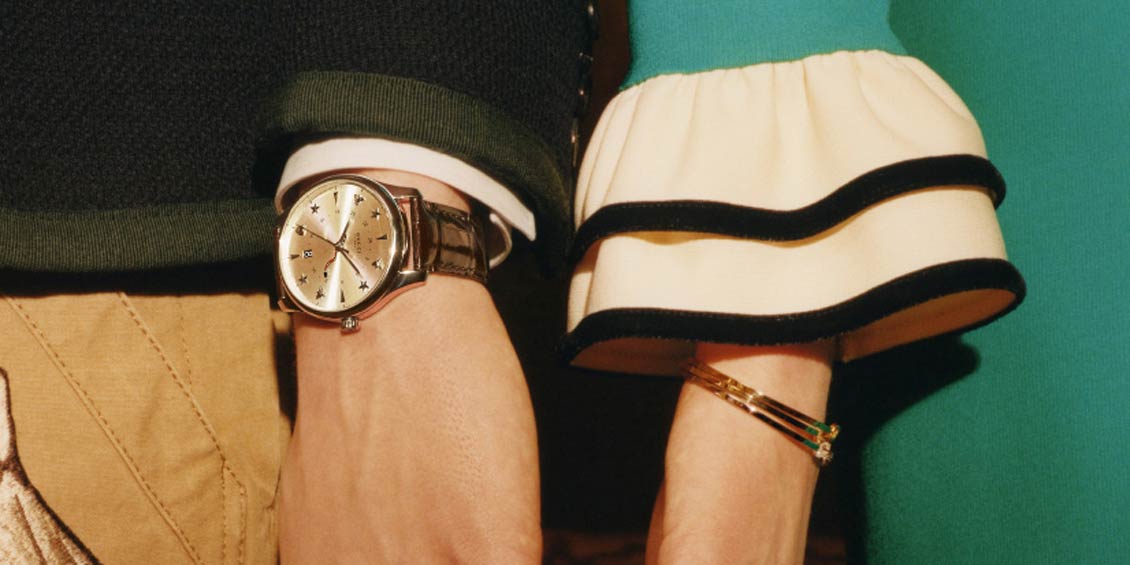 Alessandro Michele's plethora of emblematic animals are featured across watches, jewellery, fashion and accessories. These colourful creations combine flawless Italian artistry with Swiss expertise.