COSMIC GIRL
13th March 2020
ROX looks to the stars for its latest fine diamond jewellery collection. Words by Laura McCreadie-Doak.
We have always been fascinated by the stars. We see long-dead gods in them, wish on them and have used them to navigate, charting a course by their inconstant light. They have fascinated the likes of designers such as Dior's Maria Grazie Chiuri who have mapped their constellations on couture gowns or were the first thing Coco Chanel looked to when, in 1932, she wanted to create her first collection of jewellery. And now ROX is taking its place in the firmament with its new Cosmic collection, inspired by the Aurora Borealis, far galaxies and also the astrological phenomena that career through our atmosphere.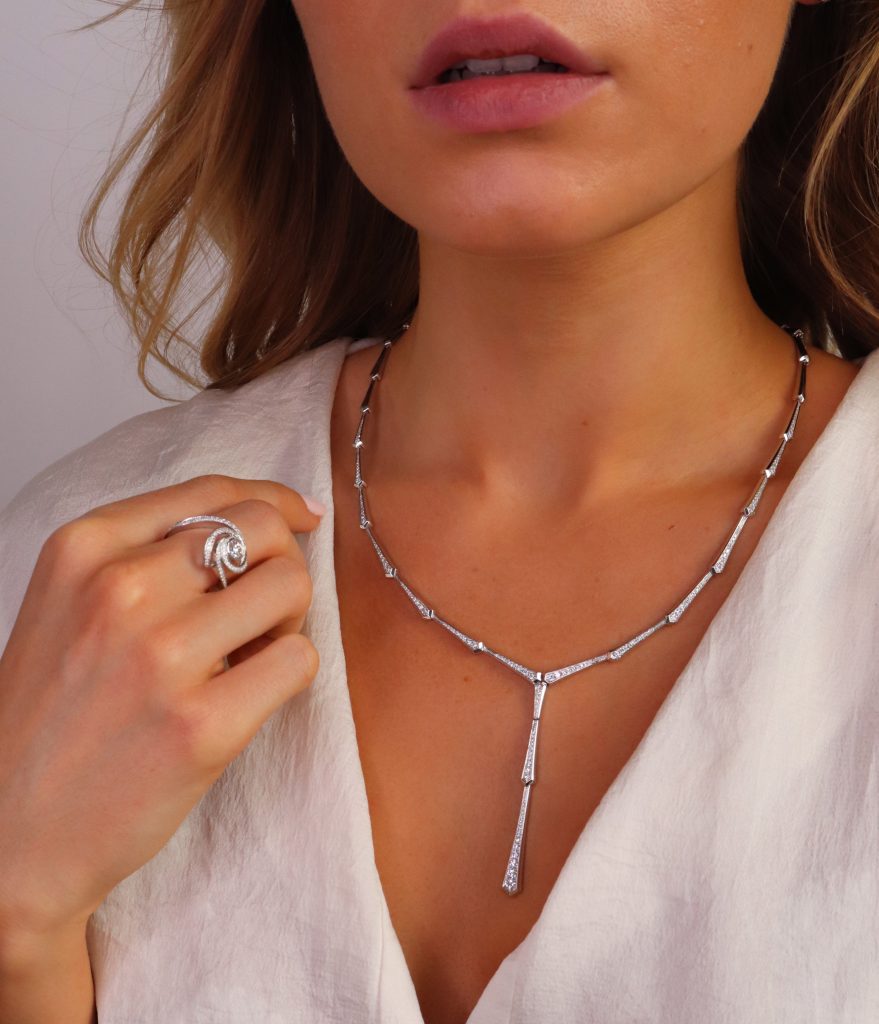 Their most ambitious collection to date, it comprises rings, bracelets and two incredible collars, which, alone, took 80 hours to make, all set with the most incredible G-colour diamonds. Instead of the usual stars or moons, the in-house design team at ROX has taken a different approach. The mesmeric swirl of far-flung galaxies are turned into rings and earrings, where stone-set tendrils swirl around a central diamond; shooting stars become dramatic spikes set together to create rings and earrings that are almost Art Deco in their aesthetic.
It's not just the designs that are ROX at its most ambitious, the way these pieces have been made are a showcase of superior craftsmanship. Rather than rely on usual settings, ROX has taken things further. The stones are set into a rub-over setting – an ingenious technique that involves placing the diamonds in a circle of metal, which is then folded around the stone catching the widest points of the stone and locking it in place. By removing the interference of the traditional claw, the exquisite diamonds appear larger and as if they, and the metal, are one. The other way the stones are secured is with a grain of metal that is tipped to form a bead. A fine thread of these beads sits either side of these stones, framing them. It is this soft, rolled edge, which is smooth to the touch, that gives the jewellery an extra level of refinement.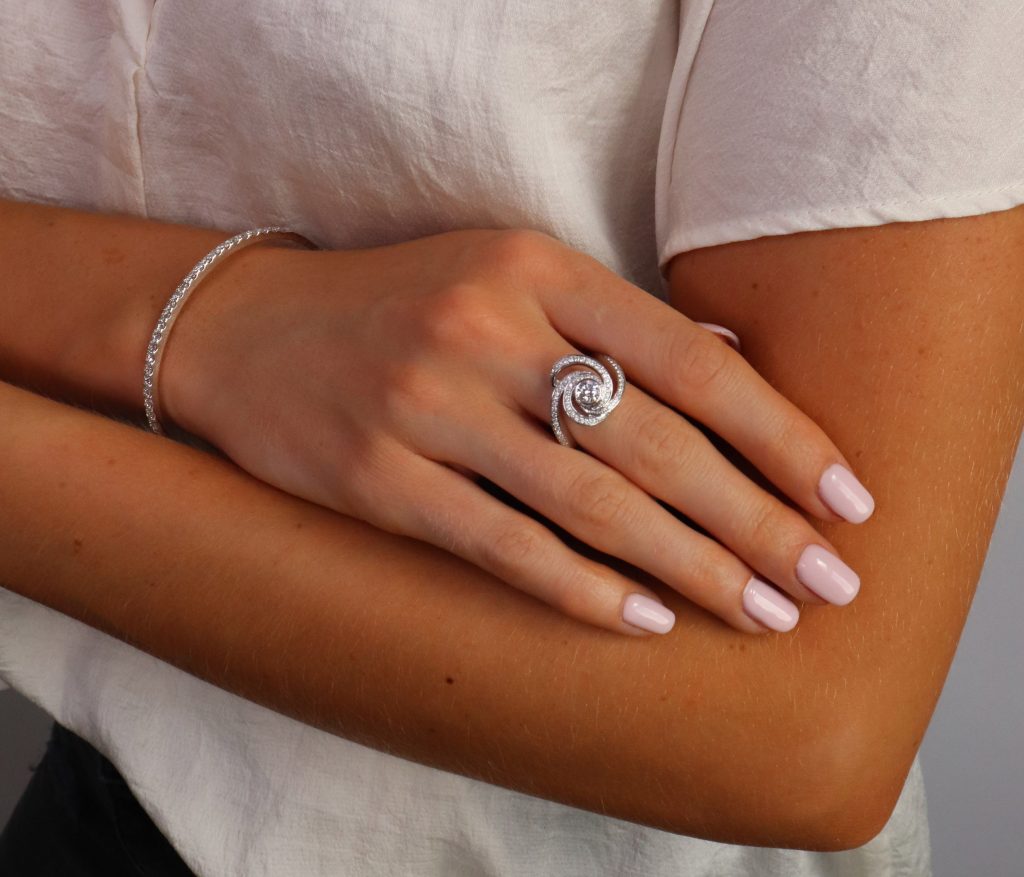 Despite being decadent designs dripping in diamonds, the bold forms and juxtaposition between hypnotic swirls and dramatic lines makes this collection incredibly versatile. Precious stones are no longer reserved for after-dark, or for occasions that require a dress code; the modern woman wears hers with everything from a plain white t-shirt and denim cut-offs to cashmere jumpers and wide-legged wool trousers. This collection from ROX is the ideal "everyday diamond", wear one piece for a subtle sparkle or layer on a few pieces and go all out on the drama. Whatever you decide to invest in, you'll be certain that these are pieces that are distinct enough to make a statement but discrete enough to grow with you; to, like the stars in the night sky, be constant companions as you chart your own course through life.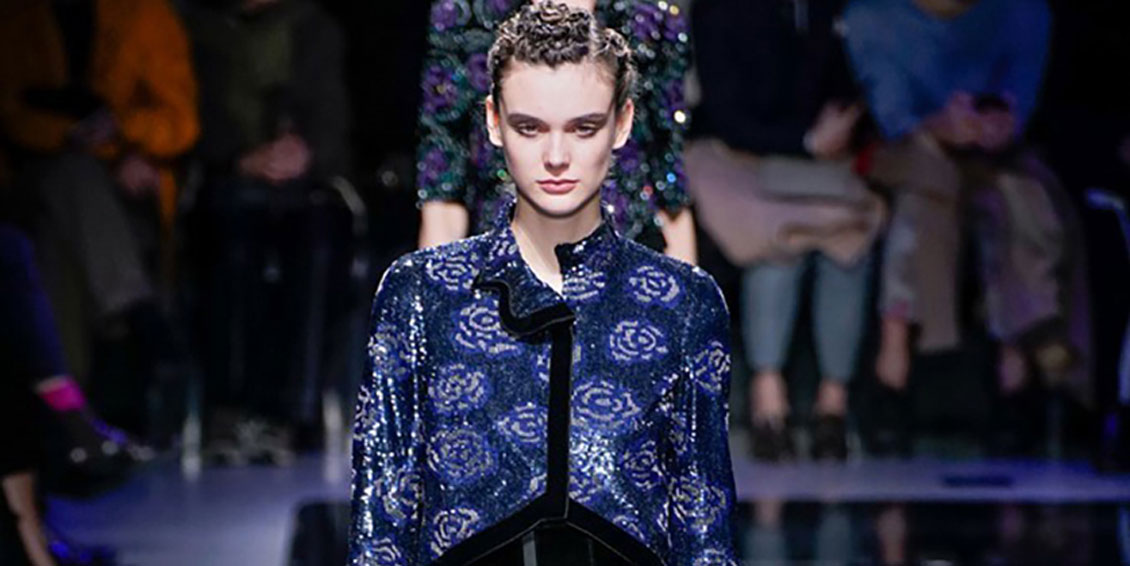 Roses are red, violets are blue, AW19 catwalk we hear you and the message is crystal clear, romance is very much in the air.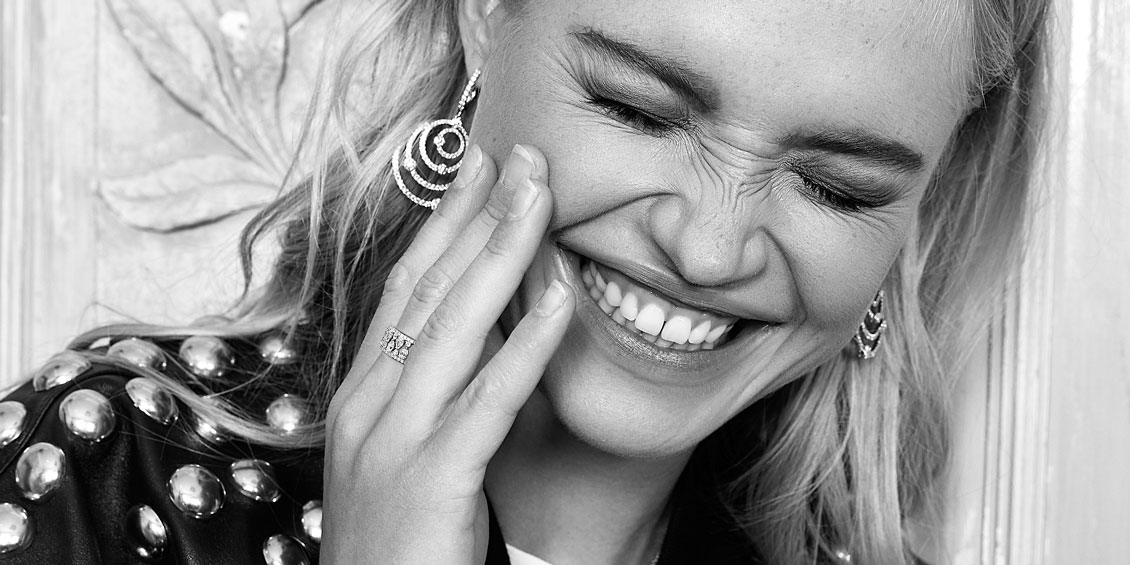 The beauty of style is that it is a way of saying who you are without having to utter a word.