TO INFINITY AND BEYOND
6th March 2019
Audemars Piguet's partnership with Art Basel has always yielded interesting results but this latest with its commissioning of scientific artists Semiconductor. Words by Laura McCreddie-Doak.
Halo is a sculpture, which transcends the way the scientists use the data into becoming an experience that is quite humbling. We like to call this technological sublime," explains Ruth Jarman, one half of the British artistic duo that is Semiconductor. Described sometimes as scientific artists, the pair, which is completed by Joe Gerhardt, make large scale, often moving-image based artworks that explore the material nature of our works and how that is experienced through the lens of science and technology; questioning how one is mediated by the other.
And this year, they were the star attraction at Art Basel, thanks to Audemars Piguet. The Le Brassus-based watch brand has been a partner of the international modern art fair since 2013, putting its name to series of installations. These free-standing areas and artworks are always the result of a carefully partnering of a selected curator and artist.
Past commissions include Lars Jan's mechanised immersive installation in a two-level structure on the Miami Beach ocean front featuring floating model buildings, a serious of large-format light boxes and a film, with the intention of blurring the difference between built and wild landscapes and exploring notions of time and ephemerality. While Sun Xun's Reconstruction of the Universe featured woodblock prints shown alongside animated films projected onto both flat and spherical surfaces, rendering them two or three dimensional all of which were presented under an incredible S-curved shaped pavilion that was built alongside the beach.
All the Art Basel commissions by Audemars Piguet tend to be a musing on temporality and man's place in the universe but this was the first time it has worked with CERN. Back in 2011, Ariane Koek created the Arts@CERN programme to encourage a dialogue between the worlds of art and science. She was succeeded by Mónica Bello, who Audemars Piguet approached to curate this year's Art Basel commission.
"My role is to understand how a science of great complexity can inform artistic expression," Bello explains. "I don't think artists are going to transform the way science progresses but there is something definitely important about creating this conversation and opening it up. Philosophically we want to know why we are here and what the world is made for." If the philosophical drive to know our purpose is being presided over by artists, then the people at CERN are looking for the physical evidence of how we're here; using the Large Hadron Collider the team of scientists there are probing the fundamental structure of the universe and attempting to find the Higgs boson – a theoretical particle smaller than an atom, which may hold the key to the universe as we know it.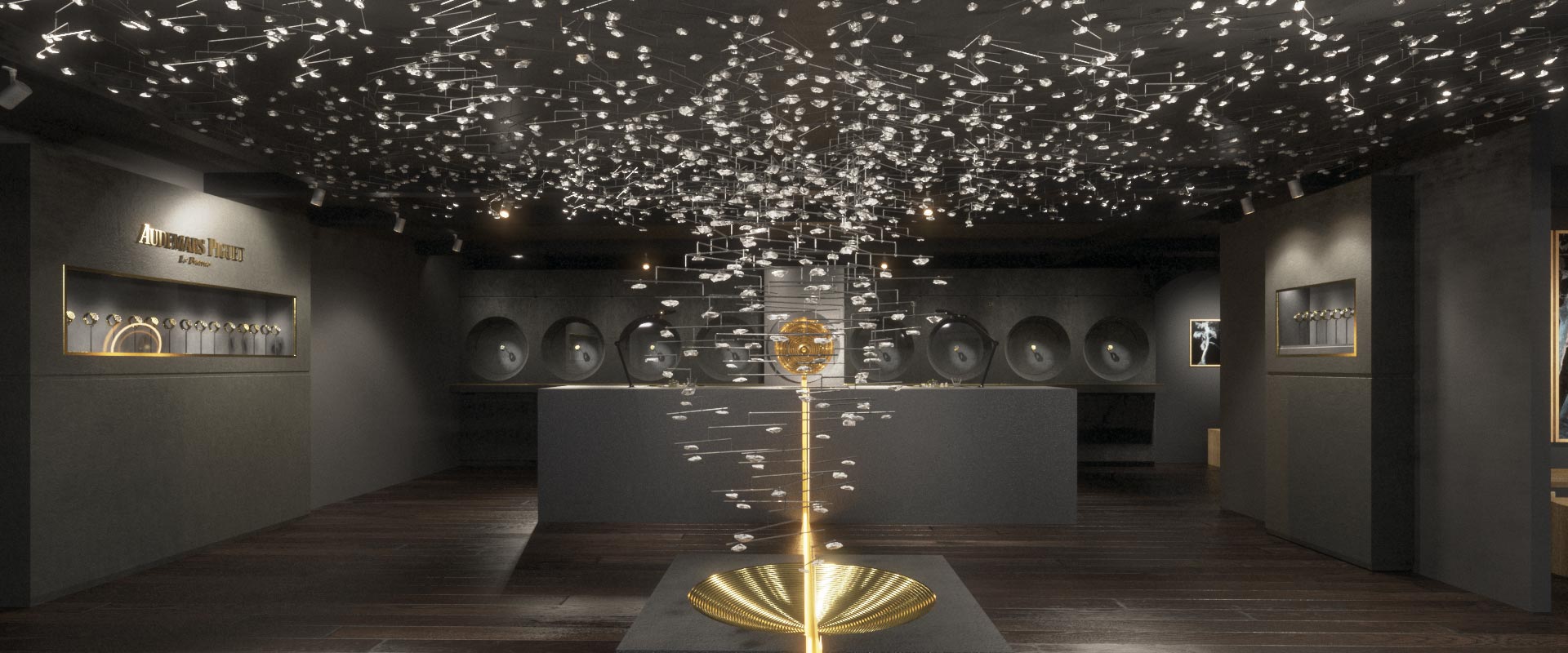 It is the data produced by this, which is known as the ATLAS experiment, that is at the heart of Semiconductor's halluncinatory work of art."We're interested in working with scientists who work with physical matter, so what was really appealing about CERN to us is it's matter that's completely invisible," says Jarman. "You can never totally just observe nature, there would always be having the hand of man in there somewhere and so it would be mediated through the science and so we started asking more philosophical questions about science and became more interested in questioning our place in nature and looking at that through the lens of science and technology."
"Halo is thinking about the idea of placing the viewer within the centre of this scientific experiment," continues Gerhardt, "where you're surrounded by a ring of light. In a way you become the source of the event the proton-proton collisions."
The images and sound are created by using the raw data from the ATLAS experiment, which is a particle detector that weighs around 7,000 tonnes. Superconducting magnets force protons to circulate around the Large Hadron Collider in different directions so that they collide in the centre of the ATLAS experiment. The collisions reveals the particles allowing them to be measured and analysed by the over 3,000 physicists from around the world who work with CERN.
It is these clashes – slowed down somewhat because they usually occur at faster than the speed of light – that can be seen when you step inside Halo – a 10-metre wide cylindrical structure surrounded by vertical piano wires. As the particles hit the screen one of the hammers hits a piano wire, giving the particle collision its own sound and making the experience sonically as well as visually immersive.
It is at once simplistic and mind-blowing, this idea of making these invisible collisions visible; showing the human mind something it struggles to comprehend. It is a visual and acoustic installation creates an immersive experience of matter formation in the early universe, turning it into a starscape and creating an experience that blends the technological and the sublime.
WITH ITS EMPHASIS ON SCIENCE AND THE BEGINNINGS OF LIFE ITSELF, THIS CAN SEEM A LONG WAY FROM WATCHMAKING, HOWEVER SEMICONDUCTOR WERE AS INSPIRED BY THEIR TRIP TO AUDEMARS PIGUET'S MANUFACTURE IN LE BRASSUS.
"We've taken this data from this video complicated experiment and reshaped it so that we can place the viewer inside," says Gerhardt. "We like to work with the raw data partly because it has all the artefacts and the noise of nature still inherent in there. In a way it's closer to what nature is; it's messy it's also more beautiful."
With its emphasis on science and the beginnings of life itself, this can seem a long way from watchmaking, however Semiconductor were as inspired by their trip to Audemars Piguet's manufacture in Le Brassus. "We had never seen chimes in watches before," says Jarman. "They are incredible to see operating and they sound amazing. Whether we were influenced by this or it was just serendipity, it can't be ignored that we have made a giant instrument which is played very similarly to them."
To make the soundscape that accompanies the visual feast inside Halo, 24 strings were controlled to resonate in sync with the raw data coming from the server.
"We had to do this without there being any speakers," explains Ashley Brosnan, technical director from Brighton who helped with this side of the project. "It's a mechanical linkage that just picks up the vibrations of the string and then it's amplified through circuits, which we control via the computer and it goes to a resonant sound box so what you're actually hearing is the string itself vibrate."
In many ways, the fusion of art and science that is so much a part of Semiconductor's work has a correlation with the way Audemars Piguet has moved into the 21st century. Through its Concept collection, which has included a Supersonnerie (minute repeater) featuring a mathematically and sonically exact gong, it fuses its rich artistic history with cutting edge science.
Between them Semiconductor and Mónica Bello have created something that uses science to give us an insight into the inner workings of the universe; using the hand of man to exert some sort of control over the transient and unfixed. Rather like a watchmaker using the tools at his disposal to try and control something as fickle as time.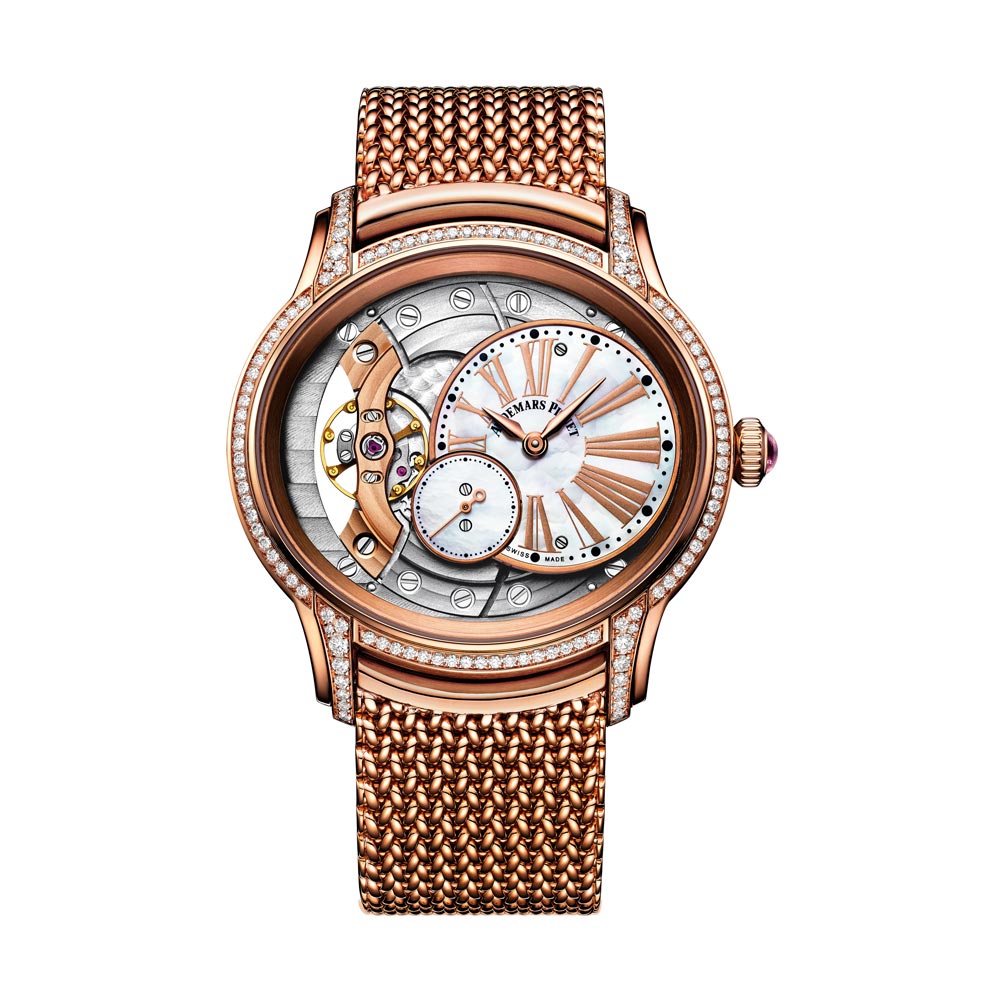 MILLENARY
The proportions of the off-set dial have to be perfectly calculated to ensure it works aesthetically.
69711 | £41,600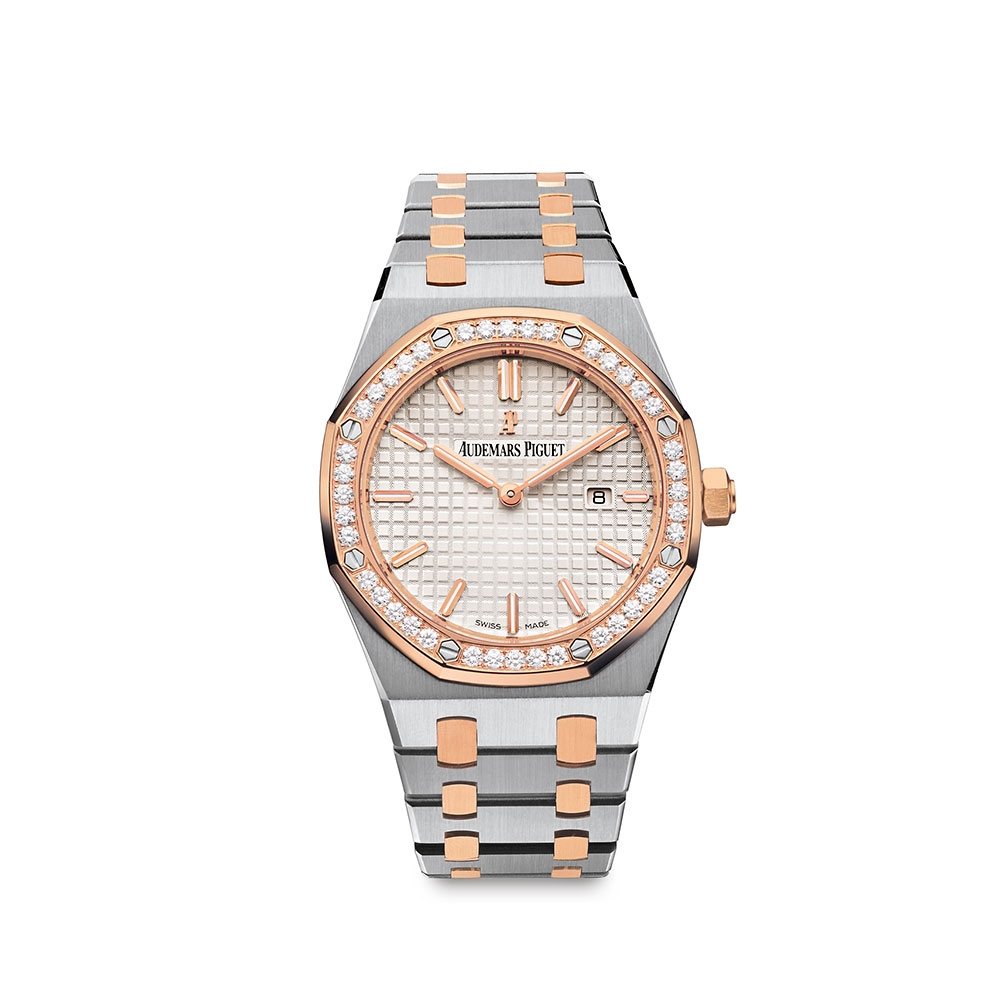 ROYAL OAK QUARTZ
Specially created computer operated machines are used to create AP's iconic petit tapisserie dial pattern.
63270 | £18,200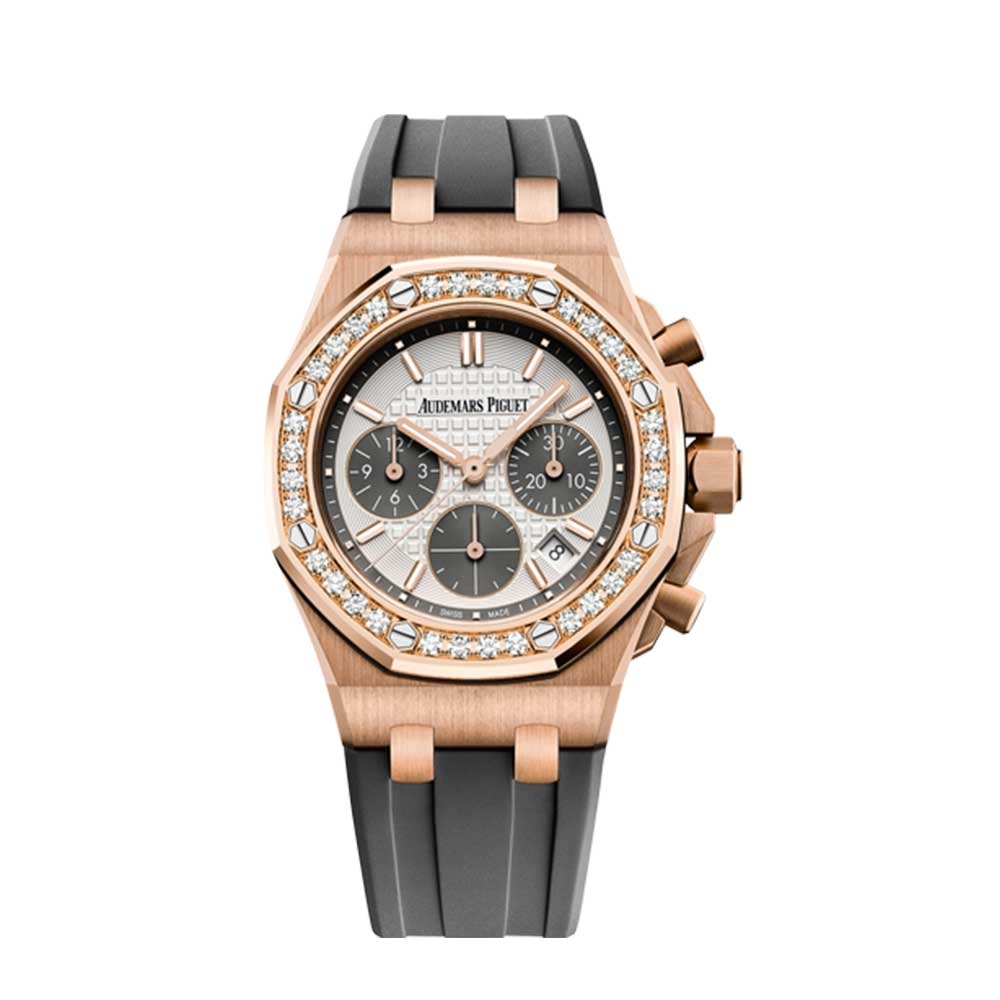 ROYAL OAK OFFSHORE
Strap integration is an Audemars Piguet signature and makes the watch sit more securely on your wrist.
69959 | £38,700