RIGHT ROYAL RULE-BREAKERS
15th May 2019
CODE 11.59 is the controversial launch of 2019 – but it's by no means the first time that Audemars Piguet has ruffled feathers, as Alex Doak reveals.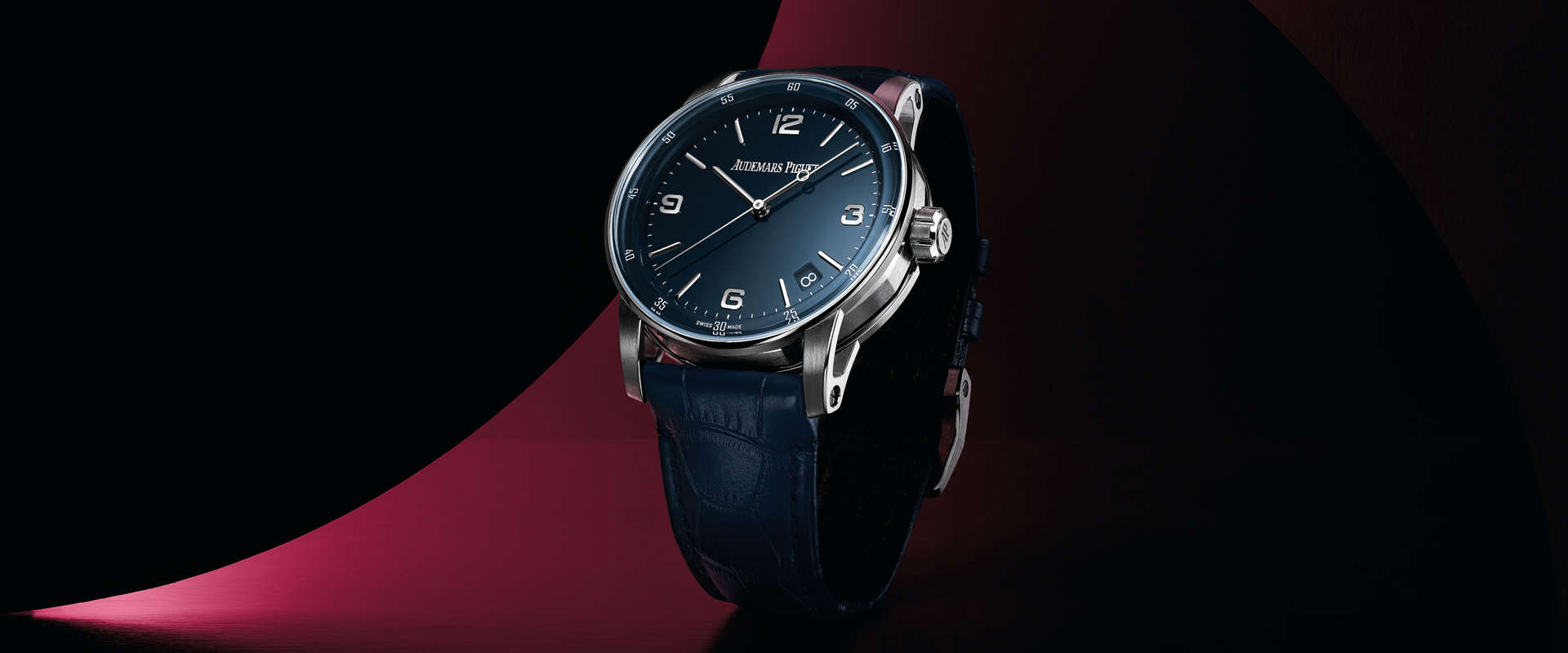 To break the rules, you must first master them," declares the company motto, and quite right too. Since Jules-Louis Audemars and Edward-Auguste Piguet joined their surnames together in 1875, Switzerland's only remaining family-owned watchmaker has consistently crafted 'haute horlogerie' of an elite standard and consistently challenged industry norms – always in the serene cradle of complications that is the Joux Valley, high in the Jura Mountains.
Chiming 'repeaters' of wafer-thinness; digital 'jump hours' replacing hands; the world's first luxury sports watch in steel (the octagonal Royal Oak if you hadn't guessed); even the ongoing trend for chunky machismo that started in the Nineties was down to hitherto understated Audemars Piguet and the daring phenomenon that continues to be its Royal Oak Offshore.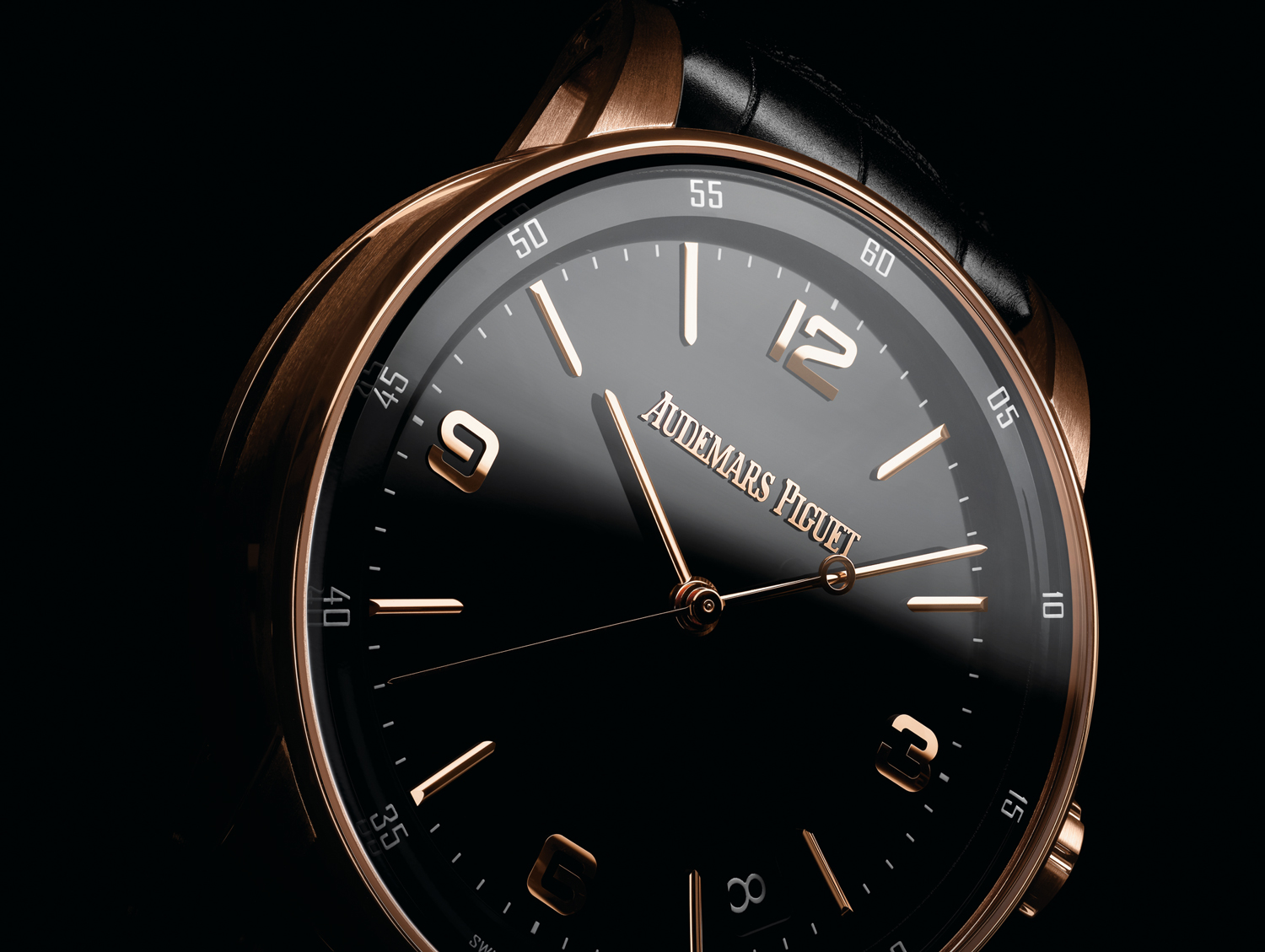 So when it came to Audemars Piguet's first major new collection in years – and a classic, circular one to boot – expectations were at fever pitch. How to break the rules of a craft that had already been mastered, let alone already disrupted in so many historic ways? The answer was finally revealed at this January's 'SIHH' in Geneva, in the form of 'CODE 11.59'. This deliberately gnomic nomenclature heralded nothing less than a complete suite of 13 brand-new pieces (including three new in-house movements) plus the shock and awe of an entire trade fair.
'Controversial' barely covers it, yet now the vapours have dispersed and social media is finally taking a breath, it's plain to see why Audemars Piguet took the path it did, and how cleverly conceived 'CODE 11.59' really is.
CODE 11.59' HERALDS NOTHING LESS THAN A COMPLETE SUITE OF 13 BRAND-NEW PIECES PLUS THE SHOCK AND AWE OF AN ENTIRE TRADE FAIR
The numbers of course refer to that precious minute one savours before tipping into a new day – opportunity awaits, in other words. The letters are an acronym, spelling out a different version of that motto adorning every Audemars Piguet advertisement. With the new watches' tension of roundess sandwiching Royal Oak-esque octagonality, plus a cocktail of in-house innovations like the dial logo's galvanically grown gold and skeletonised lugs that 'lean' against the base rather than being welded, Audemars Piguet are 'Challenging' themselves like never before, 'Owning' it by dint of their familial independence, 'Daring' to go there (as usual) and 'Evolving' in the process (as always).
It's the culmination of a long journey and a tipping point too – so what are the other Audemars Piguet rulebreakers that led us to CODE 11.59? Here are ROX's favourites, which, let us remember, ruffled as many feathers back in their day. Time, appropriately enough, will always tell…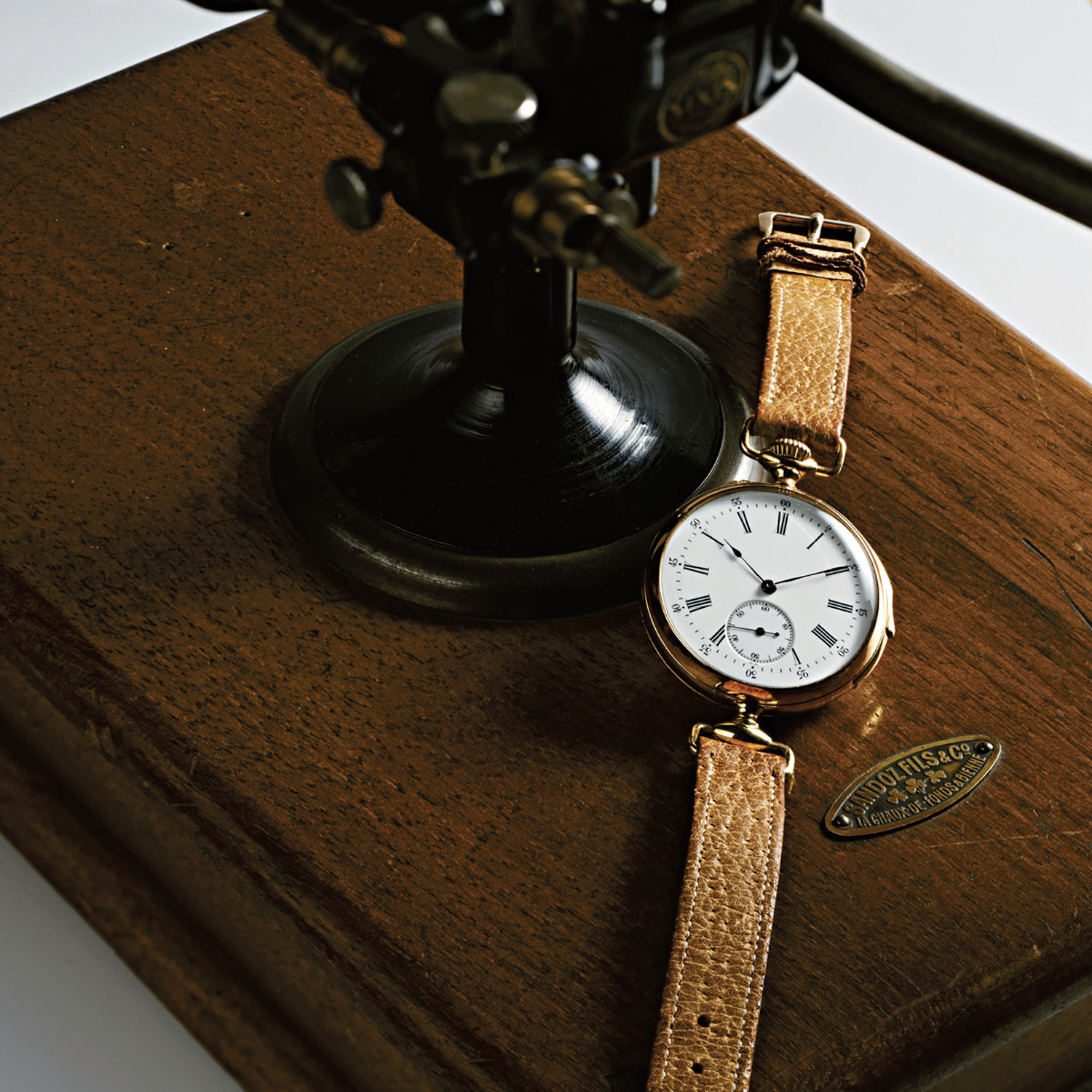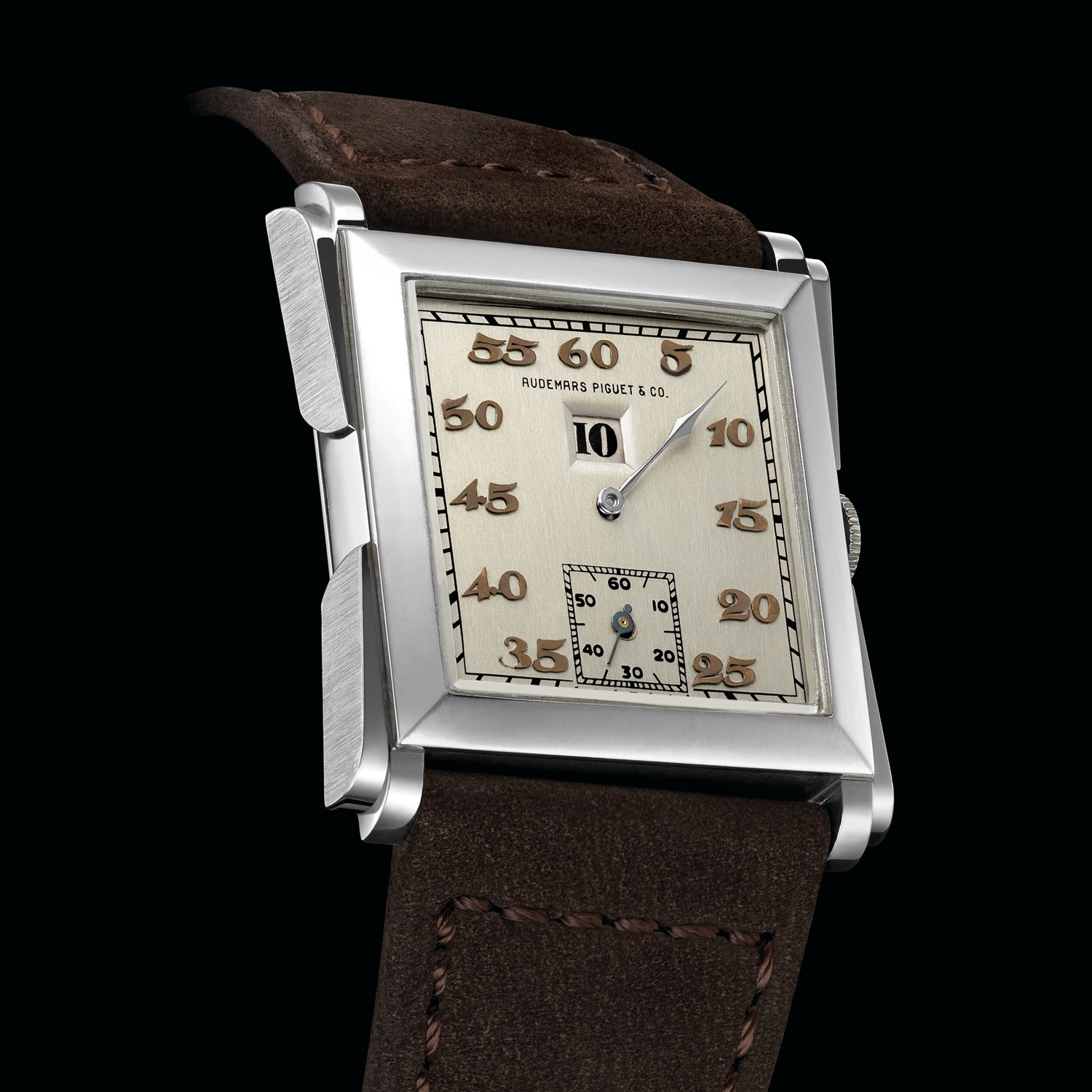 1892 WRISTING IT ALL
Back in the 18th century, when Switzerland was establishing itself as the world's one-stop shop for fine watches, it relied on two symbiotic geographies: the brands and named watchmakers of Geneva city – forced by puritanical Calvinist reforms to make useful timekeepers rather than jewellery – and the third-party component manufacturers of the Jura mountains – cattle farmers supplementing their income during the isolated snowy winter. Audemars Piguet belonged to the latter at first, before becoming competitors to Geneva's finest in their own right, and one of their earliest breakthroughs was on behalf of 'Louis Brandt Frères', which would become Omega: the world's first wirstwatch minute repeater movement. It could chime the hours, quarters and remaining minutes, on demand, on two miniaturised 'gongs'.
1921 GOING DIGITAL
The development of the world's first digital watches – albeit a few decades before batteries and LCD screens – began in 1921 with Audemars Piguet's 'jumping-hour' HPVM10 calibre, which showed the hour through a window (much like a date window) and the minutes with a normal 'sweeping' hand. This was offered in either pocket or wristwatch form, but it was the wristwatch that truly embodied the times. The Art Deco movement and bold geometric shapes still appear sleekly contemporary today.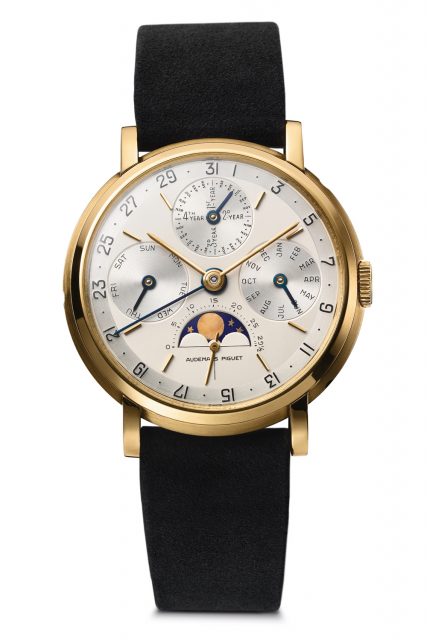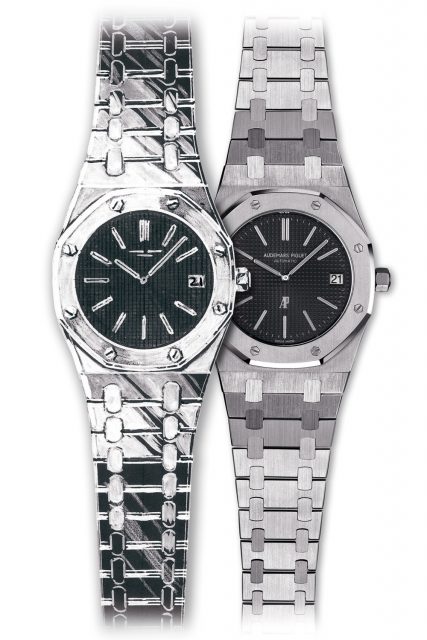 1955 LEAPING FORWARDS
Audemars Piguet's earliest masterpieces were multi-complicated pocket watches, on which a perpetual calendar always featured, telling the correct date every day of every month, even on leap years. But what if you want to know when that leap year falls? Without fumbling around for your fob? Enter the world's first perpetual calendar wristwatch featuring leap-year display, at the height of Swiss watchmaking's post-war boom – elegance in spades, as the era dictated, plus Audemars Piguet's usual innovative self.
1972 ROYAL WITH EASE
On balance, Audemars Piguet's octagonal icon shouldn't have worked. No one had made a luxury steel sports watch before, it was the start of the worst crisis ever to hit the Swiss watchmaking industry, and the market simply wasn't ready for a steel watch that cost the same as prestigious gold pieces of the time. But as the family firm's Vice-Chairman of the Board of Directors, Olivier Audemars attests, "The Royal Oak broke the rules of the industry, at a critical time, which seemed the logical thing to do." Sure enough, those immortal rounded facets, in combination with exposed screws, cross-hatched dial and integrated bracelet became Gérald Genta's most famous design of the Seventies and spawned a whole new dynamic identity for the brand.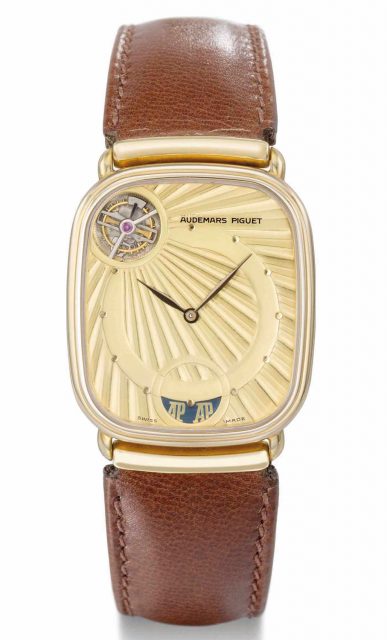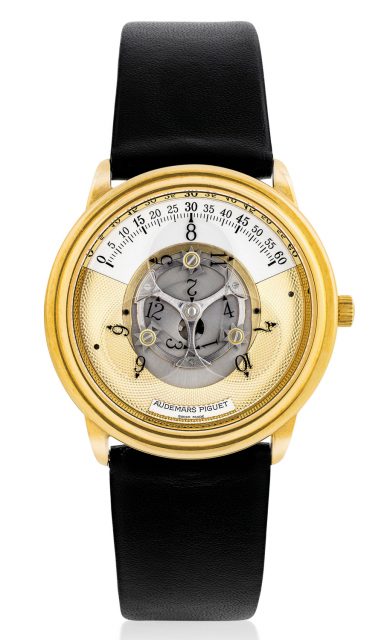 1986 SLIM KINGS
As far back as 1986, Audemars Piguet quietly broke ground with the calibre 2870, framed by an elliptical gold sunray dial very much 'of its time'. Not only was it the world's first self-winding wristwatch 'tourbillon', tumbling the ticking escapement by 360º every minute, but it was the also the smallest tourbillon cage ever (7.2mm in diameter) and the thinnest tourbillon watch (5.3mm) – achieved by using the case back as the movement's baseplate. (Turn it over, and you can see the geartrain's ruby bearings gleaming through the metal.) It held its slimmest-ever tourbillon record for an extraordinary 32 years, until Bulgari's Octo Finissimo just last year – all the more impressive when you consider computer-aided design and CNC machining – still the stuff of science fiction back in '86 – has been around so long.
1991 STAR IN THEIR EYES
As mechanical watchmaking began its renaissance at the beginning of the 1990s it was the wandering hours watch that led the way at Audemars Piguet. A 'wandering hours' watch in the style of a 17th-century clock, Audemars Piguet took the audacious step of removing the dial cover, allowing the slow revolving dance of its three sapphire hour discs to be seen, each taking it in turns to track across the minutes scale. Since the original Star Wheel was produced the concept has been revisited a number of times, most recently in the Millenary collection, and adopted by boutique indie upstarts Urwerk in high-tech sci-fi guise.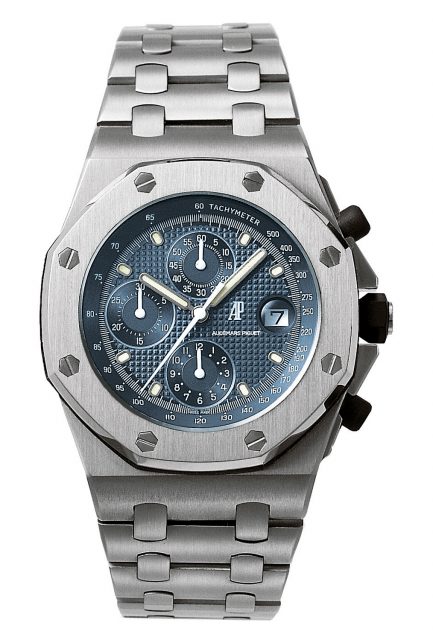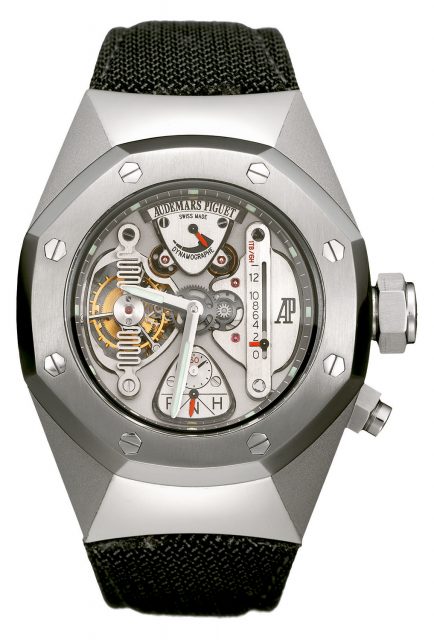 1993 FIRST ACTION HERO
Strange to think that the now-immortal Royal Oak never did particularly well in its Seventies and Eighties infancy. That is, until Audemars Piguet started aligning keenly with high-profile golfers, then, 25 years ago, introducing a beefed-up, water-resistant "Offshore" iteration. This was a Royal Oak "for young people", and by god did they get one; albeit young people who lived on the Riviera and drove white Ferrari's. Of course, there were some detractors, some of whom went so far as to claim it was an insult to good taste – after all, back then, the idea of a 42mm watch seemed ridiculous. But it proved to be a pioneer, singlehandedly setting the trend for uncompromising, oversized watches.
2002 FUTURE FORWARD
The next chapter in the Royal Oak saga came at the height of luxury watchmaking's 21st-century renaissance, commemorating the iconic octagon's 30th anniversary with an evolution even more outrageous than the Offshore. The 'Royal Oak Concept' would become the thinktank (and 'tank' isn't far off in proportional terms) of the manufacture's most cutting-edge discoveries – a petri dish of far-out theories, usually cooked up by the R&D boffins at Audemars Piguet's Renaud & Papi complications hothouse. To kick off, a case that looks hefty but actually lightweight because it's made of a cobalt-based airspace alloy named Alacrite. Ticking within its exposed, highly architectural movement is a tourbillon, suspended from a bridge that's corrugated to absorb shocks.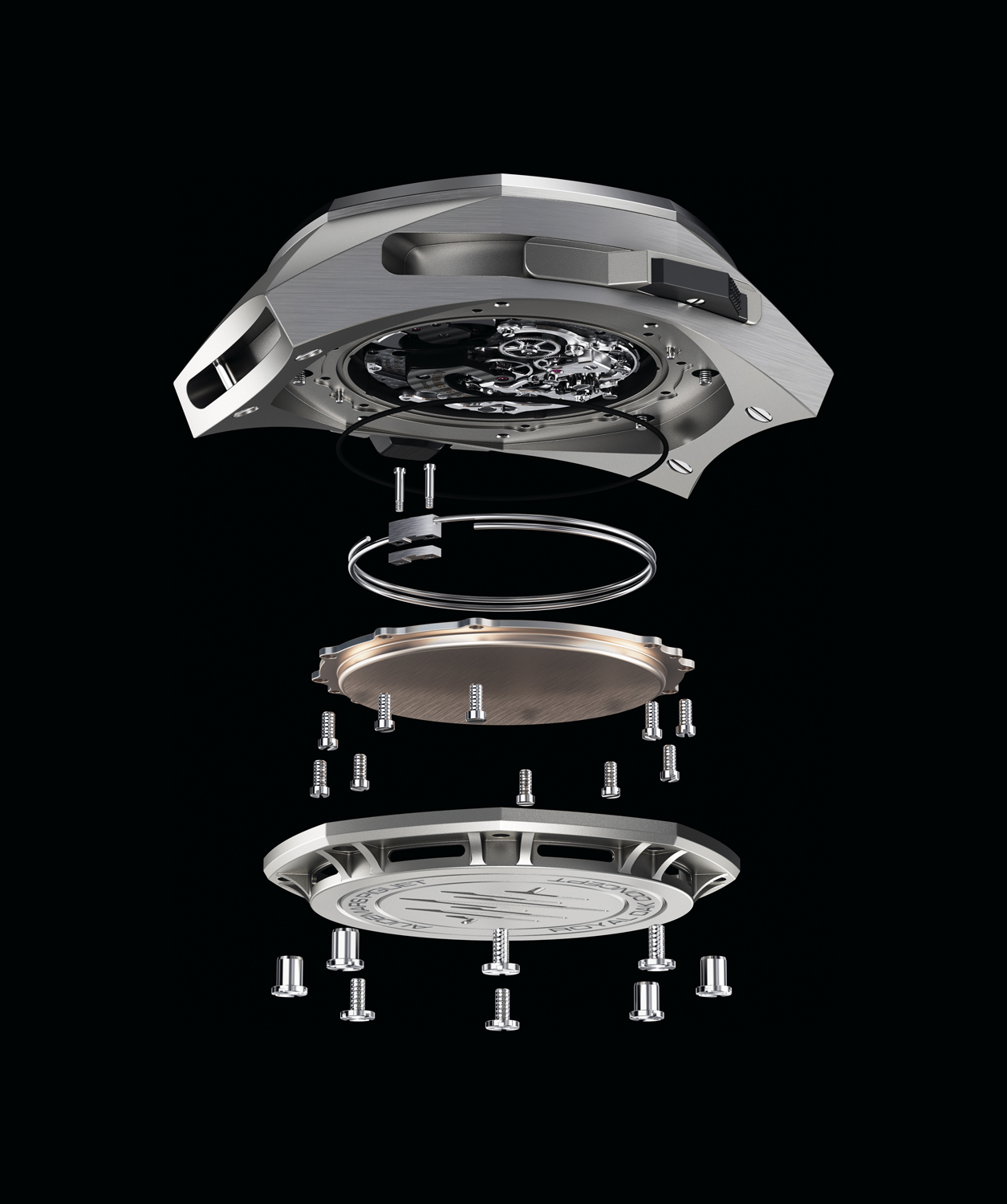 2015 SOUNDING OUT
From the nine minute-repeating watches of Audemars Piguet's first 12 ever made, to the first wristwatch minute repeater in 1892 to 1921's smallest-ever, Audemars Piguet has proper history when it comes to this particularly complicated aspect of watchmaking. And debuting in 2015's RD#1 concept was a particularly sonorous new venture in chiming timepieces, since rolled out as 2016's 'Supersonnerie' and now finding a home in the new CODE 11.59 collection. Having worked with acoustic engineers and even a violin maker deep in the forests of the Jura over the course of eight years, the Supersonnerie uses a sound board suspended proud of the caseback, which amplifies its hammers and wire gongs much like the front of a guitar.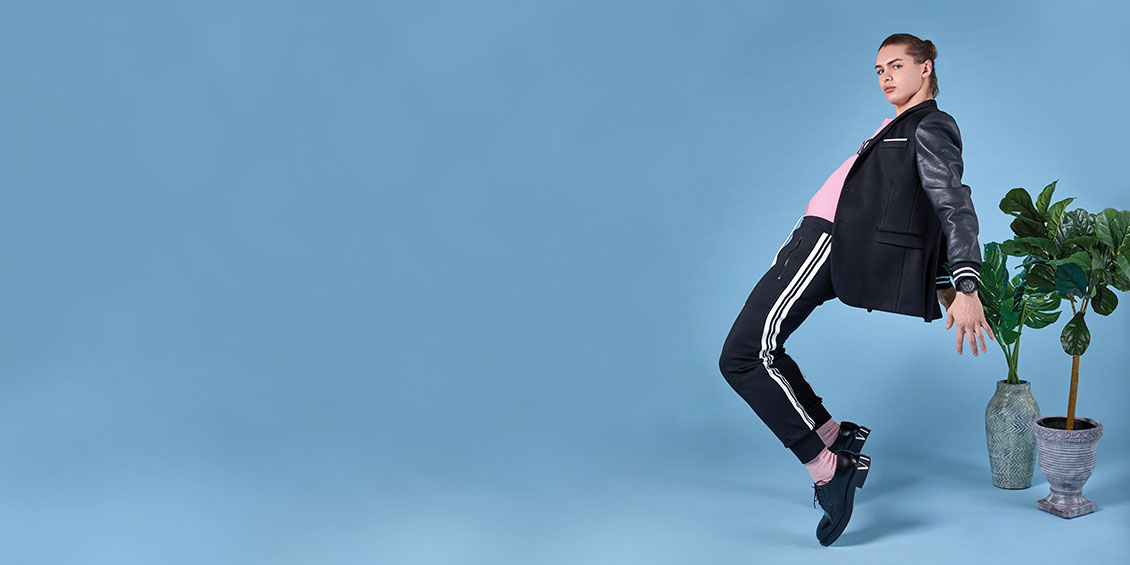 Step into a world of Diamonds & Thrills with the latest edition of ROX Magazine.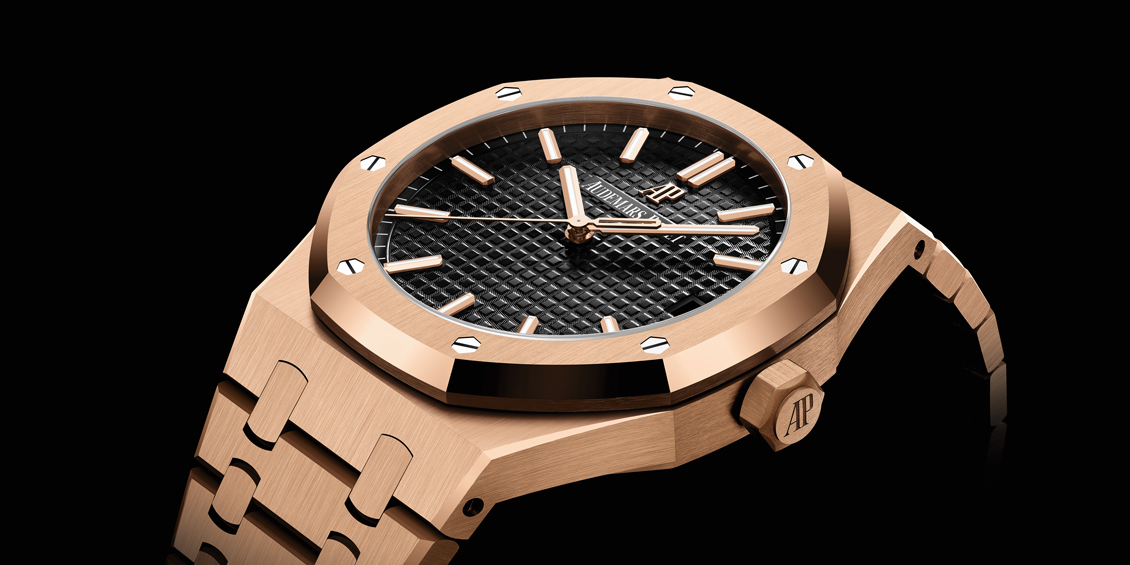 Celebrated for creating striking mechanisms, chronographs and astronomical complications Audemars and Piguet wrote the first pages in the history of this incredible brand, securing their status as legends of watchmaking. Continually growing and developing over the years, Audemars Piguet watches are regarded as being some of the most sought-after luxury timepieces in the world.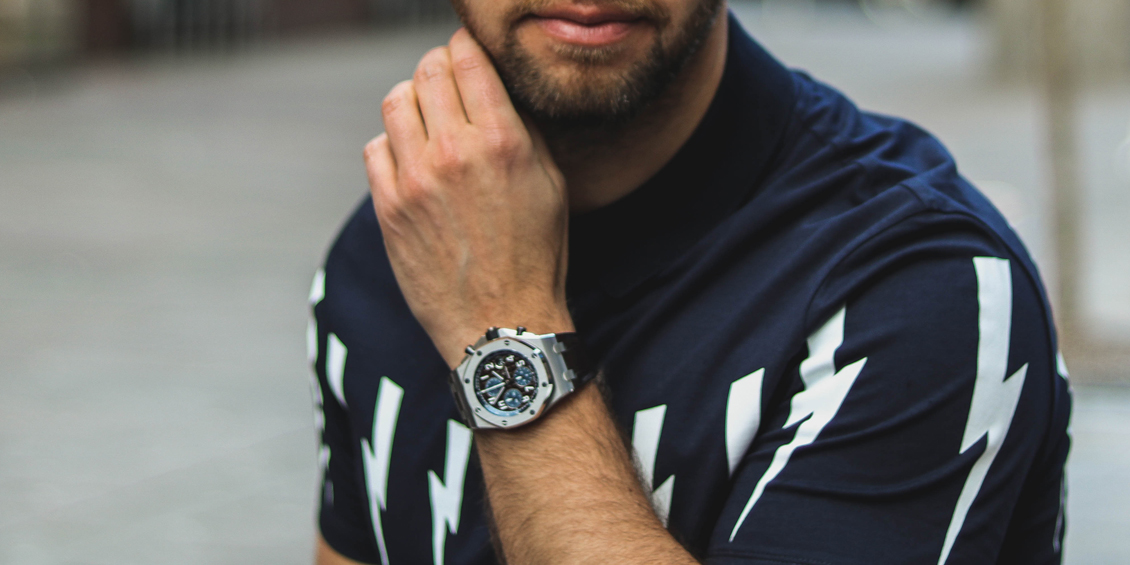 They say time waits for no man and that's certainly the case with luxury and designer watch designs. Forever evolving, the world of mens watches is fast-paced. Yet, one thing remains the same, ROX's commitment to provide mens designer watches with expert craftsmanship.